Shaun Tan is an author and illustrator, originally from Perth, Western Australia. He studied Fine Arts and Literature at the University of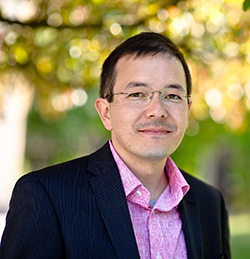 Shaun Tan (photograph by Stefan Tell)Western Australia, and graduated with joint honours in 1995. His illustrated books deal with social, political and historical subjects through surreal dream-like imagery. He has received numerous awards, including the CBCA (Children's Book Council of Australia) Picture Book of the Year Award for The Rabbits (1998); two Hugo Awards for Best Professional Artist (2010 and 2011); and an Academy Award for Best Animated Short Film for The Lost Thing (2010). He has also worked as a theatre designer, and as a concept artist for such films as Horton Hears a Who (2008) and Pixar's Wall-E (2008).
He currently lives in Melbourne and works as a freelance artist and author.
Reading Australia
Gary Crew has written on The Lost Thing (2000) for ABR as part of the Reading Australia project. Click here to read his essay.
Further Reading and Links
Reading Australia teaching resources: The Lost Thing (2000)
Watch the The Lost Thing (directed by Andrew Ruhemann & Shaun Tan) online
Michael Halliwell reviews The Rabbits (Opera Australia/Barking Gecko Theatre Company) in the November 2015 Arts issue of ABR
Margaret Robson Kett reviews The Singing Bones by Shaun Tan in the January-Febraury 2016 issue of ABR
'How Shaun Tan transformed children's literature' by Lorien Kite, Financial Times 19 August 2016
'Bloodbaths and bad dreams: Shaun Tan's fairytale sculptures' by Sian Cain, The Guardian 25 August 2016