John Romeril (1945–) is a contemporary Australian playwright. He was born in Melbourne and attended Monash University, during which time he wrote his first plays, I Don't Know Who To Feel Sorry For (1969) and Chicago, Chicago (1970). He went on to become a founding member of the Australian Performing Group and he has written over forty works, including scripts for film and television. He has won numerous awards, including the Canada-Australia Literary Award in 1976, the Victorian Government Drama Fellowship in 1988 and the Asialink Playwrighting Competition in 2004. In 2008 he won the Patrick White Award for creative services to Australian literature.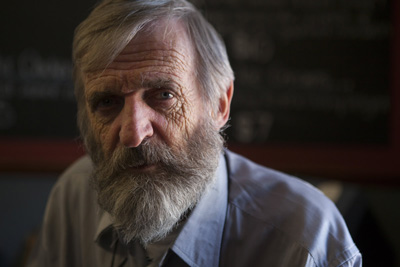 John Romeril (photograph by Jessie Boylan)
Reading Australia
Susan Lever has written about The Floating World (1975) as part of the Reading Australia initiative. Click here to read her essay.
Further reading and links
Reading Australia teaching resources: The Floating World (1975)
James Waites reviews Hamlet and The Floating World in the November 2013 issue of ABR
Pram factory interview with Bruce Spence who played Les Harding in the 1974 production of The Floating World
Griffin Theatre Company's 2013 production of The Floating World
YouTube videos made for Griffin Theatre Company's 2013 production
'Humour Cannot Hide Horror of an Old World'. Steven Dow, Sydney Morning Herald, September 16, 2013
'The Floating World'. Simon Blnns, Time Out Sydney, October 4, 2013
'Review: The Floating World, Griffin Theatre, Sydney'. Regina Botros, Crikey, October 17, 2013
Margaret Throsby interviews John Romeril, Radio National, October 14, 2013