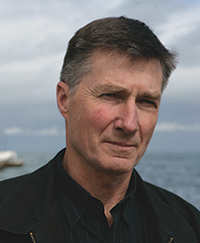 Garry Disher is an author of crime fiction and children's literature.
He graduated with a Masters degree in Australian History at Monash University, and was awarded a creative writing fellowship to Stanford University in California. On his return to Melbourne, he taught creative writing. He has published over fifty books including novels, crime thrillers, fiction for children and young adults, creative writing handbooks, and Australian History textbooks. He was the winner of the Ethel Turner Prize for Young People's Literature at the NSW Premier's Literary Award in 1999 for The Divine Wind (1999). He also won the German Crime Prize twice, and two Ned Kelly Best Crime novel awards for Chain of Evidence (2007) and Wyatt (2010).
He currently lives on the Mornington Peninsula, south-east of Melbourne.
Reading Australia
Alice Pung has written on The Divine Wind (1999) for ABR as part of the Reading Australia project. Click here to read her essay
Further Reading and Links
Reading Australia teaching resources: The Divine Wind (1999)
Open Page with Garry Disher – ABR December 2013– January 2014, issue no. 357
Ray Casin reviews 'Bitter Wash Road' by Garry Disher – ABR December 2013– January 2014, issue no. 357
'A divine tale of love, loyalty, and betrayal' The Age, 19 June 2002