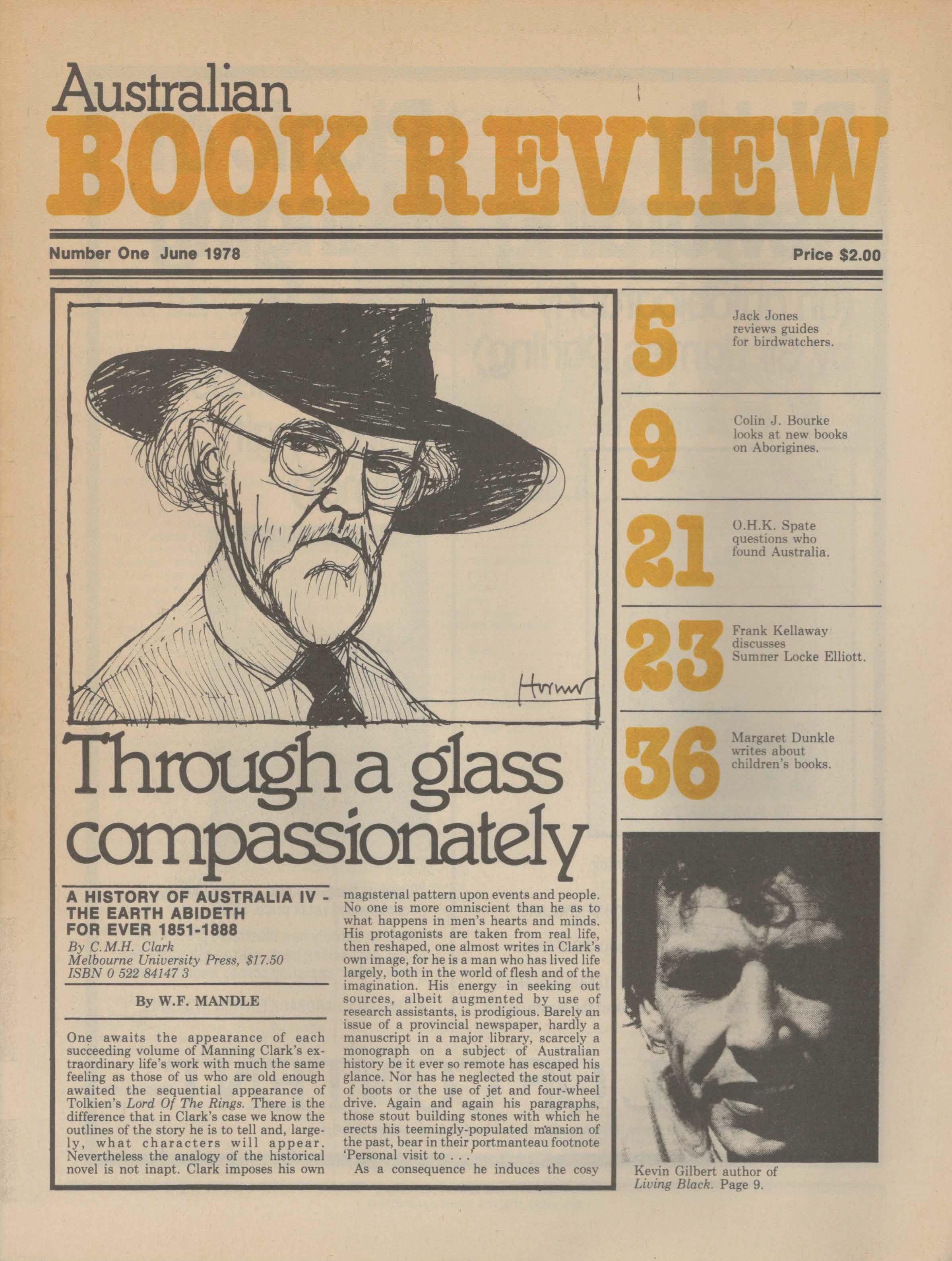 Issue #1, June 1978Australian Book Review is one of the country's leading cultural magazines. Founded in 1961 in Adelaide and revived in Melbourne in 1978, it is an independent, not-for-profit magazine committed to publishing critical and creative writing of the highest standard. Through its print and digital publishing, website, prizes, fellowships, events, and partnerships, ABR makes a major contribution to Australia's culture of ideas.
The magazine publishes in-depth literary and arts reviews as well as new poetry and fiction, essays, commentaries, and interviews. ABR also reviews films, television, music, theatre, opera, dance, festivals, and art exhibitions.
ABR is a strong advocate of proper support and remuneration for freelance reviewers. We pay for everything we publish – print and online – and we pay increasingly well.
ABR is a powerful generator of ideas and creative writing, and a key supporter of fresh talent. Few publications support writers and editors through such varied and lucrative programs.
Editors
First issue, 1961 (series one)First Series
1961 to 1974 - Geoffrey Dutton, Max Harris, and Rosemary Wighton
Second series:
1978 to 1986 - John McLaren
1986 to 1987 - Kerryn Goldsworthy
1988 - Louise Adler
1989 to 1995 - Rosemary Sorensen
1995 to 2000 - Helen Daniel
2001 to present day - Peter Rose
Find out more about ABR Staff, the ABR Board, the ABR Laureates, and contributors to the first and second series. A timeline of major events from ABR's history can be found here.
ABR Print Publishing
ABR publishes reviews, commentaries, interviews, essays, surveys, and creative writing. In general ABR publishes approximately 500 features in print each year by 300 contributors. Roughly 90 or 100 of these contributors will be new to the magazine. ABR is open to approaches from new contributors and you can find out more here. ABR publishes an annual index of our print content here (from 2017 we have also indexed our digital content). Prior to 2021, ABR published ten issues per year. In June 2021, we added an eleventh issue.
ABR Print Edition Statistics and Gender Breakdown
Below is a gender breakdown from the print edition between 2014 and 2022. (NB this table only includes information about items published in the print edition. It does not include our wider digital content. Statistics on non-binary contributors are only included when known.)
Year

Features published in the print edition

Percentage of those features written by:

Number of new contributors

Men

Women

Non-binary authors


2014

457

56%

44%

91

2015

536

60%

40%

103

2016

501

61%

39%

74

2017

501

57%

43%

88

2018

530

54%

46%

93

2020

492

53%

46%

1%

82

2021

494

51%

48%

1%

76

2022

463

54%

45%

1%

71
Interviews
We have published 181 interviews with a wide range of authors, critics, poets, and publishers including Tim Winton, Maxine Beneba Clarke, Geraldine Brooks, Hazel Rowley, Carmen Callil, and Sheila Fitzpatrick.
Surveys
ABR regularly publishes surveys of groups of critics, publishers, and commentators on a range of subjects including the following: Books of the Year, Arts Highlights of the Year, and Publisher Picks.
The ABR Favourite Australian Novel polls
Back in 2009, when we sought readers' nominations for the ABR Favourite Australian Novel (any era, any genre), we anticipated goodly interest, ABR readers being a passionate and well-read bunch. But we hadn't expected to be inundated with quite so many faxes and emails. In the end we received thousands of votes for some 290 Australian novels. Tim Winton's Cloudstreet, a perennial favourite since its publication in 1991, was the overwhelming favourite – by a margin of three to one to its nearest rival, Henry Handel Richardson's The Fortunes of Richard Mahony, which was closely followed by Patrick White's Voss and Winton's most recent novel, Breath. Particularly heartening was the large number of nineteenth-century novels and those published before the remarkable expansion of fiction publishing in the last quarter of the twentieth century. The following feature, which appeared in the February 2010 issue, lists the top twenty Favourite Australian Novels.
In 2019 we asked readers to nominate their Favourite Australian Novel published since 2000.
Advocacy and engagement
ABR, though not politically aligned, is an engaged and responsive magazine. From time to time, we publish open letters on key social or political questions. These include an Open Letter on Marriage Equality and an Open Letter on the importance of saving the ABC.
ABR Online Exclusives
Not all ABR's publishing appears in the print magazine. We publish a wide range of online exclusives and previews including book and arts reviews, creative writing, essays and interviews, and podcasts. These appear online in ABR Arts, States of Poetry, Reading Australia, ABR Fiction, Book Talk, and ABR Online Exclusives. Some additional articles also appear as online exclusives in recent online issues of the magazine.
Prizes and Programs
ABR presents three prestigious international literary prizes (for poetry, essays and short stories), a vibrant Fellowship program, and a prestigious Laureate's program. We also offer regular paid Editorial Internships.
Laureates
To recognise the work of distinguished Australian artists, ABR has to date named three ABR Laureates.
David Malouf (2014)
Robyn Archer (2016)
Sheila Fitzpatrick (2023)
Fellows
Since 2011 ABR has awarded twenty-one Fellowships to twelve women and nine men. The Fellows are listed below under the year of publication. Find out more about the Published and current Fellows and read their essays.
Published ABR Fellowships
2011

"What is Australia, anyway?" The glorious limitations of the Miles Franklin Literary Award' by Patrick Allington
'Sweeping up the Ashes' by Rachel Buchanan

2012

'Man on the Margins' by Jennifer Lindsay

2013

'Media Don' by Ruth Starke
'Everyone's a Critic' by Kerryn Goldsworthy
'Olive Cotton at Spring Forest' by Helen Ennis
'Patrick White: A theatre of his own' by Andrew Fuhrmann

2014

'Seeing the Wood for the Trees' by Danielle Clode

2015

'Sound Bridges: A Profile of Gurrumul' by Felicity Plunkett
'The Golden Age of Television?' by James McNamara
'The Scientist of his own experience: A profile of Gerald Murnane' by Shannon Burns
'The Forest at the Edge of Time' by Ashley Hay

2016

'Satan Repentant' by Michael Aiken
'How Do We Live With Ourselves? The Australian National Conscience' by Alan Atkinson

2017

'Beyond Songlines' by Philip Jones
'Ambassadors from Another Time' by Stephen Orr
'If This Is a Jew' by Elisabeth Holdsworth
'Picnic at Hanging Rock fifty years on'by Marguerite Johnson

2018

'Defying the Moment', 'The art of pain: Writing in the age of trauma', and ''We are all MFAs now!' by Beejay Silcox

2019

'A mutinous and ferocious grace: Nick Cave and trauma's aftermath' by Felicity Plunkett
Felicity Plunkett reviews The Weekend by Charlotte Wood

2020

'Notes on a Pandemic: How society has responded to Covid-19' by Hessom Razavi
Felicity Plunkett reviews Summer by Ali Smith
'Failures of imagination: A journey from Tehran's prisons to Australia's immigration detention centres' by Hessom Razavi

2021

'The split state: Australia's binary myth about people seeking asylum' by Hessom Razavi
ABR Editorial Internships
Since 2009 ABR has awarded eight paid Editorial Internships as part of our highly successful program. The most recent ABR Editorial Intern was Jack Callil.

In 2021, with support from the Judith Neilson Institute for Journalism and Ideas, ABR offered a paid Editorial Cadetship. The first of these ABR Editorial Cadets was James Jiang.

Find out more about past Editorial Cadets and Interns.
ABR Elizabeth Jolley Short Story Prize
Since 2010 ABR has awarded the Jolley Prize to fifteen writers (the prize was shared in 2011). Forty-seven writers have been shortlisted for the prize. As with all our prizes the Jolley Prize is judged blind. Since 2010 ABR has shortlisted thirty-five women, eleven men, and one non-binary author. Since the prize was internationalised in 2014 we have shortlisted ten writers from overseas. The winners and shortlisted authors are listed below. Find out more about the past winners of the Jolley Prize and read their stories via our Past Winners page.
Jolley Prize shortlists
2010

'A Roānkin Philosophy of Poetry' by Maria Takolander (winner)
'Sleepers' by Cate Kennedy (second place)
'Suitable for a Lampshade' by Josephine Rowe (Reader's Choice)
'The Virus - Travel Notes' by David Cohen
'Angus's Playground' by S.J. Finn,
'Honey' by Erin Gough
'The Body' by Joan Phillip

2011

'Milk Tray' by Claire Aman
'What's Richard Ford Got to Do With It? by Gaylene Carbis
'Before He Left the Family' by Carrie Tiffany (joint winner)
'The Neighbour's Beans' by Gregory Day (joint winner)

2012

'Patterns in Nature' by Sue Hurley (winner)
'Gorgeous Perambulator' by Jack Cox (second)
'Tended by Foxes' by Ngiare Elliot (third)

2013

'Leaving Elvis' by Michelle Michau-Crawford (winner)
'The Five Truths of Manhood' by Rebekah Clarkson (joint second, Reader's Choice)
'The Accident' by Kim Mahood (joint second)

2014

'Aokigahara' by Jennifer Down (winner)
'The Art of Life' by Faith Oxenbridge (second, New Zealand)
'Doisneau's Kiss' by Cate Kennedy (third)

2015

'The Elector of Nossnearly' by Rob Magnuson-Smith (winner, UK/US)
'Borges and I' by Michelle Cahill (second)
'Crest' by Harriet McKnight (third)

2016

'Glisk' by Josephine Rowe (winner)
'Ash' by Anthony Lawrence (second)
'The Water Calligrapher's Women' by Jonathan Tel (third, UK)

2017

'Pheidippides' by Eliza Robertson (winner, Canada)
'The Leaching Layer' by Dominic Amerena (second)
'Butter' by Lauren Aimee Curtis (third)

2018

'Ruins' by Madelaine Lucas (winner, US/AUS)
'Between the Mountain and the Sea' by Sharmini Aphrodite (second, Singapore)
'Vasco' by Claire Aman (third)

2019

'The Point-Blank Murder' by Sonja Dechian (winner)
'Miracle Windows' by Raaza Jamshed (second)
'Rubble Boy' by Morgan Nunan (third)

2020

'River Story' by Mykaela Saunders (winner)
'Egg Timer' by C.J. Garrow (second)
'Hieroglyph' by Simone Hollander (third, US)

2021

'The Enemy, Asyndeton' by Camilla Chaudhary (winner)
'There Are No Stars Here, Either' by Lauren Sarazen (second, France)
'A Fall From Grace' by John Richards (third)

2022

'Natural Wonder' by Tracy Ellis (winner)
'Dog Park' by Nina Cullen (second)
'Whale Fall' by C.J. Garrow (third)

2023

'The Mannequin' by Rowan Heath (winner)
'Our Own Fantastic' by Uzma Aslam Khan (second, US)
'Black Wax' by Winter Bel (third, France/UK)
Calibre Essay Prize
Since 2007 ABR has awarded the Calibre Essay Prize to twenty-one writers (the prize was shared in 2008, 2009, 2010, and 2011). Calibre was internationalised in 2015 and as with all our prizes it is judged blind. Since 2010 the Calibre Prize has been won by eleven men, nine women, and one non-binary author. The winning authors are listed below. In 2017 ABR introduced a second prize and this has been won by six women and one man. Find out more about the past winners of the Calibre Prize via our Past Winners page
Calibre Prize winners
2007

'An die Nachgeborenen: For Those Who Come After' by Elisabeth Holdsworth

2008

'Reaching One Thousand' by Rachel Robertson
'A Storm and a Teacup' by Mark Tredinnick

2009

'"What're yer looking at yer fuckin' dog": Violence and Fear in Žižek's Post-political Neighbourhood' by Kevin Brophy
'Footprints' by Jane Goodall

2010

'On being Odd' by Lorna Hallahan
'Seeing Truganini' by David Hansen

2011

'The Death of the Writer' by Dean Biron
'Who Killed Matilda?'by Moira McKinnon

2012

'Body and Soul: Copyright and Law Enforcement in the Age of the Electronic Book' by Matt Rubinstein

2013

'"Because it's your country": Bringing Back the Bones to West Arnhem Land' by Martin Thomas

2014

'Unearthing the Past' by Christine Piper

2015

'Staying with the trouble' by Sophie Cunningham

2016

'The Great Red Whale' by Michael Winkler

2017

'Salt Blood' by Michael Adams
'To Speak of Sorrow' by Darius Sepehri (runner-up)

2018

'We Three Hundred' by Lucas Grainger-Brown
'Once Again' by Kirsten Tranter (runner-up)

2019

'Nah Doongh's Song' by Grace Karskens
'Floundering' by Sarah Walker (runner-up)

2020

'Reading the Mess Backwards' by Yves Rees
'The Dolorimeter' by Kate Middleton (runner-up)

2021

'Façades of Lebanon' by Theodore Ell
'May Day' by Anita Punton (runner-up)

2022

'This Woman My Grandmother' by Simon Tedeschi
'Ghosts, Ghosts Everywhere' by Sarah Gory (runner-up)

2023

'Flow States' by Tracy Ellis
'Child Adjacent' by Bridget Vincent (runner-up)
Peter Porter Poetry Prize
Since 2005 ABR has awarded the Peter Porter Poetry Prize to twenty-two writers (the prize was shared in 2011, 2017, and 2019) and 101 poems have been shortlisted for the prize. As with all our prizes the Porter Prize is judged blind. Since 2010 ABR has shortlisted fifty-two poems by men and forty-nine poems by women. Since the prize was internationalised in 2014 we have shortlisted twelve writers from overseas. The winners and shortlisted authors are listed below. Find out more about the past winners of the Porter Prize and read their poems via our Past Winners page.
Porter Prize shortlists
2005

'Ventriloquist's Dummy' by Jennifer Harrison
'Man on the Moon' by Stephen Edgar (winner)
'Ubirr Rock' by Mark Tredinnick
'Storm' by Maria Takolander
'Headgear (a review)' by Sandra Hill
'Low at the Edge of the Sands' by Kevin Gillam

2006

'Mallee' by Lisa Gorton
'Braid' by J.S. Harry
'Boy' by Alex Skovron
'Still Life with Cockles and Shells' by Judith Bishop (winner)
'Back Roads, Local Roads' by Brendan Ryan
'Spiders' by Keith Harrison

2007

'Sanctum' by Alex Skovron (winner)
'Full-Bucket Moon' by Ross Clark
'The Fledglings' by Robert Adamson
'The Fencer and His Mate' by Kathryn Lomer
'The Red Sea' by Stephen Edgar
'Guidance and Knowledge' by Anthony Lawrence

2008

'(for the siblings)' by Kevin Gillam
'T/here' by Judith Bishop
'a full stop reaches the end of its sentence' by Nathan Shepherdson
'Danger: Lantana' by Ross Clark (winner)
'The Window' by Brenda Walker

2009

'Yellow Jacket: Vespula maculifrons' by Rose Lucas
'Lost Property' by Tracy Ryan (winner)
'The Dark Zone' by Kathryn Lomer
'The Storm Glass' by Lisa Gorton
'The Reed Pen' by Angela Mahone
'The Aquarium' by Judith Beveridge

2010

'Taken as Required' by Ynez Sanz
'The Hummingbird Suite' by Diane Fahey
'Here Come the Missionaries' by Philip Salom
'Estuary' by Jillian Pattinson
'Domestic Emergencies' by Anthony Lawrence (winner)

2011

'Self-Portrait at Sixty' by Tony Lintermans (joint winner)
'Dreams and Artefacts' by Lisa Gorton
'Moonlight Sculptures' by Stephen Edgar
'Openings' by Judith Bishop (joint winner)


2012

'Provenance' by Gareth Robinson
'Bayside Suburban' by Anne Elvey
'Beautiful Mother' by Michael Farrell (winner)
'After Devotion' by Annamaria Weldon
'Oscillations' by Toby Fitch

2013

'Prophecy' by Nathan Curnow
'Big Wig' by A. Frances Johnson
'Four Sonnets' by John A. Scott (winner)
'procedures in aesthetics' by Dan Disney
'Bushfire Approaching' by John Kinsella.

2014

'VFGA' by Paul Kane (US)
'Absence' by Elizabeth Allen
'Scenes from the Olivet Discourse' by Nathan Curnow
'Arrival Platform Humlet' by Jessica L. Wilkinson (winner).

2015

'As Wasps Fly Upward' by Judith Beveridge (winner)
'Vantage' by Eileen Chong
'Janus' by Toby Fitch
'Floribunda' by John Kinsella
'When/Was' by Kate Middleton
'Pitch and Yaw' by Alex Skovron.

2016

'Tailings' by Amanda Joy (winner),
'... a passing shower?' by Dan Disney
'Prelude to a Voice' by Anne Elvey
'Rage to Order' by Lisa Gluskin Stonestreet (USA)
'Lament for "Cape" Kennedy' by Campbell Thomson.

2017

'Sentence to Lilacs' by Louis Klee (joint winner)
'pH' by Damen O'Brien (joint winner)
'Four Egrets' by Ronald Dzerigian (USA)
'Laika' by Anthony Lawrence
'Drone' by Michael Lee Phillips (USA)
'The Snow Lies Deep' by Jen Saunders
'and it is what it is' by Jessie Tu

2018

'Compass' by Eileen Chong
'Decoding Paul Klee's Mit Grünen Strümpfen (With Green Stockings) 1939' by Katherine Healy
'The Abstract Blue Background' by LK Holt
'breather' by Tracey Slaughter (second place, New Zealand)
'101, Taipei' by Nicholas Wong (winner, Hong Kong)

2019

'63 Temple St, Mong Kok' by Belle Ling (joint winner, Qld/Hong Kong)
'Searching the Dead' by Andy Kissane (joint winner)
'Dancing with Stephen Hawking' by John Foulcher
'The Mirror Hurlers' by Ross Gillett
'Raven' by Mark Tredinnick

2020

'Precision Signs' by Lachlan Brown
'That Wadjela Tongue' by Claire G. Coleman
'South Coast Sonnets' by Ross Gillett
'My Father's Thesaurus' by Frances Johnson (winner)
'Constellation of Bees' by Julie Manning

2021

'The Vernal Equinox Story' by Danielle Blau (USA)
'Would You Rather' by Y.S. Lee (Canada)
'bila, a river cycle' by Jazz Money
'A Poetics of Fo(u)rgetting' Sara M. Saleh (winner)
'before dawn, with the street lamp's beam across your face' by Raisa Tolchinsky (USA)

2022

'Sixes and sparrows' by Chris Arnold
'Gippslanding (triptych)' by Dan Disney (South Korea/Australia)
'Australianesque' by Michael Farrell
'In the Shadows of Our Heads' by Anthony Lawrence (winner)
'Hummingbird Country' by Debbie Lim

2023

'Loss Invaded Catalogue' by Chris Andrews
'Running Up That Bill' by Chris Arnold
'Field Notes for an Albatross Palimpsest' by Michelle Cahill
'periferal, fantasmal' by Dan Disney (South Korea/Australia, winner)
'Abiquiu, New Mexico' by Raisa Tolchinsky (US)
From Prize to Publication
Many past ABR prize shortlisted entrants have gone on to publish full-length works (novels, short story collections, films etc) based on, or including, their shortlisted or winning works. We have listed some of these below.
Books
Fat Girl Dancing by Kris Kneen
Leaving Elvis by Michelle Michau Crawford
Pulse Points by Jennifer Down
Barking Dogs by Rebekah Clarkson
The Double by Maria Takolander
Those Who Come After by Elisabeth Holdsworth
Reaching One Thousand by Rachel Robertson
City of Trees by Sophie Cunningham
Olive Cotton by Helen Ennis
Here Until August by Josephine Rowe
All About Yves by Yves Rees
The First Time I Thought I was Dying by Sarah Walker
Reading Australia
ABR commissioned and published twenty-six essays on major Australian writers as part of the Australia Council's Reading Australia project. These essays are all available open access online.
Reading Australia essays
Kerryn Goldsworthy on Jessica Anderson's Tirra Lirra by the River
Susan Sheridan on Thea Astley's It's Raining in Mango
Agnes Nieuwenhuizen on A.J. Betts's Zac and Mia
Ruth Starke on Isobelle Carmody's The Gathering
Brian Matthews on Marcus Clarke's For the Term of His Natural Life
Kerryn Goldsworthy on Robert Dessaix's A Mother's Disgrace
Alice Pung on Garry Disher's The Divine Wind
Kerryn Goldsworthy on Richard Flanagan's The Narrow Road to the Deep North
Danielle Clode on Tim Flannery's Here on Earth
Kári Gíslason on Raimond Gaita's Romulus, My Father
Bernadette Brennan on Helen Garner's The Children's Bach
Miriam Cosic on Germaine Greer's The Female Eunuch
Peter Craven on Kate Grenville's Lilian's Story
Felicity Plunkett on Steven Herrick's by the river
Judith Rodriguez on Jack Hibberd's Dimboola
Delys Bird on Elizabeth Jolley's Miss Peabody's Inheritance
Tony Birch on Thomas Keneally's The Chant of Jimmie Blacksmith
Morag Fraser on Alex Miller's Journey to the Stone Country
Susan Lever on John Romeril's The Floating World
Patrick Allington on Kim Scott's That Deadman Dance
Peter Kirkpatrick on Kenneth Slessor's One Hundred Poems: 1919–1939
Gary Crew on Shaun Tan's The Lost Thing
Kerryn Goldsworthy on Christos Tsiolkas's The Slap
Billy Griffiths on David Unaipon's Legendary Tales of the Australian Aborigines
James McNamara on David Williamson's The Removalists
Felicity Castagna on Markus Zusak's The Messenger
States of Poetry
Between 2016 and 2018 ABR published nearly four hundred poems by eighty poets as part of States of Poetry, a federally arranged poetry anthology supported by Copyright Agency Limited that also included podcasts. Anthologies were published by poets from New South Wales, Victoria, Western Australia, Tasmania, Queensland and the ACT. These anthologies are all open access. The poets and state editors are listed below.
---
Editorial note
The statistics listed above were last updated on 16 October 2023. The information on this page will continue to be updated and expanded over time.