Art
The Update - July 3, 2018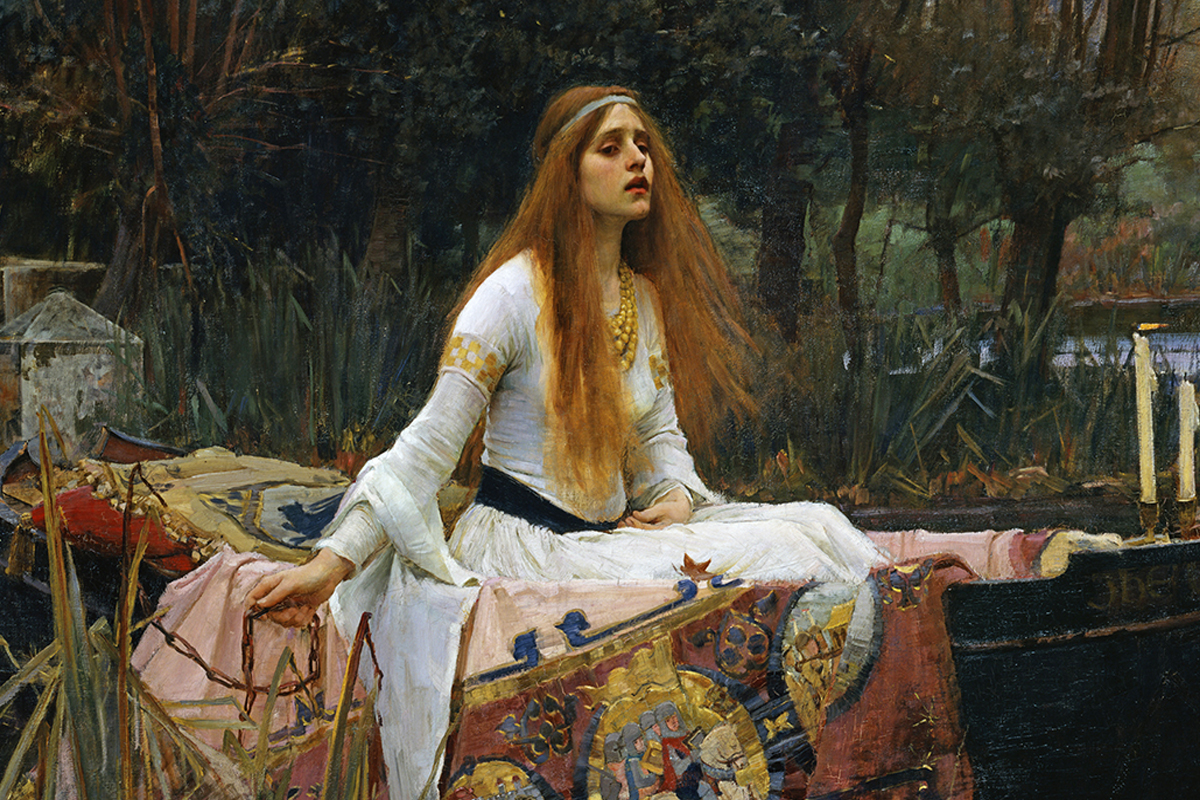 Recent ABR Arts reviews:
Tali Lavi on Foxtrot (Sharmill Films) ★★★★★
Ben Brooker on Brothers Wreck (State Theatre Company and Malthouse Theatre) ★★★★
Barnaby Smith on Mary Shelley (Transmission Films) ★★1/2
Lauren Harris on The Second (Stan) ★★
Will Yeoman on Assassins (Black Swan State Theatre Company) ★★★★
Ian Dickson on Athalia (Pinchgut Opera) ★★★1/2
Ben Brooker on Gloria (Melbourne Theatre Company) ★★★★
Morag Fraser on L'Enfance du Christ (Melbourne Symphony Orchestra) ★★★★★
Brook Andrew – from Berlin to Geelong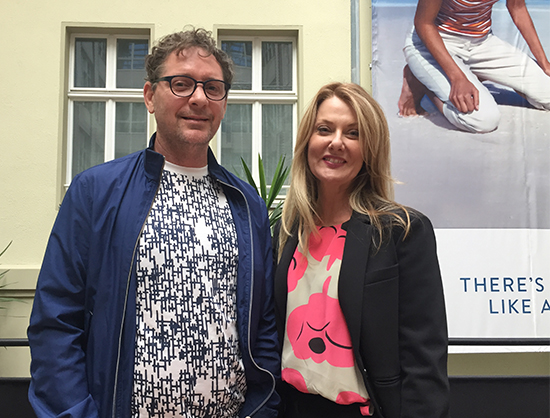 Brook Andew and Anna Funder at the Berlin Embassy

During its recent German tour, Australian Book Review took part in an event at the Berlin Embassy. Introduced by Ambassador Lynette Wood, Peter Rose was joined by artist Brook Andrew (who had just completed a year-long residency at Künstlerhaus Bethanien) and Anna Funder, author of Stasiland and All That I Am, who spoke about her long affinity with Germany.
It was a busy time for Brook Andrew, an interdisciplinary artist who examines dominant narratives, often relating to colonialism and modernist histories. Next day he flew back to Australia, soon to be named artistic director of the 22nd Biennale of Sydney (2020). Andrew commented: 'I am interested in shining a light on the active, stable and rich pre-existing collaborations and connectivity of Indigenous and Edge cultures.'
Meanwhile, the Geelong Gallery is presenting Brook Andrew – Rethinking Antipodes until 2 September. This is based on a 2016 study of the collections of the Cambridge Museums and the British Museum. The suite of eight photolithographs uses reproductions of eighteenth-century satirical prints by James Gillray.
Anne-Sophie Mutter and the MSO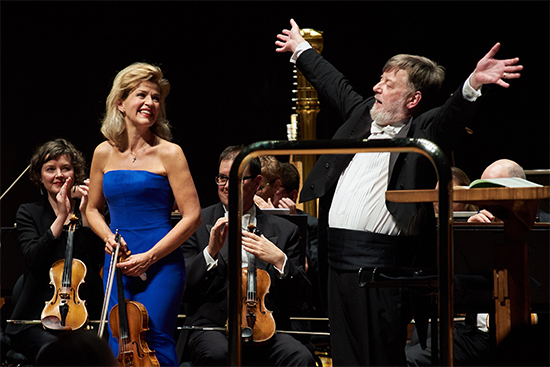 Anne-Sophie Mutter and Sir Andrew Davis (photo by Dan Aulsebrook)
It was forty-one years ago that German violinist Anne-Sophie Mutter, then in her early teens, made her début at the Salzburg Festival. This was a year after Herbert von Karajan – her mentor – invited her to perform with the Berlin Philharmonic.
After several celebrated performances in Sydney, she finally came to Melbourne in June. Hamer Hall was full for the MSO gala conducted by Andrew Davis. After Stravinsky's The Fairy's Kiss, Anne-Sophie Mutter entered to a long ovation and proceeded to give a version of Tchaikovsky's Violin Concerto to rival Maxim Vengerov's with the same orchestra in 2017 and Joshua Bell with the AYO in 2013. Zoltán Szabó has already written at length about Mutter's performance with the SSO under David Robertson on 14 June. 'She is,' he wrote, 'the supreme master of her supreme instrument and the two of them work in such perfect symbiosis that errors, musical or technical, are practically out of them question.' Mutter gave us a performance that will be spoken about for decades. Mutter, who recently turned fifty-five, is clearly at the height of her powers.
Interestingly atonal though it is, perhaps we didn't need John Williams's new work Markings, which followed interval (Mutter, an admirer of the American's film music, commissioned the work and first performed it in 2017); but there was nothing otiose about Mutter's single encore: the Sarabande from Bach's Partita in D Minor.
Marc and Eva Besen were in the audience at Salzburg in 1977, and Mr Besen resolved then to bring the German prodigy to Melbourne, as he related in a brief, charming speech from the circle. MSO Chairman Michael Ullmer announced that the Besens – celebrated Melbourne philanthropists – had been made Life Members of the orchestra, joining Lady Potter and Elton John.
The MSO's superlative season continues with an appearance by celebrated conductor Simone Young. The ABR German tour took in two performances by her in a week: she conducted Janáček's From the House of the Dead at Munich's Bayerische Staatsoper and Puccini's Tosca at the Berlin Staatsoper, which featured a thrilling performance from young Russian soprano Elena Stikina in the title role – the best Tosca many of us had seen.
Maestro Young, a passionate Brucknerian, will conduct Anton Bruckner's Sixth Symphony, and Kolja Blacher will play Britten's Violin Concerto. Thanks to the MSO, we have two double passes to a concert on Thursday, 5 July (7.30 pm) or Saturday, 7 July (2 pm). See the Giveaway section below for more details.
Simone Young remains formidably busy, including concerts with the SSO. On August 8, 10, and 11 she will conduct that hammerblow of a symphony, Mahler's Sixth. (Earlier, Australian tenor Steve Davislim will perform Britten's brilliant Les Illuminations, based on Rimbaud's poems).
Major Indigenous exhibition to open at UQ Art Museum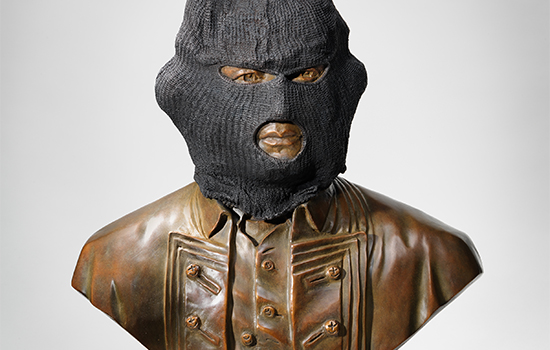 Jason Wing: Captain James Crook 2013, National Gallery of Australia, Canberra
A major exhibition of Indigenous artwork will open at the University of Queensland Art Museum on 28 July. The collection, Defying Empire: 3rd Nation Indigenous Art Triennial, brings together thirty established and emerging Indigenous artists from across Australia. The exhibition will feature a variety of mediums – such as painting on canvas and bark, weaving, sculpture, video, prints, photography, metalwork, and glasswork – and will focus on issues of identity, racism, displacement, Country, nuclear testing, sovereignty, and the Stolen Generations.
UQ Art Museum Director Dr Campbell Gray said, 'By challenging us to engage with important social justice issues through a powerful and provocative selection of artworks, this exhibition not only encourages us to reflect on our country's past, but also compels us to consider how we can shape a better future.'
Defying Empire: 3rd National Indigenous Art Triennial is a National Gallery of Australia Exhibition, running from 28 July until 11 November.
Melbourne International Chamber Music Competition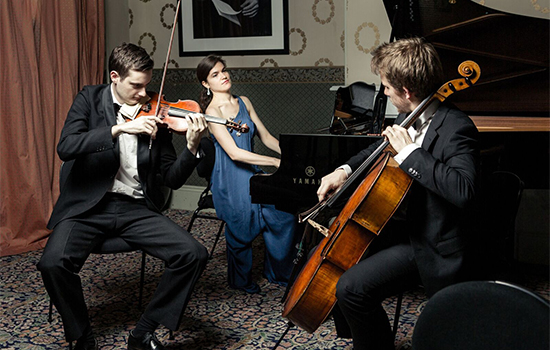 The Melbourne-based Clarendon trio with their instruments
The 'World Cup' of chamber music is kicking is happening this week – not in Moscow, but in Melbourne – with 59 instrumentalists from 18 nations competing in the $150,000 Melbourne International Chamber Music Competition. The individual string quartets and piano trios will go head to head during a preliminary heat stage before a select few compete in the semi- and grand finals.
The Melbourne-based Clarendon Trio was thrilled to be among the chosen groups. 'We're passionate about Australia being a truly inspirational centre for music and culture,' said cellist Jonathan Békés, 'and we're incredibly proud to be showcasing this to the world at MICMC.'
Distinguished historian Sheila Fitzpatrick (a frequent contributor to ABR), will review the finals for us, her first appearance in ABR Arts. Professor Fitzpatrick, a lifelong chamber musician, was a founding member of the Australian Youth Orchestra.
Limited tickets are still available to the heats (1–5 July), but are growing scarce to the semi-finals (6 July) and the two grand finals (8 July) at Melbourne Recital Centre. The heat stage will also be broadcast live on 3MBS Fine Music Melbourne, and the semis and grand finals will be on ABC Classic FM.
Tickets available at: https://musicaviva.com.au/competition
Louise Crossley Conducting Workshop
The late Tasmanian scientist, author, and environmentalist Louise Crossley
The Tasmanian Symphony Orchestra has named the seven young conductors who will take part in the inaugural Louise Crossley Conducting Workshop. The workshop, named for the late Louise Crossley whose bequest was intended 'to develop and identify opportunities for female conductors', will take place in Hobart in August this year. The seven successful applicants are Laura Barton, Renee Heron, Vivian Horn, Eugenie Tamplon, Helen Thomson, Nickea Warrener, and Jen Winley.
They will rehearse with pianists Jennifer Marten-Smith and Karen Smithies and hear from Katherine Parton, founder of the Royal Philharmonic Society's Young Women's Conducting Workshops in the United Kingdom. Elena Schwarz, former Assistant Conductor of the TSO and 2018–19 Dudamel Fellow, will conduct an intensive workshop with the participants.
Magic party glitter at MWF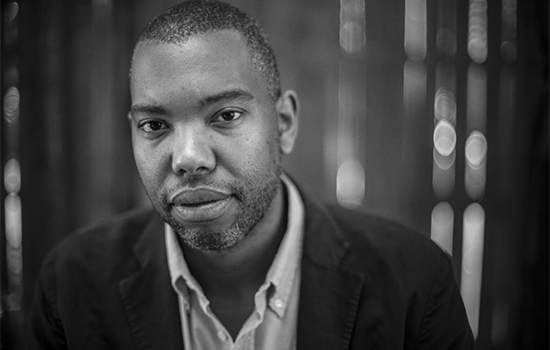 Ta-Nehisi Coates, one of the international writers attending MWF (photo by Gabriella Demczuk)
Literary festivals – until the 1980s quite rare in Australia, but now ubiquitous – can be formulaic affairs. Auspiciously, the Melbourne Writers Festival's new artistic director Marieke Hardy is ringing the changes with plans to 'sprinkle some magic party glitter' over the 2018 festival. Speaking after her appointment last year Hardy said, 'I am thrilled to have the opportunity to create a cathartic, experiential, warm and unconventional festival with the formidable team at MWF... I hope to bring a robust sense of joy, magic and unity to this iconic festival, as well as hug literally anybody who asks me.'
The full program for the 2018 MWF won't be released until later this month, however the MWF blog notes that this year 'As well as bringing together the authors you adore, we're pushing the boundaries of a traditional writers festival and creating more space for self-expression as we invite you to step outside your creative comfort zone.'
Some major international guests have already been announced including journalist and author Ronan Farrow, author Ta-Nehisi Coates, architect Marwa al-Sabouni, television critic Emily Nussbaum, and 'heavy metal musician and existentialist self-help guide' Andrew W.K. who will launch the festival with 'a rallying toast to "survival, joy, resilience, and pure existence"'.
The Melbourne Writers Festival will run from 24 August to 2 September. The full program will be released on July 17 with tickets on sale from July 20 on the MWF website.
ACMI and Film Victoria announce full Series Mania program
ACMI and Film Victoria has announced their full program of twenty-three series (twenty from television and three online) for the 2018 Series Mania Melbourne Festival. Of the selection, the line-up includes five international, sixteen Australian, and two Melbourne premières of drama, comedy, and web series. Hugo Weaving will also be in conversation on 20 July with David Nicholls, acclaimed director of Patrick Melrose, which stars Weaving alongside Benedict Cumberbatch and Jennifer Jason Leigh.
'In just a short few weeks Melbourne will become a metropolis for supreme and innovative television content,' said Film Victoria CEO Caroline Pitcher. 'It is your one unmissable chance in 2018 to experience fresh and binge-worthy international and local series.'
Series Mania runs from 19 to 22 July. For more information, visit the ACMI website.
Geelong Gallery to host 2018 Archibald Prize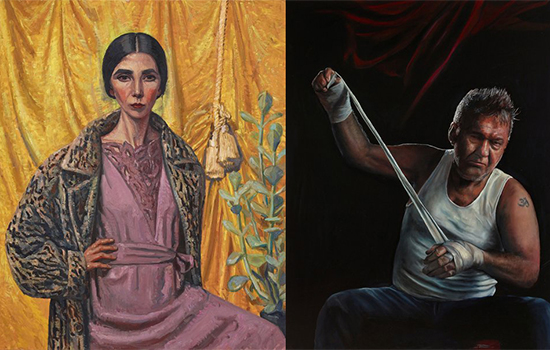 Yvette Coppersmith's Self-Portrait, after George Lambert and Jamie Preisz's Jimmy (title fight)
Opinions always vary about the artistic worth of the Archibald Prize, but it remains one of Australia's most popular art exhibitions, and now it has moved to the Geelong Gallery. This year's winner was Yvette Coppersmith, with her work Self-Portrait, after George Lambert; the Packing Room Prize went to Jamie Preisz for Jimmy (title fight), his portrait of singer Jimmy Barnes. The two works will be displayed alongside 57 other shortlisted finalists.
'We are excited to present the Archibald Prize in Geelong for the second time in two years,' said Geelong Gallery Director Jason Smith. 'We look forward to presenting our community with extended opportunities to engage with artists, sitters and more generally with the genre of portraiture.'
The Geelong Gallery will host the Archibald Prize from 22 September to 18 November. For more information, visit the Geelong Gallery website.
$30,000 Ursula Hoff Fellowship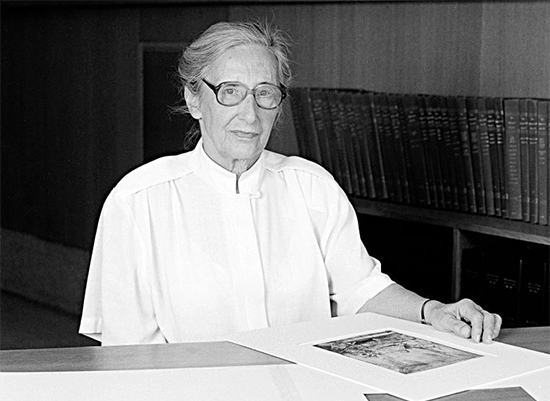 The late Dr Ursula Hoff
Ursula Hoff (1909–2005) was a distinguished curator at National Gallery of Victoria (specialising in prints and drawings) and an academic at the University of Melbourne. Applications are open for the Potter Museum of Art's Ursula Hoff Fellowship, a $30,000 award financing the study and promotion of prints held in collections at the University of Melbourne and the National Gallery of Victoria. The chosen Fellow will have a commitment to print research, print collecting history, and the scholarly activities of museums and universities. The winning candidate will access the collections based at the University of Melbourne and the NGV. The award is made available because of Ursula Hoff, and is in recognition of her scholarly and professional achievements.
For more information and application instructions, visit the Potter Museum of Art website.
2018 Art Music Awards to be announced
The eighth annual 2018 Art Music Awards are to be announced at a gala event on the Plaza Ballroom, Melbourne, on Tuesday 21 August. The award recognises achievement in composition, performance, education, and presentation of Australian art music, covering notable examples across contemporary classical music, contemporary jazz and improvised music, experimental music, and sound art.
Dean Ormson, incoming chief executive of the Australasian Performing Right Association, said, 'The Art Music Awards honour the innovative and inspiring work of the many composers, creators, educators and organisations that are making a difference in Australia and beyond.'
For more information, visit the APRA AMCOS website.
Giveaways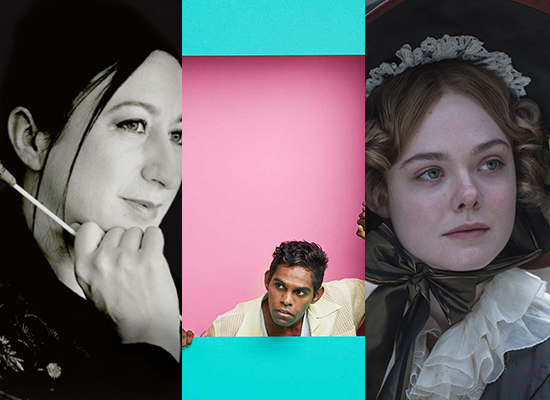 Jasper Jones
Thanks to the Queensland Theatre, two new or renewing subscribers will receive double passes to Jasper Jones, based on the novel by Craig Silvey. Showing 28 July–18 August.
Simone Young conducts Bruckner
Maestro Young, a passionate Brucknerian, will conduct Anton Bruckner's Sixth Symphony, and Kolja Blacher will play Britten's Violin Concerto. Thanks to the MSO, we have two double passes to a concert on Thursday, 5 July (7.30 pm - Melbourne), Friday, 6 July (7.30pm - Geelong), or Saturday, 7 July (2 pm - Melbourne).
Mary Shelley
Thanks to Transmission Films, five new or renewing subscribers will receive double passes to Mary Shelley, directed by Saudi Arabian filmmaker Haifaa al-Mansour. In cinemas 5 July.
To be eligible for these giveaways, you must be a current or new paid subscriber to the print edition of ABR or to ABR Online. To be in the running please email Grace Chang at This email address is being protected from spambots. You need JavaScript enabled to view it. with your full name and contact details. Preference is given to subscribers who have not received a giveaway in recent months.