The two hundredth anniversary of the publication of Mary Shelley's Frankenstein; or, The Modern Prometheus (1818) has given rise to a predictable slew of new reflections and reappraisals offering a twenty-first-century context to this seminal work. None was written with more erudition or acuity than Jill Lepore's essay for the New Yorker, which emphasised both the novel's potential as a politically radical text and the unspeakable angst endured by its author, which was in part its inspiration. At the other end of the spectrum is this occasionally charming, mostly guileless, and ultimately patchy film from director Haifaa al-Mansour, which focuses on the turbulent early years of the storied romance between Mary Wollstonecraft Godwin, as she was known at the time, and the canonical Romantic poet Percy Bysshe Shelley.
The film opens with sixteen-year-old Mary (Elle Fanning) sitting alone, writing in a graveyard overgrown with vines and greenery, the gothic imagery being served up from the outset. The scene is set for a film full of the washed-out greys, pallid complexions, and gloomy landscapes that characterise many a supernatural thriller, a comparable example being The Others (2001). Soon we are introduced to the major figures in Mary's life, including her charismatic but unforgiving father, the anarchic political philosopher William Godwin, played here with an admirably impassioned sense of solemnity by Stephen Dillane. His wife and Mary's stepmother (Mary Wollstonecraft, her mother, author of A Vindication of the Rights of Women [1792], died days after giving birth to Mary), played by Joanne Froggatt, is a less successfully crafted character, a cartoonish villain reduced to nothing but shrill complaining about everything Mary does.
Mary Shelley begins its real descent into mediocrity, however, with the introduction of Shelley (Douglas Booth), who is given some of the film's most cloying lines from a script that has no subtlety or nuance and tells its story all too literally. The poet is depicted as naïve, hypocritical, callous, pompous, profligate, and infantile, as he may well have been, but Booth's woodenness and the rudimentary dialogue ensure that he is also invested with nil personality or intrigue. Furthermore, while one must be careful about discussing an actor's physicality, Booth's chiselled features and immaculately tousled hair give Shelley the boy-band good looks (not to mention the all-too-self-aware charm of the archetypal millennial) that can adversely affect a period piece such as this.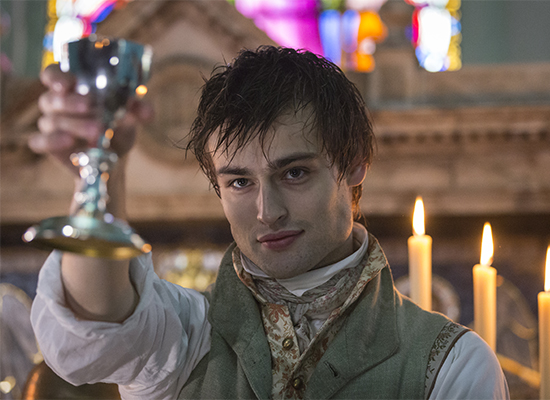 Douglas Booth as Percy Shelley in Mary Shelley (Transmission Films)
Slightly more convincing is Tom Sturridge as Lord Byron, with whom both actor and costume designer seem to have had riotous fun, the mercurial poet strutting (or rather limping, given his famous club foot) around the film looking like Purple Rain-era Prince. He too is afflicted with saccharine lines recited as if they are some earth-shattering illumination, such as, 'Would you not die for love? After all, what is life if it does not have love?'
Any heart that can be found in Mary Shelley exists with the largely impressive performance from twenty-year-old American actress Elle Fanning. Though the film never truly gets into its stride, it does improve in its second half. following the lovers' scandalous decision to live together, with Claire Clairmont (Bel Powley), Mary's stepsister, a rather frivolous, Lydia Bennett-esque character, awkwardly in tow. A number of conflicts and tragedies arise: the pair's ideals regarding free love clash with their emotional reality; their precarious financial position threatens to ruin them; their first child, Clara, dies. As Mary grapples with these blows, Fanning's performance grows in both range and maturity, allowing at least some kind of anchor for this muddled narrative.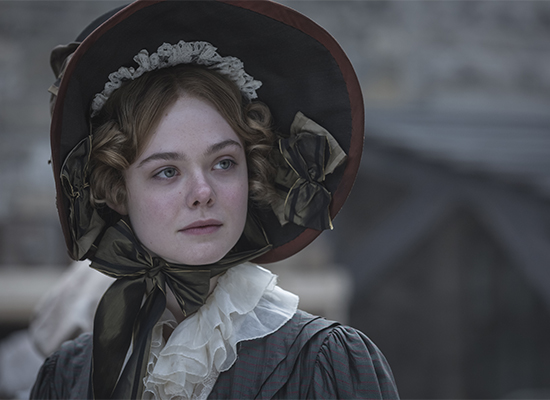 Elle Fanning as Mary Shelley in Mary Shelley (Transmission Films)
Fanning's finest moments are saved for the infamous period in Geneva when Mary, Shelley, Clairmont, Byron, and physician John Polidori (Ben Hardy) gathered for the summer of 1816 at the Villa Diodati, during which time the seed of Frankenstein was sown in Mary's imagination. Fanning sweats and shivers through this claustrophobic and unsettling section of the film, rising above both Booth and Sturridge in the same way as her character transcends the drunken and childish one-upmanship in which Shelley and Byron indulge. Ultimately, however, Fanning suffers from a script that is disappointingly reductive as a dramatisation of the lives of these intense, contradictory literary figures; it feels like it was designed for those who know nothing of them or are perhaps being forced to study them at school. It seems absurd that characters producing dialogue worthy only of a soap opera are meant to represent the creators of some of the nineteenth century's most celebrated works of literature.
The film concludes with a curious final quarter in which issues surrounding the sexual politics of Regency-era England and the attribution of Frankenstein's authorship are dealt with in a cursory, unsatisfactory way. Publishers initially roundly rejected the novel, in part because it was 'curious subject matter for a young lady', as one editor puts it. Arguably this struggle, more than any other in Mary's young life, deserves more poetic and complex treatment, as it is in her triumph in the face of indoctrinated chauvinism, and the constant public suspicion that her husband was the author (Frankenstein was initially published anonymously with his foreword), where the most contemporary resonance can be found from her life story.
A still from Mary Shelley (Transmission Films)

The convergence of her mother's death, her own motherhood, grief over her deceased children, financial woes, her father's disapproval, and her initially unfulfilled literary ambitions not only resulted in Frankenstein, but in a character ripe for cinematic exploration. Alas, Mary Shelley doesn't explore one of these things adequately, let alone examine how they intertwined to create this remarkable artist.
For a more complete examination of Mary Shelley's tumultuous life, Charlotte Gordon's 2015 book Romantic Outlaws is a fine place to start, while for a more electrifying (if inaccurate) filmic depiction of the writers of this period, Julien Temples' Pandemonium (2000) is colourful, witty, and profound. Despite a sterling effort from Fanning, this cannot be said of Mary Shelley.
Mary Shelley (Transmission Films) 120 minutes, directed by Haifaa al-Mansour. In cinemas 5 July 2018.
ABR Arts is generously supported by the Ian Potter Foundation and the ABR Patrons.