One would have hoped that in the four years since Jada Alberts's fine début play Brothers Wreck premièred at Belvoir Street that its concern with the issue of Indigenous despair would have come to feel less vital, and yet the problem is as acute as ever. This week we learned that every child in detention in the Northern Territory, where Brothers Wreck is set, is Indigenous. Meanwhile, Aboriginal and Torres Straight Islander people are ending their own lives at a rate at least twice that of the non-Indigenous population, with men under the age of thirty-five most likely to do so.
Brothers Wreck opens with such a suicide, offstage but otherwise as harrowingly depicted as you could wish. Typically of intergenerational trauma, and the virus-like creep of hopelessness, six months later it is Joe's cousin and friend, Ruben (Dion Williams), who is at risk. Tormented by guilt, the nature of which Alberts adroitly teases out over the course of the play, Ruben has withdrawn into a kind of dissociative state. His interactions with sister Adele (Leonie Whyman) and friend (and Adele's boyfriend) Jarrod (Nelson Baker) are characterised by evasion and violence. He is on bail, having assaulted a policeman, and is receiving counselling from David (Trevor Jamieson), a gruff but father-like parole officer who draws Ruben's ire for his perceived class privileges. Ruben calls him 'Stuart Park', a reference to the well-to-do Darwin suburb, telling him, 'You had choices'. One of the great strengths of Alberts's play is the way it complicates this statement, illustrating the grossly unequal distribution of opportunity and social mobility in Australian society but not losing sight of the power of individual or familial agency.
Family is everything. While the engine of the play's drama is Ruben's anger, it is his quietly determined sister and rambunctious, iron-willed aunt Petra (Lisa Flanagan, the only actor here reprising her role from the 2014 production) who are the vehicle's chassis. In their resolve and generosity of spirit, they hold everything together without absolving the men of their responsibilities to the family and to themselves, shown for example by Petra's fierce insistence that Ruben visit his adopted mother in hospital no matter the depression and alcoholism he has sunk into.
Lisa Flanagan as Petra in Odeon Theatre's production of Brothers Wreck (photos by Tim Grey)
As reflected in Dale Ferguson's oppressive set – a sort of abstracted bivouac of clear tarpaulin, inlaid on walls, floor, and ceiling with screen doors – Alberts's characters are not only walled-in by social disadvantage but also by expectation. As much as anything, the play functions as a commentary on the destructive effects of a society that continues to deny young men tools to manage hardship and trauma other than repression and rage. As David says to Ruben: 'Mob can't survive like that, you can't survive like that. We gotta talk to each other, as hard as it is, 'cause I guarantee you, that phone will ring and you'll have to say goodbye again.'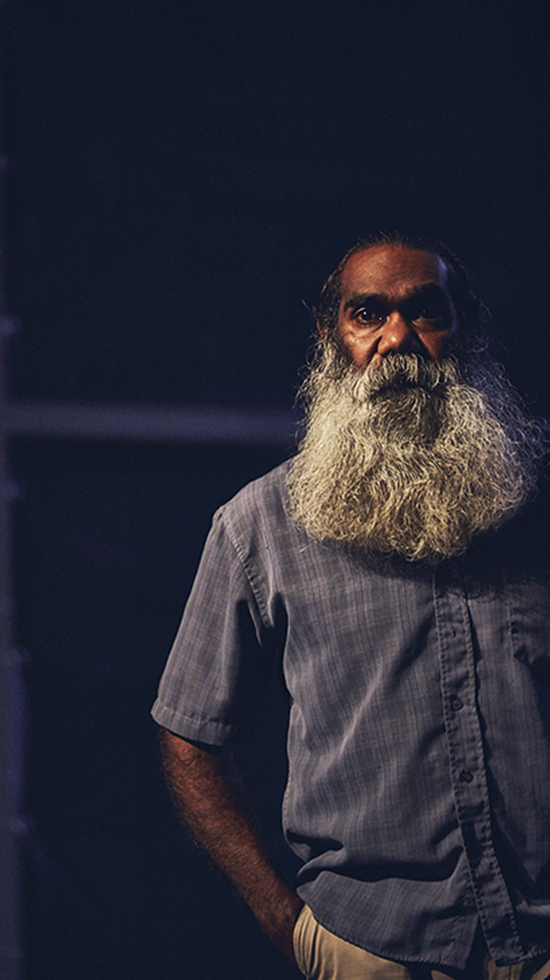 Though perhaps over-reliant on monologue as an explicatory device, Brothers Wreck is a tightly written, compactly structured, and tonally varied play. For all the grimness of its content, it is impressively warm. The playwright herself directs with a firm hand, although the gestural language introduced in the first scene – intended, presumably, to leaven the production's realism – is never satisfyingly developed.
For such a green cast – both Baker and Williams make their stage débuts here – the performances are nuanced and compelling, despite the latter's occasional lack of clarity. Flanagan is a joy as Aunty Pet – many of the Indigenous members of the opening night audience recognised the type immediately and gleefully – while Whyman, tentative at first, grows into her role with skill and verve.
In Brothers Wreck, Alberts has found an intriguing title for her play. Minus the expected possessive apostrophe, it suggests that wrecking is what men do, rather than what happens to them. More literally, it is the name of the bay where Ruben and Jarrod sometimes go to fish, once a site of escape now tainted by a connection to Joe's suicide. But I wonder if Albert's title doesn't also allude to T.S. Eliot's The Waste Land, that mighty invocation of disillusionment and despair:
A rat crept softly through the vegetation
Dragging its slimy belly on the bank
While I was fishing in the dull canal
On a winter evening round behind the gashouse
Musing upon the king my brother's wreck
And on the king my father's death before him.
Eliot, himself referencing Shakespeare's The Tempest – in which a revengeful Prospero summons a storm to shipwreck his brother – paints a bleak picture of the members of a family turning their backs on each other. Alberts's play, however, reverses Eliot's cynicism. For the playwright, family is a source of hope, a bulwark against the institutional racism that continues, two centuries after colonisation, to overdetermine the lives of Australia's First Nations people. whose resilience Brothers Wreck powerfully captures.
Brothers Wreck, written and directed by Jada Alberts, is a joint production of the State Theatre Company and the Malthouse Theatre. It continues at the Odeon Theatre until 14 July 2018. Performance attended: 29 June.
ABR Arts is generously supported by the Ian Potter Foundation and the ABR Patrons.