For its first Original film, Stan could have opted for a cleanly prescribed, commercial genre piece, as per its Wolf Creek series – clearly pitched at millennials. But the trailer that emerged in late 2017 for The Second promised something unusual: a psychological thriller defined by a love triangle between a novelist, her publisher, and an enigmatic third player – in other words, a smart, character-driven drama for adults, led by three screen veterans, Rachael Blake, Susie Porter, and Vince Colosimo. Instead of young Home and Away graduates, blokey urban crime tales, Jaws plotlines in the Great Barrier Reef, we might have anticipated a nostalgic return to the independent local dramas of the 1990s – a modest, quality, low-budget film, shot in the countryside three hours west of Brisbane. Co-funded by Screen Queensland, The Second was to be shown at festivals, then nationally in cinemas, before finding a home on Stan's subscription video-on-demand service.
The characters are billed as archetypes. Blake plays The Writer, who is known to craft her books from the material of her life. Her début, a sexually charged, audacious memoir, was followed by a novel about a murdered country boy. Suffering from second novel syndrome and embarking on an affair with her Publisher (Colosimo), she returns to her novelist father's Queensland estate for the first time since his death to begin writing her next book. The arrival of a charismatic old friend, The Muse (Porter) halts The Writer's novel-in-progress. The two women are united by a terrible secret, potentially the source of The Writer's previous story. 'A work of art is a confession', we are told; perhaps Blake's suspicious sophisticate has lodged one in hers.
Metaphors of danger and doom abound: bloody roadkill is dodged, birds squawk, the property's grand pool is half empty, The Writer's reflection appears upside-down in various surfaces. The film's early scenes promise a mansion mystery, sliced with elegantly edited flashbacks to the women's repressed history, which The Writer feeds into her new manuscript.
Country Gothic bleeds into a kind of soapie telemovie, with nods to half a dozen other genres. An action scene positions Blake as a gun-toting Sarah Connor figure. Crime mystery protocols necessitate red herrings and concealed identities. Horror tropes also emerge. 'We don't go in there,' The Writer says, gesturing to her father's old study. Quickly, the promise of an intelligent, character-driven, suspenseful drama gives way completely to a convoluted novel-within-a film concept.
Susie Porter in The Second (Stan)
However rocky the film's generic orientation, the tone never wavers, settling on melodramatic self-seriousness where a more camp tone would have acknowledged and complemented the plot's less plausible turns. Pulp, after all, demands pulp treatment. Evidently, Australian cinema's B-movie traditions expired long ago. As The Second wears on, more and more exposition is delivered in text read from The Writer's draft novel. Unmoored from any coherent grounding, the characters' behaviour becomes ever more inexplicable. Even an actor as skilled and self-possessed as Blake – whose onscreen persona often projects tough women who refuse to ask to be liked – cannot reassure us as her character's motivations shift from scene to scene.
At the Sydney Film Festival première in June 2018, writer and producer Stephen Lance described his script as a 'hall of mirrors, twisting turning thriller', while first-time director Mairi Cameron spoke of her vision of a 'fabulous, dark, wicked, scandalous' tale of 'survivors' and 'damaged women'.
But The Second is not the only recent Australian story to deliver muddled sexual politics amid contemporary screen culture's gender Zeitgeist. The secrets of ABC's Mystery Road series were unlocked by an Indigenous girl lying about the identity of the paedophile who raped her. Here, The Writer's creative block is unbolted by recalling her teen traumas with The Muse, which involve a sexual encounter with a local boy. Digging into rather than subverting common conventions of seductresses and femme fatales, the plotline unfolds with such a lack of clarity that it is hard to know what The Second saying about the sexual power, or disempowerment, of teen girls.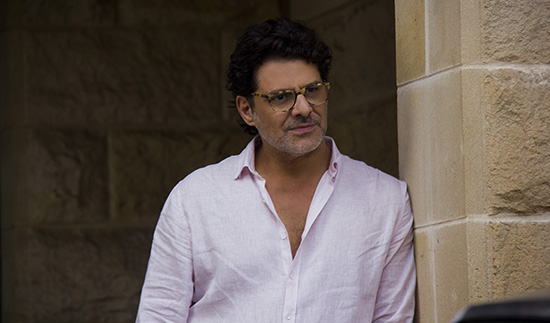 Vince Colosimo in The Second (Stan)
While Presto and Dendy Direct have already disappeared from the streaming market, Stan has emerged as Netflix's main commercial competitor in Australia. The latter has little interest in producing local films, but Stan's brand is built on its involvement in Australian small screen culture. The Second's première followed the company's announcement, in June, that it has three further original television productions underway, along with exclusive deals with two Hollywood studios.
Filmmakers and industry analysts have long been anticipating the first local film made by a streaming platform. It stands as something of a flagship product for Stan. Now The Second has arrived and it's a calamity – an Australian version of a US Lifetime film. Are the streaming wars really going to be fought over bespoke telemovies? Are original stories by streaming platforms likely to be much more than a algorithm-mandated need for more content to fill an online catalogue? It matters, because as more of screen culture shifts to streaming platforms, it seems they may not just decouple film from the cinema-going experience, but change the kinds of films that are being crafted. Whether Stan and other streaming providers are up to the task of consistently shepherding quality cinema to small screens remains to be seen.
The Second, 94 minutes, screened at the Sydney Film Festival on 9 and 10 June 2018, and will be showing in cinemas from 5 July and on Stan from 20 July.
ABR Arts is generously supported by The Ian Potter Foundation and the ABR Patrons.