'People who don't like tunes don't like Berlioz.' Thus, the late Colin Davis, famed English conductor and Berlioz exponent, said in 2007 about L'Enfance du Christ. Davis, in his wry, gently combative English way, and with a burnished reputation behind him, didn't have to care about musical fashion or despised tunes: 'That doesn't make any difference to me. I love them.'
And so, clearly, does Andrew Davis, that other famed English conductor whose laurels license his program choices – and who surprises us with joy. Under his baton, the Melbourne Symphony Orchestra and Chorus gave its audience compelling reasons to love Berlioz's 'tunes', and indeed all of this subtle, too rarely heard work (the MSO's last outing with L'Enfance was in 1969). The 2018 performance was triumphantly coherent and transfixing, with Davis's command over his resources extending to dramatic blocking – his singers and players moving, entering, and exiting to subtle effect. L'Enfance du Christ is the opposite of 'stand and deliver' oratorio, and original in ways that Andrew Davis honours with his dynamic interpretation.
Like so much of Berlioz's oeuvre, L'Enfance had a complicated history. It was written, piecemeal, over some years, and against a background of personal and political tumult – revolution in his native France, the death of his father, and the alcoholism and illness of his troubled wife and muse, the Irish actress Harriet Smithson. It was conceived, in 1850, as a comic (and splenetic?) repudiation of his critics and the unappreciative audiences who had so often rejected his music. Berlioz wrote it first as an organ piece, called 'L'Adieu des bergers', for his friend Joseph-Louis Duc. He then transformed it into the choral work we know as The Shepherds' Farewell, and had it performed under the name of an 'obscure' (and fictitious) seventeenth-century monk called Ducré. ('I don't know how they swallowed that, but they did', observed Colin Davis, 143 years later). Berlioz's critics were charmed – and fooled. And the composer had the brackish satisfaction of poetic justice.
Over the next few years Berlioz added the solo parts, the sections La fuite en Egypte, The Flight to Egypt; L'Arrivée à Saïs, The Arrival at Sais; and, finally, Le songe d'Hérode, Herod's Dream – completing the work as we know it now. It could have been a farrago, but it wasn't. The work has a delicate, tapering, and highly original structure, and its transitions, when achieved (as they were under Davis and the MSO), are magical – like a shift from storm cloud to a cerulean sky. To ease the changes there are indicative bars of rest in the score; in the MSO performance there was corresponding and sustained breath control from conductor, orchestra, and audience – the ideal live interaction.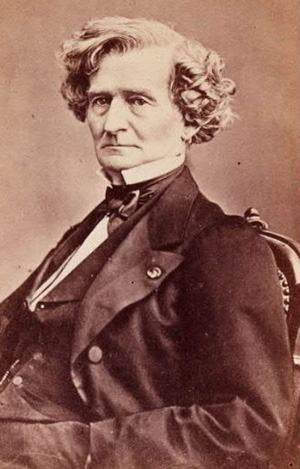 Louis-Hector Berlioz (photograph by Franck, Wikimedia Commons)Berlioz used the Gospel of Matthew as a springboard for his libretto, but the words bear his hallmark. These are not the time-polished texts that Handel exploited so exuberantly: this is pure nineteenth-century Romanticism, imbued with psychological speculation, and inflected with Berlioz's abiding passion for Shakespeare. 'Shakespeare … struck me like a thunderbolt. The lightning flash of that discovery revealed to me at a stroke the whole heaven of art …' he wrote in his Memoires (1870). The oratorio's narrative is bookended, Henry IV-like, by a récitant (narrator) and chorus. Andrew Staples was an ideal narrator, his tenor dramatically fluent and dulcet in the upper range, especially when singing pianissimo, as he did so beautifully, and with formidable control ('Tous attendaient' – 'Everyone waited'). He moved swiftly to introduce the story and the characters, all psychologically individuated. Then, preceded by a fugal Marche nocturne, the Roman centurion (tenor Andrew Goodwin) and Polydore (bass Shane Lowrencev) sang small but memorable roles, whingeing about their provincial posting and the paranoid, petty King Herod: 'Il rêve, il tremble, / Il voit partout des traîtres' – 'He broods, quakes with fear, / sees traitors on every side'. As the soldiers departed, offstage left and right, effecting a mini drama rather than a set piece, the orchestra resumed the Marche, fading but still pulsing, a testament to Berlioz's instrumental mastery (his justly famous Treatise on Instrumentation had been published in 1844) and to Davis's exhilarated – and exhilarating – command of his orchestra.
The narrative shifts to the palace of King Herod (bass Matthew Brook) and to an aria that looks forward to Freud ('Toujours ce rêve' – 'The dream again!') and backward to Shakespeare's Henry IV Part 2 and 'Uneasy lies the head that wears a crown.' But Henry Bolingbroke's wily world-weariness is stronger meat than Herod's 'O misere des rois!' – 'O misery of kings'. Where Herod mewls, the conniving Henry utters stark truths. Matthew Brook's bass was well equipped to convey Herod's fears and escapist hankerings – 'to follow the goat herd into the heart of the woods' – but could not quite plumb the depths of 'interminable nuit'. Those lines demand the sombre timbre and tragic resonance of a Paul Robeson – to match the trombones that accompany Herod's violence, and his despair.
Berlioz, as sure of his stagecraft as of his instrumentation and choral effects, then introduces a different set of characters, the ominous, chanting Devins (soothsayers – kin to Macbeth's witches?) who goad Herod to preemptive slaughter of the innocents. Here, Davis created a mood of collective malevolence by suspending his male choristers in a block high above the orchestra, where they conjured spirits in staccato, and the strings shrieked in 7/4 frenzy while the trombones presaged horror. Then, abruptly, by Berlioz's and Davis's sleights of orchestral hand, the fury faded into wind (the MSO's woodwind section was exemplary) and we were in the stable at Bethlehem.
Sasha Cooke's mezzo is liquid and haunting, powerful enough to immediately establish the mother, Mary, as the centre of focus, and displace chaos, as though by a miracle. Her duet with baritone Roderick Williams (Joseph) was a brief intimation of heaven, the interlacing vocal lines and rhythms pastoral but never saccharine. The chorus of angels (offstage to enhance the ethereal effect) that followed – leaping, overlapping crystalline sounds – introduced a note of foreboding ('Il faut sauver ton fils / Qu'un grand peril menace', 'Thou must save thy son, whom great danger threatens') and concluded with Hosannas as filigree and melting as snowflakes. Superb singing.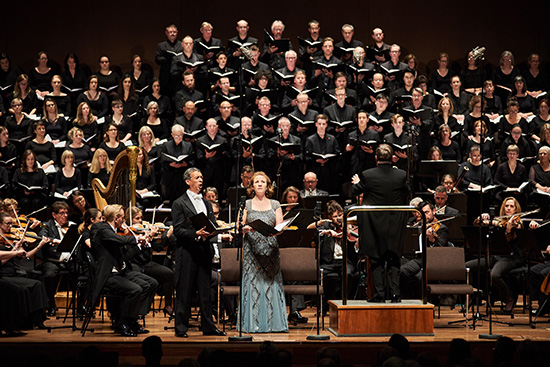 The Melbourne Symphony Orchestra perform L'Enface du Christ (photograph by Daniel Aulsebrook)
Berlioz eases his audience into the two remaining sections – the flight, and the arrival in Egypt – with an evocative orchestral fugue (new modalities, hinting at new geography) and then the choral interlude of The Shepherds' Farewell. The full MSO Chorus, under chorus master Warren Trevelyan-Jones, has precision and amplitude – pure in its unison passages, and plangent or clamorous when splendour or terror is required. It is a rare pleasure to experience an entire choral performance without once wincing when the sopranos go sharp or the tenors get lost in a fugue.
The tenor narrator returns, initially to describe the family's brief idyll in an oasis, and their blessed sleep (the contrast with Herod is clear, but not laboured), and then the hard exile flight into Egypt. Andrew Staples's tenor was penetrating, and sermon enough about the plight of refugees, if one were needed. Then, in another of Berlioz's narrative twists, Mary, Joseph, and the child ('pauvres Hébreux') are welcomed into the bountiful house of an Ishmaelite. Herman Melville wrote his classic outsider's opening line – 'Call me Ishmael'– of Moby Dick in 1850. Coincidence? Confluence of ideas in art?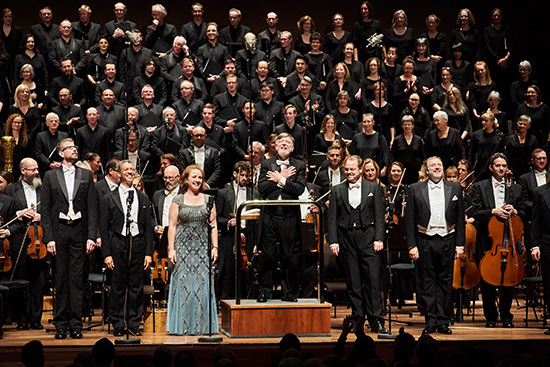 The Melbourne Symphony Orchestra perform L'Enface du Christ (photograph by Daniel Aulsebrook)
The Ishmaelite/father of the house, sung here wholeheartedly by bass Matthew Brook in an intriguing doubling with his role as Herod, calls for music, 'la science sacrée', to seal the evening's peace. Berlioz introduces another coup: a trio for two flutes and a harp, exquisitely performed on this occasion. After that, what could follow? Intimations of sleep, then the ten, sustained transitional bars that suggest the ten years in Egypt, and, finally, the graceful pivot into the tenor's epilogue, and the sceptical Berlioz's question to himself 'O my soul, what remains for you to do but shatter your pride before so great a mystery?' Andrew Staples walked back to join the concluding chorus. And the audience was kept suspended in a kind of exultation, held by 'the sacred science' of music.
Andrew Davis has been giving Melbourne revelatory master classes in oratorio (and much else) for all of the years of his tenure as chief conductor of the MSO. One hope the revelations will continue when he becomes conductor laureate in 2019.
L'Enfance du Christ, conducted by Andrew Davis, was presented by the Melbourne Symphony Orchestra at Hamer Hall, Arts Centre Melbourne from 15–18 June 2018. Performance attended: 15 June.
ABR Arts is generously supported by The Ian Potter Foundation and the ABR Patrons.