Plus ça change, plus c'est la même chose. First performed in 1991, Stephen Sondheim's musical Assassins has sadly lost none of its topicality regarding gun culture or the 'disenfranchised' lunatics who wield such weapons.
As Roger Hodgman, who directs this brilliant new production for the Black Swan State Theatre Company, writes in his program note: 'In the opening scene, it is impossible to watch the Proprietor hand round guns to the odd group of misfits, loners and angry people that went on the attempt assassinations without thinking about the burning issue of guns in contemporary America … [T]owards the end, the lyrics uncannily echo the words of many of the angry and disappointed voters who elected Donald Trump.'
Assassins – a funny, macabre (though not quite in the same way as Sweeney Todd) revue of sorts – brings together killers and would-be killers of US presidents from Abraham Lincoln to Ronald Reagan. In 'conversation' with Black Swan's concurrent production of David Greig's The Events (2013), which deals with the aftermath of a mass shooting, it makes for doubly compelling theatre.
With a book by John Weidman and based on an idea by Charles Gilbert Jr, Assassins opens in a fairground shooting gallery. Here, designer Lawrie Cullen-Tait and lighting designer Mark Howett meld historicism and nightmare to hint at a seedy, decadent vision of Pax Americana, where the Proprietor (Luke Hewitt) has laid out his deadly wares to tempt the nine assassins.
One by one they select their weapons of choice, joining in the opening chorus, 'Everybody's Got The Right': 'Everybody's got the right to be happy … everybody's free to fail … free country means you get to connect.' It is difficult not to connect 'connect' with Trump's use of social media here, among other uncomfortable resonances.
There follow solos, duets, and ensembles as each assassin tells his or her story, often assisted by The Balladeer (Finn Alexander).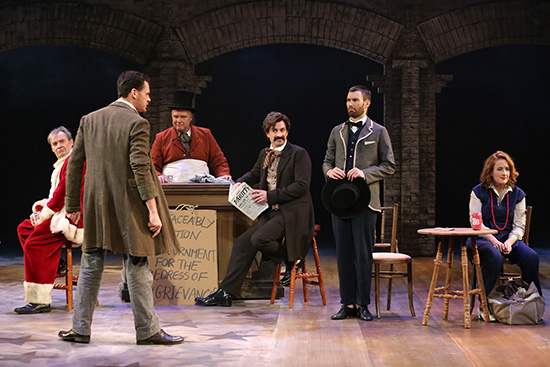 The cast of Black Swan State Theatre Company's Assassins (photograph by Philip Gostelow)
There is Lincoln's killer, John Wilkes Booth (a moustachioed Brendan Hanson). 'Every now and then a madman's bound to come along', goes The Ballad of Booth. Chilling words. There are Charles Guiteau (Will O'Mahony), who slew President James A. Garfield in 1881 because he thought it would help sell the former's book, and Leon Czolgosz (Cameron Steens), the factory worker and anarchist who murdered President William McKinley in 1901.
Then there are the failures: the vertically challenged Giuseppe Zangara (Nathan Stark), whose attempt to kill Franklin D. Roosevelt in 1933 was foiled by an unstable chair Zangara was standing on; Samuel Byck (Geoff Kelso), whose abortive scheme to hijack an airplane and crash it into the White House, thereby killing Richard Nixon, cannot fail to conjure up images of 9/11; Lynette 'Squeaky' Fromme (Mackenzie Dunn) and Sara Jane Moore (Caitlin Beresford-Ord), who both took a shot at Gerald Ford in 1975, just seventeen days apart; and John Hinckley Jr (Nick Eynaud), the Taxi Driver fan who wanted to impress actress Jodie Foster by killing President Reagan. Finally we have Lee Harvey Oswald (Alexander), whose successful attempt on John F. Kennedy's life is brought into sharp relief by the citizens recalling where they were and what they were doing in the song 'Something Just Broke'.
Part of Sondheim's genius in Assassins was to characterise the different assassins and their historical periods by drawing on different musical styles, from nineteenth-century hymns to 1970s pop. For example, 'How I Saved Roosevelt', sung by an ensemble of bystanders and Zangara, recalls a Sousa march; Stephen Foster is also in there somewhere.
Further layers of historical context and deliberate anachronisms are provoked by Lynn Ferguson's costumes and Michael Carmody's ghostly video projections.
Throughout, Jangoo Chapkhana's musical direction is as sure as Hodgman's, and the cast, which also includes Natasha Vickery as Emma Goldman and Oliver Halusz and Jacob Clayton as young boys, is uniformly excellent. But there are standouts. Among them is O'Mahony, whose 'The Ballad Of Guiteau' with Alexander features such classic lines as, 'The Lord's my employer and now he's my lawyer', while recalling, in Guiteau's manic 'Look on the bright side!' as he ascends the scaffold, Monty Python's 'Always Look On The Bright Side Of Life'. Dunn and Beresford-Ord are also terrific as Manson-devotee Fromme and former FBI informer Moore.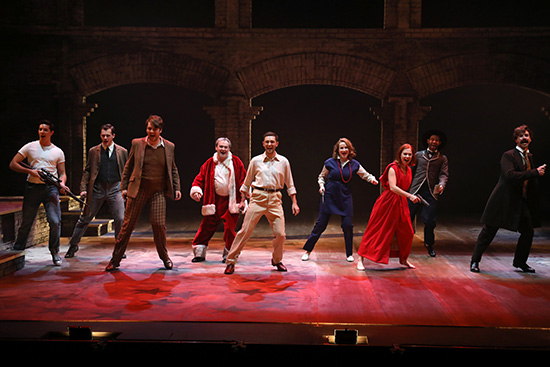 The cast of Black Swan State Theatre Company's Assassins (photograph by Philip Gostelow)
Assassins comes full circle with a reprise of 'Everybody's Got The Right'. But perhaps the most terrifyingly prescient – in terms of one finger being required to make a keystroke or tap a touchscreen – is the Gun Song: 'It takes a lot of men to make a gun … all you have to do is move your little finger and you can change the world … what a wonder is a gun …'
Sitting in the audience, you are immediately reminded of how you felt when the assassins first took up their guns and pointed them directly at you: accusatory, metaphorical fingers.
Assassins (Black Swan State Theatre Company) continues at the Heath Ledger Theatre, Perth, until 1 July 2018. Performance attended: 20 June.
ABR Arts is generously supported by The Ian Potter Foundation and the ABR Patrons.