Ninety years ago, the British economist John Maynard Keynes forecast that by now, thanks to technological advances, we would all be working fifteen-hour weeks. Instead, we are drowning in work – much of it unnecessary – to the point of existential despair. According to recent studies in Britain and the Netherlands, almost half of us feel our jobs contribute nothing of value to the world.
Young American playwright Branden Jacobs-Jenkins's 2015 comedy-drama Gloria is set against the backdrop of this keenly felt corporate ennui – fecund comic ground for such era-defining television shows as The Office. Here, though, the alienation of white-collar workers from their labour and one another is given its full, tragic dimension in the shape of another peculiarly contemporary phenomenon: the mass shooting.
Jacobs-Jenkins's petri dish is the culture section of a storied magazine based in Manhattan (its resemblance to The New Yorker, where the playwright was once employed as an editorial assistant, is unmistakable). Subeditors Dean (Jordan Fraser-Trumble), Ani (Jane Harber), and Kendra (Aileen Huynh) are approaching thirty. Having sought something, anything, to do after college, they find themselves trapped in spiritually enervating jobs, their aspirations – Dean, for example, is looking to publish a memoir – thwarted by the daily grind. Archly competitive and self-centred, they are model products of late capitalism. They fight like cats in a sack, all too aware of their slim leverage within an industry that is pitiless by nature and besieged by circumstance. While not exactly cruel, none, except sensitive intern Miles (Callan Colley), has any compunction about selling the others down the river in the pursuit of real or perceived career advantage. Their microaggression-filled banter, portending the tragedy to come with its allusions to hostages and terrorists – not to mention its offhand death threats – zips back and forth with a colourful ferocity reminiscent of David Mamet (Jacobs-Jenkins is also fond of, and adept at, the kind of screed-like monologues beloved of American television writers like Aaron Sorkin.)
While broadly acclaimed in the United States, where it was a finalist for the Pulitzer Prize, Gloria's structure left some British critics scratching their heads. It is certainly novel. Australian realist drama has conditioned us to expect the bloodletting at the end in the form of a cathartic release. Here, the blood is spilt at the play's midpoint – the titular character, played with against-type oddness by Lisa McCune, opening fire on her co-workers in a shocking (and, it must be said, brilliantly staged) eruptive moment – with the second act tracking towards a distinctly anticlimactic climax (Jacobs-Jenkins has said that the play 'denies resolution on a narrative level'). It is a structure that has the effect of intensifying rather than developing the playwright's cynical vision of these characters and the system that has produced them as the shooting's survivors, pugnaciously committed to their reputational struggles as ever, hawk their respective accounts of the atrocity to various publishers and movie studios. Only the sympathetic Lorin (Peter Paltos) seems changed beyond the level of traumatisation, telling his new co-workers that he wants to be more 'present' in his life (he even befriends the office's IT guy, a gesture that is at first mistaken for a pass).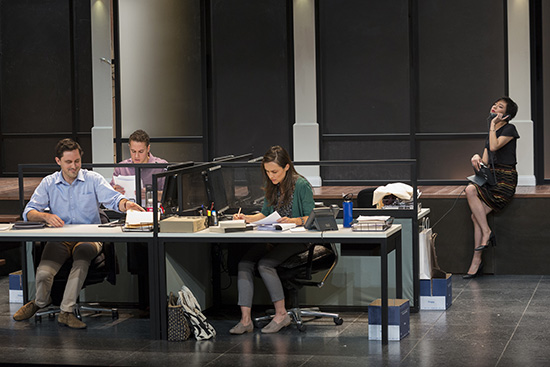 Jordan Fraser-Trumble, Callan Colley, Jane Harber, and Aileen Huynh in Melbourne Theatre Company's production of Gloria (photograph by Brett Boardman)
The play, even by Jacobs-Jenkins's own admission, is tonally uneven. It also raises some puzzling, even troubling, questions, such as why the killer, who has no apparent motivation beyond the fact she throws parties that almost nobody in the office attends, is female, given that vanishingly few mass shootings are perpetrated by women. But, then again, perhaps Gloria's unknowability is the point: that so estranged are we from one another under capitalism that the people with whom we spend most of our time – notoriously, not our friends or family, but the people we happen to work alongside – are, ultimately, strangers to us. Certainly, the play's quietly downbeat conclusion – Lorin's new, younger boss, Rashaad (Colly), gives up trying to start a conversation with Lorin, who is wearing headphones and can't hear him – leaves the playgoer with an unsettling image of our increasing social isolation.
Lee Lewis directs with her usual flair and marshals assured performances from her cast, most of who play multiple roles. Especially good are Fraser-Trumble as Dean – glib and truculent pre-shooting, afterwards hollow-eyed and grasping – Paltos as Lorin, and, in the play's first half, Huynh as the deliciously catty Kendra. McCune's is by no means a star turn, her dual roles skilfully rather than showily differentiated.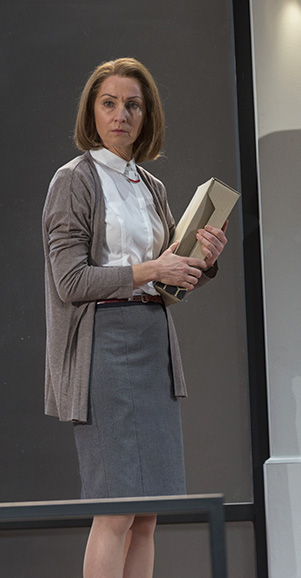 Lisa McCune in Melbourne Theatre Company's production of Gloria (photograph by Brett Boardman)In a rarity in this country, the American accents are uniformly strong and consistent. Christina Smith's hyperrealistic design, meanwhile, impresses in its attention to detail, each of her three sets redolent of the lonely, anonymising spaces the French anthropologist Marc Augé has called 'non-places'.
Jacobs-Jenkins's working title for his play was Or Ambition. In Gloria, he found a less literal name, one that, in referencing Bach's sublime Mass in B Minor, strikes just the right note of irony. What does it say, I wonder, that in this production it is the intern – young, quixotic, and as yet untrammelled by the corporate machine – who is listening to the Mass on his headphones as the curtain rises?
Gloria (Melbourne Theatre Company) will be performed at Southbank Theatre, The Sumner, until 21 July 2018. Performance attended: 21 June.
ABR Arts is generously supported by The Ian Potter Foundation and the ABR Patrons.