Highlights of the Year
2016 Arts Highlights of the Year
To highlight Australian Book Review's arts coverage and to celebrate some of the year's memorable concerts, operas, films, ballets, plays, and art exhibitions, we invited a group of critics and arts professionals to nominate some favourites.
John Allison
Creeping nationalism has been one of the more depressing aspects of 2016, but at least most leading opera houses are opening their artistic borders rather than shutting them. My year of highlights began and ended with two striking examples of this, with Polish National Opera inviting an outsider (David Pountney) to direct Stanisław Moniuszko's Haunted Manor for the first time and the Hungarian State Opera doing the same with Zoltán Kodály's Spinning Room (Michał Znaniecki). In between, the first production at Covent Garden of George Enescu's Oedipe (by the Catalan collective La fura dels baus) represented a turning point for this Romanian masterpiece. Happily, this year has also seemed to bring more productions of Bohuslav Martinů's operas outside the Czech lands than ever before. The only setback for Czech music I heard was Simon Rattle's patronisingly distorted performances of Anton Dvořák's Slavonic Dances with the Berlin Philharmonic at the Proms – one of the year's turkeys.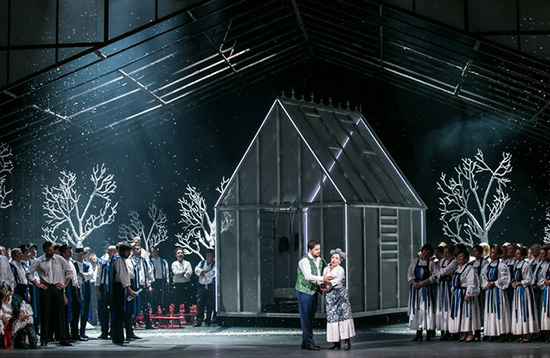 The Spinning Room (photograph by Szilvia Csibi, Hungarian State Opera)
The most memorable concerts were more intimate affairs at the Wigmore Hall: the Heath Quartet's sensational Bartók cycle at the Wigmore Hall and an evening of Beethoven songs with baritone Matthias Goerne and period-pianist Kristian Bezuidenhout. Beethoven really created the first song cycle in An die ferne Geliebte, but few performers show how, in addition to his longing for 'the distant beloved', the call of the mountains and meadows echo his Pastoral Symphony.
Robyn Archer
Orava Quartet played the Shostakovich String Quartet No 8 in the BBC Proms salon series at Melbourne Recital Centre. These young men are the real deal, and they performed the work with all the intensity it deserves. We're used to seeing this work played so well by other vigorous quartets such as Brodsky and Kronos, but Orava are the next generation and it's so good to see a young Australian quartet taking its music so seriously.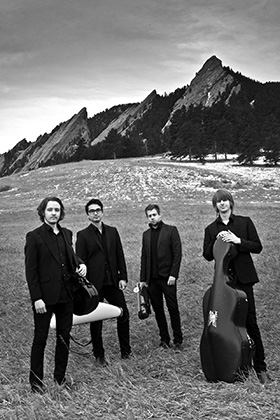 The Orava Quartet There is a unique collaboration between Gavin Webber (dancer, choreographer co-founder of contemporary dance company The Farm) and Kayah Guenther, a young man who has Downs Syndrome. With a highly respectful approach, of the kind that Back to Back Theatre exemplifies, this is tough and uncompromising dance in which no quarter is given. Both dancers give their all in a highly physical exchange. When Kayah steps forward and says, haltingly, 'When I dance I feel strong. I am a strong man', there's not a dry eye in the house. You'll have to travel far to see the next performance – at the Puerto de Ideas in Valparaiso, Chile in November 2016.
Shifting Sands was a large-scale community event for Bleach on the Gold Coast. Directed with characteristic authenticity and flair by Donna Jackson, the event combined paddle-boarders, oral history, local Indigenous people, the Queensland Ballet, synchronised swimmers, and some cool music to document the life and times of the beloved Currumbin Estuary. Held at dusk, it was a beautiful work which celebrated a place and its people with grace, fun, and awe: an object lesson in terrific community process resulting in an excellent end-product.
Ben Brooker
2016 was not, for me, a stellar year for new Australian theatre. My highlights were international – the deeply moving non-professional cast of 600 Highwaymen's wordless The Record at OzAsia – and musical: Robyn Archer's fierce and funny Brecht/Weill revue, Dancing on the Volcano, at the Adelaide Cabaret Festival; the State Opera of South Australia's production of George Palmer's Cloudstreet (Arts Update, 5/16); and James Morrison in concert with his youthful big band, the prodigiously swinging Academy Jazz Orchestra.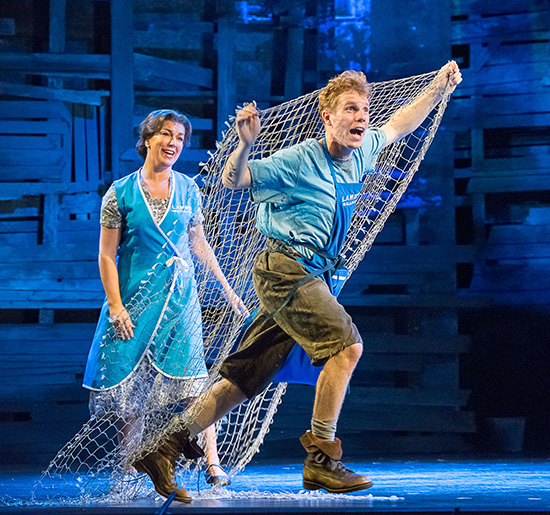 Antoinette Halloran as Oriel Lamb and Nicholas Cannon as Fish Lamb in State Opera of South Australia's production of Cloudstreet (photograph by Oliver Toth)
Neil Armfield's King Lear at Sydney Theatre Company, with Geoffrey Rush masterful in the title role, did not disappoint (Arts Update, 11/15). I had looked forward to Machu Picchu at State Theatre Company of South Australia, but its reteaming of director Geordie Brookman and playwright Sue Smith from 2014's superb Kryptonite did not see lightning strike twice. But let's face it – most everyone had their work cut out for them in what was a bleak year to be an artist in this country.
Lee Christofis
Northern hemisphere choreographers dominated the 2016 Australian dance calendar, beginning with the Pina Bausch Company's Nelken (Carnations) at the Adelaide Festival (Arts Update, 3/16), and Spanish-born Rafael Bonachela's Lux Tenebris for Sydney Dance Company.
The Australian Ballet presented short works by three of the world's most illustrious artists – William Forsythe, Jiři Kylián, and Christopher Wheeldon – but memories of these were but all but eradicated by John Neumeier's Nijinsky, created for the Hamburg Ballet, which he has directed for forty years (Arts Update, 9/16). Nijinsky is a monumental experience for dancers, musicians, and audiences alike, as it delves into the fantasies and psychotic episodes through which the greatest Russian dancer of his day recounted his glamorous career and his decline into madness. Rarely have the dancers of The Australian Ballet been so drilled and galvanised, dancing beyond their experience into such contrasting worlds of war and terror, as well as the beauty and sexually ambiguous ethos of the Ballets Russes.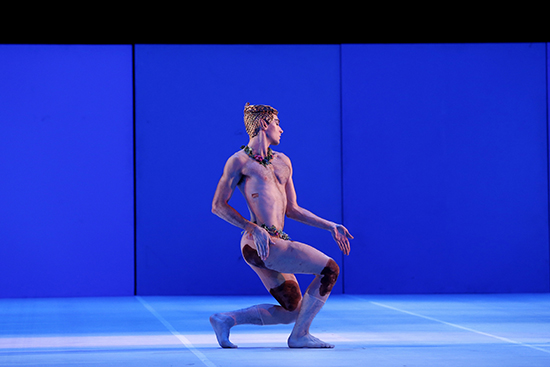 Cristiano Martino as the Faun in The Australian Ballet's Nijinsky (photograph by Jeff Busby)
On a much smaller scale, existentialism, absence, and longing have fueled Rafael Bonachela's recent works for Sydney Dance Company, nowhere better than this year's Lux Tenebris. Nick Wales's dense, moody score underpins the vital ways Bonachela has begun to complicate his stage pictures. Lux Tenebris was as exhilarating as it was emotionally commanding, and the dancers of Sydney Dance Company, who always look wonderful under Bonachela's direction, revealed themselves as heroes of a completely different class.
In cinemas, 'live' screenings from the Royal Ballet delivered treasures in spades: revivals of two Frederick Ashton choreographies: Rhapsody and Le Deux Pigeons; and a new Frankenstein by Liam Scarlett, whose A Midsummer Night's Dream was sold-out hit for Queensland Ballet in April (Arts Update, 4/16). The Australian Ballet has announced it will screen its Sleeping Beauty (Arts Update, 9/16) in 2017, but it will need to find more talented, local choreographers if it wants to show new, home-grown product to the world at large.
Ian Dickson
The Brisbane Baroque festival may have ended chaotically with stories of unpaid artists, but it included several excellent concerts and its imported production of Handel's Agrippina was an undoubted highlight, fully deserving the several Helpmann awards that came its way. Laurence Dale's witty production played up the black comedy of Grimani's libretto, and the cast was uniformly excellent.
An equally excellent cast, combined with Kip William's compelling production, made STC's version of Arthur Miller's All My Sons (Arts Update, 6/16) an unforgettable experience. Sunset Song was quintessential Terence Davies, long, slow, beautiful, and ultimately extraordinarily moving (Arts Update, 9/16).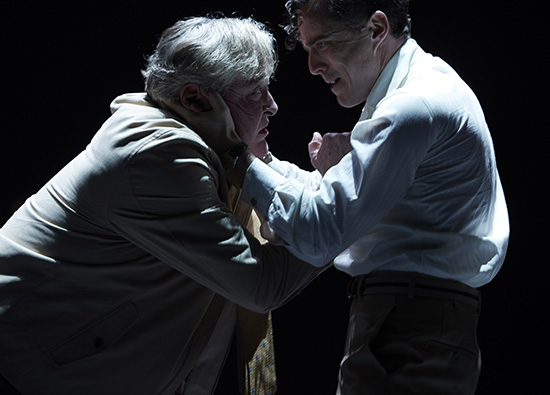 John Howard and Chris Ryan in Sydney Theatre Company's All My Sons (photograph by Zan Wimberley)
It was good to welcome back to the stage two splendid performers, Keith Robinson at Belvoir and Marta Dusseldorp at Griffin, though it is to be hoped that the next project Dusseldorp takes on is worthier of her talent than Benedict Andrews's wilfully obscure, overheated melodrama Gloria.
Andrew Fuhrmann
One of the most memorable performances I saw this year was at a half-full theatrette in Brunswick – the Mechanics Institute – where André De Vanny was doing Swansong, the award-winning dramatic monologue by Irish actor and writer Conor McDermottroe. It was an absolute tour de force, but one that got lost in the mad ruck of this year's Fringe Festival.
This year I decided to forswear all theatre presented at both the Melbourne Theatre Company and the Malthouse, the idea being that occasional abstinence works as a cure against the creep of cynicism. I did, however, break my pledge in order to see the adaptation of Picnic at Hanging Rock directed by Matthew Lutton (Arts Update, 3/16), a gothic nightmare which I enjoyed immensely. I was also very impressed with director Tanya Gerstle's production of Mill on the Floss at Theatre Works (Arts Update, 8/16): a powerful ensemble piece with a provoking feminist theme.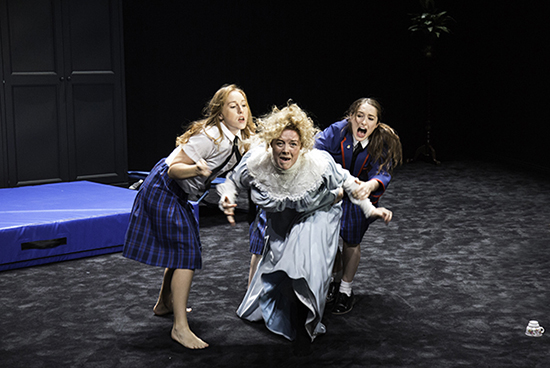 Harriet Gordon-Anderson, Nikki Sheils, and Elizabeth Nabben in Picnic at Hanging Rock (photograph by Pia Johnson, Malthouse Theatre)
Tony Grybowski
Gustav Mahler's Second Symphony holds a special place in my life. As a tuba student at the Conservatorium of Music at the University of Melbourne in the early 1980s, the Resurrection Symphony was the ambitious 1985 repertoire for the Conservatorium orchestra. Fast forward about six years and I was working in a management role at the Sydney Symphony Orchestra when the late Stuart Challender embarked on a memorable cycle of symphonies as part of his tenure as Chief Conductor of the SSO. It was therefore very special to return to the mighty Sydney Town Hall and hear that work with the current Chief Conductor, David Robertson, on a Sunday afternoon in July.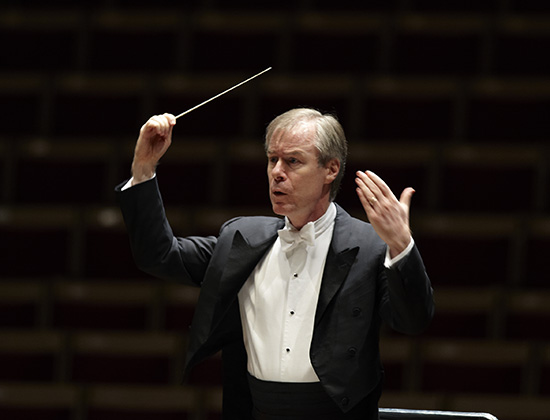 David Robertson (photograph by Keith Saunders)
In contrast, I was honoured to step into the world of central Australian artists at the Annual 'Desert Mob' Exhibition, Symposium, and Market Place at the Araluen Arts Centre in Alice Springs. The gathering puts a spotlight on and brings together a showcase of artists from the thirty-nine Indigenous arts centres across central Australia. There are very few experiences that mix a gathering of artists and art lovers who can meet, talk, and learn about the culture of this stunning region, as well as presenting an opportunity to purchase a valuable piece of work at the market place.
Michael Halliwell
2016 seems to have been a Così fan tutte year throughout the world, but the Opera Australia production by David McVicar was the highlight. This most difficult opera to bring off successfully was given a searching, elegant, vocally resplendent, and ultimately moving series of performances in Sydney (Arts Update, 7/16). A production of the Mozart opera at the Vienna Volksoper drew on an imaginative concept: staging it as a student rehearsal of the opera, but ultimately failed to deliver, abandoning the concept during the first half (Arts Update, 7/16). My musical highlight was the performance of Schubert's masterpiece, Die Winterreise, performed by Matthias Goerne, with projections by William Kentridge, as part of the Sydney Festival in January (Arts Update, 1/16). It was stunning both musically and visually.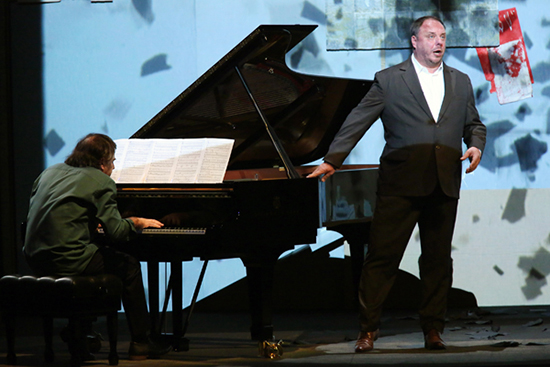 Markus Hinterhäuser and Matthias Goerne in Winterreise (photograph by Prudence Upton)
Philippa Hawker
I loved German writer-director Maren Ade's epic and comic Toni Erdmann, which I saw at the Melbourne International Film Festival. Ade lets the relationship between a father and his adult daughter play out in awkward, hilarious, often protracted detail, in a work that seems excessive and perfectly balanced, brutal and generous at the same time. I would also single out MIFF's program Gaining Ground, consisting of six films directed by women in New York in the 1970s and early 1980s, ranging from the deadpan comedy of Elaine May's A New Leaf to the feminist near-future uprising of Lizzie Borden's Born In Flames. Curation at its best.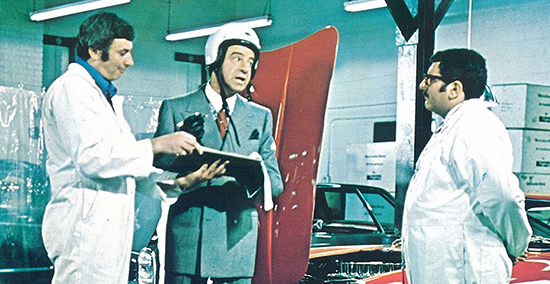 A New Leaf (1971) (Paramount Pictures)
Paul Kildea
Dancers feel vibrations through a sprung floor. Orchestral musicians too: double basses sawing away on a decent stage, say. This same visceral sensation was there in Opera Queensland's Snow White, where Silvia Colloca as the Queen lay on the ground wailing like a singer in a Fado tavern, the sound cutting through us all, the show cumulatively reeling us in. Writer Tim Dunlop would approve, for in his book Why the Future is Workless he ring-fences artists from the enormous changes taking place in the way we work. In punchy, elegant prose he writes optimistically of shifting practices and priorities – if only we can all get our heads around it.
Liza Lim's opera Tree of Codes, based on the cut-out book by Jonathan Safran Foer and premièred in Cologne, is a virtuosic, mesmerising exploration of memory and time, of colour and sound, simultaneously a challenge to the genre and a pretty good roadmap. We need to hear her more.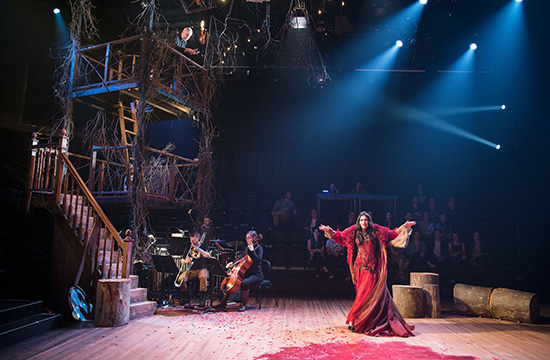 Opera Queensland's Snow White (photograph by Dylan Evans)
David Larkin
My highlight of the Sydney Festival was an utterly compelling performance of Dusapin's 'O Mensch!' cycle by baritone Mitch Reilly and pianist Jack Symonds. Beautifully lit and directed, this Sydney Chamber Opera production turned the work into an expressionist monodrama.
The new Verbrugghen Ensemble under John Lynch gave a stunning rendition of a radically downsized Fourth Symphony by Mahler, which revealed fresh aspects of an old favourite. Continuing the Mahler theme, the in-form Sydney Symphony Orchestra delivered a monumental Resurrection Symphony with David Robertson on the podium in Sydney Town Hall.
Within the world of opera, the Met broadcast of Strauss's Elektra showcased a fabulous cast of singers headed by Nina Stemme in the final production of the late Patrice Chéreau: an effectively minimalist staging which humanised the monstrous characters. At home, George Petean was outstanding in the title role of Opera Australia's Simon Boccanegra, and Nicole Car and Anna Dowsley shone in David McVicar's stylish production of Così fan tutte.
For 2017, Jonas Kaufmann in OA's concert performance of Parsifal, and Martha Argerich's belated Australian début with SSO are unmissable.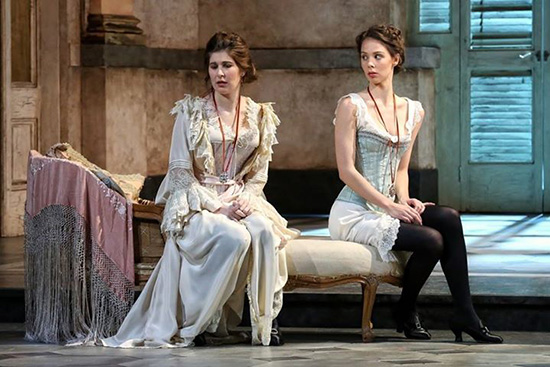 Nicole Car as Fiordiligi and Anna Dowsley as Dorabella in Opera Australias Così fan tutte (photograph by Prudence Upton)
Brian McFarlane
In what has been an often-rewarding year for cinema, Terence Davies' Sunset Song, for my money, just pips at the post such strong competitors as Brooklyn (Arts Update, 2/16), the tonally perfect adaptation of Colm Tóibín's novel, and Simon Stone's daring relocation of Ibsen's The Wild Duck to a modern-day rundown setting in rural Australia: The Daughter (Arts Update, 3/16). Davies sets his film in pre-Great War Aberdeenshire. With his wonderful flair for evoking time and place, he chronicles the life of a teenage girl as she copes with a puritanical father, a bullied mother who dies too early, and a husband who will be traumatised by his wartime experiences. This may sound gloomy, but the overall effect is both elegiac and quietly hopeful.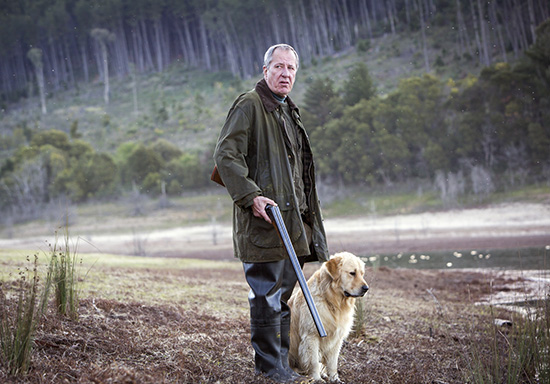 Geoffrey Rush in The Daughter (photograph by Mark Rogers)
Two theatrical experiences stand out. The Bell Shakespeare's Othello achieved that rare melding of the poetic and the conversational among its uniformly fine cast (Arts Update, 7/16). At fortyfivedownstairs, Wit was a stark and confronting study of a woman dying from ovarian cancer, played with lacerating lack of compromise – and, indeed, with wit – by Jane Montgomery Griffiths.
James McNamara
On television, I hugely admired The Night Of (HBO, Arts Update, 9/16), The Kettering Incident (Foxtel, Arts Update 9/16), and Stranger Things (Netflix), whose child actors – particularly Millie Bobby Brown – gave wonderful performances.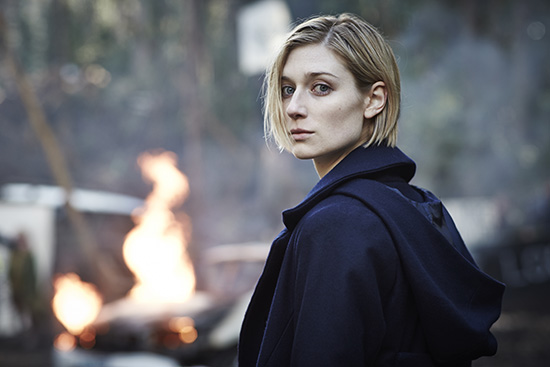 Elizabeth Debicki as Anna Macy in The Kettering Incident (Showcase/Foxtel, photograph by Ben King)
My theatrical performance of the year is called ASSSSCAT. I know it sounds odd, but in American comedy circles ASSSSCAT has the canonical ring of Bell Shakespeare or Monty Python. It is the flagship improvisational comedy show of the Upright Citizens Brigade, a theatre responsible for a staggering array of talent – Amy Poehler, Aziz Ansari, and Zach Galifianakis, to name a few. Every Sunday night in Hollywood, film and television actors come together to improvise a comedy on stage. It is, consistently, brilliant – with a full-house shouting laughter at a show that crackles with wit, has a polish you would expect from scripted comedy, and the intellectual sparkle of a cast composing lines as they deliver them in bravura comic performances. ASSSSCAT is truly exhilarating theatre.
Christopher Menz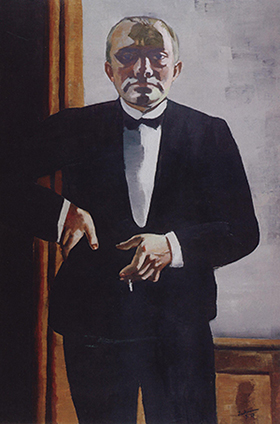 Self-Portrait in Tuxedo by Max Beckmann, 1927 (Harvard Art Museums)Two major exhibitions – Degas: A New Vision (National Gallery of Victoria, Arts Update 7/16) and New Objectivity: Modern German Art in the Weimar Republic, 1919–1933 (Los Angeles County Museum of Art, Arts Update, 10/16) – offered refreshing and innovative takes on their subjects. Degas was curated by former Louvre Director Henri Loyrette and showed the full range of this most creative and inventive of artists, from his student work to the late paintings, and included his remarkable photography and a fine selection of sculpture. New Objectivity – expertly curated by Stephanie Barron – presented a brilliant and at times confronting thematic display of paintings, prints, books, photographs, and film from the Weimar era.
Pierre-Laurent Aimard's Melbourne recital of Olivier Messiaen's majestic cycle for solo piano, Vingt Regards sur l'Enfant-Jésus, was one of the great concerts, amply justifying its 2016 Helpmann Award for Best Individual Classical Performance (Arts Update, 3/16). Aimard enthralled the audience with his artistry and technical mastery of this keyboard marathon.
Peter Rose
Several productions confirmed Sydney Theatre Company's status as the country's pre-eminent theatre company, notwithstanding regime change and the abrupt ouster of its new artistic director, Jonathan Church. Two productions stood out: King Lear, still running in the New Year. Directed by Neil Armfield and starring Geoffrey Rush, this was a loss-filled and nihilistic Lear, one that eschewed grandiloquence. The STC complemented the world-wide Arthur Miller revival with an inspired production of All My Sons. Director Kip Williams drew consummate performances from his players.
Bravo to the MSO for programming Beethoven's Missa Solemnis (Arts Update, 8/16), not heard in Melbourne since 1971. Hard-pressed choristers and soloists may not lament its infrequency, but Andrew Davis (more galvanic than usual) led a revelatory performance of the Mass.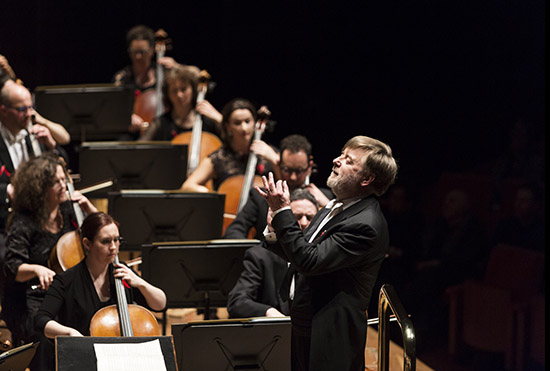 Andrew Davis conducting the Melbourne Symphony Orchestra (photograph by Peter Tarasiuk)
Few present will ever forget Pierre-Laurent Aimard's performance of Olivier Messiaen's Vingt Regards sur l'Enfant-Jésus. Virtuosic in the extreme, this was a mesmeric performance that somehow transcended pianism.
Mariusz Treliński's new production of Tristan und Isolde, at the Metropolitan Opera, was similarly unforgettable (Arts Update, 9/16). Nina Stemme confirmed her ranking as one of the finest singers of the age, Stuart Skelton was consummate, and Simon Rattle drew great playing from the Met's phenomenal orchestra.
Leo Schofield
Australian Chamber Orchestra's performance featuring the magnificent Russian-born, Vienna-based pianist Elisabeth Leonskaja was one of unalloyed pleasures of a year packed with peerless pianism. Grandest of grandes dames of the piano, Leonskaja's matchless Mozart Piano Concerto No. 9, the so-called Jeunehomme, was flanked by elegant arrangements by Timo-Veikko Valve of the sextet from Capriccio and Beethoven's late quartet Opus 127. This was programming at its best, and under guest leader Roman Simovic the ACO seemed to find new energy, new tonal colours.
Two opera productions stood out for me, David McVicar's wholly satisfying and delicious take on Così fan tutte for Opera Australia and (interest declared but quality attested to by four Helpmann Awards) Brisbane Baroque's Agrippina.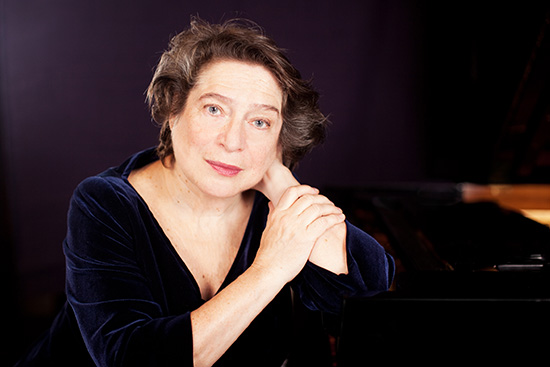 Elisabeth Leonskaja (photograph by Julia Wesely)
Michael Shmith
The most inspiring highlight of 2016 was the Australian Youth Orchestra's marvellous concert in August, conducted by Manfred Honeck (Arts Update, 8/16). Normally, the AYO gives its Australian concerts before its international tour – but, for a change, this one, in Hamer Hall, occurred just after the orchestra returned from Europe and China. Therefore, the repertoire (an explosive showpiece from Carl Vine; Ravel's Piano Concerto in G; Mahler's First Symphony) was well and truly played in. Honeck is a great conductor, but also a fine teacher. The travelling pianist, Hélène Grimaud, was utterly at home in the Ravel.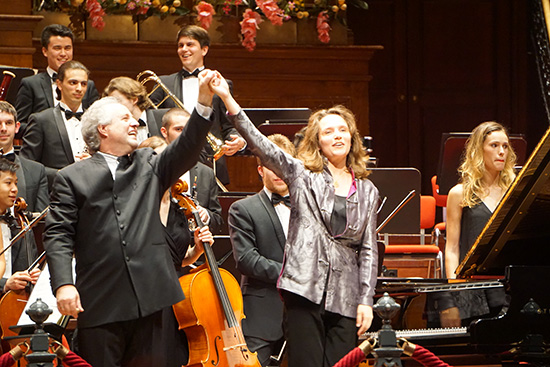 Conductor Manfred Honeck and Hélène Grimaud (photograph by Oliver Brighton)
I was away for Opera Australia's autumn season and, at this writing, the revival of the Melbourne Ring has yet to be forged. But I took particular joy from Victorian Opera and Circus Oz's Laughter & Tears, which imaginatively paired Pagliacci with a delightful commedia dell'arte pasticcio. Praise, too, to Melbourne Lyric Opera's adventurous performance of Malcolm Williamson's 1963 opera Our Man in Havana (Arts Update, 9/16).
Jake Wilson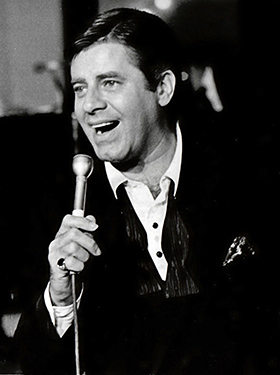 Jerry Lewis (Metromedia, Wikimedia Commons)Easily the most spectacular film event of 2016 was the Jerry Lewis retrospective at the Melbourne International Film Festival, the most valuable tribute to a single director MIFF has mounted for many years. (The only thing missing was the man himself.) Lewis's violently coloured, emotionally fractured slapstick comedies still have the power to divide audiences, but those who see him as a chauvinist dinosaur need to look again: his Jekyll and Hyde variant The Nutty Professor (1963) now plays like a ruthless satire on the twenty-first century men's movement, suggesting that inside every mild-mannered nerd is a raging misogynist trying to get out.
Claims that television has taken over from cinema as a serious artform are premature, to say the least. Still, Vince Gilligan and Peter Gould's Better Call Saul and Louis CK's internet experiment Horace and Pete were as engrossing and formally inventive as any of the new films I saw on the big screen this year.
Jacki Weaver
One of the best nights I've ever spent in the theatre was in New York with this year's stunning revival by London's Young Vic Company of Arthur Miller's A View from the Bridge. Mark Strong was breathtakingly fine in the lead; he was surrounded by a super-strong ensemble. I also loved Stephen Karam's play The Humans, with a brilliant Jayne Houdyshell.
This year I have watched eighty-four films! Two I loved are Yorgos Lanthimos's The Lobster and Matt Ross's Captain Fantastic, Colin Farrell and Viggo Mortensen in career-best performances respectively.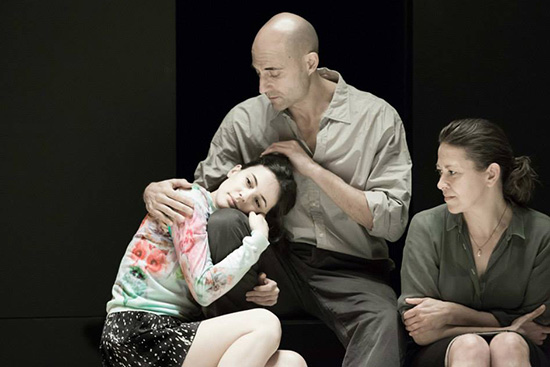 Phoebe Fox as Catherine, Mark Strong as Eddie, and Nicola Walker as Beatrice in A View from the Bridge (photograph by Jan Versweyveld, Young Vic Theatre)
Barney Zwartz
I was fortunate enough to see Nina Stemme, possibly the finest Strauss soprano at present, in a new Elektra at the Metropolitan Opera with Waltraud Meier as Klytemnestra, conducted by Esa-Pekka Salonen, in a posthumous production by Patrice Chéreau. Simply riveting, such as come seldom in a lifetime.
In the same musical stratosphere was French pianist Pierre-Laurent Aimard playing French composer Olivier Messiaen's Vingt Regards sur l'Enfant-Jésus at the Melbourne Recital Centre: refined spirituality, deeply moving.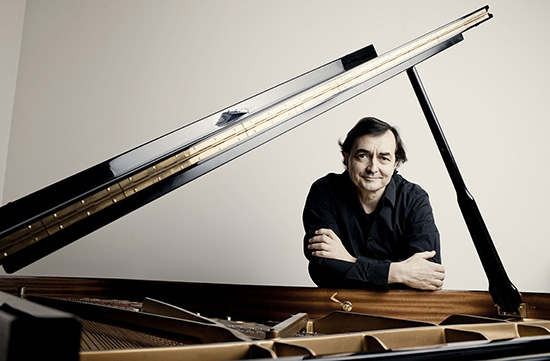 Pierre-Laurent Aimard (photograph by Marco Borggreve)
I must also mention Opera Australia's Luisa Miller in Melbourne (Arts Update, 2/16) and Così fan tutte in Sydney, both with the stunning Nicole Car, and the Melbourne Symphony Orchestra's Beethoven festival of all five piano concertos over four concerts, with British pianist Paul Lewis bordering on the miraculous.
Coming up: Opera Australia's Ring in November and December.