Dance
A Midsummer Night's Dream (Queensland Ballet) ★★★1/2
How appropriate that Queensland Ballet is playing A Midsummer Night's Dream in the 400th anniversary year of William Shakespeare's death. This is not the Royal Ballet's production by Frederick Ashton for London's 1964 celebrations of the Bard's birth but a co-production with the Royal New Zealand Ballet, which successfully staged the world première last year. The choreographer is Liam Scarlett, described by New York Times dance critic Roslyn Sulcas as 'the wonder boy of British ballet'. Scarlett, a graduate of the Royal Ballet School and the Royal Ballet, is an emerging choreographer whose career took off like a rocket after his first major work, Asphodel Meadows (2010), led to his first outside commission by Miami City Ballet. Within two years the world was his oyster.
Given the popularity and longevity of Ashton's forty-minute, one-act Dream, it was inevitable that the British aesthetic, which Ashton and his contemporaries established as early as 1946, would resonate in Scarlett's work. But this two-act work is, resolutely, a young artist's conception, with only fleeting reminders of Ashton's unique choreography, barely long enough to be grasped on first viewing.
Scarlett's highly detailed production is a treat on many levels, not least because it has the nostalgic quality of a grand pantomime made up of exotic scenery, gorgeously coloured costumes, lively characters, and a battery of set comedic pieces, all bound together by incisive musical numbers. New Zealand designer Tracy Grant Lord has found a soft 'between the wars' aesthetic for the mortals' costumes, especially the Rustics, here played as explorers or bushwalkers with goggles and various trousers, beanies and leather air helmets. The mortal lovers – Hermia and Lysander, Helena and Demetrius – look as if they had just walked off a croquet lawn to look for plant specimens in Grant Lord's ropey, vine-festooned forest. Four spangled, cone-like pavilions hang on the left of the stage, the largest host to Titania's sleep and dalliance with a remarkably agile and adorable Bottom, whose ass's ears are longer than his head. The fractious comedy of Hermia and Lysander, and Helena and Demetrius's romantic rupture and reconciliation, which ends in a mad chase across and off the stage with Rustics, butterfly fairies in fluffy tutus and the ubiquitous Puck in pursuit, threw the audience into fits of laughter and applause.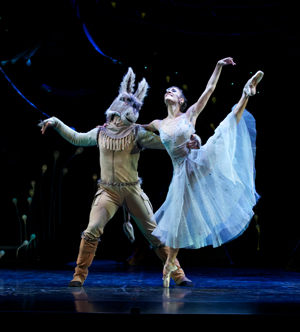 Laura Hidalgo and Rian Thompson in Queensland Ballet's Midsummer Night's Dream (photograph by David Kelly)
Seriousness abounds, too, nowhere better than in the figure of Oberon, dressed to impress and command in a glamorous coat of midnight blue. As he dances myriad pirouettes, grand jetés and attitude turns (in the form of the Eros statue in Piccadilly Circus), he floods the stage in some of the most manly and extended choreography of the ballet. Two tender duets, the first for Hermia and Lysander, the second for Titania and Oberon, have ample space and the luxury of time to unfold. They provide a welcome change of pace from what too often feels like a race, not always helped by parts of the score or, on opening night, occasional brusque music direction. The duet for Titania and Bottom is appropriately full of delightful tricks but marred by a braying, oom-pah send-up of Mendelssohn's Spring Song. It is a relief then that the reconciliation duet for Oberon and Titania remains untrammelled; Scarlett followed Ashton's lead to bring forgiveness and gravitas back to their proper place with Mendelssohn's eloquent Nocturne.
The composer's Incidental Music for Shakespeare's play, his Overture and Octet form the greater substance of the score, to which Nigel Gaynor, Queensland Ballet's music director, has added and rearranged other material to create contrasting mortal and fairy domains. It includes three of Mendelssohn's Songs without Words, and the First and Scotch Symphonies, which seem fair choices in theory; in practice, the arrangements sounded overly ornate and far too loud. This seemed problematic at Friday's rather edgy première, in which the elegant King and Queen of the fairies, Laura Hidalgo and Victor Estéves, seemed mismatched. Their final duet closed disappointingly, with an unflattering and unnecessarily tortuous lift.
Saturday's matinee leads, Lina Kim and Joel Woellner, were better matched and brought greater depth to the ballet. Woellner's superb rendition of Oberon's first-act solo, shadowed by more than a hint of menace, was alone worth the price of a ticket. Two excellent Pucks, Camilo Ramos and Zuquan Kou, were burdened by prescribed high-camp over-acting, while two very fine Bottoms, Rian Thompson and Jack Lister, brought down the house with some subtlety. The artists of the Queensland Ballet have done Scarlett proud by giving generously to the colourful characters they portray. The dancers will continue to learn more about them as each show unfolds and two new casts make their débuts.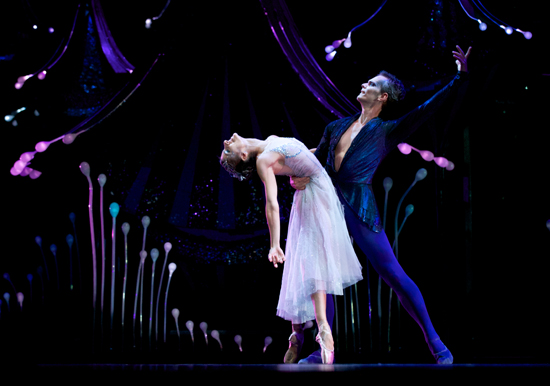 Laura Hidalgo and Victor Estévez in Queensland Ballet's Midsummer Night's Dream (photograph by David Kelly)
A Midsummer Night's Dream, conducted by Nigel Gaynor, and choreographed by Liam Scarlett for Queensland Ballet, at the Playhouse, Queensland Performing Arts Centre, from 1 to 16 April 2016.
Note: A Midsummer Night's Dream is Scarlett's third full-length ballet; his fourth, Frankenstein, opens at the Royal Opera House, London, on 4 May.
Arts Update is generously supported by The Ian Potter Foundation.