Dance
Nelken (Carnations): Tanztheater Wuppertal Pina Bausch (Adelaide Festival of Arts 2016) ★★★★★
Over decades of productions in the Festival Theatre, I can recall a handful of experiences that resulted in immediate, unprompted, and collective standing ovations, beginning with the unforgettable journey that was Richard Wherrett's epic staging of Nicholas Nickleby (1983). Pina Bausch's dance-theatre piece Nelken (Carnations) joined this list during the Adelaide Festival's final week – along with an earlier, prompted moment of complete audience participation.
Ten to fifteen minutes before the show's close, the cast invited the audience to rise to their feet and learn four basic arm/hand movements. Usually, such invitations result in scattered groups standing and following instructions in a desultory fashion. Not so on this occasion. The audience was immediately up, ready and participating in the action: so much so, that a group of women in the row in front of me also started trying to replicate the set of complex choreographed signs and movements, suggesting the four seasons, that the cast had just been performing.
This is one of the defining characteristics of Bausch's dance-theatre: the invitation to the audience to respond to, and participate in, the seemingly fragmented series of games, set-pieces, and animated tableaux that make up her productions. It may be easy to identify the forerunners of her style. Dada has its (updated and revivified) place, as does collage-theatre: but what sets Bausch apart from would-be deconstructors of theatrical narrative is the sure sense that the sequence of events and tableaux is anything but arbitrary on the one hand, or contrived on the other.
There is something of the logic of a dream to her dramaturgy, along with an invitation to the audience to abandon a response based on rational and causal logic, opting instead for an emotional identification with the images, a sense of shared intimacy even in the large-scale moments. These images can encompass children's games; two figures standing centre stage with children's buckets and small shovels, scattering earth over their heads; a solitary topless female figure in hot pants, carrying an accordion, wandering through the vast expanse of silk carnations; four figures with Alsatians, controlling a crowd of cowed dancers; a solitary male dancer in a dress, anticipating traditionalist objections from the audience and showing that he can also do standard pirouettes, jetées, and the like.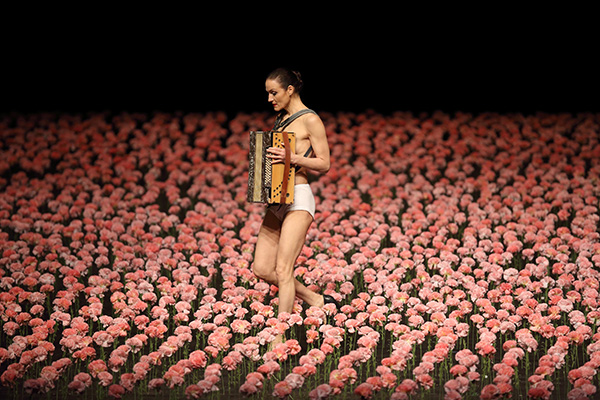 Nelken (photograph by Tony Lewis)
And accompanying it all, one of the hallmarks of Bausch's theatre: her unerring choice of music from across styles and periods. It is no accident that the song that opens the show, with its astonishing image of a stage calf-deep in green-stemmed silk carnations, is a popular tune with the refrain 'The world is beautiful, when happiness tells you a fairy tale.'
Last year, the marvellous UK-based company Gandini Juggling brought to the Fringe its hour-long tribute to/humorous pastiche of Bausch's work Smashed. It had all the characteristics of its inspiration: precision, wit, flair, and grace. And something else, so conspicuously lacking in Castelluci's limp attempt at a revolutionary dramaturgy.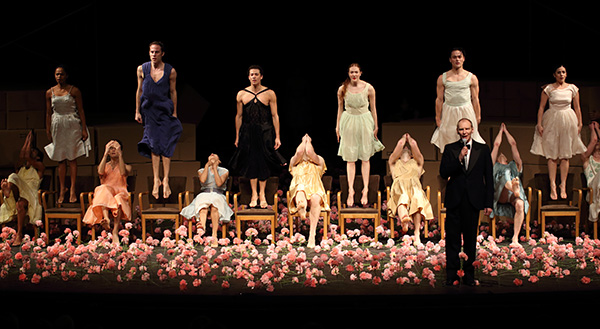 Nelken (photograph by Tony Lewis)
As it happens, I had seen the work in Edinburgh with the pianist Alfred Brendel. As the lights came up, he murmured to me: 'That is the kind of theatre that makes you glad to be alive.' Which is precisely the feeling that one takes away from Bausch herself.
Nelken (Carnations): Tanztheater Wuppertal Pina Bausch, Festival Theatre, Adelaide Festival of Arts 2016, 9 to 12 March 2016. Performance attended: 11 March.