Music
Lee Christofis reviews 'The Sleeping Beauty' (Australian Ballet)
When Sergei Diaghilev staged The Sleeping Princess at the Alhambra Theatre, London, in 1921, he hoped to prove that classical ballet could be as popular as the outrageously glamorous West End hit, Chu Chin Chow, which ran for five years. Diaghilev invited the brilliant colourist Leon Bakst to design sets and costumes equal to those of the original 1890 St Petersburg production, choreographed by Marius Petipa to a new, majestic Tchaikovsky score, in décors by no fewer than six artists.
Bakst far exceeded his brief and the London crowds, used to Diaghilev's exotic one-act Ballets Russes works, were stunned into submission under the weight, just as the Russians were in 1890. The endless dancing and the lack of dramatic action also baffled them; only the murderous fairy Carabosse and her swarming rats appeared to ruffle the serene life of the Beauty, Princess Aurora. Diaghilev's Sleeping Princess ran for three months, unheard of until Matthew Bourne's Swan Lake and its half-naked, male birds landed on London twenty years ago. But Diaghilev's The Sleeping Princess was a financial disaster; the production bankrupted him and burnt his backers.
Such grief is unlikely for The Australian Ballet's new production by artistic director David McAllister. Unlike Diaghilev, the company coffers are safe: more than 2,000 people donated seventy per cent of the $2 million budget. Beauty is McAllister's first major work and already a winner – a standing ovation on opening night and loud cheering on the second – and why not? It is a familiar story of good and evil filled with some very fine dancing from dreamy principals, dazzling soloists, and dashing ensembles. Only Carabosse, magnificently played with a bristling, bitter heart by former company principal Lynette Wills, will unsettle young minds. Purists, however, have much to consider before they award any accolades.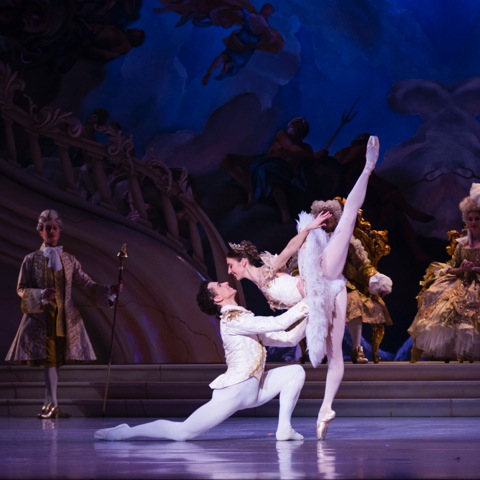 Lana Jones and Kevin Jackson in David McAllister's The Sleeping Beauty (photograph by Kate Longley)
Adapting any classic poses challenges – Beauty more than most. It is arguably the first balletic Gesamtkunstwerk, comparable to Wagner's multifaceted operas. Underlying Beauty is the psychological core of Tchaikovsky's music, still regarded as the greatest ballet writing of the nineteenth century. Yet McAllister's project, while faithful to much in the original, with many affecting moments, such as the lighting of the palace's handsome chandeliers before they float toward the ceiling, succeeds only in part. Its problems lie principally in the way the tones, colours, and architecture of the music, which drive the story much more than the choreography does, have been unsettled, and sometimes excised. The consequent loss of grace and gravitas in the ballet's bones move this Beauty into the category of extravagant entertainment, or ballet féerie, just as Stanton Welch's wild but exciting 2005 version for The Australian Ballet did.
For the décors, McAllister encouraged Gabriela Tylesova to design sets and costumes as exciting and sumptuous as she could. The results were inspired in part by the baroque, seventeenth-century theatre in her home town, Český Krumlov in the Czech Republic. The sets range from brooding reds to creamy, 1930s Hollywood rococo. The masterfully made costumes are a riot of textures and inordinately luxurious decoration – including thousands of Swarovski Crystals – that more than equal Bakst's play of colours. In fact, such dazzling combinations draw one's focus far from the dance.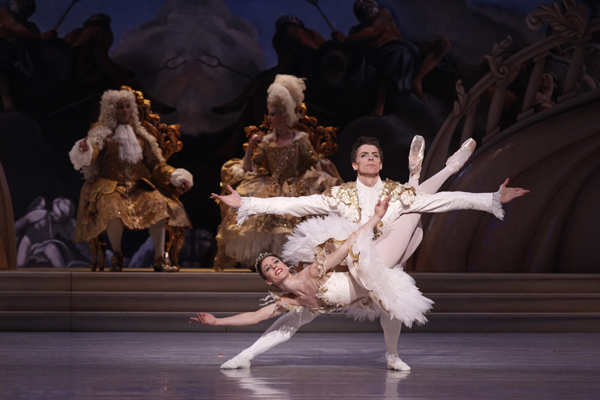 (photograph by Jeff Busby)
'Underlying Beauty is the psychological core of Tchaikovsky's music, still regarded as the greatest ballet writing of the nineteenth century'
Collaborating with The Australian Ballet's music director, Nicolette Fraillon, and dramaturge Lucas Jervies, McAllister cut several numbers for brevity, and made narrative interventions to heighten and accelerate the action. In the prologue, for instance, Catalabutte, the King's First Minister, furiously tears up Carabosse's invitation to the Aurora's christening. Insulted by this snub, the old fairy curses the baby with a death sentence when she turns sixteen. This is a good catalyst for a contemporary audience, and helps to make this ballet, normally infused by courtly manners surrounding the rarefied Romanovs, more accessible.
What then, to make of McAllister's own choreographic arrangements of the original material and variants garnered from around the globe? In his efforts to lighten the mood, McAllister seemed unable to resist adding many decorative dances or groupings. During the iconic Rose Adagio with four foreign suitor-princes (a segment that terrifies ballerinas), McAllister places six friends behind the action or around Aurora in a subsequent solo, creating a lot of distracting visual noise. Also, throughout the ballet there is much gratuitous 'business' or chattering gestures and poses, most of it unnecessary and distracting.
'Throughout the ballet there is much gratuitous ''business'' or chattering gestures and poses, most of it unnecessary and distracting'
McAllister's greatest achievements seems to be in working with the protagonists playing Aurora and Desiré in particular, who have been inspired to draw upon themselves and transform the formality of one of the world's most exposing duets into the ballet's emotional apogee. On opening night, principal Lana Jones's princess emerged slowly from her shy, teenage self, until she was laid in a large glass casket like a Fabergé egg, and Kevin Jackson's orphaned prince developed with each dance from loneliness and longing into a man thriving on love. They were outstanding in Petipa's wedding pas de deux with a rare glamour, and absolute commitment to the text. Other outstanding performances include a charming Lilac Fairy from Amber Scott and three of other fairies – Robyn Hendricks (Generosity), Benedicte Bemet (Musicality), and Miwako Kubota (Temperament), embodying everything Tchaikovsky wrote for their parts.
At Wednesday night's performance, Scott delivered an assured and flowing Aurora opposite Ty King Wall's appealing Desiré, while Brett Chynoweth restored to the fluttering Bluebird the magic lost to shallow athleticism at Tuesday's world première. No doubt this Beauty will continue to evolve if enough time to build on its strengths can be found.
The Sleeping Beauty, by Marius Petipa and Piotr Ilyich Tchaikovsky, conducted by Nicolette Fraillon and directed, with additional choreography, by David McAllister for The Australian Ballet at the State Theatre. Season runs from September 19–26, then October 7–10 at the Crown Theatre, Perth, and November 27–December 16 at the Sydney Opera House. Performances attended September: 15 and 16.