A handful of storylines recur in the family drama genre. The premise of an individual returning home, with a secret that threatens to disrupt the equilibrium of a family unit, after a period of self-imposed exile in order to fulfil filial obligations is well established, if not always predictable. From the famous final sequence of Roman Polanski's Chinatown (1974) to Mike Leigh's Secrets & Lies (1996), dramas around dubious parentage are similarly common. Yet, despite the predictability of its plot, Simon Stone's The Daughter is a sensitive and welcome addition to this genre.
The Daughter is a loose adaptation of Henrik Ibsen's The Wild Duck (1884), which Stone staged in Sydney and London in 2011. The film is set in an unnamed town in New South Wales. Christian (Paul Schneider), the son of wealthy logging magnate Henry (Geoffrey Rush), reluctantly returns to Australia in order to attend his father's wedding to a much younger woman, Anna (Anna Torv). Christian, an alcoholic whose marriage is in disrepair, blames Henry for his mother's suicide many years ago. Emotionally paralysed, Christian nonetheless reconnects with his old friend Oliver (Ewen Leslie), whose simple, idyllic life he envies. Oliver cares for his ageing father, Walter (Sam Neill), a traumatised but good-natured man who lives in a dilapidated van behind the family home. There he cares for injured animals, including a wild duck. Oliver's Nordic-style wooden house is modest, but he is genuinely happy with his loving wife, Charlotte (Miranda Otto), and their independent but devoted daughter, Hedvig (Odessa Young). All seems well, until a long-buried secret resurfaces and shatters both families.
The Daughter works because the drama of the plot is handled with modesty. As Neill's Walter acknowledges, 'Everyone's got a story like this. It's as old as the hills.' Instead of gasping for air at the melodramatic turns, the naturalistic and sympathetic character portrayals are the film's most captivating elements. Young's portrayal of Hedvig is particularly arresting; in imbuing her with desperation and naiveté she avoids a superficial depiction of an idealised adolescent. Stone's script manages to develop emblematic male characters into empathic individuals with personal demons and depth. Anglophone foreigners returning, or arriving, in Australia often function in films as emotionally alienated individuals donning masks of metropolitan sophistication that can only be removed by the ruggedness of the antipodean way of life (and landscape), as in Careful, He Might Hear You (1983) or Crocodile Dundee (1986). Christian's Americanness subtly engages with this trope. Unlike Oliver, who (it would seem) has a place in the world – as a husband, father, and son within the Australian context – Christian, is adrift. He doesn't 'really belong anywhere', or, importantly, to anyone. Oliver and Christian investigate masculine states of individual belonging and purpose, while their fathers highlight the class divisions at play within the film. Henry is a fading paterfamilias, whereas Walter is a forgotten soldier of the working class whose mental decline – symbolised by his ramshackle dwelling – is a malady of his social standing.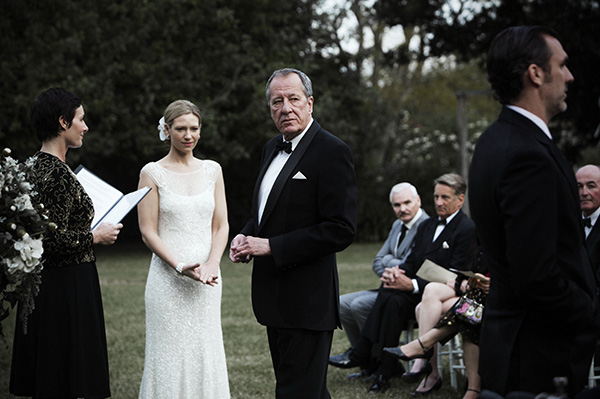 Anna Torv and Geoffrey Rush in The Daughter (photograph by Mark Rogers)
While Stone masterfully crafts his male characters with sensitivity and depth, his treatment of female character is problematic. Women are ultimately presented as duplicitous agents, sacrificial innocents, pathological neurotics, or unscrupulous seductresses whose lives are at the mercy of males – not because of a socio-political reality but because they love them. The gender imbalance is unsettling, and unfortunately detracts from the film's otherwise well-rounded characterisation.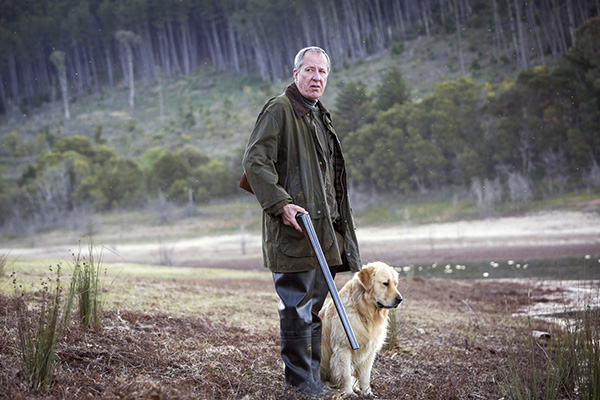 Geoffrey Rush in The Daughter (photograph by Mark Rogers)
The Daughter's thematic complexities find apposite evocation in Stone's choice of setting. The landscape is dense with the alpine woodlands and still lakes, yet the primary industry and source of employment for the area is logging. Resisting the pan or tracking shots that are generally employed for such scenery, the landscape is shot as almost static images. The stillness of framing combined with alternating wintry and temperate palettes recalls Turner's landscapes, while images from Hedvig's walks through the woodlands are strikingly Wordsworthian. These Romantic overtones are hardly incidental. At one point, Charlotte begins to explain the relationship between Romanticism and the Industrial Revolution, only to be tersely interrupted. Placed in contrast to the mass unemployment and subsequent exodus that results from the timber mill's closure, Stone creates fascinating tension between the preservation of nature and the preservation of the community. There are also compelling formal tensions between the film's naturalism and its poeticism. Some scenes are lyrically languid; others are abruptly cut or the dialogue is displaced from its corresponding image, causing the viewer to re-evaluate her position. This is when the essence of the film, and of Ibsen's great drama, comes to the fore. More than a family drama, The Daughter is about the complexities of telling, and hearing, unstable truths.
The Daughter (M), written and directed by Simon Stone and inspired by Henrik Ibsen's The Wild Duck. Distributed in Australia by Roadshow Films. In cinemas 17 March.
Arts Update is generously supported by The Ian Potter Foundation.