January 8
Read Henry James's early tale 'Poor Richard'. When the eponymous dissolute learns of Gertrude's unsavoury engagement to Major Luttrel, he descends on her house, determined to end it. Finding her wan and failing, he condemns her attachment to the venal Luttrel: 'You have suited – God knows what! – your despair, your desolation.'
Did James ever create an uncomplicatedly happy couple or an erotically assured character?
January 11
Andrea Goldsmith's for dinner. Her guests included the visiting Jonathan Mills, who has two more Edinburgh festivals to go as director. The theme of his last one will be, not surprisingly, the Great War; this year it is Technology. (We thought of going to the former, not the latter.) Andrea knows Jonathan because of his and Dorothy Porter's The Ghost Wife: that brilliant collaboration.
January 15
Drove to Deakin to see David McCooey, who has agreed to become our poetry editor. I've always done it, but it's time someone else chose the poems – and I can use the extra time.
In this month's Quadrant, Keith Windschuttle fulminates against the Literature Board and labels ABR left-wing. That must be why I am wearing pink shirts. Clearly Windschuttle doesn't read us closely. He accuses us of ignoring Quadrant Books completely, overlooking recent reviews of Quadrant stalwarts Peter Ryan and Les Murray himself.
January 16
Hot again – forty degrees – so we retreated to the Como and enjoyed Hitchcock, with Hopkins in his least mannered role: none of those laconic sidelong looks. Perhaps he couldn't manage them in that extraordinary makeup. Actors have so much done to their faces these days (Hopkins was joined by Helen Mirren and Toni Colette). Cosmetically, it was like a War of the Lips.
January 24
Lunched at Izakaya Den with Chong. He showed me the alternative covers for the Text Classics edition of Rose Boys. I like the one with the rose but sense it might be pruned. I was delighted to learn that Brian Matthews is writing the introduction.
Chong is bowing out with the ABR covers – after a magnificent innings.
January 26
Clive James, awarded an AO today (to go with his AM), was interviewed on Radio National and sounded terribly ill. But why not an AC? They must be reserved for the Alexander Downers of this world.
David Walsh of MONA has now emphatically 'made it'. Richard Flanagan profiles him in this week's New Yorker.
Fascinating radio interview with a Singaporean who is highly critical of Australians' monolingualism. Geraldine Doogue countered by saying that English is now the lingua franca. 'We may speak English well,' he retorted, 'but we don't think in English.'
Gide, even idle, is always original: 'one of those evenings when, for want of something better to do, you smoke more than you talk.' And what a diligent pianist he was: 'Again much piano (5 to 6 hours).'
The level of jingoism in Australia today is remarkable. Even the youths next door – the arch-smokers who normally never look up from their laptops – had a barbecue on their balcony. One of them lustily sang the national anthem.
January 29
Classic example of New Yorker journalese in Peter Schjeldahl's review of Wade Guyton's exhibition at the Whitney:
His passions sneak up on you and, when they take hold, can feel like your own – as if, at a formal social event, you found yourself suddenly and awkwardly in love with your host.
Very slick, and quite meaningless.
January 30
Lunch at Sydney University with Soviet historian Sheila Fitzpatrick, who is tiny, watchful, super-alert, perhaps a little wary (well, she first went to Moscow in 1966, the same year as Robert Dessaix, whom she knew a little). Her accent is quite mercurial. We went to lunch and discussed her career, her oeuvre, her peregrinations. Sheila, who taught at Chicago for decades, decided to return to Australia when she resolved to write books for a general audience. She is just finishing a second memoir for MUP: A Spy in the Archives (good title).
This evening we saw the new production of Un Ballo in Maschera, which is every bit as unfortunate as David Alder's for the Met. What are they doing to Verdi in his 200th year?
January 31
Coffee with Susan Wyndham at the hotel. Susan has just edited an anthology on animal rights with John Coetzee; now she is judging the NSW fiction prize with him. Her next book is an edited volume on the death of parents.
Then David Malouf joined me. The new edition of Harland's Half Acre appears tomorrow. I told him I hadn't realised that Fairweather was not the model (it was Michelangelo). David said he didn't add in the Afterword (not wanting to 'stir things up') that the book was a response to The Vivisector, a book he dislikes, because of its sense that life must be miserable and a penance.
I asked David if he was planning to attend the Ring later this year. He laughed and said that the prospect of spending ten days in Melbourne was not appealing. But he is impressed by the way Melbourne writers socialise with one another in ways that simply don't happen in Sydney. He never sees other writers in Sydney – apart from Murray Bail. Everyone is too busy.
David was fascinating about Australian literature. When he was young he never read it, never thought it would hold any solutions for him as a young artist – not in the way that Tolstoy and Dostoevsky and Balzac and Proust did. He didn't read any of it until the 1950s. He doesn't share present anxieties about the health of Australian literature – partly because he believes we don't have a clue what will be valued in 2050, given demographic changes. He listed his own quirky canon: Such Is Life (admittedly 'impossible to read'), Maurice Guest, The Young Desire It, Frederic Manning's Her Privates We, and The Aunt's Story. He's not sure what would come after that. No Stead? I enquired. Certainly, he said, but not The Man Who Loves Children. The one that intoxicates him is Letty Fox.
When he began writing fiction in Italy, David was never conscious of or motivated by national exigencies. He thinks they may have galvanised some writers twenty years ago – but not now.
When we parted David was off to see Barry Humphries, mainly to give him a copy of The Young Desire It, which Humphries doesn't know. David extolled it at a dinner chez Humphries last week. Barry and Lizzie Spender (who has just become an Australian citizen) have a flat on the harbour. Among the other guests was Angela Lansbury, who is touring Australia in Driving Miss Daisy. When Miss Lansbury's Agatha Christie TV programs were mentioned, David told her he went right back to Gaslight, with Bergman and Boyer, when Lansbury was seventeen.
February 1
My first tennis lesson in a hundred years, with club champion David Pieta. With a name like that he must take pity on me. 'Perfect', he said, after belting me about the court. 'You move well, you are sporting (would that my father had lived to hear that!), and you have no technique.'
To Southbank Theatre for the RSC's production of The Rape of Lucrece, with the exceptional Irish-French cabaret artist Camille O'Sullivan reading, and singing, most of the long poem – a virtuoso performance.
February 2
Began Michael Gorra's Portrait of a Novel, about the creation of Portrait of a Lady. What a luminous time it is for Jamesians.
To the relentlessly musty Athenaeum Theatre for the Melbourne Opera's production of Fidelio. They did it rather well, and it was a relief to see a simple, unaffected production. I thought people were harsh about it at interval.
Michael Shmith told me about Lord Harewood's letters, which he is editing. He found the most remarkable things during his long stay with his mother at Harewood House: bundles from George's mother, Princess Mary, to her brother George VI; then a package titled 'The Abdication'.
February 3
Reading Wallace Stevens's letters to Harriet Monroe. Stevens is rarely sentimental – excepting (in an occluded way) the poetry; but he eulogised Harriet Monroe on her death in 1936, saying of Poetry: 'It was notably a magazine of many people; it has the widest people.'
February 5
Dinner in Richmond with Michael Shmith and Fiona Dunbar. Patricia Harewood is holidaying in Melbourne for several weeks. She said it was seven years since we last met; she had checked her diary. (So I am not alone!) Patricia, who sent me a nice note about it in 2001, mentioned Rose Boys. She asked about my parents' reaction, so I told her about my mother's belated reading. 'I don't imagine she will read it again,' Patricia said.
In the mid-1990s, when I was at OUP, I tried to persuade Michael to write a book about his parents, Patricia and Athol Shmith. When word of that reached George at Harewood he rumbled, 'I would pour hot, cold and tepid water over that!'
February 8
To the Melbourne Recital Centre for yet another tribute to Elisabeth Murdoch. The performers had donated their services: the ACO, Zoe Knighton, Ensemble Liaison, Amir Farid, Geoffrey Gurrumul Yunupingu. I hadn't heard him before. The voice is very distinctive, and he is remarkable to watch.
Mary Vallentine spoke well, but the premier was sentimental. 'Close your eyes,' he adjured us, 'and you will see Dame Elisabeth at the piano.' De Kretser, a former governor, was eloquent and dared to mention her wealth.
February 10
'Charming, indeed, are the ironies of history.' I have been reading essays by Strachey, including one on Creighton ('The biscuit is certainly exceedingly dry; but at least there are no weevils in it'). Stamped on the back of this 1931 Chatto & Windus edition (very soiled, beautiful paper, excellent type) are the dates on which it was borrowed from whichever library owned it. Very promptly too: the first due date is 22 June 1931 – all the way up to 13 June 1944 – about seventy loans in all.
February 11
Showed Jason Steger my 2012 Diary. 'You mad fool,' he said, before asking me if he could use some of it.
February 13
To MRC for Paul Lewis's much-anticipated closing recital in his Schubert cycle. He played the final three sonatas. I won't hear them played together very often in my life. Nor am I likely to hear them played more beautifully.
Afterwards there was a dinner for Mr Lewis. He was late because of the endless CD signing in the foyer. Lewis, who has performed at Harewood several times with his wife and Alfred Brendel's cellist-playing (very wise) son, Adrian, sat down Patricia's end. When I chatted to her later I said it must have been poignant for her listening to Schubert's late piano music, which for George was the supreme music. Patricia said it was almost unendurable. She recalled many impromptu concerts at Harewood when Brendel would ask if he could play the B flat major sonata after dinner, just for them.
February 23
To Hamer Hall for Victorian Opera's gala concert, under its new artistic director, Richard Mills, with Lisa Gasteen (returning to Melbourne) and José Carbo as his principal guests. Carbo was magnificent in the big arias from Ballo and Trovatore, and threw in a brilliant zarzuela, from La Taberna del Puerto (Mills speculated about a production of this, which must have petrified his board members).
Gasteen, looking fine, was rather light-voiced throughout, but sang with great expression. She gave us some of the Wesendonck Lieder, Dido's Lament, and two orchestral songs by Strass. At the end a flamboyant young man in the front row, resplendent in a yellow jacket, presented her with what turned out to be a diamond ring.
This was the first White Night in Melbourne. No one quite knew what it meant, but half a million people (or so it felt) turned out for yet another party. And a surprisingly ruly, enjoyable one it turned out to be, despite the monster crowd, which stretched from the Arts Centre to the State Library, and up various streets and laneways crossing Swanston Street.
March 1
Lunch with Peter Craven at Jimmy Watson's, in the courtyard. Peter wants to write about Edward St Aubyn, whom he met during the week. St Aubyn, brilliant creator of Patrick Melrose, is here for Adelaide. He sounds like an unusual celebrity: actually interested in other people, and interested in philosophy.
I had forgotten what a good mimic Peter is, taking off Morrie Schwartz, Ben Naparstek, etc. We swapped Princess Margaret stories, rather like St Aubyn. Mine came via good old John Drummond. Once at a dinner someone asked 'Ma'am' if she had ever been to Uganda. 'Never been asked,' she sniffed. Peter told me about Barry Humphries' second wife, Rosalind. One night, while Humphries was playing Fagin in the West End, Rosalind went off to Kensington Palace with John Betjeman and Elizabeth Cavendish. Margaret told them what would happen if she put her hand in the queen's purse. A huge claw would descend.
March 14
Milly Main's last day, and a rousing one with the launch of our new website – an instant hit with followers. Milly was still there when Amy left at seven p.m. How many young employees would do that on their last day?
March 16
We escaped the grand prix and went to Carlton. At Alice's Bookshop I spotted a signed copy of my novel Roddy Parr – autographed, as they noted inside, 'perfunctorily'.
March 18
I am reading John Smart's intriguing biography of John Hayward (Tarantula's Web), the disabled bibliomane and hack with whom T.S. Eliot lived for many years before (rather peremptorily) eloping with his secretary (no hero, TSE; the account of his ceaseless flight from Vivienne's path after that earlier defection is queasy-making).
Even more unpleasant was Virginia Woolf's treatment of 'the paralysed man'. Why was this mistress of human emotions, this imaginer of Septimus Smith's suffering, this victim of disability herself, so treacherous and unsympathetic? When Hayward, no longer steady on his pins because of muscular dystrophy, fell at one of her parties Virginia was horrified and banned him from their house.
Spoke to Kerryn Goldsworthy about her May feature, 'Everyone's a Critic'. She has surveyed various critics about their work. When Kerryn told James Ley that a publicist once criticised her for not writing a review that was quotable on a cover, James said, 'I hope you told her to fuck off!'
March 19
I enjoyed James Lasdun's little memoir of Michael Hofmann in the 1980s, published in this month's Poetry magazine. He recalls epic walks around 'grotty' London: 'In Kensal Green Cemetery we rejoiced to see a gravestone with the name of a poet who'd dissed us both.' Lasdun, too, was infected, as he sees it, by Hofmann's characterful, sinuous, syntactically choice poems and recalls 'a calamitous effect on all my assumptions about poetry'. They had no such effect on my 'assumptions', largely because I had few of them (and probably still have few), but I remember the impression the poems made on me then; how he, too – like Peter Porter, in a very different way – seemed to point the way ahead with his highly personal and mannered poetry.
March 20
Visit from Katharine Viner, the Guardian editor who will create the Australian online edition later this year. She is hiring journalists (Lenore Taylor among them) and will have a staff of fifteen when they open, based in Surry Hills – 'before the Lions tour', she said. She's under pressure to launch it earlier because of the political ferment in Canberra (a leadership challenge seems possible this week, with Rudd the likely winner). Good journalist that she is, she asked lots of questions and found out much about ABR; but I extracted quite a bit of information too. The Guardian has more than a million followers in this country.
To the Casino for a Collingwood function. Just when you think you will never attend another – or just when you think you could never sit through another – they bob up again, so to speak. This time it was to induct some players (including Anthony Rocca, who spoke interminably and had about forty relations in the Palladium Room) and the entire 1953 premiership side (what's left of them: seven only now, five of them present) into the club's Hall of Fame. Mum and I sat with the survivors, including Murray Weidemann (who still looks like Paul Newman). They wanted Elsie to go up on stage but, very wisely, she declined. Some of the on-stage interviews with the old boys went on far too long. But Eddie McGuire told a funny story about Murray, who was only seventeen when he played in the 1953 grand final. Murray didn't have a date for the grand final function (a dinner dance in Heidelberg!), so he, pulled a date (as Eddie put it) on the back pocket boundary during the game.
Meanwhile, Kevin Rose was being inducted as an AFL life member at a cocktail party next door – an austere, stand-up affair, we gathered: finger food only. The AFL doesn't throw a party like Collingwood.
March 21
One débâcle after another in Canberra. Crean, seemingly for honourable reasons, brought on a leadership ballot, after weeks of unease, only to see Rudd, limply, withdraw from the race, leaving Gillard – now totally discredited – as leader.
Mark Levine, in Poetry's excellent series of memoirs of poet–mentors, writes movingly about Philip Levine in the current issue:
He began one class by asking, 'Why do you write poetry?' Several students dared to answer. 'To make something beautiful' – 'To interrogate the dominant ideology' – 'To give voice to the powerless.' The student with the vinyl fish bag offered, 'To get the bug out of my ear.' Levine said, 'There's only one reason to write poetry. To change the world.'
March 22
To MRC for a concert by the young Korean Joyce Young: poor Beethoven, wonderful Bartók, lots of Rachmaninov. Fridays, after an arduous week, may not be the right time for a piano recital. I thought of an old mate of mine who once said that she was 'far too highly strung for lieder'. But it was good to see Andrea Goldsmith again (we always sit together). I told her that last night I dreamt about her. We met on her return – from Crete. She was slightly bigger – younger too. Several times during the concert Andy demanded to know, 'How fat? How young?'
In the dream Andy was just back from Crete. That of course is the title of one of Dorothy Porter's collections, but it's not one I have thought of or reread of late. Andy told me she had just been reading the volume (which is dedicated to her). She is editing an anthology of Dot's poems for Black Inc.
March 27
Porter Prize ceremony in Studio 2 in front of about fifty people. Three of our five poets attended; not Dan Disney (Korea) or John Kinsella (WA), understandably. I liked Nathan very much and his midwife partner. She was needed when, during John Scott's reading of the last of his 'Four Sonnets' – titled 'Epilogue' – a young woman keeled over at the back, having fainted.
This was one of the best ABR events we have hosted at Boyd, with real verve and camaraderie. Kevin Brophy and a friend brought down the house with a hilarious reading of Disney's amazing typographical poem, 'Procedures in Aesthetics'.
I hadn't seen John Scott since September 1990, when Gwen Harwood launched our new books at the Malthouse during the Melbourne Writers' Festival. John has no recollection of this occasion, nor of Gwen's launch speech, which was in verse. This made me feel less anxious about my own decrepit memory.
John, seated in the front row, had no idea that he had won and got a major shock when Jane Porter (representing the family with aplomb, and flooring John by reading her father's great poem 'What I Have Written I Have Written', the title of one of John's novels) announced that he was the winner.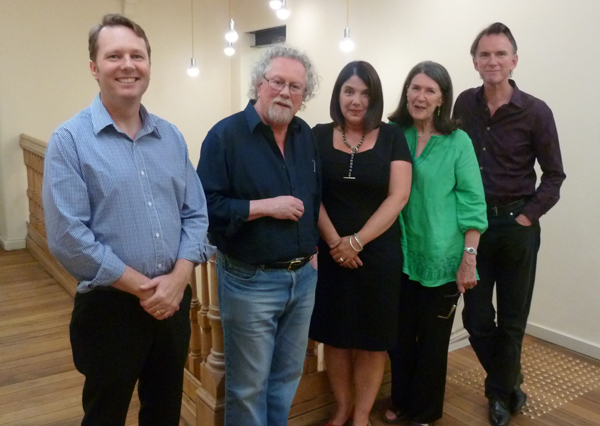 David McCooey, John Scott, Jane Porter, Morag Fraser and Peter Rose at Boyd
April 8
No sooner had I ripped open my TLS, marvelling at the regularity of its delivery and presentation, year after year, decade on decade, than I noticed that some lines were blurred, others over-inked. I love life's little wry jokes and schoolboy sniggers at our expense.
April 11
To Deakin for a class aimed at prospective reviewers and contributors. David McCooey introduced me, then I tried to interest them, with some success. Afterwards, lunch in the pleasant lakeside staff club with David and Cassandra Atherton, who always wears her CASSANDRA necklace.
April 12
To the State Theatre for the opening night: the Barcelona Ballo we saw in Sydney last year, with the same cast. The fatuities of this masked production seemed worse second time round. One should not end up sniggering as the curtain falls on Verdi's masterwork.
April 14
I had been invited to the President's Lunch at the MCC. The room holds about 80 people, and the hospitality is exceptional (I was last there at the 2011 grand final). Paul Sheahan, in his witty presidential speech, in which he (embarrassingly) mentions all the guests by name – even ring-in poets and curators – was surprisingly forthright about St James Hird's fall from grace. Perhaps we shouldn't put these men on pedestals, he speculated.
During the game we sat near Sheahan. One row down were two young Collingwood players or officials in the ubiquitous Emirates tracksuits and T-shirts. One of them became voluble and inflamed about the umpiring. 'Let a bit of air out of the tyres, Jonesy', was Sheahan's audible and headmasterly advice to him from above. We didn't hear from the young die-hard again all afternoon.
April 16
In Boston a couple of bombs have killed two people: monster coverage. In Baghdad multiple bombs killed thirty-five people, and one can only imagine the carnage. Nil media coverage. Meanwhile, Wall Street is in a predictable panic.
Gillian Dooley visited Boyd and told me about her current project: a book of letters between Flinders academic Brian Medwin and Iris Murdoch. They knew each other at Oxford, but no, Gillian said in answer to my question, he was not one of the many lovers. Gillian may be falling out of love herself with Medwin. He persuaded Murdoch to review his new book for The Age in 1993 – that is, two years before her official diagnosis. Reluctantly she agreed, only to agonise about it before submitting a 4000-word review – this from the novelist who refused to be edited. The Age pruned it to 800 words; Gillian will publish the somewhat confused original.
April 17
Spurred on by Jeffrey Tate's imminent seventieth birthday at the end of this month, I finished (after about five years) my long poem on Maria Callas, which I shall dedicate to Jeffrey. Years ago, in Detmold, he told me about their brief association. In 1976, just a year before Callas's death. Jeffrey (who was then a répétiteur at Covent Garden) was sent to Paris to accompany her. (Callas, who was contemplating a comeback, had decided to test her voice in the empty Théâtre du Champs-Elysées.) There was only one other person in the theatre – Callas's maid, Bruna, who sat at the back of the stalls. Callas, needing reassurance all the time, kept on asking Bruna how she sounded. Of the recordings that EMI made that day only one has been released – a very scratchy and incomplete 'Ah perfido'. I write about this in the poem.
Meanwhile, Jeffrey has sent me – handwritten – a wonderful and quite autobiographical review of Paul Kildea's biography of Benjamin Britten, whom Jeffrey met as a boy (there is a photograph of them in Camden) – and went on to revere. Like many readers, Jeffrey (who is also a doctor of course) worries about Kildea's claim that Pears infected Britten with syphilis, never diagnosed until a surgeon opened him up the year before his death at sixty. Britten's cardiologist, in a letter to Opera magazine this month, is similarly doubtful and denies that there was any syphilis.
Jeffrey last wrote for me in 2001, a Diary piece about his travels in Australia before he conducted Parsifal in Adelaide.
April 20
To Chapel off Chapel this evening for the Lyric Opera of Melbourne's innovative and enjoyable production of Poulenc's La voix humaine, styled as Elle after the compulsive telephone caller. Featuring just three players and a lone soprano, this shows what can be achieved with a sympathetic intention. It was infinitely more pleasing than the overblown Ballo. Marilla Homes was fine in the gruelling role.
May 1
This morning John Rickard, Ian Dickson and I chose Andrew Furhmann as our eighth ABR Fellow. Andrew will write about Patrick White's plays and their influence on contemporary theatre. (Ian Dickson thinks they have no influence, but liked the proposal notwithstanding.)
May 4
Annual visit to Clunes for the Booktown festival. Tess Brady & co. were fortunate with the weather. We arrived at eleven and checked in at Keebles. I couldn't find Kerryn Goldsworthy, my interviewee, but ran into many people, many old friends. Finally, we met up and chatted briefly before our Q&A in the Wesley Church. We had about 200 people: an attentive, questioning audience. Kerryn is superb to work with in these settings, and it seemed to go well.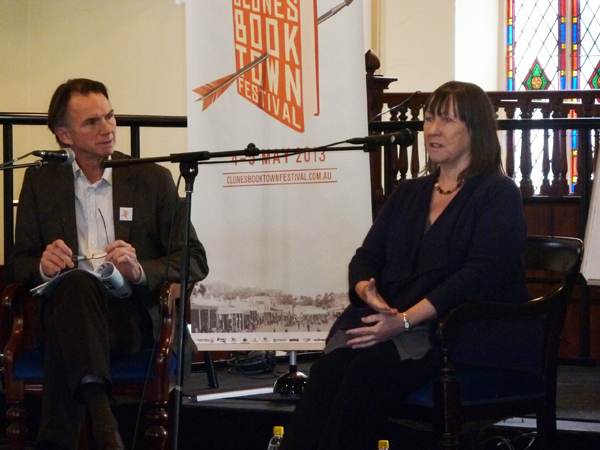 Peter Rose and Kerryn Goldsworthy in Clunes.
May 5
We were looking forward to Mary Vallentine and Brett Sheehy's big party in Port Melbourne. On our arrival we were immediately introduced to Brünnhilde (Susan Bullock) and Loge (her husband, Richard Berkeley-Steele). They have been in Melbourne for several weeks to rehearse the Ring. Next week Bullock will return to London to start work on Gloriana at Covent Garden. This will be her first simulcast performance. She has refused to be interviewed during interval; she prefers to stay in character. I remarked on the ease with which singers like Renée Fleming and Joyce DiDonato manage the transition. 'But they're American,' she countered.
I told Richard them how much we enjoyed him in Lady Macbeth of Mtensk and the (first) Adelaide Ring. Naturally, I asked about the new Ring. Richard was surprisingly candid. 'Watch this space,' he said.
We spoke to Brett Sheehy, who is now running the MTC after several Melbourne and Adelaide festivals. I asked Brett about David Williamson's play about Rupert Murdoch. They are up to the 39th draft. The first draft was a classic leftist assault on Murdoch. Now it is more 'nuanced' – probably has to be (they are being careful with lawyers). Sheehy still hasn't chosen his Rupert, and doesn't want a big star.
There is no escaping Rupert Murdoch. Back home we watched an excellent SBS documentary on him.
May 7
I'm enjoying Guardian editor Alan Rusbridger's book Play It Again, a diary of the year in which he set out to play, in public, Chopin's immensely difficult Ballade No. 1. I am impressed that any editor could find so much time for piano lessons and practice during a year in which he published the Wikileaks and exposed News of the World.
May 8
To Sydney University. I spoke to postgraduates about reviewing, then gave a sort of seminar paper – not on the 'ethics, aesthetics and efficacy of diary-writing', as advertised, but about the magazine and book reviewing in general. It's not my forte, and one never knows how academics are reacting, but things warmed up towards the end.
May 11
I emailed John Kinsella three Catullan poems and an hour later he accepted them for Island. I thought ABR was the only magazine that moved so quickly.
May 15
To the MRC for the AC's announcement of its 2013 Creative Fellows. Eleven in all: not a writer among them. When I remarked on this a friend said the Fellowships were intended for collaborative artists. Auden? Harwood? Hoffmansthal?
To the East Melbourne Library for our Proust–Montaigne discussion with Colin Nettelbeck and Véronique Duché, in front of a full house.
May 16
This was to be my year of Proust, but I find myself turning to Conrad. Under Western Eyes is perversely slow but wonderfully interior. At times he reminds me of Kafka, of course; but this time I keep hearing pre-echoes of Highsmith. Try this passage, which could come from Such Sweet Sickness:
At the moment he was crossing the room slowly, intending to sit down on the sofa and try to compose his thoughts. But before he had got so far everything abandoned him – hope, courage, belief in himself, trust in men. His heart had, as it were, emptied itself. It was no use struggling on. Rest, work, solitude, and the frankness of intercourse with his kind were alike forbidden to him. Everything was gone.
Or this:
Razumov looked up amazed. The journey was decided – unavoidable. He had fixed the next day for his departure on the mission. And now he had discovered suddenly that he had not believed in it. He had gone about listening, speaking, thinking, planning, his simulated flight, with the growing conviction that all this was preposterous. As if anybody ever did such things! It was like a game of make-believe. And now he was amazed!
But there is one difference between the two writers. When Razumov goes to Geneva and realises his present danger, Highsmith – murderous Highsmith – would have had him immediately kill his potential accusers, à la Tom Ripley.
This evening I greatly enjoyed Nixon in China, at Her Majesty's, a Victorian Opera production. What a score it is.
May 25
To autumnal Romsey for a concert by the Flinders Quartet at the Cope-Williams winery. During interval we spoke to Barry Jones and Rachel Faggetter, who go to everything. I asked Barry if he knew well Mrs Hawke, who has just died. In his characteristic way he didn't quite answer but gave much information. I marvelled at the account of her deathbed scene published in today's Australian: with a reluctant Bob Hawke visiting her, staying for two hours, serenading her, and eliciting this remark from Hazel as he tearfully withdrew: 'I love you.' The woman had suffered from dementia from ten years, and it was a stroke that killed her.
June 6
Attended my first meeting of the Stuart Street Arts Precinct Forum, at the VCA. Someone whispered to me that Richard Mills had withdrawn overnight as conductor of the Ring. Loge, as ever, was right!
June 8
Watched an excellent film from 1964, with Ingrid Bergman and Anthony Quinn in Dürrenmatt's lethal play The Visit. Bergman never looked more beautiful, more haughty. She is so much better than the grotesquely mannered Zoë Caldwell, who barked her way through the MTC production of this play in 2003, forgetting rather too many lines along the way.
June 10
Dutifully but with a sinking feeling I went through the long list of Queen's Birthday Honours recipients. For ABR: Norman Etherington (current issue) and Bob Sessions (new board member). Good old Nance Grant (my first Sieglinde) scored an AM. But if they are giving AC's to the likes of Jill Ker Conway, what about Malouf and Carey and Peter Porter?
June 11
Bracing to be included in an anthology of poems about Baby Boomers! Judy Beveridge has asked permission to use my poem 'Italics Mine', which she first published in Meanjin. I wrote it after Clive James told me about returning to Oz to bury his mother.
Today we received the last trickle of Jolley entries from China, Canada – and Poland. We have almost 1200 entries. Those poor judges.
June 12
To the Wheeler Centre to be briefed on the Melbourne Writers' Festival program. Lisa Dempster, who has come to MWF from the Emerging Writers' Festival, told us about a succession of neophytes who will freshen the festival; plus Boris Johnson. Then she talked about the London Review of Books, which will be here en masse – seven of them, including the editor and owner, who will take part in about twenty events. Spicer will deliver a lecture on 'Is Wagner Good for Us?', a piece he has already published in his magazine. I asked Lisa about the emphasis on LRB. She admitted that LRB 'targeted' MWF. And why wouldn't they? What magazine would pass up such an opportunity.
June 17
I was having coffee in KereKere with Ian Donaldson when Amy Baillieu handed me a press release regarding the Prime Minister's Literary Awards shortlist. She must have been impressed by my nonchalance. I didn't react to my shortlisting for Crimson Crop. I didn't have my glasses on and couldn't read the sheet. The four other nominees are Eileen Chong, Lisa Jacobson, John Kinsella, and Jennifer Maiden, so I am in fine company.
I wrote to Robert Dessaix inviting him to review Sheila Fitzpatrick's new memoir. He can't, unfortunately; he has just endorsed it. And when will you be coming to Melbourne? I asked. He wants to visit André Gide's granddaughter, who lives here now, after years in Tasmania. They have become friendly.
June 18
To Eureka Tower; they want us to display our wares at one of their communal barbecues. What's that line of Henry James's about there being more than fifty miles separating London and Paris? Well, there's more than 500 metres between Boyd and Eureka. It's like visiting another country. The concierge showed us around the building, introducing us to the spectacular view from the fifty-first floor.
June 21
Sent the winter issue to press early, then dashed out to Mount Waverley to address my mother's Probus group. They meet in the old youth centre next to the public library, my old stamping ground. I had not expected an audience of more than 100. The programmer spoke first, then invited my mother to introduce me. She told the group that it was 'Payback time, baby' for all the things I had said about her in Rose Boys. Revenge took the form of tales about my lack of sporting prowess as a boy: the time I was appointed captain of the school football team solely because of Dad's reputation. When Kevin Rose asked me where I was playing I said, 'It's close to goal but a little way out.' 'Excellent,' Kevin said, 'you're playing at centre half forward.' That was the day I won the toss and kicked against the wind. As the opposing side piled on goals in the first quarter I stood helplessly in our goal square. Dad, on the boundary, urged me to go into the ruck. 'Can I do that?' I yelled at him.
This evening we had dinner at Spiz and Andy Demetrious's. Spiz told us about her imminent trip to London. She will attend a Byron conference at King's: Stephen Beaton, who has a new book on Byron's Wars, will give the keynote; Spiz is delivering a shorter paper on Byron in her mother's town, Messologi – the subject of Spiz's PhD. She was very funny about persuading the authorities in Athens to allow her to see the pictures in the president's office. Like others she doubts that a Byronic picture is a Delacroix. She asked them to remove it from the wall so that she could look at the back, and they did. (The president was away.) Back at her hotel, she was unhappy with the quality of her photos, so she rang them back and persuaded them to allow her to return. Someone told her that that had never happened before.
June 22
To the city for a session in the Antipodes Festival's celebration of Constantine Cavafy at the Wheeler Centre. Professor Gregory Jusdanis, a Hellenist from Ohio, was impressive on Cavafy and the reasons for his translatability and universal appeal (recently he taught for a month in Buenos Aires where students were avid for the great Greek Alexandrian). He spoke of Cavafy's radical eschewal of adjectives and his considerable powers of empathy.
Having finished James's repellent late tale 'Covering End' (which Conrad, usually an admirer, disliked too), I began The Secret Sharer.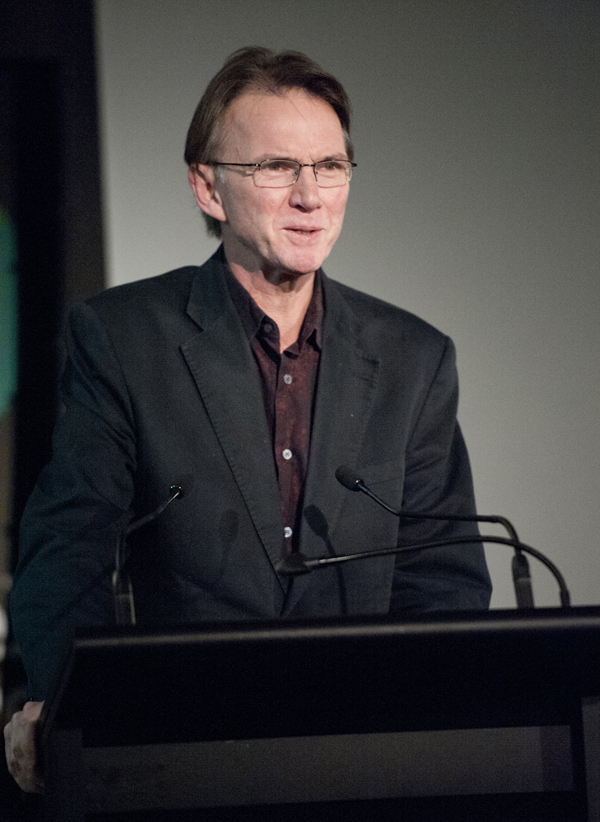 Peter Rose at the Wheeler Centre
June 23
I returned to the Wheeler City for the open reading of Cavafy's poem. Would any other poet fill a theatre for an open reading? Auden perhaps. Few others. Gregory Jusdanis borrowed my copy of the Keeley and Sherrard translation so that he could read 'Poseidonians' (unlike most of the other Greek scholars, he read only in English). No one else having bagsed 'The Afternoon Sun', I read it, first apologising for being reduced to English, like a barbarian.
June 26
Woke to reports that the Rudd camp is likely to force a leadership ballot today – and an edition of The Age in which the internecine war isn't mentioned in the first fifteen pages.
This evening Rudd was, quite inevitably, restored to the prime ministership. The farce is over; massive disloyalty rewarded with national leadership.
June 28
Early drive to Clunes for the four-day life writing workshop I am conducting for Writers Victoria. We're using the upstairs studio at the old bank. I liked the participants from the outset: a mature, congenial, supportive group.
Kate Larsen, director of Writers Victoria, welcomed them and stayed for the first hour. I noticed that she was using her iPhone beside me but didn't realise she was tweeting beside me, posting some of my tentative maxims ('I've always worked in publishing so I have never had a lunch break …').
This evening the organisers took us to the Clunes pub for dinner – always an experience.
July 7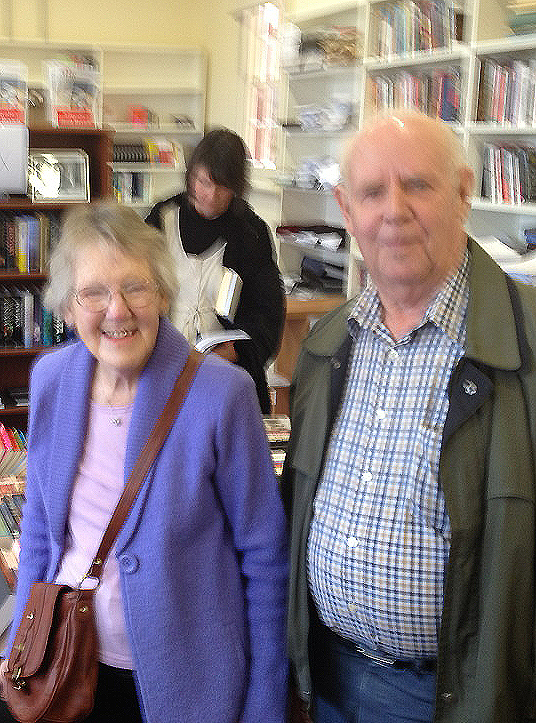 Bet Baker (left), a prefect from the class of 1948, revisits Boyd.
Boyd's first birthday. Once again the mood was very genial. Hundreds of people visited Studio 2 and chose some books we no longer needed. One prefect from the class of 1948 introduced herself to me. She recalled the days when Studio 2 was the sewing room.
July 9
Next of our fellowship roundtable discussions. It was Andrew Fuhrmann's turn to lead a conversation about Patrick White's plays and their influence on contemporary theatre. Andrew brought dolmades and bottles of Bundaberg's Sarsaparilla – also the most inedible Greek biscuits. Joining him were Peter Craven, a drama professor from Melbourne, Sam Strong, a an artistic director from the MTC, Denise Varney from the University of Melbourne, Alison Croggon and Daniel Keene, her playwright husband.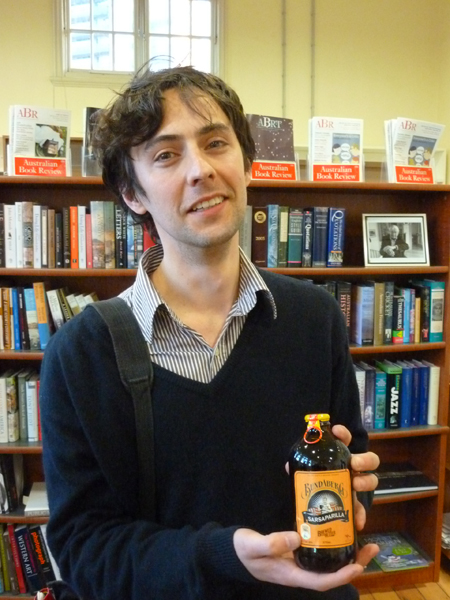 ABR fellow Andrew Fuhrmann with his Sarsaparilla.
July 10
Early flight to Canberra. Paul Hetherington drove me to the University of Canberra, where he is now happily ensconced as an associate professor after many years at the National Library. After coffee in a thumping caf I met four UC students for one-on-one sessions of twenty minutes or so. Then I led a two-hour seminar on publishing and reviewing.
July 11
I spent much of the day in the Petherick Room at the National Library, then prepared for Helen Ennis's public lecture, which is based on her Fellowship article on Olive Cotton in our current issue. The main theatre soon filled. The audience had grown from 80 past week to well about 250. I spoke briefly about the fellowship program before introducing Helen. She was superb: calm, admirably prepared, with several photographs of Spring Forest I had not seen before. It is such a moving talk: the audience loved it. After the lecture a long queue formed outside the bookshop. We sold 45 issues and even more copies of Helen's 1995 Cotton book.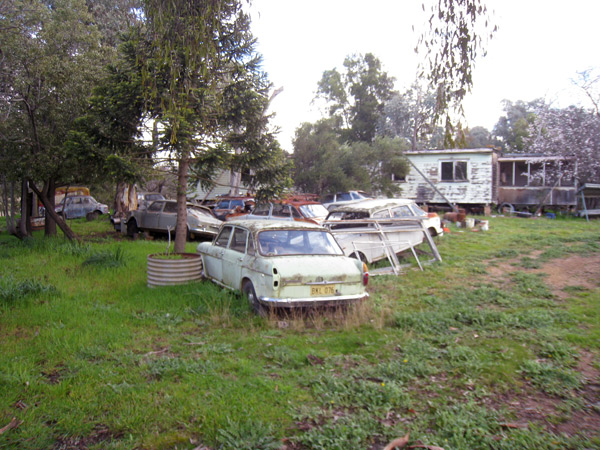 View of Spring Forest with cars, 2010 (photograph by Ben Ennis Butler)
Someone mentioned that Sally McInerney (Olive Cotton and Ross McInerney's daughter) was there with her brother. I hadn't seen Sally in years. Helen was very grateful too that she hadn't known before delivering her lecture. I am sure that, while a degree of self-protection came into it, it was an act of generosity on the McInerneys' part. Sally told me that she had braced herself for the audience's shocked reaction when they saw certain photos: her parents' old house surrounded by wrecked cars (seventeen of them), the tent in which they lived for three years.
Helen took us to a Thai restaurant in Civic. During the lecture Helen showed a slide of her son Ben and his brother holding Ross McInerney's puppies at Spring Forest when they were boys. In the photo Ross is reaching into the boot. At the restaurant I asked Ben what he was doing. It turns out that each wrecked car had a function, and this one was the kennel where he kept the male dog, to protect the bitches.
July 15
One of the things I most enjoy at ABR is the speed with which we can make changes. In Canberra, a conversation with Paul Hetherington about the University of Canberra's new poetry prize (funded by the VC) prompted me to think about making our literary prizes similarly international. After a couple of emails and conversations at work we had altered the Porter Prize guidelines to permit overseas submissions. Peter Porter, most cosmopolitan of Australian poets, would have approved.
July 16
For the fifth time I am reading The Ambassadors, which the Jamesians will discuss next month. Each time one reads it one learns more and more about that quietest of heroes, Lambert Strether. It's why one must read great books five times – or fifteen. I had never noticed Strether's habit ('Though he wasn't shy') of gazing about without meeting the wonderful Maria Gostrey's eyes, 'a motion that was frequent with him in talk'. It prepares us for everything that follows. And I had forgotten about the early loss of Strether's wife – followed by that of their son – and his feelings of guilt about the lost boy whom he neglected because of his endless grief, 'the secret habit of sorrow'.
July 25
Albert Lance – one of the few tenors to sing with Sutherland and Callas in the late 1950s – has died, aged eighty-seven. My mother knew him as Lance Ingram during the war, when he was the resident tenor in her concert party. This was before his departure for Europe. Some regard him as Australia's greatest tenor.
I liked the big Impressionist show at the NGV (Tudor St George Tucker a welcome if belated discovery). After a glass of wine at Jimmy Watson's, I attended one of Readings' poetry nights, this time with newcomer Zoe Blain (a young hippy from the Dandenongs who announced that she had never spoken into a microphone before), followed by Toby Fitch and Amanda Johnson.
July 26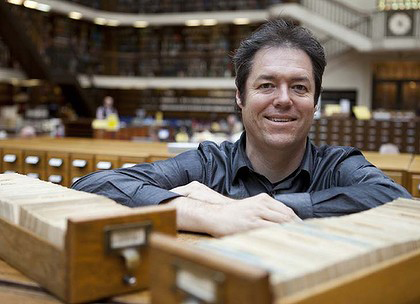 2013 Calibre Prize winner Martin Thomas
Our first collaboration with Montsalvat, part of the Past Matters festival. The Assembly Hall at Boyd was a perfect venue for Martin Thomas's illustrated talk. We had about sixty people. Martin, likeable man that he is, managed to elude most of Morag's questions about his role in Wamud's drama.
July 27
To Montsalvat this morning for the first session in Past Matters. This was in the Great Hall, on 'Montsalvat time', so it was late starting. Morag, in front of about forty people, interviewed Alexis Wright. I invited her to do something at Boyd. She is keen: ditto Tony Birch, who was there.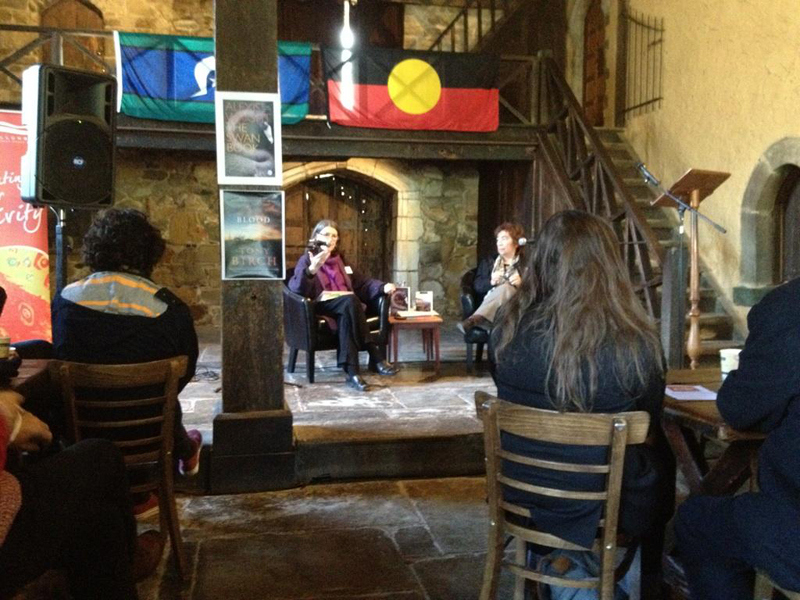 Morag Fraser and Alexis Wright at the Past Matters festival, Montsalvat
July 28
Morning session in the film festival: an absorbing documentary on Michael Haneke, the Austrian director. I missed much of it, because of the violence (I never want to see Funny Games), but the interviews with people like Isabelle Huppert and Emmanuelle Riva were fascinating.
July 31
Farewell visit from young Will Heyward, who is off to NYC to make a career in publishing. He'll be working with a noted scout. He's wary about making the transition from independent publishing to major-league competition. I loaded him up with John Calder's memoirs for review.
To the State Theatre for Einstein on the Beach, in the original Robert Wilson production. It begins to show its age, with decidedly creaky choreography, I thought. I enjoyed some of the ballets, but the endless trial scene was vapid, and there are moments of serious period kitsch, especially the bewigged Einstein, who saws away interminably on his fiddle. We slipped out for a drink, then returned for more repetitions. The large though not capacity audience was reverent in the Australian fashion.
August 5
Farewell concert by the Australian Youth Orchestra, which departs tomorrow on a European tour. It will be playing in Berlin on Friday! What a concert it was, with Christoph Eschenbach conducting, and Joshua Bell as soloist in the Tchaikovsky concerto. Bell, who must be forty-five, still looks about fourteen. He brought down the house.
Later there was a reception in the Riverside Bar. Colin Cornish introduced the Maestro, who extolled the young musicians and spoke of the importance of these tours: young Australians taking the music of Europe to the content; and the vital mission peace and communication in a dangerous world.
Michael Shmith and I introduced ourselves to Eschenbach. I told him how much I enjoyed the Vienna Philharmonic's Sydney concerts in 2010. He said no one plays Bruckner like the Viennese. When he became chief conductor of the Washington orchestra they told him Americans couldn't abide Bruckner, but the players loved the Sixth and now they perform him each year. (If only Australian bands were so enterprising.)
I asked Eschenbach about his piano work. He still records extensively, but only chamber music, much of it with Matthias Goerne, with whom he has just done a Winterreise (one of his little fingers is in a splint). Immediately after the AYO tour he will conduct the first of three Mozart operas at Salzburg, the first time three have been done by the same conductor and director.
August 6
This evening we saw the French film Stranger by the Lake, a remarkably explicit gay film about a serial killer at a lakeside beat. Though the film is not without longueurs, I liked its summery languor and admired the director's eschewal of the usual romanticisation of homosexual beauty and behaviour. Most remarkable is the inclusion of real sex acts: fucking, fellatio, ejaculation. No one protested; no one walked out: the mostly gay audience was in fact remarkably silent. Not so many years ago we would have been pelted with eggs as we left.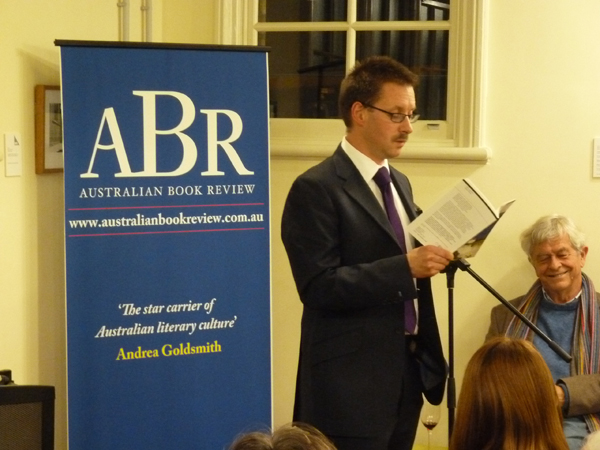 Will Eaves reads at 'Poetry in the Lounge' at Boyd.
August 7
Our first Poetry in the Lounge. Despite foul weather and congested traffic, we drew about thirty people. Our readers were Lisa Gorton, David McCooey, and Will Eaves (fresh from Warwick University to do a PhD at Melbourne). Will has an arresting moustache of which Melbourne will probably cure him.
August 12
Lunch with Patrick McCaughey and Donna Curran. Patrick, sporting a fine red beret, was astonished that we had come out without coats; it was squally. We lunched at Florentino's Cellar Bar. Both of them are in good form and looking forward to their outback sojourn. Patrick told me how much he enjoys reading Neal Blewett in the magazine. His book on Why Australian Art Matters is much delayed.
August 14
Is there no limit to the man's encroachments! In a dream, while a group of us were trying to work out how to use a pay station in a car park, Rupert Murdoch loomed in evening dress. This was in the Royal Arcade. Murdoch, like all celebrities, had eyes only for his fellow celebrity – his new, fourth wife, who looked suspiciously like Sarah Murdoch. They swept past us like movie stars.
August 15
To Brisbane for the Prime Minister's Awards. The ceremony took place on that stylish loggia in the State Library of Queensland, by the river. None of us know the results (though a newspaper photographer did seem to take an inordinate number of photographs of Michael de Kretser before the formalities). The prime minister, of course, stayed away. Tony Burke, minister for the arts, represented him and surprised us by saying that he began the day with an hour of poetry. I wish I could say that.
I sat up the back with my fellow nominee John Kinsella – a very fitting winner (John had spent five days crossing the continent by train to attend the ceremony).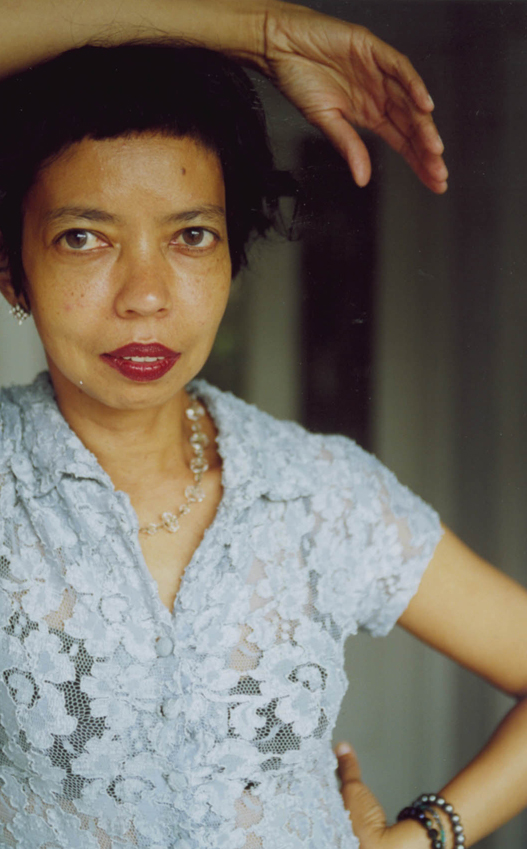 Michelle de Kretser
Fiction came last, as ever. I noticed that Michelle de Kretser, seated in front of me, seemed even more tremulous than the rest of us before the announcement. She was also clutching a sheet of paper, the only winner to have prepared something. When she moved to the podium we all found out why. After gracious remarks about the prize she went on to denounce the government's policies towards asylum seekers and implored the prime minister to examine his heart – this in front of the minister responsible for those policies (Burke, throughout, remained wonderfully impassive). Michelle was shaking as she delivered her short, potent speech. Much applause followed this gutsiest of acceptance speeches.
My 10 pm Jet Star flight home was much delayed, but fortunately Ben Ball was stranded in the bar, so we lined up the glasses of red before the bar closed and I asked Ben about his coming list. Ben, representing Penguin, had accepted the award for George Megalogenis, who was babysitting at home. Had Peter Carey, not Michelle, won the fiction award, he would have read out Peter Carey's angry denunciation of the government's climate-change policies.
August 16
To fortyfive downstairs for the première of Patricia Cornelius's play Savages. The play – based on the death of the Brimble woman on the P&O liner – is short, garrulous, witty, and wonderfully attuned to a blokey vernacular. The four 'savages' all performed well, and there were some hilarious moments.
August 21
To the RACV Club for the 11th Bob Rose Annual Lecture. David Koch – television compère, business journalist, new president of Port Adelaide – gave the lecture this year. It sounded like a job interview – but what was the job? At considerable length he outlined the club's business structure and ethics program. How seriously they take themselves in the sporting world. If artists engaged in such self-absorption they would be vilified.
I noticed a couple of major sports journalists slipping out of the room during the speech. Later we found out why. Peter Mitchell, the Channel 7 newsreader, who responded to Koch's lecture, announced that the AFL had revealed the allegations against Essendon and James Hird. After Mitchell spoke, I delivered my brief yearly speech about disability and the Robert Rose Foundation.
This evening Jane Novak of Text drove me to Corrie Perkin's My Bookshop for a session with journalist cum publisher Geoff Slattery and former print journalist now TV personality Mike Sheahan. Caroline Wilson, also on the program, was late, because of the Hird scandal. When Caro, as everyone calls her, arrived, everything changed. The audience – and panellists – wanted to know about the Essendon brouhaha, and Caro was quite forthcoming, Occasionally Jeff Slattery tried to steer it back to my book, but overall I felt radically de trop.
Afterwards we sold a few books, which was good for the valiant Corrie Perkin. One buyer turned out to be the sister-in-law of the great Peter Hudson – the only genius I ever saw play football.
August 23
My interview with Nicolas Rothwell for the Melbourne Writers' Festival. First we met in the green room. Nicolas, back from Europe, had flown from Darwin this morning and was very jetlagged. Anna Schwarz was with him, an old friend. He has the strongest Oxbridge accent; it is like meeting someone from Brideshead.
Nicolas spoke fascinatingly about journalism. He was 'dashed' when I said that Belomor wasn't 'plot-driven', but liked the comparison with Conrad.
August 24
I spent morning rereading Maria Takolander's book of stories, The Double. Text contracted her to write it as a result of her Jolley Prize win in 2010. Then I wrote my launch speech. The launch took place in the School of Lost Arts, a mansion of sorts that once housed Deakin's vice-chancellors (the current one, sensibly, sold it). Cassandra Atherton introduced me fulsomely, then I did my best in the speech.
August 25
To North Melbourne for Patrick McCaughey's seventieth birthday party. It was indeed a marvellous party – perhaps eighty people in a converted stable at the rear of a friend's house. The speeches were memorable: first Angus Trumble, in witty versical form, rhyming hat-trick with Patrick; then James McCaughey, the younger brother, in deadly fraternal form. Cap that, Chris Wallace-Crabbe told Patrick at the start; but he did: an eloquent, whimsical speech about family, friendship and the trans-Pacific association.
August 27
I read William Trevor's The Story of Lucy Gault (which Brian McFarlane praised in a kind of horrified way last week). Impossible not to marvel at this wizard of a writer: hardly an adjective in the whole book, giving him such narrative impetus.
August 29
To the old RACV headquarters on Queen Street for Text's festival party. They know how to throw a party. This was in a fifteenth-storey bar, with unexpectedly wonderful views of the CBD. I chatted to Henry Rosenbloom, who confirmed how bleak the trade is right now. We agreed that something has changed, possibly forever; people do not want, do not need, do not think they need, books in the old way. .
It was such a good party we stayed too long and were late for Susan Bullock's recital at the MRC. Scandalising our names, we missed the first half. I enjoyed the three Debussy and Ireland songs that followed. Bullock sang three of Britten's French folksongs: 'Il est quelqu'un sur terre' was unforgettable. She finished with several encores, including 'Traume', magnificently played by Martineau.
August 30
I attended the festival session on Vivienne Eliot, with Steven Carroll and Mary-Kay Wilmers, moderated by Chris Wallace-Crabbe. Wilmers, who seemed uncomfortable at first and rather frail, was interesting about T.S. Eliot, whom she observed at Faber and Faber when she joined the house in 1961, as secretary to the advertising manager. One day Wilmers stood by the window and audibly envied the 'lucky buggers' who were sunbaking in Russell Square. None of her colleagues laughed. Eliot had entered the room.
Wilmers found him creepy and always disliked signs of affection between the elderly poet and his much younger, second wife (his former secretary, Valerie Fletcher). She sympathised with Vivienne Eliot and spoke about the Eliots' hysterical marriage, both of them always in a heightened mood. She extolled Vivienne's short stories. LRB tried to publish them, but they are completely unavailable because of the Eliot estate's extirpation of Vivienne from the record. I guess they won't be published until copyright lapses in 2035.
August 31
I was in town early for a couple of festival sessions. The train took me to Parliament. On Spring Street, outside the Windsor Hotel, an elderly man was sound asleep in the middle of the pavement, nothing to cushion him, with an empty bottle beside him. We all passed the tragic shape without comment.
BMW Edge – or Deakin Edge as it is now named – was almost full for a session on the Catholic Church and sex abuse. Barney Zwartz of The Age chaired this well. His speakers were Colm Tóibín, Morag Fraser, and Peter Horsfield of RMIT. Tóibín, whom I was hearing for the first time, began with a short, eloquent tribute to Seamus Heaney, who has just died in Ireland. He was consistently amusing and critical of the Church's conduct in Ireland. I liked Horsfield's harsh, angry line about the hierarchy's mendacity and complete resistance to change.
Coffee with Morag, who leaves for Princeton on Tuesday. Then I heard Dennis Altman and Michael Fullilove's fluent and absorbing conversation about Roosevelt and modern America. Fullilove I was hearing for the first time, apart from his frequent radio interviews. He exudes a kind of unAustralian self-assurance. He certainly made me want to read his new book on FDR, and I shall sound out Dennis about reviewing it.
Thence to the Wheeler Centre for the session on literary magazines, chaired by James Ley. Mary-Kay Wilmers joined the rest of us in the green room. Quite deliberately, I use sessions of this kind to promote the magazine and encourage people to write for it, but I ended by exhorting people to support magazines. Australia has a rich magazine culture, I said, but it lacks a community of generous readers. The only tension arose when Sheila Fitzpatrick – in the front row – asked a question about editing. This gave me an opportunity to mention Sheila's long article on her Moscow years in the new issue, at which Mary-Kay Wilmers said, 'We published it first, of course'. 'No you didn't,' said Sheila indignantly (though they are good friends); while I reminded Wilmers that ABR doesn't publish other journal's articles. (She pulled a disbelieving face at this).
I was struck by Mary-Kay's air of disengagement. When James asked her to describe her magazine, she said the editors simply set out to publish the sorts of thing they want to read – with no thought of readerly needs or expectations. I attribute this insouciance to the fact that LRB simply doesn't need to promote itself in the way that the rest of us are obliged to do – urgently, entrepreneurially. More reason, I should have thought, why antipodean festivals shouldn't bring them out to Australia in such numbers and give them a free promotional ride.
September 1
In his new memoir, I Know You're Going to Be Happy, Rupert Christiansen writes, 'I have always been drawn to the name Tom'. Christiansen writes about the day his journalist father left them forever. Rupert, about five at the time, is watching television at the time. There is a touching photo of this moment on the cover. (Weirdly, the father chose to record the moment of his extrication with a professional photographer in tow.) He recalls watching a show on the War of the Roses and being 'powerfully drawn … to a young man … wearing a black tunic and tights'. He wonders If that moment was the source of his homosexual orientation and if he began 'then and there' to search for a substitute. It is a brilliant passage.
September 5
Shocked to learn that David McCooey, our poetry editor, has had a heart attack. He is in Geelong Hospital, after surgery. David, who is only forty-six, doesn't smoke or drink.
September 6
Up and back to Brisbane for two sessions at the Brisbane Writers' Festival. In the green room I met Peter Ball, the young chair of the literary magazines session. The other editors included Rob Spillman, editor of Tin House in Brooklyn. All of us tried to be encouraging, but we stressed that relationships with editors, especially for new writers, is a two-way partnership. I liked Rob's point about being 'good literary citizens'.
Little time for a pause before my second session. This was in the marquee near GOMA. Adele Rice, from the PM's office, was our compère. She was liberal with her definite articles and mentioned The Australian Book Review, The Rose Boys, and even The Crimson Crop, which is a first. The other shortlisted authors were Sue McPherson, journalist Chris Masters, and Carrie Tiffany. I thought we were there to read, but Adele wanted us to bang on about our 'practice', which left us with about ninety seconds for readings.
Chris Masters, over a drink, told me about his unhappy experience with the ABC making The Years That Made Us, about the 1920 and 1930s. Worried about their focus groups, the ABC were much more restrictive than the ADF was when Masters filmed that superb documentary about Afghanistan. When we wanted a shot of Sydney Harbour, he was told that Melbourne audiences would never tolerate it!
September 7
I am reading Kenneth Mackenzie's The Young Desire It for the first time, mightily impressed. What phenomenal poise he had writing his first novel in his early twenties. Like William Trevor he eschews adjectives.
September 11
To Cranlana for the Ken Myer Lecture, the first time this has been presented in his old home. Julian Disney was our lecturer: law professor and head of the Press Council; also a champion of the disadvantaged. He is seriously bright (only highly intelligent people can talk so fast) and I was impressed by his defence of journalistic standards, worried too by his forebodings about the rise of online media and new celebrity columnists.
September 12
To Collected Works for a reading with two other UWAP poets, Paul Hetherington and Rose Lucas. Kristin Henry, who compèred the event, described my book The Catullan Rag as 'notorious', so I felt obliged to read some of the Catullan poems. I also read 'Morbid Transfers' and the title-poem, so it was a gory evening.
Whenever I visit Collected Works I buy a book, the least one can do to support Kris Hemensley. Tonight I am reading my new purchase, Daniel Mendelsohn's translation of Cavafy. I like the story about Cavafy working briefly as a dishwasher in a restaurant to save the job of one of his lovers while he was ill. All poets should work, if only briefly, in kitchens, or factories. I am grateful that I worked in the Email Factory (unlikely name) in 1977 while I was saving up to go – to Greece, as it happens.
I discovered Cavafy's unpublished poem of 1919, 'The Bandaged Shoulder', about bandaging a lover and keeping a bloodied scrap of cloth afterwards, 'the blood of love upon my lips'.
There is a poignant anecdote about Cavafy's death. Cavafy couldn't speak by then, his cancerous larynx having been removed. To communicate he would draw on pieces of paper. The day he died (his seventieth birthday), Cavafy drew a circle and placed a dot in the middle of it – the proof mark for a full stop.
September 18
'Parents play a legendary role in the minds of their children,' Philip Roth wrote in The Dying Animal. I thought of this as I watched Charles Windsor's tribute to his 'Mamma', based largely on the home films that his parents (always keen photographers) took themselves. Clearly he is in love with his mother: her glamour, her clothes, her aura. It will be interesting to have a ham as king.
The documentary ends with remarkable footage (not seen before by the prince) of the new queen flying home from Africa on learning of George VI's death in 1952. She is having lunch (formal as ever) on the plane with three or four others. She smiles beautifully and wistfully at her husband, who is holding the camera, then simply stares at the camera – a remarkable portrait.
September 24
To the Recital Centre for the first of Angela Hewitt's performance of the Art of the Fugue, the first ten fugues. I would have liked to hear it played in its entirety (she will perform the rest of it on Sunday), but after interval we heard Beethoven's Opus 101 sonata. The Bach was transcendent.
Next to me was a young musician with the Bach score on his lap. I asked him how Angela Hewitt worked the iPad containing the score. He said she has a special pedal.
September 30
Inkerman & Blunt – new publisher on the block – is irate about Anthony Lawrence's swingeing review of Mark Tredinnick's new anthology of love poems (Peter Kenneally is kinder about it in ABR). Donna Ward, in an email to the contributors, urges us to resist the impulse to 'succumb to the critique in this review', saying, 'I encourage you to debate the essential elements of writing love poems.' We can do so by 'tweeting and posting quirky, insightful comments about writing love poetry on facebook' or 'asking the producer of your favourite current affairs radio show if they'd like to run a program debating love and love poetry', etc. She concludes: 'The issues raised in this review go to the essence of writing about love and writing poetry. I believe it is a great sounding board from which we can all spread the love of poetry and I will appreciate anything you're able to do to spread the news across the nation.'
October 3
To Queen's Hall at the State Library for the launch of Stuart Macintyre (or McKenzie, as the GG named him) and Alison Bashford's Cambridge History of Australia. Large audience for the launch of this major new two-volume reference. Stuart, in a tartan tie, was waiting by the door for Quentin Bryce. We agreed that it didn't feel like fifteen years since John Button had launched The Oxford Companion to Australian History for us at Parliament.
Amy and I sat with Ian Donaldson and waited for the official party. We all dutifully stood: Quentin Bryce clearly likes her formalities. Quentin Bryce, brilliant in yellow, spoke at length, then the two general editors spoke about the process.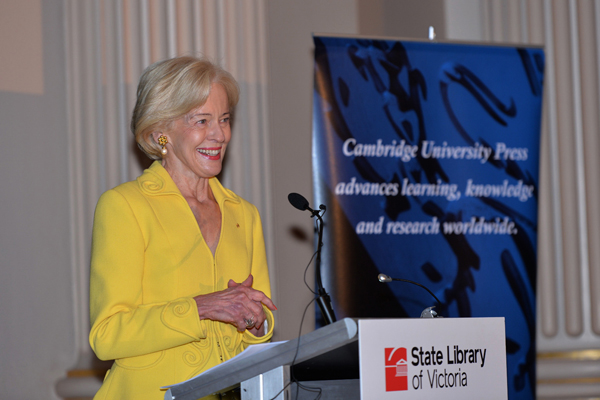 The Governor General of the Commonwealth of Australia Her Excellency the Honourable Quentin Bryce AC CVO. Photograph by Rebecca Heaton.
Back at Boyd Ryan van Winkle – the American poet based in Edinburgh whom I met at Clunes last year – came in to see us. He is here to perform his one-man show from the Edinburgh Fringe; he sits a person down in a little curtained alcove near the bar, gives them a glass of port, promises not to touch them, then reads poems to them. He even encourages them to lie down if they wish. Sara Savage, who saw the show on Saturday, will review it for us.
To Hamer Hall for Michael Shmith's excellent pre-concert interview with the great Zubin Mehta, now seventy-seven, here to conduct the new Australian World Orchestra. Mehta really is charming, and the sweep of his career, the depth of his artistry, the range of his collaborations (Walter, Barenboim, Abbado) is awesome. He told us a beautiful anecdote about Bruno Walter and the Messiah, which Walter had conducted in the 1930s. In 1961 Mehta took the VPO score of the Messiah to Walter in Beverley Hills, seeking advice, as he had never conducted it himself. Walter was silent for several minutes; a tear rolled down his cheek; he couldn't speak. He pointed out notes in the margins with the initials BW – his own from the 1930s.
Mehta was funny about working with various opera directors in Europe, who were reliably booed. Being 'an Indian gentleman', Mehta always goes over and gives them a consolatory hug, earning boos himself. (Pavarotti advised him never to go on stage with a director.)
The concert that followed was sensational: The Rite of Spring and Mahler's Titan symphony. The band comprised players from our major orchestra and members of the Australian diaspora, including both our concert masters, from Munich and Australia.
October 3
Just last night some friends and I were lamenting the dilapidation of the dear old Capitol Theatre. Today the Wheeler Centre has invited me to take part in a session on Wagner there during the first Ring. The other speakers will be Neil Armfield, Robyn Archer – and Maggie Beer. They even invited me to choose an extract from the Ring. Try to stop me, I told the program manager.
October 5
Harold Ross wrote the most brilliant comic letters. Even his telegrams are incomparable. When Orson Welles beefed in print about supposed sneers in the New Yorker, Ross wrote back and said, 'You were brimful of prunes when you wrote that.' He advised Welles to 'beware of columning'. 'Columning is a deadly occupation, leading frequently and successively to overzealousness, super-seriousmindedness, monomania, hysteria, and sometimes madness When a columnist begins to take himself too seriously he is in grave danger.'
October 18
Great news from Arts NSW, which has granted us the $30,000 we sought – the first time they have given us money.
October 23
Roland Perry has published a book on 'Horrie the Wog Dog', with a sanitised title. I often heard about the little terrier that accompanied the 2/1st Machine Gun Battalion around the Middle East and Greece. Two of my uncles were in the 2/1st for all six years of the war.
October 26
Early to the market, where we met Michael Heyward. He told us about Anna Heyward's latest coup. She raised enough money to bring John Coetzee to Melbourne to lead a class on whichever novel he liked. He chose Elizabeth Jolley's The Georges' Wife. There was one condition: all the students had to read the novel first. There was room for 25 students. Anna had a waiting list of 200.
October 28
For the first time we presented the ABR Elizabeth Jolley Short Story Prize in Sydney – upstairs at Gleebooks. I had some time to kill, so explored Sappho Books next door. Michelle de Kretser and Gail Jones were seated at one table. Rebekah Clarkson, very nervous, one of our contestants, was lurking up the back.
As is the way with many prizes these days, we no longer inform the winner in advance. All three shortlisted writers – Rebekah, Kim Mahood, Michelle Michau-Crawford – were in attendance, Michelle all the way from Western Australia. Showing admirable solidarity, they all sat together in the front row. They each read from their stories, then David Malouf, our special guest, spoke briefly (not wishing to prolong the torture for them) about the importance of shortlists, not just overall prizes. The important thing, he said, is for writers to be read, to be available, and we of course publish all the shortlisted stories in the magazine.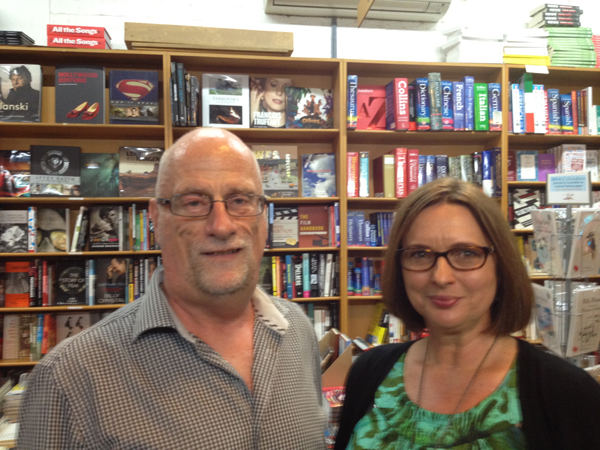 Ian Dickson and Michelle Michau-Crawford
Then David gave Michelle Michau-Crawford the shock of her life by declaring her the winner. Our judges – Tony Birch, Maria Takolander, Terri-ann White – couldn't split the other stories, so Kim and Rebekah shared second place.
Afterwards, there was a fairly uproarious celebration up Glebe Point Road in an Indian restaurant.
October 29
We had tickets to Hamlet at Belvoir. James Waites reviews it favourably in our November issue. I can see why he rates Toby Schmitz's Hamlet so highly; it is a remarkable performance, tortured but very funny too, as when he interrogates the audience and even props beside a woman in the front row (surely a plant) and directs one of Hamlet's endless questions at her, only to give her a kiss on the mouth when she listens attentively. Simon Stone has cut the play severely. I missed 'disasters in the sun' and the advice to the players; but The Mousetrap itself is done quite brilliantly, with Schmitz manipulating the hilarious puppets (caricatures of Robyn Nevin as Gertrude and John Gaden as Claudius in flagrante delicto) as he passes judgement overhead. The scene when Hamlet confronts his mother – perpetually tipsy and distracted – is particularly effective; moving too. The young actress beside me sobbed throughout. On her other side was Ewen Leslie, the MTC Hamlet who will assume the role when Schmitz decamps to Hollywood mid-season. During the 'quintessence of dust' speech Lesley coughed lightly, nervously. Toby Schmitz looked up and outstared him (he was ferocious in his gaze throughout), daring him, then emitted a cough of his own before completing the speech. I'm not sure who was teasing whom.
The second half, which was very brief (the whole thing is over in two hours), I liked less. For me, as for Waites, the pervasive blood was de trop, and Hamlet's clairvoyance about all the deaths to come – with Nevin & Co. covered in gore at the start – was unconvincing.
Afterwards, we dined down the road at the new MoVida.
October 30
Our first opportunity to thank our many Sydney supporters, at a Patron's apartment in Potts Point. They did it beautifully: excellent champagne, canapés, peonies, and not bad art on the walls. I tried not to speak for too long, but there was a bit to say, and many people to thank, after an auspicious year for the magazine.
Sheila Fitzpatrick was there with the violist from her string quartet (they were rehearsing afterwards). I told Kim Williams that Sheila played in the Australian Youth Orchestra before going to Oxford. Kim was a composer as a young man, and the AYO performed some of his early works.
November 3
Yet another stupid shooting in the US. This time the culprit – a predictably troubled 23-year-old, disturbed by his mother's death, with access to the usual arsenal – walked into LA Airport with an assault rifle and tried to kill as many as people as possible – only one on this occasion. How can one regard this massacre as 'tragic'? What do they expect when they allow delinquents to arm themselves with assault weapons.
I am working my way through Lawrence's incomparable letters. In 1922 his wanderlust, despite his adversities, is phenomenal. Was any other writer so restless, so willing to swap countries at a few days' notice. He makes Graham Greene seem incurious. And yet here he is denouncing travel to Mary Cannan as he sails to San Francisco after a nanosecond in Ceylon and a minute in Sydney – or rather a minute in Thirroul (for he only spent a day or so in the capital before moving, finding it too expensive, apart from the meat):
To be alone, and to be still, is always one of the greatest blessings. The more one sees of people, the more one feels it isn't worth while. Better sit quite still in one's room, and possess one's own soul. Travel seems to me a splendid lesson in disillusion – chiefly that.
I have always loved the letters from Wyewurk, where Lawrence and Frienda spent a few weeks in a house overlooking the Pacific. I went there once in my early twenties and knocked rather tentatively on the door. When the owner answered I asked if I could look at the garden. Sick of visitors, she waved her hand dismissively and barked, 'Oh, go on and look at it!'
Best of all is the brilliant letter of 22 June 1922 to Catherine Carswell about 'a long lapse and drift':
It is a weird place. In the established sense, it is socially nil. Happy-go-lucky, don't-you-bother, we're-in-Australia. But also there seems to be no inside life of any sort; just a long lapse and drift. A rather fascinating indifference, a physical indifference to what we call soul or spirit.
A few weeks earlier, there is a deeply perceptive vignette from Ceylon:
Yesterday the Prince of Wales was here – great doings. We were down at the Perahera at night – were just opposite the Prince. Poor devil, he is so thin and nervy: all twitchy: and seems worn out and disheartened. No wonder, badgered about like a doll among a mob of children. A woman threw a bouquet and he nearly jumped out of his skin.
David Malouf was interesting on the subject on Monday. James Ley, cannily, has asked him to review the new Cambridge edition of Lawrence's poems. David spoke about the four different versions of the great essay on Whitman, in considerable detail (he has a photographic memory). He likes 'Bavarian Gentians' and 'Snake' most of all. Then we talked about the fiction. This was on our way up Glebe Point Road to the Indian restaurant on the corner, David walking quickly with those short, brisk steps of his. He doesn't care for most of the novels, because of the rhetoric, but Aaron's Rod interests him. I mentioned The Trespasser, the first thing of Lawrence's that I read. David read it when he was seventeen (he is always precise about such things). Precise too in my fashion, I told him I read it when I was fifteen. I recall liking it enormously but can't recall what it was about – except for lovers.
November 4
Murray Perahia's Melbourne début, and no one can have been disappointed (excepting one old curmudgeon in the lift afterwards who complained about the 'loud playing'). The Bach that opened the program – the fourth French Suite – was impeccable; the Appassionata that followed tumultuous.
During interval I spoke to Neil Armfield, here for the Ring. He was surprisingly frank about the cast and production. He admires his seventy-year-old Wotan and told me about his late emergence as a major Wagner singer (he is seventy). Neil has two superb tenors, but said that his Siegfried is a handful. But Siegfried is meant to be wilful? Neil asked me what music I intend to play at the Capitol. I have chosen the Prelude to Act III of Siegfried (the Karajan version). Neil said that they had been rehearsing it that day but had to drop a coup de théâtre because it presented unnamed difficulties.
After interval came some rare Schumann then an impromptu and Scherzo of Chopin, the latter magisterially played. What architectural feats those Scherzos are. Perahia received a huge ovation then gave us three exquisite encores.
November 5
Cup Day. Late afternoon, we walked through the Botanical Gardens and lay on the great lawn overlooking Government House. Beyond the lake, two young lovers danced without music – he the better of the two, guiding her, teasing her, prancing, wonderful to behold.
Overhead, a succession of irritating helicopters landed on Collingwood's training oval behind the old Olympic Pool, delivering more survivors from Flemington – symbolic of our wealth, our decadence. Last weekend we watched them do the same after Derby Day, and just missed the sight of one helicopter crashing to the ground.
No one has ever complimented me on my 'erotic editing' before. That's how Robert Dessaix headed his latest email to me. I have been editing his review of Colm Tóibín's novel about Mary, which Robert likes less than most other critics. It's a superb, knotty, inward review – typical of Robert's art, and craft – but I remarked on a plethora of 'thoughs' and 'recognisables' (Robert's argument is about a want of recognisability or credibility in the fictional Mary). Robert, after making some changes, said:
I love being edited! It's an almost erotic experience, really – surrendering yourself to intimate manipulations and adjustments, the tweaking of sensitive parts …
I noted in my reply that it's rare for a contributor to collaborate with such prodigious submission.
November 9
Opera Australia invited the press to a reception ninety minutes before the Rheingold dress rehearsal. The general manager announced that he had never seen the Ring, was about to tell us how much the expansion of the pit had cost when he was cautioned not to, speculated how much money the production would lose the company, and claimed that Adelaide had only mounted one Ring. Poor form.
Our seats were in row D, which is now the second row. I enjoyed watching our young Finnish conductor, Pietari Inkinen. He was impressive, and the sound from the new pit was excellent. I admired the production's general restraint – its orderliness and understatement. I loved Scene Three – with Warwick Fyfe as a brilliant Alberich – but the famous prelude was a mess (forgettably played too; little poetry) and I hated the high camp feathers at the end, quite distracting. It was the most even cast I'd heard for a Rheingold.
November 11
I loved Die Walküre, which was among the best I have seen, with few histrionic affronts, apart from Fricka spitting at her husband and then sprawling on the vast spiral staircase and willing him to fuck her – not quite the behaviour one expects from a lady of certain years with a fox on her left shoulder.
Hunding, played by the simian Jud Arthur (previously Fafner), was eerily like Tony Abbott, with a bit of Putin thrown in. Stuart Skelton, that great singer, was phenomenal. So was Wotan (Terje Stensvold). He sang the role first at the age of sixty-three, and is now seventy, but seems to have limitless vocal reserves. He and Susan Bullock were very moving in the glorious last scene.
November 16
More late ruminations from Clive James in Poetry Chicago, including this fine epigram, apropos of Robert Conquest's poetry (which I don't know at all): 'The idea that people might actually choose not to do more of their best thing is one that we are bound to find unsettling, but it is part of freedom.' James's essay, 'Interior Music', will now send me back to Lawrence, Hardy, and Yeats. James admits to still being daunted by Hardy's poetry, 'with its heap of patterns, as if it were a code book for threading up looms in a cloth mill'.
To the Malvern Library for an afternoon poetry reading before the opera. I read with Kristin Henry, Bill Rush and a slam poet – full of confidence as only a slam poet can be, much sawing of the air, and windy metaphors ('the Kosciusko of my breasts', etc.).
Thence to the State Theatre for Götterdämmerung. The performances were sterling, especially Daniel Sumegi's Hagen (infinitely the best of the three Hagens we have heard from him since 1998), Deborah Humble as Waltraute, and Bullock, who seemed energised by the young mezzo. Stefan Vinke (quite brilliant the other night in Siegfried) started cautiously, but by the end he was magnificent.
November 19
To the Capitol Theatre for 'The Cult of Wagner', presented by the Wheeler Centre. I met Neil Armfield, Robyn Archer, and Maggie Beer in the green room. When I asked about the state of the dear old Capitol, Michael Williams gave me a tour of its inner recesses. The upstairs gallery, boarded up for some years, is very dilapidated. RMIT has owned it for years. 'You should buy it from them,' I said to Michael.
Robyn Archer, who caught a cold during act two of Siegfried, looked pale and unwell but soldiered on. Walter Burley Griffin has been much on her mind because of the Canberra centenary. She told us about his Australia Café on Collins Street, an Art Deco jewel that was knocked down in 1963, when Whelan the Wrecker was demolishing everything in Melbourne.
Then we went on-stage: one of my weirder gigs, it must be added. To my surprise, about 300 people had turned up to hear this weird quartet. Julia Zemiro – a TV comedienne – was our compère. She spoke of the effect that the music in Apocalypse Now had on her. Then she interviewed Neil Armfield, whom we were all there to hear. Zemiro asked him if he should have taken on the Ring (previously he had only directed Tristan). Neil said he felt conflicted at the time. A close friend advised him not to do it (Neil is nothing if not candid), saying it wasn't his sort of thing. Later that day David Marr, word having reached him of Neil's reluctance, rang to say that he would never be asked again and counselled him to think carefully before declining the invitation.
Maggie Beer, effusive as ever, recalled cooking for Maestros Jeffrey Tate and Ascher Fisch during the two Adelaide Rings. Then it was my turn. I spoke about what Wagner does to me. Mindful of the general (marketing-led) amnesia about earlier Wagner performances in this country (even by this company), I reminisced about a brilliant concert version of Walküre I heard across the road in the Town Hall in 1981 – my introduction to Wagner.
Robyn – (mostly) contra Wagner – summed up with her usual panache and related a funny anecdote about singing in a tank for Peter Hall and Georg Solti in the 1970s when Hall decided to use nude Rhine Maidens.
Afterwards, Neil told me how much he enjoyed Andrew Fuhrmann's long article on Patrick White's plays. Neil, like Sharman and Malouf, was very helpful to Andrew and was interviewed at length.
November 27
I'm reading Kierkegaard's journals. What a phenomenal egoist he is, but so brilliant. Just one example: 'I am so unhappy right now that I am indescribably happy in my dreams.'
I thought of Robert Dessaix when I read this:
Next to taking off every stitch of clothing, owning nothing in the world, not the least little thing, and then hurling myself into the water, nothing pleases me more than speaking a foreign language, preferably a living one, in order to become quite foreign to myself.
The second Concertgebuow concert this evening. Yefim Bronfman, in a Beethoven concerto, played almost as stiffly as his name sounds, but his first encore – the Precipitato from Prokofiev's seventh sonata – was explosive. After interval there was a deeply moving account of Ein Heldenleben, unforgettable during the violin part and concluding lament. The Concertgebuow knows this tone-poem rather well: it was the first band to perform it. Mariss Jansons conducted both concerts magnificently, but looked frail (he had to withdraw midway through one of the Sydney concerts).
December 3
We gave a dinner for some Ring-goers from interstate. Rodney Hall was here too. He told us about his first encounter with Wagner. This was in Barcelona, during an epic walking across Europe to meet Robert Graves (Rodney was twenty-two). Because he was wearing leather he was sent to the gods – standing room. Rodney, who had formed a young man's aversion to Wagner, had no idea which opera he was about to hear. Then Walküre started. In the cast were Nilsson, Windgassen, and Crespin.
Bruce Moore and I reminisced about the Australian National Dictionary Centre. Bruce, who resigned as director of the ANDC a couple of years ago, is still editing the second edition of The Australian National Dictionary. I praised the neologism 'omnishambolic' and produced Volume XV of the OED to find out when 'shambolic' was first used (1970). Bruce was amazed that anyone still resorts to the old volumes.
December 4
I am reading Claudia Roth Pierpont's biography of Philip Roth (Roth Unbound) – informative because her subject is always chirping away in the background.
December 6
Mandela has died, aged ninety-five. The South African president announced it at midnight, so the TV networks have a long mawkish night ahead of them.
December 13
I missed David Tennant's Richard II at the Nova, so I read the play instead. Of all his plays this one begins to seem like the most depressive. No psychoanalyst could have put this better than Bushy does in Act II:
Each substance of a grief hath twenty shadows,
Which shows like the grief itself, but is not so;




For Sorrow's eye, glazed with blinding tears,




Divides one thing entire to many objects,




Like perspectives which, rightly gazed upon,




Show nothing but confusion; eyed awry,




Distinguish form. So your sweet Majesty,




Looking awry upon your lord's departure,




Finds shapes of grief more than himself to wail,




Which looked on as it is, is nought but shadows




Of what it is not; then, thrice-gracious Queen,




More than your lord's departure weep not: more's not seen,




Or if it be, 'tis with false Sorrow's eye,




Which for things true weeps things imaginary.
Richard II was the first play I saw in London, back in December 1974 – another RSC production. This was at the Aldwych. I paid about one pound for my seat in the stalls. Ian Richardson and Alan Howard were alternating as Richard and Bolingbroke. Richardson was every inch the svelte king of the Wilton diptych.
December 19
Mildest of summers so far, but today was hot, reaching forty. We crossed town in heavy traffic to attend Jonathan Mills and Ben Divall's party. Never before have I been invited to a party to celebrate 'nuptials and a knighthood'. (Ben and Jonathan were married in London earlier this year, and Jonathan has just been knighted.)
Well into the party, all of the ACs arrived en masse, in separate cars. They always seem to co-ordinate this brilliantly. Really, it was like a scene from The Godfather.
A friend of Ben's had asked what him what he should wear. 'Nothing' was the reply, so the friend came in the nude. It was rather bizarre standing behind him and Jeanne Pratt AC during the speeches. A naked man in Brunswick, I observed, makes much less of an impression than he might in other suburbs.