Editor's Diaries
Editor's Diary 2014
January 21
I am roaring through Edmund White's memoir of his Paris years (Inside a Pearl: My Years in Paris), much better than his New York memoir (City Boy). But there is a problem: one doesn't believe a word he writes. His is possibly the laziest approach to autobiography. Still, this one is reasonably entertaining.
January 24
Lunch at KereKere with my old friend and colleague Brian McFarlane. Indefatigable as ever, Brian will soon complete his book on Googie Withers and John MacCallum. I hadn't realised that Brian – the kid from Lillimur in the Wimmera – went to Melbourne University aged sixteen. His first year was lamentable scholastically, perhaps because he saw 104 films.
January 28
To Government House for the Victorian Premier's Literary Awards. Michael Heyward likened the tawdry ballroom to a large version of the Clunes Town Hall. I stood with Lisa Gorton, who has just given me a fine long article on David Malouf's poetry. After the five awards had been announced by the premier and his hoarse arts minister, we both went over and commiserated with Brendan Ryan (Jennifer Maiden, as is so often the case, won the poetry prize). Brendan, sensible man, was philosophical. The ballroom was suffocating; it was forty-two degrees outside. They opened the doors just as the cool change arrived and most people moved onto the terrace. I congratulated Alex Miller on his win.
January 30
Lunched with Ian Donaldson, at Blue Train. I asked him to write something about his old friend Barry Humphries, who turns eighty on February 17. I didn't know that Humphries fell off a cliff in Cornwall in the 1970s. He and his wife Rosalind were staying in a pedigreed cottage owned by the family of Tamsin Donaldson. Barry landed fifty metres below, with a broken leg. I bet he still went on stage that night.
February 3
I read Willa Cather's My Mortal Enemy, which takes about three minutes. Inspired ones, though. Philip Seymour Hoffman, who has died in New York City, named his younger daughter Willa.
February 5
Concert version of Rienzi from Melbourne Opera – a reprise of the December version. This earned lukewarm crits at the time, but we enjoyed the performance (a long night, though still cut by at least an hour), notwithstanding the oppressive acoustics and décor in the Athenaeum Theatre. (C. likened it to being inside a Robert Adam-inspired Christmas cake.) Jason Wasley was excellent in the demanding title role (forerunner of Siegmund).
February 6
David Malouf rang to accept our invitation about becoming the inaugural ABR Laureate. He even approves the fact that the Laureates won't receive any money! (I wonder if all our Laureates will feel the same way.) David is already thinking of nominees for the Laureate's Fellowship, who will receive $5,000.
February 13
I enjoyed Julian Barnes's short book Levels of Life, notwithstanding its eccentricities. It starts with vignettes about ballooning – and 'balloonatics' (Sarah Bernhardt included) – as if to delay its real subject – 'grief-work', as Barnes dubs it following his wife's death.
There is a wonderful anecdote about Ivy Compton-Burnett accompanying a friend of Barnes's in a taxi back in the 1960s. At first the novelist speaks to the friend; then she turns to her own friend – her companion of thirty years, Margaret Jourdain – and speaks to her. But Jourdain had been dead for many years. Compton-Burnett once wrote a friend: 'I wish you had met her, and so met more of me.'
February 14
To Eureka Tower. Grazia Gunn and Ian Donaldson served superior martinis. I enjoyed meeting photographer Jacqueline Mitelman. She reminisced about photographing Christina Stead towards the end of her life, when she had retired to Canberra. The shoot took place at 10 a.m., at University House. Christina poured Jacqueline a glass of vodka and then one for herself, saying she would have to keep Jacqueline company.
February 23
Saw The Great Beauty again. Rare it is these days to see such an ambiguous and revisitable, discussable film.
February 24
Morning flight to Sydney, then straight to Myrtle Street, Chippendale, for my lunch with David Malouf. He was close to the door when I arrived, but before setting off he asked me if I had received a copy of A First Place, the first of three selections of critical writings which Knopf will publish over the next year. He was keen to sign a copy for me, after lunch. Last week they discovered that it is flawed. It is now being reprinted. David laughed as he told me that last week he had signed 850 copies of the edition that has now been pulped. I asked David who had discovered the mistake. It was his dedicatee, Carmen Callil. She rang him from London with the news. Some lines are repeated at the tops of pages, effacing others. I have always been impressed by the meticulousness of David's books; the paucity of typos, and I told him so. 'Ah,' he said, 'but don't forget there was a mistake in The Conversations at Curlow Creek, on page 207.' Then I recalled him initialling the correction when he signed my copy at a dinner in 1996. I thought too of his memoir, 12 Edmondstone Street, whose street name is often misspelt. 'I always have to check that one,' David said.
I congratulated David on the poem 'Retrospect' in his new collection, Earth Hour. He volunteered that this was the last appearance 'Johnno' would make in his work.
Over lunch I asked David about the Mitchell Library brouhaha. For someone who has led the campaign, David seemed remarkably relaxed – not to mention remarkably youthful for someone who is about to turn eighty. He is in frequent contact with someone on the board. David thinks that people are much more candid with him because he is not on email. He worries about the functions that are being permitted in the library. Last month it was a fashion parade. I noticed that David didn't refer to Alex Byrne by name, just as 'the Librarian'. There will be another meeting tonight. David expects the officials to make a concession, restoring the books to the Mitchell, though not the librarians. Library is under immense pressure. Almost 5,000 people have signed the petition, including some influential expats. We have just published Evelyn Juers's protest letter.
To the Opera House for the Sydney Symphony Orchestra's concert version of Elektra. With a seat in row N in the stalls, I thought I was fairly safe – even with Strauss. What I hadn't realised was that they had removed the front stalls to accommodate the orchestra, because of a misguided decision to create a stage for a troupe of modern dancers, who struck inane attitudes and wore costumes like those of a bunch of lithe air stewards in Eastern Europe. I was effectively seated in 1A, so close I could almost hear concert master Dene Olding breathing three feet away and could have turned the pages of the score for conductor David Robertson. At first I didn't think I could cope with the wall of sound from the enormous orchestra, but after a while I managed to achieve a kind of aural balance. Christine Goerke's heroine helped: a massive vocal instrument, perhaps the biggest voices I have heard since Jessye Norman. She prowled along the smaller stage beneath the unnecessary dancers, and stayed in character all night, even when swigging from a water bottle. Lisa Gasteen, as Klytemnestra, was in mighty form, and more histrionically engaged than I have ever seen, perhaps inspired by Goerke.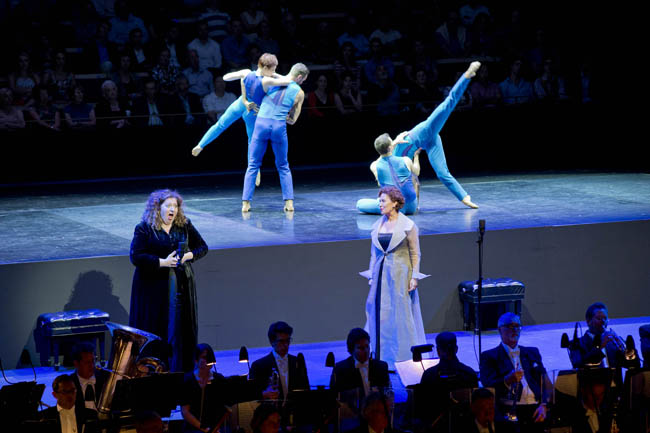 Christine Goerke (Elektra) in Elektra (photograph by Darren Leigh Roberts)
March 2
Finished The House of Mirth, almost unbearable to read because of Lily Bart's disastrous choices. But what a work it is, as Malouf said on Monday.
March 11
I am rereading Bovary, with awe. Look at the description of Emma burning a bit of her wedding frippery with distaste at the end of Part One, before the Bovarys leave Tostes.
March 13
This classic dangling modifier in Dina Ross's review of Steven Berkoff's East nearly got past all of us: 'Twenty-five years later, greying but no less charismatic, I saw Berkoff playing the role of Mum.' Dina was amused when I told her.
March 24
I am becoming irritated by Wilfred Owen's pious new biographer, who is scathing about Owen's class-consciousness (his longing to go to Oxford, for a better house, tony connections), and prurient about his sexuality. Guy Cuthbertson seems to forget the man was twenty-five when he died and that he wrote some immortal poems during a grotesque war. Why this old-fashioned need for moral perfection in one's subject? Was the 'senior lecturer in English at Liverpool Hope University' never young, vain, preposterous? Did he never glance in a mirror (one accusation) or work on his accent? Did he never flirt with a youth or fantasise about vainglorious days?
March 31
Early flight to Sydney for the first of my editorial sojourns at the University of Sydney. I am based in Margaret Harris's old room within the steamy old Woolley Building. People were most welcoming. I met Julia Horne at lunchtime: she is the University Historian. She reminded me that this year is the fiftieth anniversary of her father Donald Horne's The Lucky Country. Later, a brief meeting with Duncan Ivison, the Canadian philosopher who is dean of arts and social sciences. Then I met Catriona Menzies-Pike, an arts editor with The Conversation. She told me that it receives 1.5 million hits – per month – a phenomenal reach.
April 2
Margaret Harris was keen for me to meet an old friend called Coral Ann Howells. They studied together in London many years ago, and Coral went on to build a major career as a historian of Canadian literature. She edited the Cambridge Companion and has written books on Atwood, Munro and Shields. She knew Carol Shields well. I told her about Shields' triumphant visit to Melbourne twenty years ago. Coral has taught in Canadian universities and also at Reading but now is a fellow at King's. She is editing a big tome on the modern novel for OUP. Margaret is writing the chapter on Malouf, Stead and White, in that order.
Coffee with Sheila Fitzpatrick at the Mecca-like Taste. I interested her in reviewing Ben MacIntyre's new book on Philby, which I am devouring. Sheila was fascinating about espionage. When she went to live in Moscow in the 1960s she could easily have entered that social orbit. A legendary British correspondent who lived in Moscow would invite the new students to his flat. But something made Sheila wary: native caution, her loneliness in Moscow, an awareness that one could easily make a mistake in that diabolical world. Then I tore down the road to the Education faculty to give a brief talk about the magazine to a group of Publishing students, who thought they were there to master copy-editing.
I dined with Susan Lever and Bernadette Brennan. Bernadette told us about her Solicitor-General husband Justin Gleeson's imminent return from The Hague, where he led the successful case against Japan's whaling practice. This was finally, triumphantly, banned this week.
April 3
Afternoon masterclass for Humanities PhD students. Despite the heat, sixty-five of them attended. Many of them are interested in writing for the magazine, not just because we actually pay for everything we publish (sadly, young writers always seem shocked when I mention this).
April 4
This morning I met Jonathan Dunk, a bright young actor-PhD student. He will do several things for me, including a review of Strictly Ballroom – our first musical! Not long before my flight home there was an eleventh-hour meeting with James Der Derian, a recent American recruit as head of the Centre for International Security Studies (James came from Brown University). I liked his style. Straight off the plane from a cybersphere conference in America he agrees to meet an editor he's never heard of. James will review Luke Harding's book on Edward Snowden.
Der Derian was the first person to use the word 'cyberwar'. This was in 1992, after (or during?) the first Iraq War. He is about to be credited in OED.
April 6
To the Epworth to visit our friend Ian Donaldson, who is recovering from surgery. His other visitor this weekend was Barry Humphries, who was dressed quite brilliantly, down to his scarlet trousers. Humphries told Ian that one should always stay in rehabilitation much longer than the doctors recommend. In fact he had had a word with the doctors and suggested that they keep Ian there indefinitely. Humphries disapproved of the New Yorkers and New Statesmen on Ian's bed, and thought he should be watching television series like House of Cards (the British one) and The Sopranos. Humphries has just completed a farewell tour of Britain – something like 115 shows in a row. He can't bear being idle. Has any other performer (Domingo even) given so many individual performances?
This afternoon we heard the St Matthew's Passion at All Saints in St Kilda, opposite the Astor. The large church was almost full for this rare performance. The big attraction for me was tenor Andrew Goodwin, who was in magnificent voice – impeccable, untiring, elegant, and expressive.
April 10
In one dream Geoffrey Robertson (whose Open Page answers are expected any day), visited ABR's (unrecognisable) office. He had a mature publicist in tow, whose name I felt self-conscious about forgetting. Robertson began riffling through the papers on my desk until I asked him to desist. Then he lunged at a metal box underneath a table and struggled to open it. I informed him it was the First Aid box. Finally, peremptorily, he demanded 'Tea!' in a theatrical baritone. Of more interest to the silk–author were the boxes of raffle tickets that it soon became apparent he was there to deliver: readers who had bought a ticket in the hope of winning one of his books.
The trigger: yesterday we posted Paul Morgan's review of Robertson's entertaining book on Stephen Ward.
April 12
Opening night of Opera Australia's Melbourne season, with a new production of Rigoletto, directed by Roger Hodgman. It is quite old-fashioned, but after some of the directorial excesses in Verdi's bicentenary year this comes as something of a relief.
April 14
Poetry reading this evening for Jacinta La Plastrier's peripatetic Gilgamesh Salon. The current venue is a tiny restaurant within the South Melbourne Market. This must be my first reading in a market. I read several new poems for the first time, including 'Anniversary', from 'The Catullan Rag', in which Catullus reminisces about Lesbia. During my reading I noticed a young woman with long dark hair that she kept on stroking, as though it were an adoring cat. Later she approached me at the bar. In my poem 'Anniversary' I refer to Lesbia's hypnotic voice, 'the sexy clutch in your throat from all those Camels'. The young woman wanted to know if this was a reference to pornography. God help us! Don't creative writing students even smoke these days?
April 15
Reading Matthew Pratt Guterl's intriguing but badly written book Josephine Baker and the Rainbow Tribe, about the great celebrity's adoption of a tribe of children from around the world after the war. I am also reading Jonathan Rose's The Literary Churchill – about Churchill's literary and theatrical fascinations. British historian Richard Toye, despite Robin Prior's severe review of his own book, The Roar of the Lion, has agreed to review it for me.
April 26
Sarah Holland Batt, poetry editor of Island, has taken a tiny new poem of mine called 'Dead', which is about my father. No sooner had Sarah written to me than I read this in Alfred Kazin's undyingly fascinating journals: 'One looks for one's father – one looks – one looks and then one realizes: I am my father.'
With much enjoyment I read Nigerian-American writer Teju Cole's book Every Day is for the Thief, about his return to Nigeria after fifteen years away in the States. The telling title comes from an African proverb – 'Every day is for the thief, but one day is for the owner.' Corruption, graft, bribes, mendacity is the ready theme. Cole is appalled by his visit to the depleted National Museum, which glorifies successive dictators, with no reference to the slaves – the hundreds of thousands of Africans who ended up in New Orleans's twenty-five – twenty-five – slave markets. Cole quotes Faulkner: 'The past is never dead. It's not even past.'
C., listening to my account of what the author discovers in Lagos, insists he will never accompany me to Africa, the continent I have always most wanted to visit.
April 27
I last read Henry VIII when I was fifteen. Rather bravely, I was attempting to write a play about the Tudors. When I showed it to my brilliant English teacher Bryan Ennis, he bafflingly commented in the margin, 'Verisimilitude!' with rather more irony than we find in this intriguing last play. Shakespeare's first act is not riveting, but the scene between Anne Boleyn and the old maid is hilarious, as Anne renounces all ambition. I can see why actors like Edith Evans wanted to play Katherine, given the quality of the writing in the trial scene and her valedictory speech. And I always liked Buckingham's phrase for decapitation, 'the long divorce of steel'.
Last night we watched Death in Venice, once my favourite film, still powerful, despite the lack of drama and Visconti's lack of interest in words (as Bogarde mentions in a documentary about the making of the film). Tonight we both reread the novella. As C. said, it is much sicker than the film. Anyone doubting the authenticity of the author's Aschenbachian torment should read the passage late in the novella when he lingers outside Tadzio's hotel room and rests his head on the door, unable to tear himself away, while knowing that he risks a scandal. Only someone who has abased himself could paint a scene like that.
May 7
Last time I agreed to be interviewed on 3RRR I forgot all about it – the day of the 2013 AGM. Producer Elizabeth McCarthy was very forbearing. Today was the day of the Porter Prize ceremony, but I crazily agreed to drive to Brunswick. This time I remembered to do so. The subject was indeed my 'social diary', as they called it. The Porter Prize was a real buzz. We had about fifty people, quite enough for Studio 2. Three of our nominees were there: Elizabeth Allen (who came down from Sydney), Jessica Wilkinson (with whom she stayed: so much for the fractiousness of poets), and Nathan Curnow, nominated last year. Alex Miller, up from Castlemaine with Stephanie, represented Paul Kane, and read his Italian poem, 'VFGA'. This year we decided to begin with some poems by Peter Porter. I read 'World Poetry Conference Welcome Poem', and Lisa followed with the remarkable 'The Delegate'; Morag ended with 'An Angel in Blythburgh Church'. First she related the story about visiting the church after Peter's death: a fond pilgrimage. Peter's poem has Cromwell's men 'peppering' the angel with bullets, but a church attendant insisted to Morag that it was a beetle that did the damage. 'Whoopee', thought Morag – she had found out Peter in a mistake. Next day, back in Cambridge, she ran into Les Murray outside Sainsbury's, of all places. When Morag told him about the historical inaccuracy, Les said, 'Peter was never strong on detail'.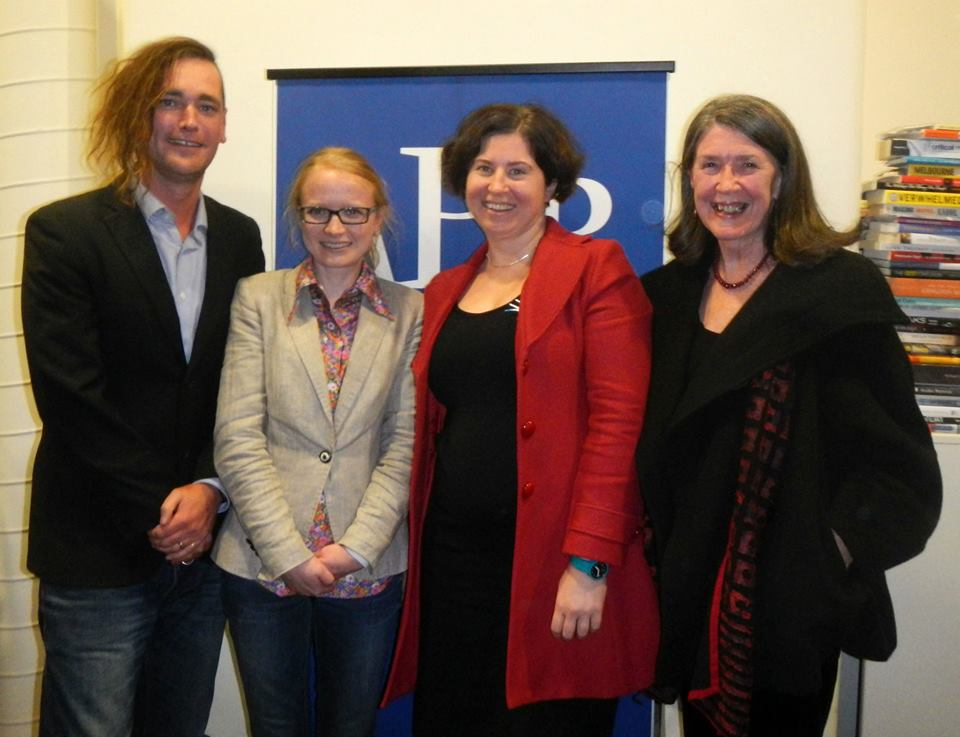 The 2014 Porter Prize shortlisted poets: Nathan Curnow, Jessica L. Wilkinson, and Elizabeth Allen (with Morag Fraser). (Absent: shortlisted poet Paul Kane)
After the readings, Morag named Jessica as the winner, who almost hyperventilated. The other poets were good about it – helped by the fact that I lifted their consolation prize from $500 to $833 (we had only four poems on our shortlist, not the advertised maximum of six, so there was more money to go around). 'Third time lucky,' Nathan Curnow said to me.
Neal Blewett has sent me a brilliant review of Bob Carr's diaries. He prefaces it with a long quote from a menacing letter that Max Moore-Wilton, then head of the PM's Department, sent him when he announced that he was going to publish extracts from his diaries. This came six years after Blewett's departure from cabinet (rather longer than Mr Carr has taken with his). Moore-Wilton issued a veiled threat and warned him not to proceed.
May 8
My first game of table tennis in many years in the forecourt at Boyd. James Murphy, of KereKere, took on all comers, offering free coffees to those who could beat him. None did. It's humiliating to lose so publicly on City Road.
To the Malthouse for the opening night of Matthew Lutton's production of Night on Bald Mountain. I loved the production and relished the dialogue. It was played quite naturalistically, with inspired performances from Peter Carroll as Sword, Julie Forsyth as Miss Quidling, and Melita Jurisic as the lush.
May 9
If AFR is going to fulminate against Edward Snowden, as it does in another simplistic editorial today (reminiscent of last Saturday's puerile reading of Thomas Piketty's book), they might spell his name right. They seem to think he is the queen's brother-in-law. More fact-checking economies perhaps? This week Fairfax sacked another eighty people.
May 11
On the way to town this morning I suggested a detour to Victoria Park, to see what they have done to the old ground. We walked right around the oval, on which fathers and sons were clumsily trying to kick goals. The park looks infinitely better than when I was last here – the day of Dad's memorial service and the subsequent wake in the old social club. They have pulled down most of the ugly fences, and the old terrace outer is now pleasantly landscaped. The Bob Rose Stand is intact, a true architectural fright.
I don't have a particularly good memory, and, despite much of the poetry, I am not an innate nostalgist. Perhaps I am a conflicted nostalgist. I keep a journal, but never reread it. I don't really dwell in the past. I rarely look at past issues of ABR; I much prefer to plan new ones. After leaving OUP I never went back. But I must say Victoria Park for me is embedded with memories. They were vivid to the point of actuality. It was like walking on old bones, cautiously, so as not to disturb them.
May 15
To the NGV for the opening of the Prado show. We snuck in for a preview and went straight to the Coreggio Noli me tangere, quite ravishing; opposite, the Raphael. The Great Hall soon filled with a slightly different kind of audience from the one we are used to at NGV, refreshingly. I marvelled at the official speeches. Heidi Victoria, our arts minister, was not in good form. She managed to describe Melbourne as the foremost arts centre in the world, this in front of the director of the Prado, the suave Miguel Zugaza. George Brandis, who has just shaved $28 million from the Australia Council's budget, gave a short speech. He was booed at the end – a first in my experience at an NGV opening.
A formal dinner followed in one of the long galleries. We caught up with deputy director Isobel Crombie and congratulated her on the new wall colour. They have effaced that lamentable turquoise favoured by the previous régime. Now it is a becoming bone. Isobel's date today, though not at the dinner, was Pierce Brosnan. She showed him around the gallery and pronounced him most charming.
May 16
I wrote to John Coetzee inviting him to review Beckett's posthumously published story from the 1930s, Echo's Bones. He declined, saying: 'I am not enthusiastic about this piece and don't believe in writing lukewarm reviews, so I think I had better pass.'
May 17
To the city early to buy some jazz CDs. Outside Thomas's we ran into Angus Trumble, back from the Yale Center of British Art and now ensconced in Canberra as director of the National Portrait Gallery, and clearly enjoying it. We talked about Ron Radford's vicissitudes at the NGA. Angus, ever the wit, was funny about being interviewed on ABC TV. A young woman in Ugg boats collected him in the foyer and led him to his Tardis. 'Are you the one who's been sacked?' she casually asked him.
Then we ran into Harold Mitchell at a coffee stand, off to see a ninety-one-year-old parent. Yesterday he took the dignitaries from the Prado to his farm at the foot of Mt Bulla. He gave them each a whip – typical Australian hospitality.
La Traviata, a Victorian Opera at Her Majesty's, with its unfortunate acoustic, was splendid, and Jessica Pratt, in her first Australian performance and her first as Violetta, was superb.
May 26
I love the exquisitely shaped jokes we call dreams. Last night I was flying to China on business. I happened to be Richard Nixon, though I felt more like a carpetbagger than a statesman. There was an unexpected stopover in Hong Kong. Crossing the tarmac I searched for my board pass, conscious that I might need it if my luggage went astray. To my surprise I discovered that I was seated in 1A. 'Why have they seated me in 1A?' I asked myself. Then it dawned on me: 'Of course I am in 1A. After all I am the president of the United States.'
June 9
For once, there are some writers and artists in the birthday honours. But if Les Carlyon is getting an AC, why not David Malouf or Shirley Hazzard?
June 13
Launched James Ley's book at The Avenue Bookstore. I began by saying that only James could have induced so many Melburnians to forgo football to attend the launch of a book called The Critic in the Modern World on a Friday night. I may have frightened James by foreshadowing the critical biographies he should go on to write. His book comprises six mini-biographies in the style of Dr Johnson, one of his subjects. He chooses the biographical details and anecdotes with great shrewdness. I liked this one about James Wood, his youngest subject. Wood was raised in an evangelical Anglican sect in the 1970s. Of this charismatic congregation Wood has written: 'I saw people shivering with ecstasies, people clutching at God with their hands raised. I saw people dancing in the aisles, whirling and writhing.'
Really, Wood could be writing about the Wheeler Centre.
James Ley told me that he wanted to call the book, for Eliotian reasons, The Secular Wood, but Bloomsbury worried about this because one of his featured critics is James Wood and they thought readers might be confused.
June 23
I am reading feature writer David Leser's book about his magazine publisher father, Bernard Leser, of Condé Nast. It has its moments, some of them de trop. I always think it is far too late in the day for stream of consciousness or descriptions of onanism.
June 24
Opera Australia has sacked the Georgian homophobe Tamara Iveri (Amelia in last year's Ballo). She was about to sing Desdemona in Sydney when her Facebook rantings about gay people ('faecal matter') were exposed. OA took its time though, and hasn't yet sacked her as Tosca in November. There will be a riot later this year if they keep her. The burghers will rattling their jewels in the stalls.
June 25
Bloomsday barely over, Harper's magazine asserts in the July issue that James Joyce incontrovertibly suffered from syphilis. It describes his 'eye attacks', as Joyce dubbed them, the first in 1907. He underwent a dozen operations on his eyes and by the age of forty-eight was effectively blind. Yet, somehow, he wrote some of the most brilliant, and encyclopedic, fiction of the twentieth century. Kevin Birmingham suggests that it may have affected Nora and Lucia's health. Joyce suffered from delirium and hallucinations. Affectingly, he told Sylvia Beach that his room in Paris was haunted by the sound of falling books.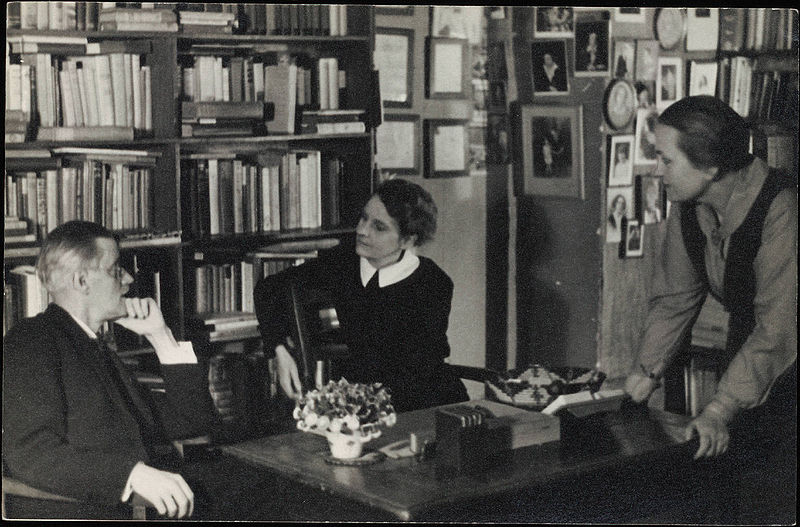 James Joyce, Sylvia Beach and Adrienne Monnier at Shakespeare & Co. in Paris in c.1920 (Beinecke Rare Book & Manuscript Library, Yale University via Wikimedia Commons)
June 28
Read 'A Passionate Pilgrim', an early tale with lush descriptions of Oxford and Hampton Court. I thought of David Malouf who told me last year that he had been reading HJ's tales and found them disappointing, often rather repellent. James does indulge his misanthropy in the tales.
June 29
We saw a film of Richard Eyres's production of Ghosts from the Almeida, with the magnificent Lesley Manville as Mrs Alving. It was about as shattering as theatre can get.
July 2
Joel Deane came in for lunch, fresh from the launch of Mary Delahunty's laudatory book on Gillard's last year. Much talk about the remarkable good fortune of Bill Shorten, who might just be gifted government, two elections before anyone thought Labor would be competitive.
Saw the Malthouse's eccentric production of The Good Person of Szechuan, not my cup of tea, though I wasn't quite in the mood after a long day. Dina Ross, our critic, enjoyed it more than I did.
July 8
I am reading My Brother Jack. Mostly it is told plainly, without the artifice or pretensions of modern fiction. At times it resembles a loosely written history of Melbourne – a kind of straightforward fraternal memoir. But gradually it accumulates dramatic resonance. The chapter on the Depression and its horrible toll is powerful.
July 12
Simon Armitage, whom I wrote to via his agent, promptly sent me a couple of poems overnight, and Lisa and I have taken one of them, 'The Invigilator', for the August issue, since Simon will be in Melbourne for the festival.
July 15
Lunched with visiting American poet Michael Kelleher, from Yale. He runs the new and immensely lucrative Windham-Campbell Literature Prizes, the fruit of a huge bequest from writer Donald Windham and the moneyed spear-carrying actor Sandy M. Campbell, who left about $45 million to Yale. The prizes are really creative fellowships. Michael is here to spread the word and to find 'nominators', the specialists who initiate the process, rather like the Nobel. The prizes are open to writers around the world: Noëlle Janaczewska, a relatively unknown Australian dramatist, won one of the three Drama prizes this year.
July 18
Slept badly, work deadlines ricocheting in my head. Finally I gave up and settled in with Ian McEwan's new novel, The Children Act, absorbing as ever. Then I switched on the radio and heard of the Israeli invasion of Gaza and the shooting down, presumably by Russian fascists in Ukraine, of a Malaysian Airways flight with 290 people on board, almost thirty of them Australian, the majority of them Dutch, some bound for Melbourne this weekend for the big Aids conference. Much shock, many fulminations: but it will do no good while Putin supports these hoodlums. Writer Liam Davison was among the dead, and his wife, a teacher of thirty years.
After we sent the August issue to press, Eloise Ross, a young PhD wanting to write for us, came in for a chat and carried off Elia Kazan's letters for review. I wrote to another young cinéaste, Scott McCulloch, not seen in a couple of years. I assumed that he was in South America, but he told me that he is in Eastern Europe, having just given a paper in Paris. After Romania he is bound for Ukraine, so I suggested a Letter from Ukraine, given these momentous times.
July 19
We set off to town for Into the Woods (Victorian Opera). We always park near the Domain. Crossing the park to St Kilda Road, we passed the spot where a poor Chinese woman, Renea Lau, a pastry chef, was raped and murdered three weeks ago. I've been dismayed by the lack of public outrage at this atrocity. One thinks of the enormous public outpourings after Jill Meagher's murder. (Clementine Ford wrote about this last week, blaming it on a Waspish preference for more conventional, white, middle-class victims). So it was heartening, and moving, to find hundreds of bouquets around a tree near the Police Memorial where Lau's body was found naked and abandoned.
July 21
I am reading Harold Nicolson's diaries. The least philosophical of major diarists, he is a magnificent recorder. He had quite a bit to record. At the Embassy Club: 'we push into someone whom I at first take to be a slouching ex-prize fighter but then recognise as the Prince of Wales'. A few weeks later Nicolson lunches with Bernard Shaw, who tells him that 'when he started to write a play, he never worked out the plot beforehand. What happened was that he had an idea for a play and started at once writing the first act.' After Methuselah he decided to stop writing plays but was soon complaining to his wife of 'growing-pains and a desire to write further'. 'Why,' she said to him, 'do you not write about St Joan?' He replied, 'I will,' and he started writing immediately.
Nicolson has a brilliant account of his meeting with James Joyce – 'not a very convenient guest at luncheon', Desmond MacCarthy remarked. Joyce failed to hide his dislike of the English. Each time Nicolson failed to draw him into the conversation. Was he interested in murders? '"Not," he answers, with the gesture of a governess shutting the piano, "not in the very least."' Was he interested in Sir Richard Burton? 'Not in the very least.'
July 26
All poets should live next to parks: it is very conducive. This morning, preparing breakfast, I watched a newcomer to the park, a heavily built man with a severe haircut, entertain or terrify his young child, whom he clearly adored. Like many parents, and dog-lovers (I did the same with ours when I was young), he would hide behind a tree and keep reversing when his daughter tried to find him. It gave me a new poem, 'Plantagenet in the Park'.
July 27
Grazia Gunn rang to say she and Ian had found an autograph book with all the 1955 Collingwood players' autographs at the Rare Book Fair. The asking prize was $500. I must dig out my old one. Ian Donaldson lost his, which contained Bradman's signature.
July 28
Whenever one reads the maxims of Chamfort and nods in agreement at his understanding of the crassitude and mendacity of human beings, one assumes that he is writing about present society and forgets he wrote them two centuries ago.
July 30
Angelo Loukakis, down here for a pow-wow at Writers Victoria about a campaign to increase payments to authors, visited Boyd. When Angelo arrived I was perusing at our complete list of ABR contributors since 1978, a fascinating document. Not expecting an answer, I asked Angelo what he had reviewed for us in issue number 132 (1991), his only appearance in ABR. 'I remember it well,' he said. 'It was a book on postage stamps by Dennis Altman: Paper Ambassadors. Not long after that, Angelo called on Patrick White who asked him sternly if it was true that he had begun to review books. 'Don't,' thundered Patrick. So Angelo stopped.
August 1
Lunch with Sheila Fitzpatrick at the Deck. She was funny about the National Biography Award, which she might win on Monday, for her second memoir, A Spy in the Archives: I and others shortlisted her for the first, My Father's Daughter in 2010. The organisers are pressuring her to attend; she loathes the prospect. Sheila, new book on Stalin out of the way, wants to write a book about her late husband, Mischa, a nuclear physicist from Riga who ended up teaching in New York. We talked about diaries. Sheila kept one after Mischa's death: journals, after all, are companionable. As a child she hid one adolescent attempt in the hedge, but a neighbour found it. We agreed that diaries are probably gestures against mortality.
August 13
Dashed to the Lyceum Club to speak to some of the members – fifty perhaps. Barbara Inglis, the president, introduced me, then I spoke about the magazine. Twenty of them bought copies and flirted with the idea of subscribing; one or two of them even did. Lunch followed in the pleasant restaurant, overlooking the immense 'Heritage listed' plane tree in the neighbouring Melbourne Club grounds. One of the organisers told me that she met her next speaker, literary agent Sheila Drummond, at the Wheeler Centre. As they were speaking about this engagement a gentleman in front turned around and said, 'I would like to speak at the Lyceum Club'. 'That depends,' the organiser pointed out, 'on who you are and if you have anything to say.' It was Peter Craven. Next month he will talk about Proust to the members of the Lyceum's Proust reading group.
August 14
Memorable night at Hamer Hall. Jonas Kaufmann was in magnificent form, even better on stage than on record or film, though one missed his acting – not to mention Wagner. The boyish tenor gave us four encores, after much cheering and whooping. He seemed wanted to go on for another half hour, but they brought up the house lights, closing a remarkable exhibition of tenor singing.
August 19
To Melbourne University for the Thomas Piketty event. Glyn Davis chaired it: the speakers were Mark Triffitt (who reviewed Capital in the Twenty-First Century for us), Helen Szoke of Oxfam, and Ross Garnaut, who is one of Davis's VC's fellows. Garnaut came up with a novel pronunciation of 'Piketty'. Afterwards I asked Garnaut how long it will be before the idea of an inheritance tax is mooted in this country. He said he had tried to add it to the agenda before the 1985 tax summit but that Keating killed the idea, so to speak.
August 20
Twelfth Annual Bob Rose Lecture, at the RACV. John Sylvester, a crime reporter known as 'Sly', gave a bravura lecture, very funny, perfectly conceived and delivered, without notes, fully scripted in his head. The organisers always ask me to speak about the Robert Rose Foundation after the vote of thanks. I have done this so often I felt the audience deserved a break. I asked my mother to do the honours instead and she did, superbly. She spoke about the importance of TAC support for the family when my brother had his accident in 1974, and said the family would have been bankrupted otherwise. There was no money in football in their day. One year when Dad was playing for Collingwood in the 1950s he won an award for attending every training session. 'I wonder what we did with those two guineas,' said Mum. In closing, she encouraged people to make a donation to the Foundation, which helps those with serious spinal cord injuries. Seventy-five people donated about $8,000, much more than last year.
Opening night of Terence McNally's Master Class, with the excellent Maria Mercedes as Maria Callas. She looks uncannily like the singer, and was in brilliant form as she taunted the audience, accompanist, and singers alike. (Zoë Caldwell must have been brilliant in the role on Broadway. She is a sadist, after all.) Mercedes was at her most impressive during the two mad scenes, long soliloquys to extended scenes from operas. Her timing, and vehemence, were incredible.
August 22
I read Erik Jensen's curious little book on the deeply repellent artist Adam Cullen, a dissolute egomaniac who somehow persuaded the young Sydney journalist (now editor of The Saturday Paper) to write his biography (typically lying about a non-existent contract with Thames & Hudson) and walk on the wild side with him. My review was meant was to be a one-pager (900 words), but instead it ran to 1,500. Editor's licence.
August 23
Sonnet-a-thon at the Melbourne Writers' Festival, the first time we have revived it since 2012. This time Lisa Gorton and I were joined by visiting Sydney poet-philosopher Jakob Ziguras, who has a first book with Pitt Street Poetry. ABR sponsored this session. I chaired the session and began with 'Shall I compare thee to a summer's day?' This time we eschewed the karaoke version of the sonnet.
August 24
We're all so exercised by the nature of criticism: what it does; what it is meant to effect. Here is George Steiner on the subject, in 'The Uncommon Reader', devout as ever: 'To read well is to answer the text, to be answerable to the text, "answerability" comprising the crucial elements of response and of responsibility.' But whenever I pick up Tony Tanner on Shakespeare, I am reminded of a different kind of readerly licence. Criticism must exhilarate, must thrill, must intoxicate. Tanner, as always, identifies the most dominant words in the plays, those that appear more often in individual plays than they do elsewhere. In Love's Labour's Lost they are 'grace' and 'wit'. Tanner goes on: 'Wit is the champagne of language – for language can be champagne, as well as small beer.' On reading Tanner all one can do is read him until the end – then Love's Labour's Lost (much cited yesterday, of course).
Taffeta phrases, silken terms precise,
Three-piled hyperboles, spruce affectation,
Figures pedantical – these summer flies
Have blown me full of maggot ostentation:
I do forswear them …
August 28
Drink at The Moat with Des Cowley, who introduced me to the new State Librarian, Sue Roberts. Des will write about the Wangaratta Jazz Festival for me: the first time we have done jazz. Thence to the excellent Tonka for a Manhattan, perhaps not needed before a rousing party like the one Text turned on at Feddish. This was undoubtedly one of the best I have been to in years – just like the 1980s, as Penny Hueston said. Long chat with Bernadette Brennan, whose critical biography of Helen Garner is now confirmed.
August 30
To Federation Square for the Jolley Prize ceremony. The Cube, once again, was full. Amy Baillieu introduced our three readers: Jennifer Down, Faith Oxenbridge from New Zealand, and Paddy O'Reilly, representing Cate Kennedy. All read well, despite the gloom on stage which made it hard. Then I spoke about the magazine and introduced Ian Dickson, who smartly put them out of their misery and named Jennifer Down, very shocked and gracious, as the winner. All three writers spoke briefly. Oxenbridge said that her daughter told her that a New Zealand writer would never win an Australian prize. I suppressed the impulse to say that, while jingoism is not unknown in Australia (as in New Zealand), being placed second out of 1,200 writers surely dispels any impression of national or ABR bias.
September 3
To Cranlana for the Kenneth Myer Annual Lecture, delivered by Brian Schmidt, the Nobel laureate. The lecture itself was superb: Schmidt is a natural teacher and communicator. He made me want to learn some science. The first question from the floor was about his dialogue with government. Schmidt said he had fair access to the PM and the Science Minister – he corrected that to Industry Minister. Barry Jones, seated behind us in the old ballroom, audibly groaned at the embarrassment of it all.
September 4
Shakenly reading the diaries of Sofia Tolstoy, perhaps the most abused wife in history.
September 5
Lunched with Nathan Hollier at Blue Train. Nathan is doing good things at Monash. Tim Fischer is writing about John Monash for him. Recently he published a book on Sri Lankan refugees with Trevor Grant, the sports journalist. The Sri Lankan high commissioner to Australia, an alleged war criminal, may not like it.
September 8
Recorded my desert-island records interview at 3MBS. Dina Ross made it easy, and there were few fluffs. I enjoy radio now; once the prospect would have given me a stroke. I chose music by Wagner, Mozart, Verdi, Schubert, and Puccini – and ended with Noël Coward's take on Cole Porter's 'Let's Do It'. Dina said the producers were pleased when I sent them my choices last week. They live in fear of rap music – or Olivia Newton-John.
Anne Summers should do her homework before killing off writers. This morning she tweeted that Mungo MacCallum had died. A friend of his tweeted back saying that she happened to be lunching with Mungo in Sydney.
September 10
This evening I saw Woody Allen's dreadful Magic in the Moonlight, even worse than its title. In cinematic terms, has there even been a more facile or unambitious director?
September 14
Lunch at Coombe Farm, Nellie Melba's property in the Yarra Valley. It was so strange to finally penetrate the grand excluding cypress fence (the estate has never been open until now). They have done it beautifully – expensively too, which the Vesteys can afford – but Melba goes oddly missing: little memorabilia in the 'museum', and no music (except, regrettably, in the toilets). The restaurant is excellent.
September 15
I am enjoying Robert Dessaix's new book, which addresses, as the title suggests, 'What days are for' Mostly, in Robert's case, self-delight, it would seem. His comic skills are undimmed. I think it's his best work since A Mother's Disgrace.
Judy Beveridge informed me I have won the Meanjin Dorothy Porter Poetry Prize for my poem 'Anniversary'. Twenty years ago Dot gave me a Queensland premier's poetry prize for some early poems in 'The Catullan Rag'.
September 18
Stefan Collini gave a Dean's Lecture lecture at Melbourne University. His theme was 'What's Happening to Universities? Historical and Comparative Perspectives'). It was more positive than pessimistic, but with clear warnings about the vulgarisation of universities' aims, the innocuousness of accountability, and the corruptibility of league tables.
Afterwards, a group of us walked to the Vice-Chancellor's residence. The lecture having been a long one, we moved straight to the long dining room. I sat next to next to one of three VCs in the room – our hostess, Margaret Gardner, now VC at Monash (three weeks). Round the table we went, introducing ourselves. Ruth Morse, Collini's wife, a distinguished American scholar, introduced herself as Mrs Lecturer. I introduced myself as a poet – 'possibly, no, incontrovertibly, the most unlettered person at the table'. Rai Gaita, all in black, as if to signal the death of his beloved university, was on Glyn Davis's right; Susan Crennan gave the first response to Collini's lecture, then Gaita amiably lamented the demise of the university. This went on between courses. Stefan Collini, though clearly very jetlagged, kept up with inspired eloquence. Glyn Davis summed things up neatly at ten, then we all left.
Ruth Morse has become a crime fiction expert and judges a major prize. She is no Highsmithian; she found Ripley too odious, and stopped there. I urged her to read This Sweet Sickness.
September 20
'What are days for?' Apparently my Saturdays are for opera reviews. This morning I wrote my review of The Pearl Fishers. I am enjoying this kind of work more than Berlioz appeared to do. He reviewed The Pearl Fishers in 1863, but it was his last bit of journalism. Royalties from Les Troyens, which premièred, in the same house in Paris, five weeks later, allowed him to retire – 'deliverance' for the 'unhappy feuilletonist', as he styled himself in his memoirs.
September 22
The Seymour Lecture went well, with a large audience in the Melbourne Town Hall. Ray Monk, who gave the same lecture in Canberra last Friday, arrived soon after five, flushed and anxious about getting to the airport in time for his flight back to England (he only arrived last Thursday). Everything went smoothly, and Monk, speaking without notes and roaming round the stage, was vastly entertaining. Thanking him, I said it was like being on stage with a very articulate and perspicacious rock star. Monk was acute about Wittgenstein and Russell, two of his biographical subjects. He gave ten years of life to Russell, a major philosophical influence, but found things in the archive that dismayed him – a couple of them so shocking he omitted them from the biography, knowing the effect they would have on reviewers. (Afterwards, he told me there were times when he wept as he read those letters.) After the book signings we joined Frank Jackson, Morag Fraser, and C. at the Florentino Grill. Ray and Frank (both philosophy professors) had much to talk about. Frank's father, 'Camo' Jackson, studied with Wittgenstein. (Camo tried to teach me epistemology at Monash in the 1970s.) Monk was rueful about the state of British universities, largely because of over-regulation. Ours are superior in this regard, he thinks. He would love to live in Australia, because of its seeming 'egalitarianism'.
September 24
Wrote my review of Iain Grandage's excellent new opera The Riders. When I showed it to librettist Alison Croggon, she warned me that writing about performance becomes addictive.
October 10
Woke with a rare headache. It plagued me during my paper at the Poetics of Collaboration symposium jointly organised by Deakin and the University of Canberra – Antonia Pont and Paul Hetherington, respectively. This was held at Deakin's salubrious campus on Bourke Street. The title of my session was 'Poetry as Conversation'. In my paper I concentrated on the interlocutory aspects of a rather personal new poem of mine about family, 'Tiles'. Delivering it, I felt as though I was conversing not with my fellow poets but with my migraine: humouring it, trying to reason with it, even learn from it. Andrea Goldsmith, who has read 'Tiles', is sure the headache was psychosomatic.
I stayed for lunch and had a chat with Paul Carter, whose keynote at the end of the symposium I was sorry to be missing. Thence to the airport and a smooth flight to Canberra. The front of the plane was full of people heading to Ron Radford's farewell party at the National Gallery of Australia. The remorseless Australian has chosen to lambast Ron yet again for supposed administrative failings; how they milk a story.
Everyone was very punctual for Ron Radford's farewell party – in the gilded Gandel Hall. A young woman I was talking to managed to spill a glass of champagne on the floor just as John Olsen tottered by on his walking stick. Imagine the headlines in the unforgiving Australian if Olsen had skidded on the champagne and broken his hip!
Normally, farewells of this kind are tedious, but Quentin Bryce (introduced by Tim Fairfax as 'Ms Bryce', refreshingly) and Patrick McCaughey were in good form. Rupert Myer spoke and Ron responded, fondly and funnily. We sat with designer Khai Liew, always chic as his furniture. Rupert Myer unveiled a special gift for Ron: one of Khai's exquisite chests of drawers. Ron joked about putting all his unwanted ties in the top drawer. He said he has no intention of writing his memoirs or serving on boards. He just wants to learn to cook. When he mentioned this to his mother she said, 'But you will only get fatter.'
October 15
Awoke to the news that Richard Flanagan had won the Booker Prize. I watched the announcement on the BBC. Before the decision, Andrew Motion and the literary editor from the Telegraph politely dismissed The Narrow Road to the Deep North ('grandiloquent' said Motion; 'so cinematic it's already a film' said the editor, both trying to sound positive), only to learn that it had just won the prize – not Neel Mukherjee's The Lives of Others, which was expected to win, according to the bookmakers, whose boring prognostications have attracted far too much publicity in recent days. Hilariously, the BBC compère couldn't get a feed as A.C. Grayling (head of judges) and Flanagan spoke, so they aborted it, but not before we saw Flanagan go on stage and give the clearly delighted duchess of Cornwall a big Australian hug and kiss.
This afternoon I wrote my article for Saturday's Australian Financial Review. It gave me an opportunity to have a shot at the obsession with gambling: 'Britons would bet on the outcome of an Armada or an abdication – it is their national genius.'
October 21
Gough Whitlam died this morning, aged ninety-eight. He has been such a long time dying, after the briefest and most terminal of governments, that he began to seem inextinguishable. The tributes have been rather moving. How they brought it all back: the euphoria at first, then the rallies and the rage. Many people of my age never fully recovered their respect for our political system after the Dismissal. Keating, on ABC TV, reminded us that it wasn't just Fraser who decided to bring down Whitlam; the lamentable Snedden (his predecessor) did the same in 1974, less than two years after his election. Whitlam himself is seen talking about the scale of Senate opposition; more bills defeated in the Senate during those three years than in the preceding seventy-one years of Federation.
October 22
Watched Antonioni's L'Eclisse for the first time, such a great film, mainly because of Monica Vitti's languorousness and the bravura scene in the bourse. Alain Delon isn't bad either. What a daredevil! He comes within a whisker of being run down by the stolen car. I am not surprised he was given a dishonourable discharge from the French navy during the Indochina War.
October 23
Who really matters in criticism? Kenneth Tynan, certainly. Here he is on Bernard Shaw:
He was the Bradman of letters: he scored all round the wicket off all kinds of ideological bowling; he hit centuries off all causes and men that were idle or unrealistic; but though he took great pains to command respect, he took none at all to inspire affection … He praises little except at something else's expense. What spurred him was his capacity for being outraged … The only lyrical thing about Shaw is his fury.
October 24
Mary-Kay Wilmers has a fine and typically dry tribute to her former colleague Karl Miller in LRB. Once, when Miller (who has just died) was away, Mary-Kay interviewed John Betjeman's 'rather horsey wife' for the Listener. She decided to indulge Penelope Betjeman, who said 'cos' instead of 'because'. On his return Miller said to Wilmers: 'Those cos-es caused me nearly to be hospitalised.' That just about typifies the pathology of editors.
So I began Miller's second memoir, from 1998: Dark Horses. I liked his account of working with Kingsley Amis at the Spectator:
For me, as the receiver of his typescripts, he was the complete contributor: punctuation-perfect, presentation-perfect, no chink for subbing to climb in and vent itself.
Would that all editors were so lucky.
November 4
Our Cup Day lunch. Everyone was required to wear something silk and to bring an equine poem. When I read 'The Delinquent Travellers no one recognised the author – Coleridge. Ian Dickson read 'Father Riley's Horse' with great aplomb. Ian Donaldson reminded us that that Peter Porter was mortified about the mistake in the last line of 'Phar Lap in the Melbourne Museum'. Michael Shmith, rebelliously using his iPhone, sang the theme song from Mr Ed to much applause. Then, having drawn the sweep, we watched the race as Protectionist flashed past the rest of the field to win easily. Grazia Gunn (on Cavafy) claimed first prize – a jar of my best marmalade. In our haste to return to the Mohntorte we immediately switched off the television, thus missing the ensuing dramas: the death of two horses. One collapsed with a heart attack after fading during the race; the other, startled by a brandished Australian flag, impaled itself on a fence, broke a bone, and had to be 'euthanised', as they say.
November 6
We saw John Logan's I'll Eat You Last, with Miriam Margoyles in a one-hander about Hollywood film agent Sue Mengers. There were some funny lines along the way, though I don't think we should be joking about Cambodia in 1970. Margoyles, never leaving her sofa (she had to lure the guy next to Peter Craven in the front row onstage to fetch her joint and fill her tumbler), was in consummate form. I marvelled at the general levity around us. Is there anything Melbourne audiences won't laugh at? Certainly profanities set them off wonderfully.
November 10
Patrick McCaughey, back in the country to promote his new book, Strange Country: Why Australian Painting Matters, visited Boyd early this morning. He collected Darleen Bungey's biography of John Olsen, which he will review for me. Patrick always extols Neal Blewett's articles in ABR, so I showed him Neal's review of Gillard's memoirs, which I was editing when he arrived. Patrick had already been on TV and was off to the ABC for a radio interview.
After work, a drink with John Wolseley, always delightful company. We talked about vain artists. John recalled a dinner with Sidney Nolan soon after his arrival in Australia in 1975. Nolan was completely indifferent to any conversation not about himself. John, always unsure in this regard, asked Nolan when he knew if his own pictures were successful or not. Nolan declared that they were all successes.
November 11
The Environment issue launch was a big success. The refurbished Assembly Hall was full. I spoke first, then introduced Alison Teese (chair of the Dahl Trust) and Danielle Clode, the ABR Dahl Trust Fellow. Good questions followed, ending with a moving comment from David Yencken. His father was an Australian diplomat in Spain during World War II. At war's end returning Australian prisoners of war were each presented with a gum leaf. They all wept.
November 12
Bill Shorten visited Boyd today to meet various people working in disability. He spoke briefly and quietly, introduced himself to everyone, held our gaze like a priest, and was charming with the disabled boy to his right. I liked his style, not that of a typical politician. What tragic and depressing tales these professionals and volunteers had to relate. Everyone is alarmed by the level of bureaucracy, the lack of coordination, and various governments' seeming indifference to these entrenched problems and needs. Wendy, a schoolteacher from Reservoir, spoke of visiting fifty nursing homes before she could place her brain-damaged brother. Shorten, clearly appalled, said he was galvanised, re-energised, by the presentations. After 'putting their house in order' for the last twelve months, the Labor Party, he said, is embarked on a year of policy-making. He remains as committed to the cause of disability reform (he prefers the word 'impairment') as ever, as does Jenny Macklin.
Mr Shorten attended the opera this evening, with his young son. This was the opening night of the season: Tosca. We sat with Peter and Sarah Acton. Peter's new book was published today by OUP.
November 13
Lunchtime visit to the Wheeler Centre for Robert Dessaix's appearance with Ramona Koval. The long room was full. That will give Robert a boost. He was his usual camp, chatty, gossipy, divulging, self-deprecating self. He even confessed to liking hospital food.
To Hamer Hall for Mahler's Resurrection Symphony. Andrew Davis (or 'Sir Andrew Davis' as he pompously announces himself before concerts, while enjoining us to switch off our mobile phones) did not seem terribly comfortable with Mahler. A veneer of English oratorical niceness was laid over that pungent, biting, stirring, ironic music.
November 17
No one was late for Alice Waters's appearance at the musty old Athenaeum Theatre. The editor of Epicure introduced Waters. It's not a strong voice, but the spirit is willing. We were hearing the authentic voice of American progressivism, quite undimmed from her days in the counter-culture, which led her to swap teaching for Chez Panisse in 1971. Many in the audience might have been expecting recipe talk, but it was a political address about 'fast food culture'. Waters was pivotal in the creation of 'slow food' and the edible kitchen in schools, a phenomenon now, with 4,000 participating schools. She ended with a call for free universal lunches in Australian schools. It's never been mooted here, to my knowledge. The gulf between Australian diffidence (cowedness?) and American optimism is still profound, despite the Americanisation of Australia.
November 19
Jacki Weaver, now resident in West Hollywood, has become an ABR Patron – Romantic of course.
December 8
To the NGV for the Prime Minister's Literary Awards. Stephen Romei marvelled at the smallness of the Great Hall. I also spoke to John and Lindsay Knight, the owners of Pitt Street Poetry, which had two books on the five-strong poetry shortlist – not bad for a new house. The Knights introduced me to Melinda Smith, who duly went on to win the poetry prize. I also congratulated Stephen Edgar, another of the nominees. I told him that Clive James has lauded his new book in the TLS Books of the Year.
Inside I drew a good table, close to the stage, between Brett Sheehy, artistic director of the MTC, and James Kellow, CEO of HarperCollins. On his right was the irrepressible Shona Martyn, who tweeted all night. Opposite us was Steven Carroll, one of their authors, who shared the fiction prize with Richard Flanagan. It was all very clubby around the PM's central table and the stage. Ray Martin was our emcee. He read out a rather inconsequential letter from Clive James, which was mostly about his lack of hair (cue laughter). Then Louise Adler, overdoing the fulsomeness, praised the PM and his chief of staff, Peta Credlin. Mostly, the acceptance speeches were good – succinct, generous, appropriate, witty, respectful. Melinda Smith dedicated hers to carers. Flanagan donated his $40,000 to the Indigenous Literacy Fund, saying he has been 'lucky' this year. My old friend and colleague Joan Beaumont was superb, such a deserving winner. Hal Colebatch, to many people's surprise, shared the history prize with her. He berated us for ten minutes about the perfidy of unionists during World War II, intent on reviving the history wars.
December 14
Read Walter Legge's tribute (of sorts) to Maria Callas? It is both illuminating and undeceived – typical of this unsentimental producer. He quotes Serafin, Callas's greatest collaborator, on the three greatest voices he had heard – Callas not among them (rather, Ponselle, Caruso, Ruffi). Legge is icy about her personality: 'Callas suffered from a superhuman inferiority complex. This was the driving force behind her relentless, ruthless ambition, her fierce will, her monomaniacal egocentricity and insatiable appetite for celebrity.' He writes wonderfully, though: 'Her legato line was better than any other singer because she knew that a legato line must be like a telegraph wire or telephone wire, where you can see the line going through and the consonants are just perched on it like the feet of sparrows.'
December 18
Elaine Feinstein's biography of Anna Akhmatova opens impressionistically, in 1913. I liked Georgy Adamovich's description of the poet: 'When people recall her today, they say she was beautiful. She was not, but she was more than beautiful, she was better than beautiful.' They would meet at The Stray Dog. Artists and dancers went there. Only the hoi polloi (the 'pharmacists') had to pay for admittance. When I retire I might open a bar called The Stray Dog.