Diaries
Editor's Diary 2012
January 5
Dmetri Kakmi has landed himself in hot water with his Age article on the disgraced cricket writer, Peter Roebuck, who committed suicide late last year because of his penchant for spanking African boys. The Pharisees are livid because Dmetri suggested that 'The act of caning for sexual purposes is a two-way psycho-drama.' Much more shocking, I thought, was Dmetri's claim that Montgomery Clift played the murdered homosexual Sebastian in Suddenly, Last Summer.
January 7
Read Henry James's astonishing early tale 'A Light Man'. The scene when Maximus Austin conquers, or seduces, the predatory Sloane (the 'touched, inflamed, inspired' collector of good-looking young men) surely disproves any notion of HJ's sexual indifference. I love those early tales, so sprightly, lyric, poetic. He describes a sky of 'bending blues'. Wallace Stevens would be happy with that.
This led me back to Leon Edel's biography of James (typically silent on the subject of entertaining Mr Sloane). More interesting to Edel is the vignette that follows, when HJ met, or glimpsed, Dickens at a dinner party, during his reading tour of 1867, when HJ joined 1000 people in the queue for tickets. HJ attended the dinner party briefly and met the great novelist, his hero, in the foyer. Nothing was said; no handshake: but Dickens trained his 'mercilessly military eye' on HJ, silencing him. I recalled a similar experience in Sydney, back in 1980. I went in search of Patrick White after checking into my hotel on Hunter Street, only to bump into him on Pitt Street, round the corner, as White emerged from a chemist shop. With those handsome grey critical eyes he looked at me mercilessly, militaristically, before moving on.
January 8
I read HJ's dullish and drably titled Travelling Companions and Hawthorne's 'Rappaccini's Daughter', which is similarly set in Padua. Then I looked at HJ's The Painter's Eye, his collection of writings (much of it early journalism) about 'the pictorial arts'. He is unerringly funny and often savage. Those who deprecate James as super-civilised, courtly, maidenly have no idea how mordant he could be. Here he is on two 'elder Academicians': of their work 'it is but common humanity not to speak. Their contributions, raggedly and cruelly squaring themselves upon the "line", must be seen to be believed in.'
He also mentions Millais' painting The Bride of Lammermoor. Not having read the Scott I hadn't realised that the Master of Ravenswood rescues poor Lucy Ashton from a wild bull. What a shame Donizetti didn't set that scene for Sutherland and Pavarotti to enact.
HJ is very amusing about the English passion for 'goodiness' in its pictures.
January 9
My first day back at work. The people at Adelaide Writers' Week want to repeat Robert Dessaix's Seymour Biography Lecture, so I rang Robert early. ('Pietro', he began … 'Roberto', I said.) He said he was off to have his hair cut. I congratulated him on having this done at nine a.m. on a Monday. He's off to Launceston tomorrow and said he couldn't possibly go there unkempt. He found my poem 'Crimson Crop' rather gruelling; he is currently on a régime of blood thinners, because of his recent heart attack. Last week they attached a leech to him for six hours. He laughed about the 'bootful' of blood spurting over his bed.
January 11
Paul and Tina Kane came to dinner with some other people. Paul is far from sanguine about Obama's chances. If the economy improves Obama may have a chance, he thinks; otherwise not. The Kanes are embarrassed and incredulous about the state of American politics.
Germany was discussed. Chris Wallace-Crabbe said that he won't go back, despite our laudations. He went there in 1937, but has no memories of Berlin. His father was a correspondent there.
January 12
A long day's proofing, interrupted by lunch with Kate Middleton, back in Australia after four years' studies in the States, now ensconced as Sydney City Poet, improbable title. Kate has a million ideas for poems and blogs and interviews and essays on everything from MFAs to vampires.
After dinner, I read The Whitsun Weddings (the beautiful 'Here', and '1914'); then Paul Kane's A Farther Shore, with his elegant Toorak Road poems from the 1980s, when he was here on a Fulbright. Then a few profiles of great singers by Whitney Balliett. He spent a day with the great Tony Bennett (so named by Bob Hope, on the spot, before he went on stage). I liked Balliett's line after one concert, 'The ovation was long and standing.'
January 16
Long day's proofing. I was so absorbed I forgot the Peter Porter Poetry Prize teleconference that I had organised! Fortunately, Judy Beveridge and David McCooey (our two judges this year) had got on with it. The process was genial and efficient. They have shortlisted five poems.
David's new book has arrived, with his own 'More Mutant Proverbs' – 'after Peter Porter' – just like me. I remember swapping Porterian proverbs with David at our reading group. We shall have to collaborate.
To the opening night of Summer of the Seventeenth Doll, Neil Armfield's wonderfully dun-coloured production, which we saw at Belvoir last year. The cast was largely the same, but we had a new Barney. Alison Whyte, always fine, took over from Susie Porter – not as powerful and flamboyant in her last scene, but always good, and sounding so authentic. I kept hearing women from Wangaratta all night – those wraiths from my childhood. Warm applause at the end, then Ray Lawler, ninety not out, went onstage and made a charming speech, acknowledging his first director, John Sumner, in the stalls – a spectral figure, at eighty-five.
January 17
Intolerably hot in the old office. The sooner we leave the better.
January 20
I'm reading Mark McKenna's epic life of Manning Clark. Clark's egotism makes one ashamed to keep a journal.
January 24
Greg Day, such a nice guy, visited the office this morning. I invited him to judge the Jolley Prize. He readily agreed, as did Maria Takolander. That should be a most congenial jury to chair.
I asked Greg about his writing. His next book will be on the British débâcle on Crete in 1940. He is interested in the Australians who, like Patrick Leigh Fermor and with help from the Cretans, hid from the Germans, after the Australian evacuation. I wish I had discussed the exodus with my two uncles who served in the Sixth Division (Len and Ray Rowlands). But would either of them have cared to relive it?
Greg Day told me a remarkable story about the hasty Australian departure after the massed German invasion by air. The Australians, not knowing what was happening (perhaps believing they had won and that their work was done), got pissed before the night-time embarkation. Then they discovered that one of the two ships had been damaged, so another ship was brought up beside the stricken one, and 1500 Allied soldiers 'jumped' on to it. This done, the British torpedoed the first ship so that the Germans couldn't use it. But a number of Allied soldiers were still below when it was struck. At least one Australian survived. Greg is amazed that little is known about this fiasco.
January 31
Mark Gomes and I interviewed five candidates for the ABR Ian Potter Editorial Internship, the third of these paid, intensive internships. We gave it to the wonderfully named Milly Main, a young Melbourne graduate from Cambridge University Press. We liked her manner and ideas. Later, Jane O'Donnell, my old mate from OUP, now head of production and much more at CUP, rang me to say 'You bastard!' But she was pleased for Milly, of whom she spoke most highly.
February 2
I am reading The Longest Journey, for the first time. Forster must be one of the quirkiest authors, always perceptive and interesting – sometimes pleasingly slapdash in his prose.
February 3
'The brutish wine / the audience of nine'.
'To quote oneself: the last resort of the depleted,' as Inga Clendinnen once said. But I was struck by the opening line of Adam Mars-Jones's pleasingly catty article about Jeanette Winterson. He recalls reading with her in front of nine people (all there to hear her).
Spoke to Claudia Hyles, back from Jaipur, where Salman Rushdie withdrew from the festival following fundamentalist threats. Claudia stayed with the director and William Dalrymple, and will write about Jaipur for our March issue.
February 7
Quick staff visit to ABR's new home at The Boyd.
Susan Wyndham has taken my poem 'Motes'. I told her it's the first poem of mine ever to appear in the SMH, which surprised her. She apologised for having to break the lines. I should learn to write shorter ones, I replied.
Worse has happened in the new Island Magazine, which carries my weird poem 'Debris'. For no reason they broke the last line, which ends with a sentence, 'Beg, steal or borrow'. The 'borrow' looks very odd by itself. The most egregious mistake ever visited on a poem of mine came during Barrett Reid's time at Overland. One line, 'Because I never married a woman with bad taste' became 'Because I married a woman with bad taste.' There is a difference.
February 10
Recorded two interviews on ABR with John Sheridan, who now compères an arts program on Vision Australia's radio station following his defection from 3MBS. Funny anecdotes about Graham Kennedy, with whom he once worked (John was head of ABC TV and radio for years.) He was there when some Americans, mindful of IMT's success, came out to do a pilot with Kennedy. It was far too scripted and rehearsed for the anarchic Gra-Gra.
I attended a media preview of Eastwood's disappointing J. Edgar. Before the screening a bright young Village Roadshow publicist welcomed us and hoped we all enjoyed this film about 'the much-revered J. Edgar Hoover'.
February 16
Peter Conrad, who has sent me a typically stylish review of Patrick White's The Hanging Garden, commented in an email on the prevalence of Peters in the 1940s and 1950s. I told him I have no genius for common nouns, but proposed a plethora of Peters. He came back with a pride of them, in our case.
My only inspired common name arose by accident in the 1990s. I had commissioned several dermatologists to write a book called All about Skincare for OUP. One Saturday, prior to an editorial meeting, I told a colleague I was off to meet a rash of dermatologists.
February 18
Woke at four and read a rather trivial book about Lincoln's assassination. Amazing to think that Edwin Booth, the killer's brother, saved Robert Lincoln from falling under an oncoming train; and that Robert vied with the assassin for the affection of a senator's daughter, and went on courting her after Wilkes's death.
February 20
Quickly dispatched the March issue after turning Toby Fitch's clever typographical poem 'Oscillations' on its side, our first centrefold. Another brilliant cover from Chong: the long shadow of Rupert Murdoch.
February 24
I'm reading Emily Dickinson for the first time in too long. Struck by this poem from that year of years, 1862, instantly reminded of Coetzee:
I fear a Man of frugal Speech –
I fear a Silent Man –
Haranguer – I can overtake –
Or Babbler – entertain –

But He who weigheth – While the Rest –
Expend their proudest pound –
Of this Man – I am wary –
I fear that He is Grand –
February 26, Sunday
A friend is examining a few Art History theses. One of them induces a certain nostalgia for the 1970s. The student writes about a performance artist who read Howl in a gallery, surrounded by three chainsaws on the floor, all fuelled with enough petrol to last for Ginsberg's entire poem. Those were the days.
February 29
Busy though I am, I feel quite exhilarated at work. While there is so much going on, and young people around me who match my enthusiasm, how could I be bored? The place is humming: much interest in the new Fellowship, growing awareness of the Online Edition, all helped by an improved website. Today we launched our (needed) 'From the Editor's Desk' feature, with my desideratum for new reviewers.
March 4
Read Coriolanus, that magnificent egomaniac, as Peter Conrad describes him in ABR this month, asked to nominate his favourite literary character. Why haven't I read this Shakespeare more often (annually, like Christina Stead)? Rarely is the language so fervent, so inventive. Most readers love Shakespeare for his psychology, of course, his peerless command of the heart; but most writers, truth be told, just privately, awedly, marvel at the endlessly protean language. Take this, when Memenius, ordered to placate the slaughterous, vengeful Coriolanus, says, 'Nay, if coyed / To hear Cominius speak, I'll keep at home' (meaning, if he was reluctant to admit Cominius, why should I bother).
And what he demanded of his intuitive but mostly uneducated listeners (not readers). 'Are you mankind?' Sicinius asks the enraged Volumnia when she upbraids him for betraying her son – meaning, Are you mad? Something we are meant to 'con', but which she doesn't.
Aufidius, too, has a remarkable passage, when he likens his old foe to his wedded mistress and recalls a dream in which 'We have been down together in my sleep, / Unbuckling helms, fisting each other's throats, / And waked half dead with nothing.'
March 8
To Adelaide early for the last day of Writers' Week. I liked the new configuration. Those cramped, airless, sweltering white tents have been replaced by huge stylish shades offering much better sightlines and ventilation. When there's a westerly there are noise problems, but today was fine, helped by the superb weather – Adelaide at its best. The publishers have stayed away: not a single party – so that's a blow for the hedonists. While I waited for the midday session I checked out the Imprints bookshop and chatted to Peter Goldsworthy, who told me how astonishing Raoul was – the mime artist who is Chaplin's grandson.
Then I heard the Canberra journalist George Megalogenis, with Tom Griffiths. I was impressed by Megalogenis's crisp summaries of fairly complex historical and political ideas, and he was in winning form as he talked about his new book, in which he asks former prime ministers to reflect on their predecessor's successes, regardless of their political allegiances.
Later I met Robert Dessaix in the green room. Laura Kroetsch joined us, pleased with her first festival, possibly glad it was nearly over. Robert's was the last session, so everyone was there, a large crowd fanned around the raised platform. I told Robert it was like a rock concert. I introduced him and spoke about the origins of the Seymour Lecture and our involvement with the National Library.
Two signers alternated throughout. Earlier, Robert asked them how they would 'sign' Gogol. When he mentioned Bobchinsky and Dobchinsky (the characters in The Government Inspector who help him to introduce some of the themes), they asked if they could shorten them to 'Bob' and 'Dob'. It was funny watching them in profile, with Robert gently teasing them throughout, glancing at them as they coped with Hemingway, say.
The Lecture was even better this time – tighter, funnier. Robert looks much better than he did last October. He has even put on a little weight – an ounce. The audience loved it and there was an impressive silence in the closing minutes, as Robert spoke about nothingness and mortality – the prompts to his art. He was a little upset at the end, and the audience, similarly stirred, gave him a standing ovation. Robert is the only writer I know who has won two standing ovations. The first was twenty years ago – after a speech at the Victorian Premier's Literary Awards.
☊ Listen to Robert Dessaix's Seymour Biography Lecture
I said a few words, then Laura closed the festival, and received flowers. Robert went off to sign books while I chatted to Terri-ann White and former agent Frank Bryson, now based in Adelaide, and doing a PhD with Nick Jose. Terri-ann and I took Robert to the old Hyatt (not its name now) and we sat in the bar where Roddy Parr meets Julia Collis in my novel. Julia flirts with the handsome barman and tells him how to make a Whisky Sour. 'Not too much eggwhite, handsome. We're not making a pav.' When I said the same to our slightly less personable barman he proudly announced that they don't use eggwhite in Whisky Sours. Someone in management must have read the novel.
Robert, buoyed as ever by the response, was in excellent form – very funny as he talked about the dogged old smokers at the hospital in Sydney after his heart attack, even rising from his chair to mimic them bending over in their hospital gowns to pick up cigarette butts from the footpath.
He said that Raoul's extraordinary theatre reduced him to tears. In Melbourne recently he saw Mary Poppins. Next to him was a blind man with his guide dog. Robert told him that his was the first dog he'd seen in a theatre. 'Oh, he loves musicals,' said the blind man.
Then it was time for me to bolt down (I have walked miles today) to the university for the official opening of something called the J.M. Coetzee Centre for Creative Practice, the brainchild of Brian Castro. We gathered in the courtyard. The evening being wondrously mild, I hoped we could stay there for the duration, but we went inside, later than planned, for an hour or so of piano music and Hölderlin songs, rather fine. We couldn't stay for Graham Koehne and Peter Goldsworthy's Rinse Cycle, and dashed off to have dinner al fresco at Chianti Classico. Apparently the concert (scheduled to end at eight-thirty) went on until ten p.m.
March 9
To Her Majesty's for the visiting Liverpool Everyman and Playhouse faithful and eloquent production of Harold Pinter's The Caretaker. Pinter's sixth play, it opened in April 1960 and ran forever (444 performances), his first commercial success, though by no means his first critical one. Jonathan Pryce, Welsh accent and all, has been performing the role of Davies – the tramp who comes to stay – in London, and it shows; his is a commanding performance.
The gently raked stage, littered with junk and detritus (suitcases, a lawn mower, a gas stove, a cheap plaster Buddha) is reminiscent of Steptoe and Son. From the skylight hangs a bucket for the artfully timed drips. Back we are in impoverished and bombed-out postwar East London. Pinter was living, or subsisting, in a similar boarding house while he wrote The Caretaker. And how quintessentially English the play feels, with its study of meanness, social alienation, and the sharp limits of hospitality. Next door live the 'Indians', taking over, spreading 'blackness' in the bathroom, on the banister. And who is most outraged by the immigrants but Davies of course – the visitor, the mendicant, the petty thief, the 'stinky' outcast who comes to stay.
Ever nomadic in the theatre, I moved closer to the stage for the last two acts (much the better half). From the second row Jonathan Pryce's vocal and physical artistry were palpable, especially in the searing final scenes as the incongruous trio battles it out for ownership of the leaky hovel – battles it out too for something more than that, for a kind of metaphysical stake. When Davies, threatened with ejection, listens to his fate, Pryce, standing there quivering, not saying a word, acts with every muscle, every nerve ending.
Alan Cox – as Aston – the older brother, who rescues Davies, is blandly memorable – forever fiddling with the cord on the old toaster that will never be fixed, that will never warm (like the sole electric fire in the room, which is never switched on). In the great monologue that ends Act Two, Aston recalls being committed as a teenager because of his 'hallucinations' ('I used to get the feeling I could see things … very clearly … everything … was so clear'), and describes the forced electric shock treatment that follows. This long, crucial scene is perfectly timed, perfectly judged – almost unbearable to watch. The lighting dims slowly, obscuring Davies on the opposite bed, but Pryce remains faintly visible in the gloom, slowly lowering his head and sobbing noiselessly in recognition of Aston's tale, possibly recalling his own experience of institutionalised terror and cruelty. Then (without the usual break) the lights go up and these two pathetic men resume whatever is left of their depleted lives.
Alex Hassell plays Mick – the younger brother, the successful one, the vainglorious owner of 'the van'. It's a sinister performance, and so it should be. This is a play about menace, terror, pure and simple. Mick's furtive second entrance, when he creeps up on Davies, is amazingly effective, producing the kind of frisson one normally only experiences at the opera. Hassell – young, wide-eyed, strongly built, good-looking in a kind of minatory way, the only healthy-looking one on stage – reminds us not of a young Alan Bates (who played Mick in New York and went on to film The Caretaker with his co-stars, Donald Pleasence and Robert Shaw), but of Bates's great wrestling rival in Women in Love – Oliver Reed. Hassell projects the same dangerousness, the same mercurial potential, swaggering round the stage, hands thrust into the pockets of his leather jacket. Even when he offers Davies a cheese sandwich from his pocket, he might be brandishing a pistol. And there is a brilliant riff when Mick dreams of renovating the slum, and imagines what he will do to every surface, every nook: '… I'd have teal-blue, copper and parchment linoleum squares. I'd have those colours re-echoed in the walls. I'd offset the kitchen units with charcoal-grey worktops …' At which point I found myself strangely missing ABR's old office in Richmond.
It's a long play (two and half hours, with one interval), and a hugely demanding one for the three actors, but they perform it impeccably. Admirers of seriously good acting will not want to miss the Adelaide season of Pinter's hilarious and deeply unconsoling masterpiece.
March 11
Flying home, I finished Alfred Kazin's evocative memoir of boyhood, A Walker in the City. The book is full of extraordinary things, none better than when – 'one day, one unforgettable dread day' – the young Kazin, en route to the speech clinic for his stammer, passes The Human Factory.
March 12
Labour Day, so I laboured for a while at the office before coming home. I should be rereading Ransom, for tomorrow's repeat session at the Wheeler Centre, but instead I'm deep in Kazin's Journals. Who else would have the honesty to say that he joined the Pulitzer Prize committee to keep someone from winning? He's tender about those loved, tragic parents of his, and shrewd about celebrities. When he interviews her in Malibu, Joan Didion is 'full of body language' (can't you see it!): 'She often cradles herself in her arms, in the well-known woman's self-protection against the cold.' He's annoyed when John Gregory Dunne joins them for lunch. (Perhaps Dunne had a sense of what was in the Journals about all the other women.) Jackie Onassis attends a 'big bash' thrown by John Russell: 'Jackie looked so much like Jackie I thought for a moment it was an actress playing Jackie. The face has become as professional as an actress's.'
Then he calls Philip Roth a 'male shrew'.
This evening, Ralph Fiennes's Coriolanus, with Vanessa Redgrave quite wonderful as Volumnia. The noise and gore in the first half hour are excessive, but I liked Fiennes's seething general, and the great banishment scene is powerful. 'There is another world elsewhere.'
March 13
This afternoon's session at the Wheeler Centre went well. Ruby Murray was my simpatico but slightly distracted interlocutor. Her new book was about to go to press. In the green room, with minutes to go, Aviva Tuffield was still texting her author about last-minute changes and fugitive commas. The audience (about 200, more students this time than last year) was attentive. I had taken along about 100 copies of the magazine to hand out: they went in a flash.
March 14
Has there ever been a busier day at ABR? Late afternoon I counted all the emails I had sent, many of them quite substantial. Eighty. Yet everyone stuck with me throughout the day, working like Trojans.
March 16
To Café di Stasio for dinner. After I had settled up, Mallory Wall came over with complimentary champagne cocktails and managed to spill one of them in C.'s lap. Much laughter, copious apologies, then more cocktails. I thought of the closing scene in A Case of Knives, when Julia Collis throws a glass of wine over Roscoe, at di Stasio. Mallory gave C. a bottle of wine as we left – much classier than a dry cleaning voucher.
March 20
Long chat with Morag Fraser. She went along to Readings last night and wondered why everyone was so tardy, until she realised that my launch is scheduled for next Monday. She spent the afternoon with Peter Steele, fast fading, but still writing essays and poems.
March 21
To the State Library for a lecture by visiting German curator Ute Meta Bauer – another contribution to the growing cult of the curator.
March 22
I am accused of doctoral indiscriminancy. This week both Peter Conrad and Andrew Sayers have pointed out almost proudly that they don't have PhDs, adding that they do have honorary doctorates. Brandl & Schlesinger always gives me an undeserved doctorate.
March 24
Thoroughly enjoying Thomas Bernhard's dark, hilarious play Der Theatermacher (The Histrionic), soon to be performed here: funny as Pinter, angrier than Beckett. Australia – too trusting, too polite – will never produce anyone like Bernhard, who said this of 'histrionics': 'I despise actors, indeed I hate them, for they ally themselves at the least sign of danger with the audience and betray the author and completely identify with stupidity and feeble-mindedness.' He makes Patrick White and Barrie Kosky seem tame.
March 25
Media preview of Terence Davies' adaptation of Rattigan's The Deep Blue Sea, with Rachel Weisz in magnificent form. It's as moving as Brief Encounter, quite tragic really – intensified by the andante from Barber's violin concerto. I rushed across the road to Readings and bought Gil Shaham's recording.
March 26
The usual strange equivocal emotions three hours before the launch of one of my own books – this time Crimson Crop. It is probably only human to recoil from these events – wish them over and out of the way – because of the vast act of self-exposure they represent.
C. and I had a drink at Jimmy Watson's, then moved down to Readings to face the music. The shop began to fill with old friends and some unexpected faces. Andrea Goldsmith, introduced by Terri-ann White, was in terrific form and launched the book warmly, generously, humorously, unaffectedly. I liked her readings from several of the poems. No poet could hope for more from his launcher. Then I spoke, finishing with a few readings, including 'Crimson Crop', which had them writhing.
Mark Rubbo had a boyish grin on his face, so we must have sold a few books. Later we moved up Lygon Street to Donnini's. Last time I had a book launched at Readings (The Catullan Rag, 1993) I ended up at the Peel, and vaguely recall taking part in a karaoke competition, but tonight was much more decorous.
March 27
Inevitable flatness after the launch, well though it went. Immediate desire to get on with things; put it behind me.
March 31
I attended a late matinée of John Logan's new play Red, with Colin Friels outstanding as Rothko. Impressive physical acting (mobile, prowling, edgy, livid), and vocally he is fearless, easily filling the biggish theatre during Rothko's tantrums and proclamations.
Thence to Montsalvat for a fund-raising event for the local Afghan community. Julian Burnside, Sally Warhaft, and David Manne all spoke, the latter mostly about the big High Court challenge that he and other pro bono lawyers mounted on behalf of some poor desperadoes on Christmas Island. It was all too shaming to bear.
April 1
Read Henry V with a kind of revulsion, despite the magnificence of the language in the Choruses, and Hal's big speeches. He has become two-dimensional, and merciless, at a great price to others, we realise, as when he rages outside Harfleur: 'The gates of mercy shall be all shut up.'
I enjoyed A Dangerous Method, a film about Carl Jung and Freud. I had forgotten how randy Freud's Swiss acolyte was throughout his life. I had almost forgotten about my Jungian phase when I read him extensively and went off to monthly meetings of the Jung Society.
April 2
Rob Bolton, editor of the Review in the AFR, told me that Paul Bailey, the overall editor, had been 'electrified' by Gay Bilson's hilarious review of Stephanie Alexander's memoirs. They want to reprint it.
April 4
To the NGV tonight for the opening of Fred Williams's show. There was a huge crowd at Federation Square, most of them former directors of the NGV. Ron Radford spoke first, rather didactically. Patrick McCaughey got up and said 'Once an education officer, always an educational officer …' While he's in town Patrick will pick up an honorary doctorate from Melbourne University – richly deserved.
Then we went upstairs to see the exhibition, which does look good down here – better then it did in Canberra, I think. Again and again I went back to pictures from 1965 (his great year?).
April 10
To the Malthouse for the opening of Bernhard's Der Theatermacher. Opening night attracted all the critics: Peter Craven (front row as usual), Cameron Woodhead, Alison Croggon, Helen Thomson, and Andrew Fuhrmann, who is reviewing it for me.
The production, by Daniel Schlusser, with a translation by Tom Wright, is wonderful: even more hilarious than I expected. Bille Brown commands the stage, as they say, from his first wonderfully affected entrance up a ramp, onto the grubby little set. Clearly he is having fun recalling every grand quean he has ever worked with; the actors in the audience loved his excesses. He reminded me of quite a few grandees I have known. Brown is so charismatic – and vocally so impressive – one tends to overlook the studied brilliance of Barry Otto's turn as the twitching, obsequious innkeeper: few lines, but marvels of servitude along the way.
Rarely have I been conscious of such a joyous rapport between an audience and a fine actor. Huge ovation at the end.
April 12
A quick dash that morning to Sydney for a second meeting with Bernadette Brennan and Hilary McPhee. We are judging this year's National Biography Award. We met in the small but spectacular Shakespeare Room at the Mitchell Library. First we shortlisted six of the dozen hitherto longlisted titles – biographies, autobiographies, memoirs. Then, after an un-Elizabethan lunch of shaslicks and chicken wraps, we chose our winner, who will be named and fêted and enriched by $25,000 at a ceremony on Monday, 14 May.
Then, glad to be able to read something other than biography for the first time in two months, I flew to Canberra for the opening of a new travelling exhibition on Patrick White.The National Library's congenial downstairs theatre soon filled. I sat next to Marie-Louise Ayres of the Library. It was Marie-Louise who first negotiated with Mobbs. At first Mobbs just offered her a few things. Then she emailed Marie-Louise a list of unfinished works and manuscripts. When they arrived Marie-Louise opened a yellow bag and found White's beret and spectacles (both on display). That is when she cried.
James Spigelman (Chair of the National Library) – with a striking lack of ceremony (rare in the national capital; rare in any capital, for that matter) – introduced our two speakers. Barbara Mobbs – Patrick White's long-time literary agent, and now his literary executor – rightly came first. But for her the National Library and the State Library of New South Wales (partners in this venture) would have struggled to mount a major exhibition. Mobbs's laudable decision to ignore White's express wish that all of his surviving notebooks and manuscripts (including the unfinished The Hanging Garden) should be destroyed led ultimately – almost two decades after his death in 1990 – to their being transferred to the most appropriate cultural repository in the country – the National Library of Australia.
When Mr Spigelman referred to this agential refusal there was lengthy applause. Mobbs, always direct and impressively dry, began her short, witty, stylish speech in Piafian style – 'I have no regrets.' In passing James Spigelman had described Patrick White as curmudgeonly, but Mobbs was having none of this. She spoke of White's kindness, good humour, and immense loyalty to friends – and to the several charities he quietly supported. She enjoys writing cheques to the four principal beneficiaries of White's estate, including the Smith Family and the Art Gallery of New South Wales. Her account of White's ignorance of technology made me feel like less of a Luddite. Once, having heard of the miracle of faxing, he asked Mobbs to send a letter to London. He was bamboozled next time they met when she returned the letter. But he'd asked her to fax it! She reminisced about their shopping expeditions, when she was often mistaken for his daughter.
Mobbs recalled White's famous penchant for the telephone. When he asked her to become his literary executor, she said it wouldn't be very different from her previous role – except that she wouldn't be on the phone to him for six hours a week.
Then came Judy Davis – whose role as Dorothy in Fred Schepisi's The Eye of the Storm rightly won her another AFI award, or an AACTA, as they are now called. Extemporising freely, with funny sawing gestures, she reminded us of her inspired Judy Garland in the miniseries that won her an Emmy. Davis first read White as an eighteen-year-old, in Perth. This was in 1973, soon after he had won the Nobel Prize. The book was Riders in the Chariot – a transformative experience for her. (Here I recalled my own introduction to White that same year – The Aunt's Story in my case: so astonishing and transcendent in Part One that I had to put it aside and compose myself for a while before resuming it.) Davis was awed by the book – 'Suddenly I didn't feel alone.'
Afterwards, there was time only for a quick look at the exhibition, which remains in Canberra until June before moving on to the State Library of New South Wales on 13 August. It is a large, detailed, funny, poignant exhibition. I was impressed by the letters, the manuscripts, the photographs, the dust jackets – less so by the pictures that White donated to the Art Gallery of New South Wales. The desk is there (a replica of the one Francis Bacon made for him in London); above it Ian Fairweather's Gethsemane, which he donated in 1974 (AGNSW, not uncontroversially, sold it two years ago to help fund its acquisition of Fairweather's The Last Supper). Among the memorabilia are his typewriter and beret and spectacles – and a certain medal, in its own case.
Later the National Library hosted a dinner at Water's Edge. I drew a good table, with Wendy Whiteley, Nicolas Rothwell, and actors Kate Fitzpatrick and Angela Punch McGregor – and we had an immoderately good time. Kate and the Whiteleys look to be having a similarly good one with Patrick White and Manoly Lascaris in the 1980 photograph by William Yang that hangs in this highly recommended exhibition. Kate told us about Patrick White's dogs; how they each had a mini-bed with sheets and pillows!
Wendy Whiteley I liked very much. She was open about the year she lost Whiteley and her daughter; how the famous garden in Lavender Bay, just a tip when she discovered it, saved her. Then she suggested a blessed cigarette and we went outside, gathering Judy Davis on the way, who stood by the lake shivering madly (no wrap) while she gave us more details about her row with Schepisi. Ironic that White adored the young Rampling and thought she would be his ideal Laura in the Losey film of Voss.
April 13
Early flight home. Nearing town I saw Bille Brown walking towards Southbank – cravat, smart tailored green jacket, head thrown back, the proud Hapsburg chin jutting out – every inch the great Bruscon off to breakfast.
Mark Gomes is leaving ABR after almost three years. By day's end we had received more than a hundred job applications for the position of Deputy Editor.
April 15
We always have a lunch party to mark Henry James's birthday, I told our guests when they assembled on our terrace. Actually it was for Patrick McCaughey and Donna Curran, who are in town.
Diaries were mentioned: shockingly, only Helen Garner and I keep diaries. Helen explained that she destroyed – physically destroyed (burned them: hard work, she said) – her pre-1980 diaries on her return from France because they were so self-obsessed. She laughed about her complete neglect of the Dismissal in 1975: all she could write about was some man who had stood her up on a date. When she began to write about other people – the world – the diary became more fulfilling; more interesting, she thinks. But she is not sure what to do with it later.
April 17
Bruce Bennett has died, far too young, not even seventy. Despite his calamitous prognosis two years ago, he has managed to write more books. I first worked with him twenty years ago on his biography of Peter Porter, Spirit in Exile; later I commissioned him to co-edit The Oxford Literary History of Australia.
To the University for Patrick McCaughey's public lecture, 'Enjoy Your Diversity', a parting remark of Clement Greenberg's on Australian art in the 1960s. I enjoyed Patrick's digs, maxims, and juxtapositions.
Afterwards, at a reception for Patrick, I met Stella Gray, who is reviewing Steven Miller's book on dogs in Australian art for our Art issue. My choice of books turns out to be most unfortunate. Stella was bitten by a rabid dog in Cambodia some years ago.
April 21

Woke at four and finished Persuasion. The remarkable development in Austen's technique – the loosening, a new intensity, even a kind of stream-of-consciousness – is most noticeable in the passages when Anne becomes hyperconscious of Captain Wentworth, especially when he comes back into her life and visits stupid Mary's cottage for the first time:
… a thousand feelings rushed on Anne, of which was the most consoling, that it would soon be over. And it was soon over. In two minutes after Charles's preparation, the others appeared; they were in the drawing-room. Her eye half met Captain Wentworth's; a bow, a curtsey passed; she heard his voice – he talked to Mary; said all that was right; said something to the Miss Musgroves; enough to mark an easy footing: the room seemed full – full of persons and voices – but a few minutes ended it.

…

'It is over! It is over!' she repeated to herself again, and again, in nervous gratitude. 'The worst is over!'
Claude Rawson, in good notes for the OUP edition, suggests that '[Austen] may in this last novel be on the edge of a more open and destabilised perception of human personality and behaviour'.
More familiar is the satire at the end of the first volume, when the party visits Lyme: severe, misanthropic, as when, after Louisa's possibly fatal fall, people gather at the Cobb 'to be useful if wanted, at any rate, to enjoy the sight of a dead young lady, nay, two dead young ladies, for it proved twice as fine as the first report'.
I think I will enjoy the journals of Count Harry Kessler (Journey to the Abyss), which Laird M. Easton, his translator and biographer, rates as highly as those of Gide, Woolf, and Henri-Frédéric Amiel (whom I don't know). Here, in his second entry (1880), the twelve-year-old awaits the arrival of the German emperor: 'Soon a screech as if everybody was at least being murdered reaches our ears …'
The following year, as a schoolboy in England, he sees Patience and is immediately intensified: 'I am utterly consummately intense wearing sunflowers and poppies and dahlias in my buttonhole.'
Friends of Kessler's remarked on his livelong restlessness. A doorman at a Paris hotel dubbed him l'homme à vapeur, the steam-powered man – not a bad epitaph.
What a shame he never came to Australia. He was planning to do so in 1892, aged twenty-four, until his father found him a job in America. Kessel had just met a party of young Australian women in Leipzig:
The shadow side in Australia is the dearth of female servants. They told me that it's not uncommon for a servant girl who is looking for a position to ask, 'At what hours might she have the use of the piano?' or, on the day she goes out, to serve dinner in a green satin ball dress.
April 24
To The Boyd, in heavy rain, for a late-afternoon meeting of the tenants, some of whom are being moved from the old building (where we gathered, in what they call a green room) to the Heritage building, as Eleni Arbus (chairing the meeting) calls it. Clearly none of the tenants understood why we were there. 'Are you a policeman?' one venerable artist asked me. She confided that she has taken 3500 photographs of tomatoes. 'The same tomato?' asked Eleni.
April 25
Just finished Mantel's Bring up the Bodies, 400 pages sans adverbs. It's every bit as good as Wolf Hall. Now I am reading Bernard's biography of Boleyn, in which he entertains less doubt than usual about Anne's culpability. (Mantel, who loathes her, has no illusions.)
April 27
Delighted to read that Paul Carter, who volunteered for us some years ago, has won the Vogel.
April 29
Review out of the way, pleasant to sit reading Ralegh and co., then Virginia Woolf's essays, sure and suave in her twenties; with a beautiful passage on afternoons in Bayreuth, and a shrewd assessment of Austen's limitations, and supreme artistry.
April 30
My local federal member has sent me a letter bemoaning the mining and carbon taxes and inviting us to rate burning 'issues' such as same-sex marriage, government debt, and mismanagement, and 'securing Australia's borders'. I wrote back saying it was a loaded list and proffered my own, not mentioned in her letter: 1. Education; 2. Health; 3. Humane treatment of asylum seekers. And how did I intend to vote and how had I voted before, she enquired. 'No one's business but mine,' I added.
May 4
Long day at the office, as Amy Baillieu (my new deputy) prepares to start producing her first issue, so I took her down to Almost French for lunch. The nice Vietnamese lady who runs it asked me if Amy was my daughter! Realising her mistake she turned bright red. 'It was the height, the smile,' she kept on saying.
May 5
Early drive to Clunes for Booktown, ten minutes late, as I invariably am. I assumed that my workshop on book reviewing would attract about half a dozen people at most and that we would have our discussion in a disused room above a dilapidated bank. On arriving I was quickly disabused. Tess Brady, the festival director, stuck a badge on me and whisked me along the main street to the main hall, where about seventy people had gathered. Nick Jose, who was there, must have wondered about my punctuality. Years ago I stood him up in Adelaide, late by an hour for a public conversation because of daylight saving. I went straight on, ordered a double espresso, and did my best. It seemed to go rather well: at least no one left.
Then I drifted around town and caught up with friends. A few of us had lunch and a glass of wine in the green room. I spoke to Geoffrey and Ann Blainey in Wangaratta. They had stayed up all night so that Geoffrey could conduct a telephone interview with someone in Brazil, where he is a bestselling author.
Then a guy named Paul interviewed me for a television show. Peter Murk had invited me to take part in a poetry reading at the pub (which Tess Brady has finally persuaded to participate in Booktown, after much resistance), so I headed across the road and read a couple of poems before chairing the three p.m. session on Patrick White and the future of Australian literature. The panellists were Nick Jose, Michael Heyward, and Peter Goldsworthy, all in good, punchy form.
Jane Finemore (my publicist at HarperCollins) was in town to look after Tim Fischer, who plainly needed little sheltering or shepherding. She joined us for a drink in the pub. We discussed Mantel (a Fourth Estate author). All the Australian papers observed the embargo today, but the New Yorker broke it.
After all this I needed a late siesta, so we repaired to our digs, the Keeble B. & B., formerly a bordello. Dinner was downstairs, and this was most entertaining; excellent food too, courtesy of Graham and Pauline (the latter pointed out a couple of typos of mine in Rose Boys and Roddy Parr [to my 'chargrin']). I sat with Jenny Niven and Tess Brady and Michael Heyward. I asked him about Text Classics. They will reissue good old Don Charlwood's All the Green Year later this year.
Later, after playing pool, a few of us decided to head to the hotel with Peter Goldsworthy and the Heywards. This appalled Tess, who seemed convinced that she would never see us again. The pub is an interestingly rough place, I must say.
May 6
Long walk around the small, deserted township, past the banks and schools and free libraries quickly abandoned in the late-nineteenth century when it was discovered that Clunes would not become another Ballarat or Beechworth, because of thin deposits, presumably. Most of them are roughly intact, albeit incomplete (unsteepled, Virginless churches) and used for other purposes.
Hearty breakfast at Keeble's with some of the other residents, including two colossal British tourists who go around the world reviewing B. & B.s online. Then I joined Ryan van Winkle in town. Ryan, an American (Connecticut), lives in Edinburgh and contributes to the Scottish Poetry Library, a podcast. He interviewed me in the hotel courtyard until misty rain and an intermittent fire alarm drove us to the kitchen of the place where he was staying.
I liked Ryan's style and opened up about my poetry in ways I probably haven't before. We exchanged our recent collections (his latest, Tomorrow, We Will Live Here, is published by Salt). Later I realised that a member of his family was horribly murdered in 1990. Perhaps that is why he didn't answer when I asked him why he moved to Scotland ('Was it because of someone?')
After lunch I enjoyed Alice Pung, Jenny Niven, and Nick Jose on China. Nick said that while he likes many things about Australians he is maddened by their arrogance towards the many young Chinese who study here; how they regard them as mere 'cash cows'.
Michael Heyward was amused by Ken Gelder's typically surly Op-Ed piece about the Text Classics in today's Age. Why hadn't Text asked Melbourne University academics to write the prefaces, Gelder thundered. And what's a classic anyway?
May 8
Long review of Crimson Crop in something called the Nose, first issue. The critic seems to think that I dispersed my father's ashes in the sea. Everyone will think me a weird Byronian.
May 9
AGM this evening, then a board meeting. It was such a busy day I managed to forget all about an interview on 3RRR, with Alicia Sometimes (Othertimes perhaps). Half an hour after the appointed time I twigged. Abject apologies, and to my surprise the producer offered to invite me at a later date.
May 10
Excellent lunch at The Mill, on Hardware Lane, the weather gorgeous for Anne Chisholm's visit to Australia. I last met her at Somerset House in December 2010, when a few of us (Sean O'Brien, Fiona Sampson, and the overbearing Anthony Thwaite) took part in a Royal Society of Literature tribute to Peter Porter, eight months after his death.
I like her very much – direct, charming, softly spoken, unlike her garrulous Australian companions, all talking loudly, interrupting one another, never finishing their sentences, switching from theme to theme desultorily, gossiping lustily. Ranald, who owned The Age in those days, brought Michael Davie to Australia after Graham Perkin's sudden death. He became a legendary editor, in some circles; hard-bitten ones distrusted him. Anne, herself a journalist, writes books on the Bloomsberries, Frances Partridge (tangential) most recently. Now she is editing Carrington's letters for Chatto & Windus. She has just accepted a sixth year as chair of the Royal Society of Literature – her last. She stays with Helen Garner, whom Davie introduced to non-fiction when he commissioned her first newspaper articles. Anne goes to Sydney next week for the festival, where she will chair a couple of panels, one with Hilary McPhee; then she and Helen are going to Uluru and beyond.
Football out of the way, there was much discussion about Murdoch, whose humiliation grows by the hour. Anne said Michael Davie lived for this day. She knows and admires Polly Toynbee, Philip's daughter, whom Davie gave her first job as a journalist. I told them about PT's blistering article about the Murdochs in last week's Guardian. Then I asked AC to review Tom Watson's blistering book Dial M for Murdoch. This surprised her, even frightened her, as she put it; but she will ponder it.
There was mutual outrage about Robert Nelson's stupid, ungracious Age review of the Fred Williams show. I expected the NGV to fight back today, but there was nothing in the paper. Patrick McCaughey is writing a letter to the editor from New Haven. Nelson's review marks the nadir of arts criticism in that newspaper.
May 12
Dinner this evening chez Donaldson. Ian and Grazia have just returned from Europe, and he is coping with a welter of Jonsonia, so it was brave of them to host a dinner. Guest of honour was Anne Chisholm, with whom they dined in London next week. 'Where shall we have dinner next week?' Ian greeted her.
Anne first met Grazia when she and Michael Davie came to Melbourne. Ranald Macdonald had courted Michael, having asked Harry Evans whom he should find to replace Greg Taylor, Graham Perkin's undistinguished successor as editor of the Age. I asked Anne how she felt about coming to Australia. 'I hated the idea,' she said. She was trying to finish her first book, for Faber – from Melbourne. Then the Davies went to the dinner at the Gunns' place. Other guests included Fred and Lyn Williams, and the McCaugheys, so she thought it mightn't be so bad after all.
I sat down Ian's end, opposite Helen. Long conversation about The Eye of the Storm, the film. Helen was shrewd about its limitations, believing that Schepisi obscured the chronology in bewildering ways. She thinks this doomed the film. Like the rest of us, enjoyed Judy Davis's performance.
Anne mentioned that Eileen Atkins, who adapted Didion's first memoir, has dramatised The Spare Room and wants to enact it opposite it V. Redgrave. Helen seemed quite nonchalant about this; sceptical about its chances. I told her about the endless plans for a film of Rose Boys, with Colin Friels as my father. When I explained my reasons for killing the project, Helen extended her right hand across the table for a high-five.
May 14
Early flight to Sydney, and straight to the State Library for the announcement of the National Biography Award. Over coffee in the revamped café Hilary and I talked about Susan Swingler's book on the fraud perpetrated by Leonard and Elizabeth Jolley. I didn't know Jolley personally but never enjoyed those fey, grandmotherly, self-deprecating talks of hers at literary festivals and dinners. Hilary is on a panel with Swingler and Anne Chisholm (whom she has known for years) at the Sydney festival.
Hilary surprised and appalled me by saying that the season of The Histrionic, that brilliant production, was shortened by several performances because of poor houses. What more do people want? Are they so bored or frightened by lacerating satire?
Then the five of us – part of the official party – joined the others in the Shakespeare Room. Two shortlisted authors were in attendance: A.J. Wilson (as he introduced himself) and Mark McKenna, Martin Thomas (our winner) was not present. The SWF wouldn't release him from an obligation in the Blue Mountains. Very good of him not to bolt, I reckon.
Many photographs were taken, and, after much prepping we were led into the Cervantes Room: the original Mitchell Library, Angelo Loukakis jovially informed me later. I sat with the State Librarian, Rob Thomas, Michael Crouch and Geoffrey Cains, and my fellow judges. I spoke about the process and about the admirable plasticity of the genre, before reading the longlist and then giving some details about the six shortlisted works. Michael Crouch named the winner and we watched a lengthy, eloquent, gracious speech by Martin Thomas, recorded last week.
May 17
To the MRC for a Melbourne Chamber Orchestra concert, an all-Mozart affair. Greta Bradman – the Don's granddaughter, slim, striking, comely, dark – gave us two of his concert arias, including the 'Popoli di Tessaglia' (K 316), which has the highest note written for soprano, a G. She hit it and all the others with aplomb.
May 19
Finished Frances Partridge. God, I hope I don't live to be 104. 'The present writer', who only appears on page 367, is open about her mounting ambivalence towards the end: 'Everyone around her knew that this was the beginning of the end of Frances' life, and part of me felt that no biographer should be hovering at such a time, observing and recording the approach of death.'
May 20
James Bradley, who has won this year's Pascall Prize for criticism, has sent me his acceptance speech. He thanks four literary editors, including myself, 'Peter, another literary slashie like me, is like the charming but slightly unreliable uncle I never had, popping up when I least expect him with some improbable and almost invariably deeply appealing book.' What is a slashie?
May 21
Christopher Hitchens could be pompous, but my God we could do with a journalist of his ilk in Australia. I am reading No One Left to Lie To, about Clinton (and 'Clintonism'), now reissued, with several other works by him, by Allen & Unwin. Here he is on Hillary Clinton: 'On a visit to New Zealand, she claimed to have been named for Sir Edmund Hillary's ascent of Everest; a triumph that occurred some years after her birth and christening. (I insert this true story partly for comic relief, as showing an especially fantastic sense of self-reinvention as well as a desperate, mysterious willingness to pander for the Kiwi vote.)' He calls the First Lady a 'mistress of mendacity' and concludes, 'Only those who are totally habituated to falsehood will so easily and naturally lie when the truth would have done just as well.'
The June issue went to press. The three of us turned over the pages together – an ABR superstition – before sending it to Doran. I joked about the worst possible typo we could imagine. Crimson Crap perhaps?
Gide's Journals are magnificent. Why haven't I been reading them all these years? There are gems on every page. Here is an example, from May 1929:
The whole world, and I to begin with, is merely a series of replies to questions that, all things considered, it is not really necessary, nor even very expedient, to ask. Since the question can only come too late.

Understanding is asking yourself a certain question to which what you understand becomes the very exact reply.
Or this, on a boy called Émile who was tormenting him:
What is he doing? Where is he? Is he thinking of me? Is he telling himself perhaps that I am forgetting him? … This constant interrogation plays a muffled accompaniment to all my thoughts.
May 23
I dreamt that we received the keys to our new office in The Boyd. We went there en masse and found our office on the first floor, smaller than I recalled, differently configured, but still pleasing. When I remarked on a round, flapped hole in the door, someone told me it was for the visiting ducks. I take this as a good omen.
Interminable wait in the Town Hall for our security passes, but it gave me an opportunity to chat with Vincent Fantauzzo, our neighbour with the movie-star looks. Vince won the Doug Moran National Portrait Prize last year. Then we took possession of Studio 2, recognisable, spacious, duckless.
May 26
Well, now I know what my epitaph will be. Martin Duwell, in his review of Crimson Crop in today's Australian, asks, 'Has anyone written better about Australian flats?' The Poet of Australian Flats. What can I say but 'My bonds in thee are all determinate'?
I am reading The Aunt's Story, with the old relish. (I bought my copy from Kay Craddock; Spooner's bookplate for Neil Jillett.) It has some of his most extravagant language, but also passages of great simplicity, and the constructions are ever original, nonpareil (apart from the odd Lawrentian flash). What momentum he generates from his verbs. 'And the cows wound into the yard at evening to be milked. And Gertie Stepper punched the dough.' Elsewhere, Theodora is 'as negative as air'.
May 27
What an age when one receives emails like this one: 'Your photo is all over Facebook man (naked).'
May 31
Three tubs of Jolleys (I think we'll end up with two thousand) and a rush of proposals from senior types for the fifth (media) Fellowship.
June 2
Back to NGV for a second, more attentive, but only slightly more rewarding look at the big Napoleon exhibition. Robert Aldrich has flown down to see it prior to reviewing it for our Art issue in July. Over lunch Robert was kinder about the show than I was, but, in his polite American fashion, he mildly deplored the 'heroification' of Napoleon, as he put it.
Reading Charles Rosen's typically fine essay on Auden in his new collection, Freedom and the Arts, sent me back to the poems of the 1950s, including the magnificent 'Under Sirius'. (Has any poet barring Shakespeare used so many arcane words in a single poem?)
Geoff Page, alerting me to his fortnight-old review of Crimson Crop, amused me by pointing out that the editor got to his original first sentence and rejigged it to read 'Despite his well-received memoir and two successful novels, Peter Rose remains a distinctive presence in contemporary Australian poetry.' Bloody editors!
Geoff has been reviewing me generously there ever since The House of Vitriol back in 1990. (It was he who pointed out that in that 'début volume', as people seem to feel obliged to say now, I used the word 'rancid' seven times, surely a record).
June 5
Disgraceful findings in the annual Lowy poll. Fewer than forty per cent of Australians aged between eighteen and twenty-nine believe that democracy is the best form of government. A quarter don't care. The rest hold that in some circumstances (China, say, one respondent breezily opined) non-democratic rule may be the best form of government. They should holiday in Syria.
This evening we saw the tense-making film Margin Call, about the start of the GFC, with Jeremy Irons in his first American rôle. 'Was that an American accent?' C. asked later.
June 7
Dinner chez McLennan. Elaine Lewis – Francophile and bookseller – was there too. She lives in Melbourne now, much involved in translation work. We reminisced about a reading I gave in a basement café off the rue de Rivoli in 2000, when the chef kept on walking through the room and removing slabs of meat from the cooling room. Elaine didn't use that venue again.
June 12
To Newman College for the launch of Peter Steele's last book of essays. Remarkably, he has written them in recent months, though gravely ill. He looked terribly frail and gaunt when they wheeled him in before the launch, his new national pin resplendent in his lapel, perhaps the only time he will wear it in public. Bill Rule read out the full government citation: quite an impressive bibliography. It was a sombre, formal, dignified occasion, with several speakers, none overlong. Andy Pullen, a fellow Jesuit, launched the volume with orotund brio, then Chris read a couple of the recent poems (we publish one of them, 'Maze', in the June issue). Peter's brother – so fit and strong he looked like Peter's son – spoke nicely on behalf of the family, then it was over. Peter didn't speak but listened closely to the speakers, occasionally managing one of those beautiful, ironic smiles of his. He was mobbed afterwards, so we left quickly, rather needing a drink, of which I like to think Peter would have approved.
June 13
Funny interlude when Eleni Arbus showed me the colour ad for our Art issue. They are promoting the opening of The Boyd (as we have been calling it). When I asked Eleni to drop the definite article before Australian Book Review, she asked me to do the same before 'Boyd'.
June 16
Curious neighbours in the block of flats to our east. Four young people have moved in. They are all champion smokers, as Andrew Riemer said of my characters in Roddy Parr. Winter notwithstanding, they are always out on the exposed balcony puffing away and taking it in turns to have coughing fits. I look down on them with a mixture of pity, awe, envy. They stay out there for hours, peering rather gloomily at their laptops. Are they speculators, gamblers, terrorists? Rarely do they speak or look up. Their only reading matter is something called Formula One. I feel like floating them down copies of ABR.
Above them, in venerable rituals, the elderly Jewish ladies move slowly around their apartment, always talking, talking, talking.
June 25
Read half of Christopher Lee's 1603, then abandoned it. We don't need to be told that mobile phones weren't available to transmit the news of Elizabeth's death to James VI.
But nothing will keep me from Gide. Impossible not to be impressed, and slightly repulsed, by a twenty-year-old who could write:
My pride is constantly being irritated by a thousand minute slights. I suffer absurdly from the fact that everybody does not already know what I hope some day to be, what I shall be; that people cannot foretell the work to come just from the look in my eyes.
Curious to read in Pamuk's essay on the Frenchman that Gide despised Constantinople and, like Atatürk, derided traditional Turkish garb, no dress for moderns, they both felt.
June 29
Finally met young Ben Juers – Ivor and Evelyn Juers' son. He reviews the Wark book on Situationists, and has a couple of cartoons in the new issue. I liked his manner; quiet, modest, generous (pointing me to other cartoonists).
A Manhattan at Aria, then off to the Opera House. This was a rare foray to Sydney for the MSO (why don't Australian orchestras travel more? European ones do it all the time). They had lost their star, Deborah Voigt, but Angela Denoke – an acclaimed new Sieglinde and Salome – was a worthy replacement, and it was a reasonable house, with Andrew Davis – the new chief conductor – leading the orchestra. First came Tannhäuser, the Act One aria from Walküre, and the Prelude and Liebestod. The arias made one anxious for Denoke's vocal future (too little top for Brünnhilde, which she will sing at Bayreuth next year); but the final scene from Salome, which she has just sung at Covent Garden, was powerful and brilliantly acted. What stupendous demands Wagner and Strauss make.
June 30
Off to the MCA for the Biennale. I am not a natural Biennalist, but I enjoyed many of the works in this impressive show, especially three Agnes Martin-like works but Liang Quan, who made me want to visit Beijing. There was an amazing suite of bottles from another Chinese, Liu Zhuoquan, the interior glass somehow painted with snake motifs.
To the Opera House for the opening night of Die tote Stadt. When I began going there – beginning in July 1979, with Joan Sutherland in Idomeneo (a blazing Elettra) – I ignored the imperfections of the house, but they are very apparent now: the crude interior, those clinical seats, the pinched orchestra pit. To mount Die tote Stadt they had to cope with the latter; Korngold demands a much larger orchestra. The only way was to move it into the adjoining Studio and play the music through many speakers. Controversial though it was, I thought it worked well: the sound was full, effective, true. Stefan Vinke – a striking new Heldentenor – took on the fearsome role of Paul, and survived the night, gloriously so in the last two acts. Cheryl Barker, as Marietta, sang beautifully and expressively. Jose Carbo, so good as Rossini's Figaro in Adelaide a few years ago, made the most of Fritz's beautiful Pierrot aria in Act Three.
We went into the Utzon Room for interval drinks and spoke to John McDonald and his wife. John is so much less ferocious in person than he is on the page.
July 2
Because of heavy traffic and full car parks I arrived late for Peter Steele's funeral – well on time, at one p.m., but far too late to find a seat in the full chapel. I stood in the vestibule with Gig Ryan. One priest motioned to those of us standing at the back to join the ten or so priests at the altar, but that seemed like a bridge too far.
Finished Robert Gerwarth's terrifying biography of Reinhard Heydrich, Hitler's Hangman, as Thomas Mann dubbed him on radio after his assassination in 1942. The zealotry and sheer viciousness with which they went after Mann – and all the others – remains incredible. Heydrich ordered Mann's detention in a concentration camp, but Mann wisely decided not to return to Germany.
July 6
Fanatically busy day preparing the office for tomorrow. Office Plus installed our sturdy, good-looking shelves and cupboards yesterday. Then we had to empty all the boxes and impose some order on the big space. Finally shipshape this afternoon.
July 7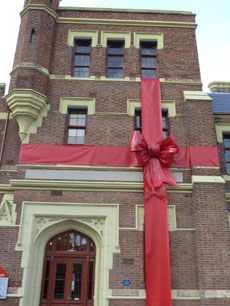 A frigid morning for the official opening of Boyd. The building – sporting a huge red bow on the façade, began to fill, and by midday there was a huge crowd. Upstairs we welcomed old friends and contributors – and, happily, complete newcomers – loading them with magazines and giveaways. Any sense as to when we could declare open our own office and commence the readings grew vaguer as the official program slipped and bongo drums reverberated in the Assembly Hall directly beneath our office.
Amy and I went outside for Mayor Robert Doyle's warm, informal, persuasive speech, which followed an epic 'welcome to country'. Chris Wallace-Crabbe sat up the front with 'Ken', a nonagenarian who remembered being a Boyd student eight decades ago when it was a primary school.
Back upstairs, Morag opened the office, then we began the readings, by the fireplace. Elisabeth Holdsworth read first, from her essay 'An die Nachgeborenen: For Those Who Come After', which won the first Calibre Prize back in 2007. Rodney Hall read the opening pages of popeye never told you. But first he spoke about the boost our laudatory review of the book had given him. He noted that this was the first time he had ever written about real people in his life. After Chris Wallace-Crabbe and Lisa Gorton, I read single poems by Peter Porter ('Fifty Years On'), Peter Steele ('Wave'; reducing Morag to tears, C. said), and Dobson's great 'Divining Colander', all of which first appeared in ABR. Then I began reading 'Lord Jim'. Ten lines in the bongo drums started up again, so I gave up.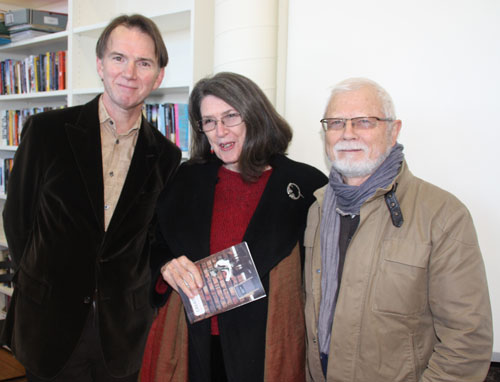 Peter Rose, Morag Fraser, and Rodney Hall
July 8
Predictably fatigued after the rigours of yesterday. I have been reading Hardy's poetry, Walter Benjamin on Gide, and Stacy Schiff's brilliant chapters on Benjamin Franklin's arrival in Paris in 1776, from A Great Improvisation.
This from the exemplary Harvard edition of Benjamin's Selected Writings: notes towards an article on the true critic:
Regarding the terrible misconception that the quality indispensable to the true critic is 'his own opinion': it is quite meaningless to learn the opinion of someone about something when you do not even know who he is. The more important the critic, the more he will avoid baldly asserting his own opinion. And the more his insights will absorb his opinions. Instead of giving his own opinion, a great critic enables others to form their opinion on the basis of his critical analysis. Moreover, this definition of the figure of the critic should not be a private matter but, as far as possible, an objective, strategic one. What we should know about a critic is what he stands for. He should tell us this.
I was struck by his quiet note in a parenthesis to the effect that ceilings are 'almost invariably low in Kafka'. It's that kind of modest, telling, observant detail that distinguishes a fine critic, and informs his broader argument.
July 9
Stayed up to watch the Federer–Murray game at Wimbledon. During the ensuing rain delay, while they closed the roof, giving Federer his advantage, I began Harold Bloom's The Anxiety of Influence. If Dietrich Fischer-Dieskau (who has just died) was a sort of Professor of Lieder, as cynics dubbed him, Bloom is the sole Professor of Influence, master of every nuance, turning it to his exegetical advantage. Captivating, though; and such a turn of phrase.
July 14
One anxiety dream after another. In the latest ABR moved to a château of a kind, most salubrious; but having unpacked all our books in our new office we were asked to remove them for the official opening. The following morning, as ten a.m. approached, I realised that we were expected to return them to our office ourselves.
Slept badly, and rose at four a.m. to go on reading Hitchens's brilliant The Trial of Henry Kissinger. Skewered. But still free.
July 15
There is an unremittingly hysterical quality in Harold Bloom's criticism. Vendler speaks of the incessant rhetoric of his pages: Here is one example from The Anatomy of Influence:
Traumatized by a severe injury some years back, I found myself recovered in body but not in mind. Lying awake at night I tried to reassure myself that I after all was in my own bedroom and stared at the bookshelves, knowing what was and was not there. My sense of my own reality was wavering and needed labor to restore it.
Yet a paragraph later, as if recovering himself, he is capable of this insight:
Shakespeare, like his protagonist, overheard himself, and like them he overheard 'Shakespeare'.
July 19
Early flight to Brisbane, then straight to the University of Queensland. Stuart Glover had prepared a light schedule: eight private meetings with staff and postgraduate students throughout the day, and a one-hour lunchtime seminar on reviewing, after which I met a number of bright young things who would like to write for ABR. I realise now how important these editorial forays are. There is such despondency about the future of publishing, and letters and the humanities in general; such foreboding among young writers and critics about their prospects. They get a shock when an editor rolls up and talks about the present health of his magazine and its openness to bright young talent.
This evening I went to the Queensland Writers Centre where a different kind of cohort awaited me: fifty members and older writers or academics. Kate Eltham, the departing director (this was her last gig), interviewed me about ABR and publishing opportunities.
July 20
A quieter day. I went to QUT, where Philip Neilson was welcoming. He introduced me to several of his colleagues and postgraduate students, and I spoke about the magazine for an hour. Afterwards, over lunch with several faculty members I met Sarah Holland-Batt, a young poet whom I included in my anthologies. She's just back from NYC where she studied at Columbia and worked in publishing. She told us the most hilarious story about Anne Carson, who teaches at Columbia. Sarah took her class, only to discover that Carson's husband, a complete boor, does much of the 'teaching'. Truly absurd it was; Sarah left after the first day. The American students were more accepting. I implored Sarah to write about it for ABR.
To the opening of the Prado Show at the Queensland Art Gallery. This was Tony Ellwood's last day as director. The premier, surprisingly, stayed away. His arts minister spoke last, after too many speakers, and failed to enchant the audience, which had loudly applauded Anna Bligh – possibly a tactical mistake.
Then we moved across to GOMA for the official dinner. We were chatting with Isobel Crombie of the NGV when Simon Crean, the arts minister, wandered over and engaged us like a true political pro. I seized the opportunity to tell him about the furore in Canberra over Fairfax's decision to dispense with its own literary pages. This surprised him ('I've been in Broome'), and he asked me to send him details.
The long, long table (seating 160 people) was quite a sight, with an edible Spanish still life stretching all the way down. Painter Peter Churcher, to my left, told me about life in Barcelona.
July 23
In Noosa, where we stayed for a few days before moving on to Sydney, we kept bumping into Gideon Haigh. He and his wife are up here with their clearly much-loved daughter, Cecilia. Each time we met them walking down Hay Street with an ice cream or trying to rock Cecilia to sleep, we all apologised embarrassedly for being in Noosa.
Read Measure for Measure, which sent me back to the great Tony Tanner's prefaces, who in turn referred me to St Luke 8, on equivocal virtue, as when the woman with 'an issue of blood' surreptitiously touches Jesus and is 'stanched', only to occasion disquiet in Jesus: 'I perceive that virtue is gone out of me.' Earlier in the same chapter we have Luke's telling of the Gadarene swine. It was this text, this parable, this lesson in brutal might and remorseless faith, that most disquieted Peter Porter about Christianity.
July 24
Met my old friend Jurate Sasnaitis at the Art Gallery of NSW. She is up here doing an MA with Gail Jones. It was like old times as we wandered through that most protean and enjoyable of Australian museums. We particularly admired a huge urban baby-powder installation by the Thai artistNipan Oranniwesna.
This evening I joined C. at the announcement of the Moran Prize at the family's gallery on Bridge Street. I enjoyed some of the works and liked tattoo artist Leslie Rice's winning work, Self-Portrait (with the Muses of Painting and Poetry), which is painted on velvet, his second win in four years (impressive to extract $300,000 from the same foundation).
July 25
We dined in Paddington chez Andy Lloyd James and Trish Richardson – generous hosts and lively conversationalists. Andy told me about his father, who was a legendary broadcaster at the Beeb, passionate about poetry, and intimate with Roy Campbell and Dylan Thomas. In the good old days of uninterruptedly live TV, Lloyd James Sr once made a famous faux pas about a 'careless punt' while covering Henley-on-Thames.
July 29
Reading HJ's 'Lady Barbarina' for the first time: not the most satisfactory of his tales (though Ian Britain deems it 'pitch perfect'), with its wayward points of view. But there is one hilarious scene in the first chapter, still in Hyde Park, when royalty appears:
Royalty was approaching – royalty was passing – royalty had passed … They had seen royalty pass, all over Europe, and they knew that it passed very quickly. Sometimes it came back; sometimes it didn't; for more than once they had seen it pass for the last time.
Well, it came back yesterday, at the opening ceremony of the Olympic Games, when the Queen took part in a spoof with James Bond, at Buckingham Palace, and then pretended to parachute into the stadium; delicious proof that British royalty's future now is in league with celebrity and the entertainment industry, nothing more.
August 1
The death of Gore Vidal, the old lion, nearly twenty years after that of Jackie Onassis, whose defection he possibly never recovered from. I recall David Marr saying to me that Palimpsest was really about Jackie Kennedy, that step-half-sister or whatever she was to him. Meanwhile, Bob Carr, his old friend – if Vidal really had friends – is warily reminiscing about him on television, conscious of his new diplomatic burdens. He spoke of the time he invited Vidal to Australia in the mid-1990s, but not of his veto when the organisers of the Sydney Writers' Festival asked Robert Dessaix to interview Vidal, which would have been a superb pairing.
To the MRC for a recital by American soprano Christine Brewer: an all-American program, after the beautifully sung Wesendonck Lieder. The woman on my right introduced herself to me during interval. She knew my father in the 1950s and idolised him. She often saw him playing in the country.
The ample diva ended with that sweet, simple song called 'Mira' from Carnival, a homesick hymn to small-town virtues, where 'everyone knows my name'. My neighbour, as we shook hands at the end, said, 'We all knew our names in Wodonga.'
August 2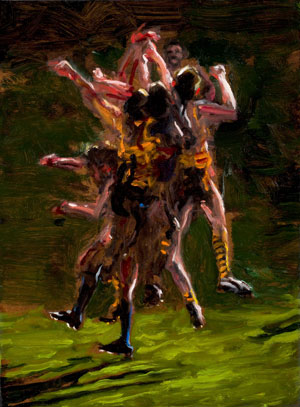 Untitled, Louise Hearman, 2012
To the Potter for the announcement of the Basil Sellers Art Prize (sports-themed). I liked Louise Hearman's Goyaesque painting of a football crowd, but perhaps artists should leave Harry O'Brien alone for a while. John Campbell, resplendent in a tangerine-coloured jacket possibly bought for the occasion, proved a popular winner.
C. was standing next to Glenn McGrath. C. has been liaising with his new wife, Sara Leonardi-McGrath; they have a gallery in Chippendale. Sara introduced me to the great bowler, who is about six inches taller than I expected, and every bit as personable as he is on screen. I asked him how he was finding the art world. Much of it was challenging to him, he said, but he was enjoying it. He was interested in art before he met Sara, and told me that he has an Arthur Boyd. But I really wanted to ask him about Australia's prospects this summer. He didn't seem to mind. Why were all our bright young bowlers breaking down? I asked him. Not overwork, he thought, but 'the breaks'. 'You started young,' I remarked. He said that he was twenty-three when he first represented Australia – 'and very lucky'. He said he still gets out of bed each morning feeling fresh and limber.
August 3
So good to be publishing cartoons again. About time too, some of our readers might say. Ben Juers made my day with a new one: a little girl greeting her blandly besuited father on his return from the office with these words: 'Guess what, Dad, my school's putting on a play called Waiting for Godot and I get to be Godot!'
August 4
Reading Hilary Mantel's memoir Giving up the Ghost with much enjoyment. It may the perfect complement to Coetzee's memoir of boyhood. In the terrifying Tudor world depicted in both of Mantel's novels, courtiers and monarchs are always glancing at one another out of the 'tails of their eyes' (which Woolf uses in Mrs Dalloway). Mantel, in her memoir, writes, 'I continue my habit of covert looking, out of the corner of my eye.'
In my review of Bring up the Bodies I observed that unlike most writers, who have little experience of it, Mantel understands power. Here she is on the subject: 'I was learning, always learning: power is negotiated, acquired, given away, in more subtle ways than I had understood …'
Long article in The Weekend Australian on Miles Franklin's far more than flirtation with Nazism and racism, well into the war. Queasy-making to think that this bigot and anti-Semite's literary award retains such prestige.
August 6
L'esprit de l'escalier. In one of my new Catullan poems a 'pimpled waiter' drops a tray at the mere waft of Lesbia. Why didn't I think of 'pimpleton'? Next edition.
August 9
The opening MSO concert in the refurbished Hamer Hall. The foyer remains a nightmare (and the meretricious suspended works by Robert Owen are unfortunate), so it is a relief to enter the hall. The shape seems more conducive to music (slightly narrower and straighter), with a lower ceiling over the vault above the stage, the organ having disappeared. The new seats and lights are distinct improvements. It begins to look feel a serious concert hall at last.
The program itself was odd. I liked Thomas Adès's Polaris, but it felt like the wrong sort of music, and the accompanying video was excruciating. It reminded Margaret Farren-Price of a film screening at a 1960s film festival with gaunt women dragging seaweed along a beach. The young film-maker looked sheepish when he took his curtain call. There were a few boos, rare in Melbourne.
After interval we had Mahler's Third, with Markus Stenz conducting and the excellent Karen Cargill replacing Petra Lang. The epic first movement did not engross me (instead I did some ABR programming in my head), but after the short break the orchestra played magnificently, and the wonders of the music, especially that piercing final movement, were indisputable – a stirring performance.
The new acoustic itself seems fundamentally different from the old one: bright, burnished, ringing, detailed – almost too plangent (we may have to move back from row G). Stenz was able to show off with some hushed playing. In the past we would have concluded the band had gone on strike. One heard instruments one had never noticed before in that hall.
August 10
Arts Queensland has granted us the $15K we sought for 2013, our first application. Our local backers are astonished, given the recent cuts in that state.
August 11
Into town this morning, on many errands. Whenever I visit Hill of Content I purchase an Everyman. Today it was Heart of Darkness, not read since 1975.
August 15
Our first Fireside Chat at Boyd. Full house. We turned away thirty people this week, keen to present the first one in Studio 2. Not content with metaphysical fire (we do have one, but we are cautioned not to use it), we borrowed KereKere's fire sculpture and placed it in the fireplace.
Ian Donaldson and Lisa Gorton were in excellent form. Indulging myself, I asked Lisa if she would close with 'The Broken Heart'. Many Patrons and friends present. Kate Holden arrived with Tim Flannery.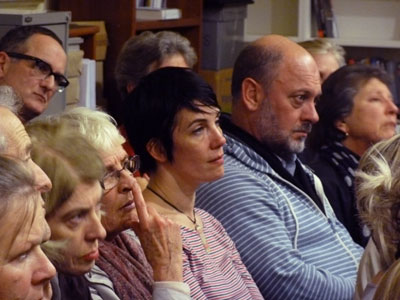 August 23

We sent September to press on schedule, as we always exhaustedly do. Chong came to the rescue with one of his wizardly titles. At five-thirty I took Amy to Walter's for a glass of champagne, then we went on to the ANZ Pavilion for the Monash launch of Peter Fitzpatrick's biography of the two Frank Thrings – a big, tradey, rather longish affair. Nathan Hollier, the MD, in an unbuttoned apricot-coloured shirt, introduced Graeme Blundell, who gave a virtuosic launch speech – generous, attentive, very funny. I had no idea that Graeme knew the younger Thring so well. He was an assistant stagehand at the MTC, one of the young boys Frank liked to cultivate in his dressing room. Then Graeme acted with him. He was very funny about having to bend over in front of a seated Thring each night during a marathon tour – Graeme playing a butler in his tight trousers. Thring's whispered double entendre was always perfectly timed.
Peter Fitzpatrick, responding, came up with several choice Thring anecdotes. I liked this one: an interviewer asked the elderly Thring about Melbourne Grammar and assumed it must have been very difficult for him, given his sensibility. 'Not when you are as vicious as I am,' Thring replied.
When I spoke to Blundell he told me that 'they' are trying to persuade him to write a biography of Bert Newton. 'Do you really want to spend eight years with Bert and Pattie?' I tactlessly asked him. (That's how long Graeme spent on the Kennedy biography.). I hadn't seen Graeme since he edited Australian Theatrefor me at OUP in the mid-1990s. In his acknowledgments Graeme wrote: 'Peter Rose would make a great director.'
When I mentioned this to C. on arriving home he said, 'Yes, always bossing people around.'
August 28
Back to Flinders University, my first visit in a while. I had forgotten my office key, so Robert Phiddian had to let me in. I'm still sharing an office with Ruth Starke (also Michael Morley). I went straight into Kalinda Ashton's creative non-fiction seminar for undergraduates, and spoke about non-fiction and Rose Boys.
Then Robert and I went over to Marketing for a meeting with Richard Maltby. When it came time for the signing of the new one-year agreement between Flinders and ABR, a photographer joined us to immortalise the moment.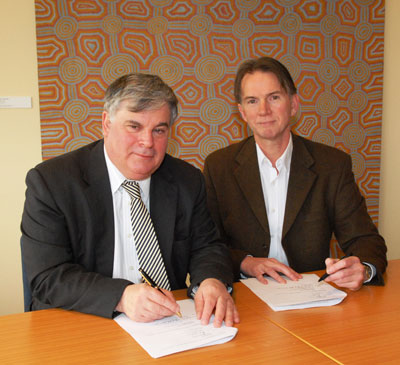 Professor Richard Maltby, Executive Dean of the Faculty of Education, Humanities and Law, and Peter Rose
August 31
After lunch at Press with Kerryn Goldsworthy, I tore back to Adelaide University and made my way to the English department for my seminar on reviewing. Nick Jose introduced me, then I banged on for half an hour – seemingly the twelfth time this year – about the benefits of publishing in ABR. It was an attentive and willing audience, and there were many questions afterwards.
They always take their Friday speaker to the staff club; about twenty people (mostly Honours students or PhDs) went across. Shannon Burns – a young academic in the department of whom people speak highly – turns out to be another Roth enthusiast. He too loves Sabbath's Theater. We discussed those extraordinary 'ruptures' (Shannon's mot juste) when Roth's characters indulge in mad scenes – rather like Hamlet during The Mouse Trap; unbridled vituperative excesses.
September 1
We left Adelaide early by car and were home by three p.m. Never have we seen the Victorian countryside so verdant – 'green's green apogee'. Yes, we listened to that precious recording, made late in his life, of Wallace Stevens reading 'Credences of Summer'. Otherwise we listened to ghost stories on CD and rationed the jubes.
September 4
To Brisbane for the Queensland Literary Awards. There was a media call in the afternoon. Inevitably, they only wanted to talk to Frank Moorhouse, who has won the fiction category, beating Carey and Funder and co. Frank was there, cherubic-faced and sporting red braces. I enjoyed my long chat with Bill Gammage and briefly met George Megalogenis, another prize-winner.
This evening's ceremony took place at the State Library. A brass fanfare greeted us outside. I spoke to Brian Johns and Jim Alexander and gave them copies of Rubinstein's essay, 'Body and Soul: Copyright Law and Enforcement in the Age of the Electronic Book', the last Calibre Prize winner that CAL will sponsor. Then we sat in the third row with Frank.
Hosting the official proceedings was Richard Fidler, a local ABC radio presenter who used to be in the Doug Anthony All Stars. The mood in the large, packed auditorium was highly gemütlich. Perhaps politicians should stay away more often. It was by far the most spirited and enjoyable awards ceremony I have attended. The many donors and volunteers are proud of what they have achieved this year, and so they should by. All of the speakers – and most of the dozen main winners were present – extolled their generosity and civic spirit. Only one person flayed the Newman government; the rest of us found more positive ways of encouraging it to reconsider. Tenth up, I received an extraordinary plate inscribed with a quote from David Malouf.
September 6
A fair audience gathered in the Medley Lecture Theatre at Melbourne University for Jonathan Bate's lecture on 'Shakespeare in the World', which is based on his current exhibition for the Cultural Olympiad. He had just flown in via Bangkok, where he had Worcester College business to do (he is the provost) with a fellow old Worcesterian, the Crown Prince, who has given them millions. I expect he was loaded down with a cheque, not just jet lag. He seemed shell-shocked at first but was gradually energised by the subject. It was an enjoyable, if cursory, portrait of Shakespeare and his characters through various objects assembled for the exhibition: a 'sword of Spain', from Othello; a box for pennies at the theatre (a tour of Westminster Abbey at the time cost the same, as did bear-baiting; last time I went to the Abbey it was fifteen quid); maps of the world, etc. Bate is tall, good-looking, silver-haired in his mid-forties, pronouncedly thin, casually dressed, very tanned for someone at Oxford. He must spend much of his time roaming the world, like a character in a Graham Greene novel.
September 9
Reading James Button's book on his unhappy year as Kevin Rudd's speechwriter. How did such a deeply flawed man become PM? Jamie seems rather unsuited for his role, perhaps too sensitive to prosper in 'the feral capital'.
September 12
My Fireside Chat with Michael Farrell: really a series of readings by both of us. About sixty people turned up, unexpectedly. My morbid selection culminated in 'Crimson Crop', which had them squirming. It was one of those quiet, still, unreadable, slightly disconcerting audiences – almost too attentive. The upper windows in Studio 2 (hitherto always closed) kept opening of their own accord, which was testing. It was good to hear Michael's poem 'Beautiful Mother', which won this year's Porter Prize.
Thence to the Recital Hall for a glass of wine while Paul Lewis finished his first set inside. Lewis, in the A-Minor sonata, was more impassioned than in the past, and quite superb – a thunderous performance of this extraordinary sonata (I didn't know it), which seems to atomise the form – bold as Beethoven, in ways.
Mary Vallentine, when I said I was looking for people to read Shakespeare sonnets, introduced me to Jane Menelaus ('Oh, yes, I can read sonnets,' she obligingly wailed). I wonder if I can entice her husband to take part in my Richard Burton celebration.
Apropos Burton, I told his widow, Sally Burton, how much I am enjoying the diaries, but how disconcerted I was by certain lacunae, especially the one in the second half of 1965 when the Burtons were making Who's Afraid of Virginia Woolf? She told me that she too, when she first read the diaries in 1985, was surprised by the gaps.
September 17
The Seymour Biography Lecture: our first event in the Assembly Hall downstairs. Jeffrey Meyers, the prolific American biographer of Orwell and Conrad and everyone else, drew a capacity audience in Canberra last Thursday, and word had travelled south. He gave us five separate light and entertaining studies of the uniformly eccentric mistresses of Conrad, Hemingway, Frost, Wyndham Lewis, and Scott Fitzgerald. Responding, I remarked that one would never regard Conrad in the same light knowing that he wrote of sex with Jane Alexander as 'Quite yum yum'. I introduced Jeffrey to Ian Donaldson and Brenda Niall (the first Seymour lecturer). I'm not sure if feminists would have enjoyed his lecture, but it seemed popular.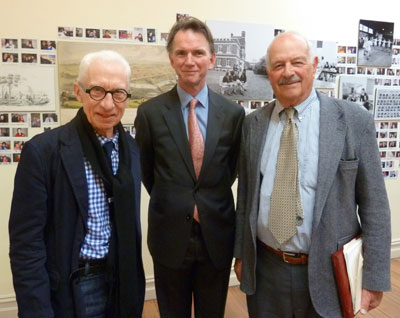 Professor Ian Donaldson, Peter Rose, and Professor Jeffrey Meyers
September 20
Fund-raising dinner in town for the National Library. Allens, which hosted the one at which I spoke, has moved to 101 Collins Street: quite a view from the thirty-seventh floor, but a sparse interior. On our table was Graeme Samuel (cool, impassive, very selective in his conversation). Gideon Haigh, the guest speaker, was eloquent in his defence of the National Library. The only thing wrong with it, he said, was its location. Gideon even made me want to read On the Beach, which has sold four million copies.
Before him a good-looking, youthful, dark-haired man stood up and welcomed people. He turned out to be Kerry Stokes's son and the new Chairman of the Library.
September 23
Reading Woolf's Diary of 1927, I enjoyed her passionate account of the early stages of Orlando. How enviably exultant she sounds:
… once the mind gets hot it can't stop: I walk making up phrases; sit, contriving scenes; am in short in the thick of the greatest rapture known to me … I felt happier than for months; as if put in the sun, or laid on a cushion …
Then VW predicts that she will finish it 'by January 7th (say)'. How do writers know these things? I'm always weeks out.
Swooped by a magpie outside Bracklyn after visiting the library, which gave me poem, 'Impromptu'.
September 26
Ian Dickson flew down for the Jolley Prize ceremony and had a long chat with Greg Day while I welcomed the two shortlisted authors who were able to attend: Sue Hurley and Ngiare Elliot, both rather nervous. Studio 2 soon filled. Entertaining for the audience, but torture for them not knowing the winner's name. I introduced our three readers (Amy Baillieu deputising for Jack Cox, with a saucy passage). Then Ian announced that Sue Hurley was the overall winner. She spoke nicely, then set off for the airport, bound for Turkey.
September 28
In appalling weather I crossed town to meet David Collis, who teaches at Trinity College and advises the Greens on education policies. John Hirst, whom I had invited to write about the MLC saga and inequity in education, recommended David. I enjoyed meeting David. Apropos nothing I told him about Boyd and the Creative Spaces program. David turns out to be the Greens candidate for Lord Mayor in the October election.
September 30
Watched an interesting documentary on Peter Finch, another of those driven, brilliant, self-destructive victims of parental neglect and vaunting ambition. Among the interviewees was Joan Thring, Frank Thring's improbable wife, and an actress herself (Joan Cunliffe). She still has the broadest Australian accent. Years ago she fetched up in a fascinating documentary Margot Fonteyn; she was once Nureyev's secretary. Elsewhere I read that she was involved with Onassis while he was – what is the right word? – negotiating his marriage to Jacqueline Kennedy in 1968. Later on she became friendly with Jackie, a famously forbearing wife.
October 2
Has any editor accepted a poem of mine one day after not just its submission but its completion? Bronwyn Lea has taken 'Impromptu' for Australian Poetry Journal. The magpie that inspired 'Impromptu' is now building its nest in the tree directly opposite our dining room. We shall have a wonderful view of the nursery.
October 3
Michael Heyward rang to say that he wants to publish Rose Boys in Text Classics next year. We chatted about who might write the introduction. Great to know that my eleven-year-old boy will be available in an affordable paperback edition again.
October 4
Julian Meyrick visited Boyd today, en route to Flinders, where he will be the new professor of creative arts. I hadn't met him before. When I sounded him out about the Burton project he was interested. We discussed possible candidates. Bille Brown perhaps? Not his first choice. John Stanton would be good, Geoffrey Rush even more thoughtful and original, because of his closer identification with characters, said Meyrick.
October 5
David McCooey has now published a review of Crimson Crop, in Cordite. David is one of our most discerning poetry critics, but he makes one mistake: he has my doomed young man in 'Morbid Transfers' (the one who dropped dead next to me, years ago) playing squash – a sport I have never played, not even badly.
Finally, Chris Wallace-Crabbe and I managed to have lunch – at Jimmy Watson's. Behind us were Brian Matthews and Vincent O'Sullivan, visiting Melbourne to attend a wedding. I met him in 1999 or 2000 when I was handling OUP's New Zealand list. He has moved to Dunedin, clearly chasing the cold. I praised those excellent Bluff oysters they have in the south. 'Dunedin has other attractions,' Vincent told me.
I offered Chris Brigitta Olubas's book on Hazzard for review, but he declined, choosing the biography of Davis McCaughey instead. He doesn't like Hazzard's prose, finding it mannered. I love The Transit of Venus, but felt this way about The Great River.
October 6
I read Pamela Burton's utterly depressing book on the Waterlow murders, another sad case of paranoid psychosis going – not undetected – but unresolved, unexplored.
October 11

Alison Broinowski, who is reviewing the latter book for me, visited late morning. Richard B., who has a new book, on Fukushima, was being interviewed at the ABC. Good talks about a range of topics. Alison wants to write a long piece about Asian themes in Australian fiction; this suits me fine.
October 12
Afternoon visit from Gillian Terzis, a new contributor – my most softly spoken one.
October 14
Last meeting of the Jamesians at Brenda's house in Camberwell. This was one of our best conversations in years, with many interesting perspectives on The Bostonians. Jenny Little held her trump card until late: a brilliant North–South reading by Alison Lurie, published in NYRB in 1991. Lurie argues that Basil Ransom sets out to avenge the South by punishing the Boston emancipists, including Olive Chancellor.
October 17
Peter Stothard, accepting my invitation to contribute to our Books of the Year feature, said he was off to the final judging meeting for the Booker. Hours later Hilary Mantel was named the winner. Stothard, who chaired the jury, described her as the finest living prose stylist. Hard to disagree with that judgement.
October 18
I am reading Tom Service's acute little book on the wizardry of certain conductors, including Jansons, Rattle, and Abbado. More sweet anecdotes about Glenn Gould, such a hypochondriac that he once hung up the phone when the person on the other end sneezed. Chastised for going through a red light, he protested that he had stopped at many green ones and never received credit for doing so.
At MoVida this morning, I overheard a coy conversation between a man and a younger woman. He seemed to be interviewing her without really doing so. Of her recent holiday in Sardinia, she remarked, 'There was a quantity of beach.' He asked her if she was happy with the performance of her camera, but I really think he meant her lover.
Lately, I realise, I have begun to relax as a poet. Only now, only now that I have relaxed – looked around me, as Elizabeth Bishop enjoins us to do – do I feel saturated with the possibilities of poetry. It is there, over there. It may be happening beside you in a café, as this morning? All you have to do is listen, watch, attend. It does not have to be forced or violated. It is not an exorbitant oyster to be flamboyantly or audaciously shucked.
A lady from Mum's Probis group has asked me to speak at one of their meetings next year. She told me that Mum's recent talk about the 2003 AFL grand final – when she presented the Premiership cup soon after Dad's death – was 'the best'. All Mum would tell me after her talk was that everybody assumed I had written it, which incensed her.
Mum and I often laugh about ex-footballer Mal Brown's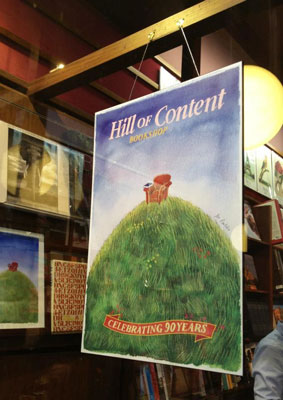 remarks to her in the car park after that grand final. He had written Elsie a nice letter after Dad's death two months earlier. Mum told me this when she spotted him in the car park, so I went over and introduced myself, thinking he might like to meet her. Unfortunately he ignored her completely. All he wanted to talk about was Rose Boys, which he had just read. Brown asked me what Mum thought of it. I told him she had never read it. 'But why not?' he bellowed at Elsie. 'You're a fucking marvellous old boiler in the book.'
Attended Hill of Content's ninetieth birthday party, which was rather endearing, with a particularly nice, loyal, unassuming speech from Andrew Robertson. The food came from Florentino's next door. 'It's ox cheek,' Helen Garner said of the excellent little pies.
October 21
To Montsalvat for the literary festival presented by the Eltham Bookshop (with the formidable Meera). Morag Fraser, just back in the country from Princeton, chaired several events. I was on second, in the Barn. Morag asked me about the poetry, but we concentrated on RB. I read some gruelling passages without incident. Afterwards, we lunched in the courtyard. Morag joined us for a glass of champagne. Next to us a gluttonous young kookaburra swooped onto a woman's lap, splashed pumpkin soup all over the table, and made off with her portion of butter. Kookaburras must have cholesterol problems.
This evening we saw Mildred Pierce at the good old Astor. It hasn't changed in the thirty years I have been going there: the lurking cat, the chatty bow-tied ushers, the poor ice creams, the respectful applause at the end of the film.
October 23
The problem with so much modern poetry is that so little happens, not in the poems, but in the poet's lives. We brood with our famous sensibilities, we lurk, we stare, we watch and wait, we go out into the park like Hugo, the plump and sedentary poodle upstairs; we prop there desperate for something to happen, to occur; and if it doesn't, we imagine something. Not enough happens in poetry, not even of the mundane kind: sitting up all night with one's 'cradled infant'; or going fishing and rescuing the battled fish that one has hooked; or avoiding a dead bedraggled possum on a path. When it does, so often (this is our training, our timid training) we spurn the modest subject. In fact we should say to ourselves, Hallelujah! Hallelujah!
October 24
Scribe has sent me a copy of the unlikeliest book of the year – a biography of John Coetzee. J.C. Kannemeyer, who died last Christmas, is the author. Coetzee seems to have given him access to his entire correspondence, including details about his personal life. All his emails are there, including one he sent to me after we invited him to give the ABR/La Trobe University Annual Lecture in 2004. He cries off, but dangles a reading in front of me. Kannemeyer doesn't note the outcome: an honorary doctorate at La Trobe University, followed by a reading in the packed Melbourne Town Hall the following night.
The book is fascinating but drags, like most biographies, in the later years. Kannemeyer gives us reams of Coetzee's refusals: all those scrupulously polite disinclinations to receive this, attend that, etc. Coetzee is hardly the first writer to decline an invitation.
November 7
David McCooey, in town for the Melbourne Prize (he was shortlisted for the New Writer award), visited Boyd. We talked about his leading a workshop next year. I showed him Jamie McKendrick's variant on Peter Porter's 'Mutant Proverbs', published in this week's TLS. David published 'More Mutant Proverbs' in his latest book, and so did I. I proposed a joint 'Yet More Mutant Perverbs', with alternating proverbs from each of us. 'Let's do it, let's fall in step,' I said.
November 8
This evening, to Collected Works for a fund-raising event for that admirable enterprise. Dozens of poets had been invited to read a single poem sans introductions in aid of good old Kris Hemensley. It was stifling in the small, crowded shop, but no one fainted. We had been told to read for no longer than two minutes. Miraculously, everyone obeyed. In the 1970s someone would have read for half an hour, starting more tedious poetry wars. Ian McBryde, our compère, introduced me as the 'eternally mysterious Peter Rose', so I felt obliged to read the obscurest poem I could find in Crimson Crop – 'Italics Mine'.
November 13
Teleconference with Margaret Harris and Corrie Perkin to decide the latest ABR Patrons' Fellowship. Teleconferences aren't ideal, but the hour-long conversation was fascinating. We gave it to Kerryn Goldsworthy, who will examine the future of book reviewing.
To Elsternwick for a fund-raising dinner. This time it was in aid of the Australian Chamber Orchestra. This was at a private house – a pile of a place on Kooyong Road. Our table ended up bidding successfully for a private concert by the ACO in Tasmania. Paul Keating, in Melbourne to deliver the Keith Murdoch Oration bemoaning our obsequiousness to the Americans (with Hillary Clinton in the country, even!), maintained a suitably frosty demeanour all night. Even when he emerged from the toilet he managed to comport himself like François Mitterrand.
November 14
The opening night of Madama Butterfly, with the visiting Hiromi Omura as Cio-Cio-San, a brilliant performance. Young James Egglestone – tall, well-built, more dimples than Clark Gable – made a fine Pinkerton, a light, accurate, high young tenor. Barry Ryan was outstanding as Sharpless, such a good role. The visiting Italian conductor drew wonderful playing from the local band. What an opera it is, done well. Done badly it is worse than a valiant Carmen.
November 15
Busy preparations all day for our Patrons' event at Boyd, in Studio 2. The room looked good. Mary Vallentine gave an absorbing talk on writing about music. I'd like to publish it, but she won't let me.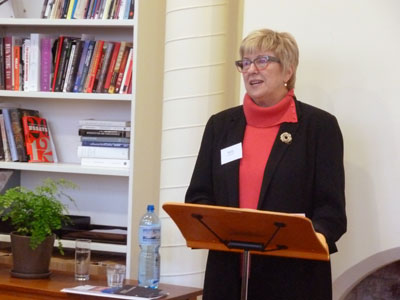 Mary Vallentine AO, CEO of the Melbourne Recital Centre
November 17
I read Richard Davis's biography of the Australian soprano Marjorie Lawrence, who grew up in Dean's Marsh – quite a journey. Remarkable the extent to which opera performances were broadcast around the world in the 1930s, when Lawrence began to appear at the Met and the Paris Opera. Strange and possibly apocryphal anecdote (Lawrence, like Melba and many another diva before her, was a considerable fantasist) about the time James Joyce tried to persuade her to sing the title role in Norma, to be funded by Louise Hanson Dyer. Lawrence declined, pointing out that she wasn't a coloratura soprano. The production was abandoned when Hanson Dyer found out how much it would have cost.
Philip Roth has announced that 'it is all over'. He has written his last novel, and doesn't even read these days. Strange to think there won't be another novel coming out each year.
November 19
Afternoon meeting at Swann House with Michael Heyward and his young associate David Winter. Their tenth-floor penthouse, formerly an apartment, boasts fine views of the Yarra. David and I discussed the new edition of Rose Boys, then Michael joined us for a chat about what I might do next.
To the State Theatre for the opening night of Lucia di Lammermoor, with Emma Matthews as Lucy: pretty-voiced if slightly effortful for the first half; then captivating in the gory mad scene. I liked the men very much, and found things to say in a subsequent blog about both operas.
November 20
Our first collaboration with City Library, on Flinders Lane: a conversation between Brian McFarlane and Peter Fitzpatrick about his book on the Frank Thrings. The dimly lit Majorca Room was full, the conversation easeful and amusing. The Library folk seemed pleased.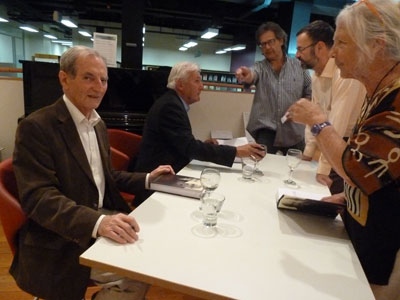 Brian McFarlane and Peter Fitzpatrick signing books
November 23
Mercifully quiet day at Boyd once we had dispatched the summer issue, which seemed to happen remarkably smoothly. Bernadette Brennan visited Boyd, keen to collaborate with ABR (she is the current president of ASAL). We discussed Geordie Williamson's book on the putative demise of Australian literature in our universities, which so incenses Michael Heyward, his publisher. Michael described it as a scandal when I saw him, but noted David Malouf's cautionary remark to him. DM pointed out that literature survived for hundreds of years before English departments were created. Bernadette, who is reviewing The Burning Library for me, sympathises with Text's determination to revive public interest in our formative books.
November 24, Saturday
To the Malthouse for Wild Surmise. I liked it more than Andrew Fuhrmann did in his review for ABR. Both actors (Jane Montgomery Griffiths and Humphrey Bower) are outstanding, in seriously wordy and emotional roles.
November 28
A hot evening for our last event at Boyd this year – the Shakespeare Sonnet-o-thon. Surprisingly, quite a few people turned up – about forty. Winging it, Ian Donaldson, Lisa Gorton, Rachel Fensham, and I read about forty of the sonnets, with intermittent comments, mostly by Lisa, who really thrives in these settings. I enjoyed myself and read those mighty sonnets with feeling. To conclude, I dragooned thirteen others into reading single lines from 'Shall I compare thee to a summer's day' – our version of karaoke.
December 1
New York. We're staying in an eccentric walk-up on 86th Street, close to Broadway. The weather is quite balmy compared with our last visit: about five degrees. This morning we went straight to the Metropolitan Museum for a preview of the Matisse exhibition, a highly edifying survey of his career that concentrates on a series of seminal works which he painted and repainted, often in markedly different styles. They have the famous woman in a blue gown – even the original blue silk dress itself. I enjoyed the Picasso vs Matisse show at the Tate some years ago, but this smaller show is equally good and justifies its theme: that Matisse was an unusually restless, questing painter, always interested in style, the art of painting itself.
Among the other twentieth-century painters I enjoyed the witty, fantastical Florine Stettheimer and her series of vast rectangular Cathedrals (Art, Broadway, Capital, etc.). Then it was off to that other formidable and well-buttressed Cathedral of Art – Gagosian, on Madison Avenue. We liked Twombly's Henson-like photographs and thought of buying one until a cool young man in a check waistcoat condescended to tell us the prices. Upstairs was a magnificent show: Twombly's Eight Last Paintings – three colours only: red, green, yellow.
December 2
To the Morgan Library: a sumptuous museum, freshly renovated and restored, with a new wing by Renzo Piano. The library, restored in 2010, is remarkable. On display were things like the manuscript of A Christmas Carol: endlessly revised as Dickens wrote, sent to the printer in early December, and published before Christmas. Not the easiest handwriting to decipher either.
Then, short of time, we raced to the Booth Theatre on West 45th Street for a matinée of Steppenwolf Theatre Company's production of Who's Afraid of Virginia Woolf? It is fifty years since the première of Edward Albee's eviscerating play. Never has it seemed so brilliant, so comic, so bruising. The announcer (Edward Albee himself, firm and stentorian) didn't need to tell us to switch off our cell phones and be quiet. There was a remarkable silence in the theatre throughout the performance, especially at the end, as George wilfully explodes the lie of their son's existence ('the blue-eyed bugger'), and as Martha dares him to produce the fateful telegram, only to spit at him (really spit) when he tells her (twice) that he ate it. It was like watching a great operatic duet. And indeed there is something decidedly musical about this greatest of Albee's plays (or greatest with A Delicate Balance, perhaps), which circles on itself and creates a series of leitmotifs, employing repetitions artfully, deliberately, hypnotically.
I must have watched Mike Nichols' film about fifty times, and I have seen it on stage (with Robyn Nevin and Diana Rigg among my Marthas), but this production is very special, principally because of our stricken George and Martha. Tracy Letts – the Pulitzer Prize-winning author of August: Osage County – makes his Broadway début as if he has ruled the place for decades. This is a brilliant performance, alert to every nuance or menace, listening, goading, brooding, defensive. Letts, with great vocal resources, turns violent, leonine, red-faced in his fury when Martha, as is her wont, oversteps the mark or when he taunts the gormless mathematician – no, biologist (the excellent Madison Dirks).
Amy Morton's Martha is slightly more modulated than others: diabolical when she needs to be, but also feminine and vulnerable, especially in those last, excruciating minutes. Carrie Coon, as the tipsy, barren Honey, almost steals the show during the dance scene ('Violence, violence').
The Booth – one hundred years old in 2013 – is perfect for Albee's chamber tragicomedy. The orchestra seats are low and close to the stage, creating great intimacy for this hushed, rapt audience. We felt like voyeurs at a terrible party as the queer quartet lacerated one another (photographs of production by Michael Brosilow).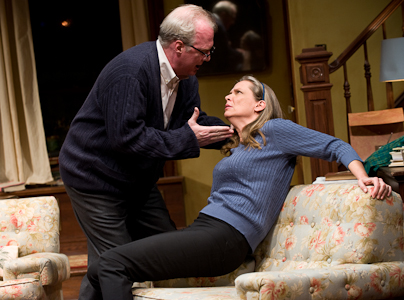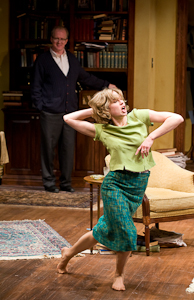 December 3
Long walk up Fifth Avenue as we waited for the Neue Galerie to open. It's increasingly hard to find bookshops in the States, but there is a small, decent one on Madison and 82nd Street. I always miss Books & Co., which the Whitney Museum devoured. I know of New Yorkers who have boycotted the Whitney ever since.
Ferdinand Hodler, Valentine Godé-Darel in Hospital Bed (1914, Kunstmuseum Solothurn, Switzerland)
Indulgently, coffee and Linzertorte in the Neue Galerie's Café Sabarsky overlooking Fifth Avenue. Then, knowing little about him, upstairs to look at the Swiss painter Ferdinand Hodler's exhibition, an illuminating experience, with its series of granitic self-portraits and various studies for the View into Infinity, his major work, a series of portraits of women in his life. I preferred his female portraits to Klimt's gaudy but admittedly technically astonishing portrait of Adele Bloch-Bauer in the main room upstairs. The Hodler show culminates in a series of remarkable sketches and paintings of his mistress, Valentine Godé-Darel, made while she was dying of cancer in 1915; followed by a rapid, almost topographical sketch of her emaciated corpse on its final bed, which gave him the Holbein-like deathbed painting that ends the show.
Mild this evening. People were dining outside restaurants on Columbus Avenue.
December 4
The first of several operas: a new production of Un Ballo in Maschera. David Alden's production is not a success, with constant clutter, preposterous flights of fancy, futile appearances of rows of desks, endless dispositions of clueless choristers on the giant stage, a winged Oscar as Icarus, massed umbrellas and overcoats, pointless camp high kicks from the waiters. In the great Act Two scene set in a cemetery, corpses slithered out of the graves, as I feared they would, and Amelia, singing some of the greatest music Verdi ever gave a soprano, nearly toppled into one of them. Unless one closed one's eyes (tempting), it was hard to concentrate on the music.
It took a while to become accustomed to Sondra Radvanovsky's strange, hooting soprano, but once I did the effect was magical. She acted beautifully, always inside Amelia's endlessly distressed and morbid character. Dmitri Hvorostovsky, though compelling as ever, didn't sing as sonorously as he did in Vienna a couple of years ago, but the prodigious Russian legato is intact and his sharp inhalations (distinctly audible even from this distance) remain louder than most of the other singer's proudest notes.
Best of all was Stephanie Blythe's majestic contralto. She is the only Ulrica I've heard who actually hit all the notes (high or low) with accuracy and effect. This was an amazing performance, even when the director (stupidly) had her withdraw from the stage for her final notes in the great aria in Act One. Then he brings her back on stage to smoke a cigarette amid the premonitory mayhem.
Almost as good was Marcelo Álvarez's Gustavo – especially in the last two acts. He was commanding in the love duet (though here again the director did the singers no favours, placing them too far apart for complete unison). Álvarez was at his best in the final act – accurate, powerful, expressive, sweet-toned, never forced – rather like Jonas Kaufmann (soon to sing Parsifal at the Met), but perhaps slightly less effortful (though I don't imagine the Argentine will ever attain the German's actorly or romantic appeal).
Finally, in the last scene, the production ceased undermining Verdi's masterpiece, and the opera ended powerfully. Still, the ovation was muted for the Met.
December 5
Why do so few people visit the Hispanic Society of America? Perhaps because it's situated on Broadway between 155th and 156th Streets and thus quite a hike. I've been visiting NYC since 1975 and had never bothered until today – a mistake. The Museum, deeply unmodish, has never fallen victim to faddishness or renovation. Created in 1904 by philanthropist Archie Milton Huntington, the research library contains the biggest collection of Hispanic literature outside Spain and Latin America, and the small gallery (walled downstairs in moulded terracotta tiles) has one of the great Goyas, his 1797 Portrait of the Duchess of Alba, as well as works by El Greco, Velázquez, and Murillo.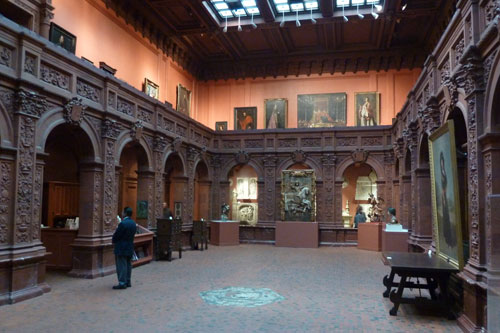 To Carnegie Hall for a rare, rapturous concert version of Bellini's penultimate opera Beatrice di Tenda. Last time it was performed in New York was in 1961, when Joan Sutherland (hours after her mother's death) made her American début as Beatrice in a concert version at Carnegie Hall – opposite a young Marilyn Horne. Neither of them would have been dismayed by this version from the enterprising Collegiate Chorale, with the American Symphony Orchestra. Never have I seen so many choristers on stage (I stopped counting at 160). The cast of young bel canto singers was outstanding, especially one of the Met's new sopranos, Angela Meade, who brought down the house in Beatrice's arias.
December 6
Met Alex Ross for coffee at the ominously named Café Grumpy, on West 20th Street, down in Chelsea, where he lives. Ross, far from curmudgeonly, seems a little guarded or recessive, happiest perhaps listening to concerts or playing recordings.
In his second book, Listen to This, Ross derides the cult of 'classical music' ('not the thing but the name') and regrets the gaudy foyerisation of concert-going. ('My black jeans draw disapproving glances from men who seem to be modelling the Johnny Carson collection.') To this outsider, opera in America seems rather democratic by contrast with Australia. It's still possible to buy cheap tickets in the Family Circle (with its excellent acoustics) at the Met – nothing like the inflated prices charged in Melbourne or Sydney. Some people dress up, most don't. There are no foolish sartorial strictures such as Opera Australia's 'Black Tie Only' for opening nights.
I asked Ross about his repertoire at the New Yorker. He decides what he reviews, always has. When he became the magazine's critic in 1996, he set out to broaden the coverage of music, introducing more new music. Not that his great predecessor Andrew Porter (whom he esteems) was negligent in this respect. Ross does not admire the new régime at the Met and will only cover a couple of its productions this season. (He has already written about Ballo and likes the new production more than I did.) He is critical of Peter Gelb's management and considers this a mediocre time in its history ('the quality of operatic programming and production in New York has lately plummeted, to the point where the city may no longer qualify as a pace-setting opera capital'). Of Robert Lepage's lumbering, exorbitant Ring he is openly scornful: 'Pound for pound, ton for ton, it is the most witless and wasteful production in modern operatic history' (as he wrote in the New Yorker).
Ross goes to the New Yorker office most days (after our chat he headed off to lunch with his illustrious editor). Away from the magazine he is writing a big book called Wagnerism: not the music per se, but Wagner's influence on taste and culture – something of a revisionist text, I gather.
I asked Ross about the future of arts commentary in America. He shares the almost universal pessimism. He is now the only staff music critic working for a magazine in New York. He is critical of newspapers (which are shedding their arts critics, as they are in Australia) and thinks they were foolish about the Internet – underestimating it for all those years and squandering the resource. He surprised me by saying that the new generation of cultural benefactors isn't proving as generous as previous ones. He thinks that many symphony orchestras will have disappeared in twenty years' time.
I asked him about further Australian visits (he toured some years ago with the peripatetic Australian Chamber Orchestra, and got as far as Bourke). He'd like to return when Wagnerism has been published.
As we were leaving he hung back in the café, straining to identify the music. Schoenberg, he said, as we shook hands and parted.
More opera tonight. This time it was La Clemenza di Tito, an old Levine speciality (he brought this Ponnelle production to the Met in 1984 after seeing it in Salzburg). It felt wonderfully lucid after the absurdities of Ballo. Barbara Frittoli, surely nearing the end of her career at the Met, dragged the production down. One had to admire her sweeping gestures and Callas-like intensities, but the high notes were strained. The young Elina Garanča was exceptional as Sesto, especially in 'Parto, parto'. The African American Tito (Russell Thomas) was bold and thrilling in his spirited Act Two aria.
December 7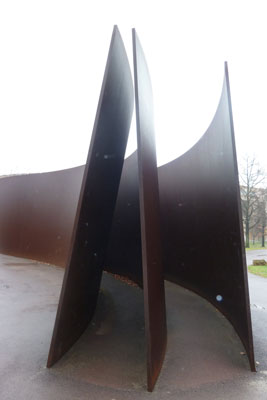 Early train to Princeton, changing at the quaint Princeton Junction. Frank Jackson was there to meet us, in light rain. He is a visiting distinguished professor in the highly Australianised philosophy department (five out of twenty faculty members). He and Morag Fraser relish their annual sojourns in Princeton, and it's not hard to see why. The university town, relatively small, is quite exquisite, with interesting architecture, unspoiled quadrangles and parks, and an excellent university art museum, as we discovered. Some fine public sculptures too, notably Richard Serra's triple-wave sculpture, incongruously close to the football stadium.
December 8
Back from Princeton for a 5 p.m. meeting at the Metropolitan Opera with Peter Gelb, the General Manager. On my way to his office I had a different glimpse of this remarkable institution, with its huge staff and resources. Joyce DiDonato – mezzo of the moment – emerged from a rehearsal for the new production of Maria Stuarda (the first time the Met has presented Donizetti's flamboyant opera).
Mr Gelb – who oversees both the financial and creative side of the company – saw me in his office, a comfortable room with modernist pictures and a huge television screen from which his eyes rarely strayed for long as we settled. On the screen was the Met's mighty stage. Men were removing the set for Un Ballo in Maschera and preparing for this evening's performance of Don Giovanni (which I stayed for). Ballo had just been transmitted live across America and around the world in the Metropolitan Opera Live in HD series that Gelb launched at the end of 2006 (his first year as General Manager). Gelb, wearing a dark suit, shirt and tie, as he customarily does when he introduces these simulcasts, was clearly pleased and relieved another one was over ('I am very concentrated on a day like today'). Proud of this series of global operatic offerings, he describes them with verve.
This season the Met is screening a dozen of its twenty-eight operas. Gelb is determined to include rarities and new repertoire – not just the old warhorses. HD thus represents, he hopes, a kind of microcosm of the overall season. I was pleased to learn that Les Troyens (the opera that drew me here this year) will be simulcast.
As in several countries, these simulcasts have enjoyed a phenomenal success in Australia (where they are screened some weeks later). When I asked Gelb how local opera companies around the world feel about this success, he was laconic. 'A high tide raises all ships,' he proverbialised. Savvy companies, to his mind, will court this new audience; others will be defensive ('It's a handy excuse for companies that aren't doing well to say that they've lost their audience because of us').
I asked Gelb how the artists respond to these new cinematic demands. How do they cope with the roaming cameras that I spotted during Tuesday's Ballo, when they were preparing for the simulcast (not a 'rehearsal', as Gelb politely corrected me).
Some artists – Elǐna Garanča is one example – like the challenge, he told me. They want to study the filmed rehearsal. Others prefer to ignore the medium, which suits him fine.
I asked Gelb to nominate his favourite actor–singers. He began with Simon Keenlyside – the great English baritone ('a complete Method actor'), who sang here recently in Thomas Adès's The Tempest – but then he became a little guarded, doubtless conscious of his huge stable of artists. 'I have the greatest respect for singers,' he noted. He admires their vocal and athletic feats. 'This is the most sporting of the performing arts.' He looks for singers who take risks, like Anna Netrebko. 'The reason why the audience love her – why she is the most beloved soprano in the world today – is her courage. The audience love that. They know they are seeing a fearless performance. It's like walking a tight rope with no net. The audience doesn't like timidity in this house.' Twice he spoke of opera as a 'gladiatorial event'.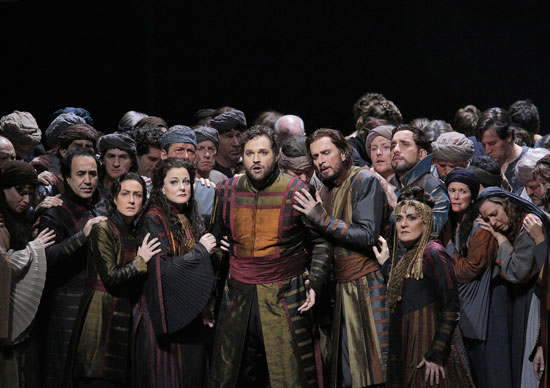 A scene from Berlioz's Les Troyens (photograph by Ken Howard/Metropolitan Opera)
Roberto Alagna, clearly a favourite of Gelb's, is another fearless artist. When he arrived last week to sing Radamès in Aida, he casually informed Gelb that he had a broken shoulder but that it would not be a problem.
Gelb was keen to talk about recent changes in direction at the Met. When he joined the company he felt that it lacked a certain emphasis on modern theatrical values. His major criterion when hiring directors is 'great storytelling'. He cites Robert Lepages's The Tempest, and William Kentridge's production of Shostakovich's The Nose (2010) as good examples of what he sets out to achieve.
'Directors,' he adds, 'are all looking for theatrical performances from singers, and I think that the art form cannot possibly survive without a more unified acting standard. Why should opera be stuck in a rut?'
Alluding to recent contretemps with critics over the Lepage Ring, he said: 'I have this ongoing battle with critics who feel sometimes that we're pandering to the public by hiring directors who actually want to tell the story of the opera. If you don't tell the story of the opera you are shutting off the possibility of any new public ever liking it.'
He spoke of 'an audience in transition'. Some people want change, others shun it. He recalls one recent example of this facile conservatism: 'I can't say I was feeling particularly happy a couple of weeks ago when I was sitting in a performance of Aida and the audience applauded when two horses entered the stage.'
In closing, I asked Gelb about the present health of opera in the United States. 'I rate it as an uphill struggle, but a struggle that is worth fighting for,' he said. Without proper musical education programs in schools, he said, the challenge is enormous. (Texas is the only state that currently has such a program.)
'My whole credo is to be a populist. I want to connect people to the art form. We all have to be thinking in new ways.'
December 9
Gloomy day – light rain at last. A complicated route to Roosevelt Island to see Louis Kahn's Four Freedoms Park, which has just opened, forty years after Kahn's death, and almost seventy after that of FDR, whom it memorialises. The view of the United Nations building and beyond is magnificent, but if they want more people to visit the park they will have to make it easier to get there.
The Franklin D. Roosevelt Four Freedoms Park, with a monument of the namesake at the point
To the Whitney, which will be moving downtown soon. The Metropolitan Museum will take over Marcel Breuer's gallery and house its contemporary collection there. The permanent collection has gone already, but we enjoyed the temporary exhibitions, including Richard Artschwager and Warhol and his disciples (Sinister Pop).
We dined at Ouest, on Broadway, a slightly bizarre occasion, because of the closeness of the tables. We sat next to two matrons who hadn't seen each other for some years and had much to tell – an interesting contest, with honours emphatically going to the dark-haired woman in the arrestingly embellished jumper whose litany of cancers and catastrophes soon vanquished the woman to my right.
The front bar, to which we retreated for cocktails, was more fun, with baseball overhead and a kind of lazy flirtation between the sure, impassive barman and two affable women perched on stools. When one of them called him gorgeous he laughed: 'I'm fifty, I'm balding, I dress like an undertaker, and you think I'm gorgeous.'
December 10
The usual Amtrak chaos at Penn Station, but we caught the 9.30 and sat in the Quiet Coach at the rear. It was remarkably foggy to Philadelphia, and remained so all day. Long walk to the Barnes Museum, recently moved to the centre of town after an epic struggle with the Barnes Foundation, which had managed for many decades to make it one of the most exclusive and intractable art museums. The building itself, near the Rodin Museum and close to the Philadelphia Museum of Art, is impressive but rather too grand for the tight domestic rooms they have recreated within, a stipulation of the Barnes people. I liked it much less than my esteemed contributor Patrick McCaughey, who reviewed it for our Art issue last year.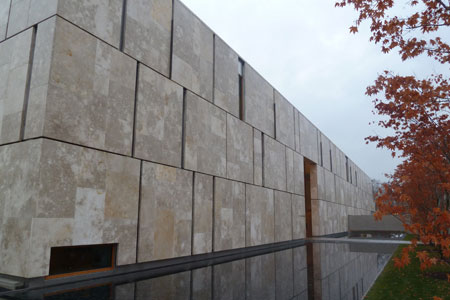 The mood inside is not welcoming; all the staff seem to consider the public fortunate to set foot inside the museum. Each room has a stupid blue line on the floor, and every time someone steps over it one of the guards cautions them. I hate that old-fashioned officious gallery mentality. There are some exceptional pictures, but they are interspersed with too many weak ones – and a plethora of appalling Renoirs. The displays themselves are bizarre – a series of absurd juxtapositions of wholly unrelated and unrelatable works, decorated with mediocre decorative arts and a bewildering range of brass ornaments on the walls. It was hard going.
December 11
We spent the day at the glorious Museum on the hill. Why don't more tourists beat a path to its door? We had many of the rooms to ourselves, especially the Asian ones and the early Italians and Flemish painters. Here I found some absolute gems: a Giovanni Bellini Madonna and Child in a darkened alcove; Botticelli's magnificent four-panel cycle on the life of Mary Magdalene; Rogier van der Weyden's magnificent Crucifixion; and so forth. After lunch we tackled the other wing (five hours in all), saving the great Twombly room until last, with its Fifty Days at Ilium (1977–78).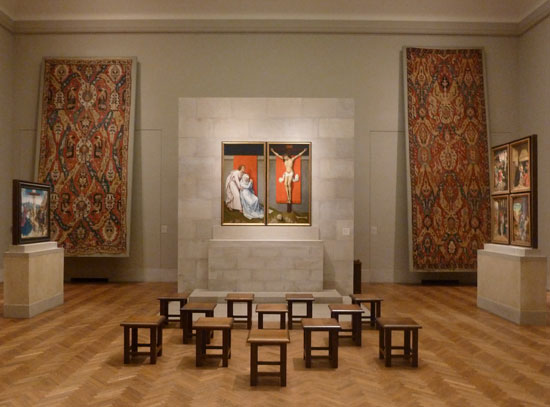 Rogier van der Weyden's diptych at the Philadelphia Museum of Art
Over the road we visited the Perelman Wing of the Museum, which has a Winslow Homer exhibition featuring his major picture The Life Line. Also, six sculptures by Twombly, much honoured in the States a year after his death; the most recent sculpture being a Chariot from 2011.
Read in the Times that Charles Rosen (whose new book Michael Morley has just reviewed for us) has died, aged eighty-five. That's quite young for the Times. One edition last week carried obituaries for Oscar Niemeyer (104), Elisabeth Murdoch (103), and Dave Brubeck (91).
December 13
Boston. Straight to Harvard Square. The main library is closed to tourists but we visited the Houghton Library and admired the manuscripts on display. Chris Wallace-Crabbe had told me to visit the Grolier Poetry Bookshop on Plympton Street. I was struck by the paucity of stock but said nothing to Elizabeth, the woman behind the counter. I asked her about the state of the trade and gathered that things are very tough. The shop is smaller and less impressive than our own Collected Works in Melbourne. They present poetry readings here too. Last week Kathleen Spivackread from her new book on Robert Lowell, and sixty people crammed into the shop. Elizabeth was appalled to learn later that Helen Vendler had stood outside on the pavement, unable to get in.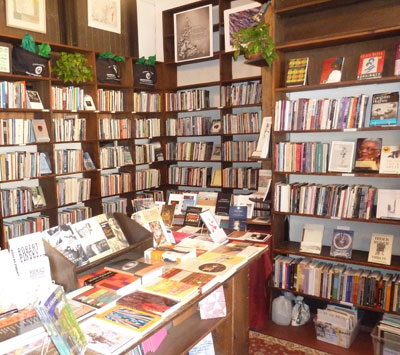 Then a long walk to the Mount Auburn Cemetery (very grand, and very familiar from Hollywood films, like much of Harvard), in search of Henry James's grave, only to learn that the Jameses are buried across the road in the older Cambridge Cemetery, which is where Cambridge residents are buried. It is a modest plot, on Prospect Drive. Buried there are Henry's parents, William and Alice James, his sister Alice, and the odd nephew. It is all quite touchingly austere.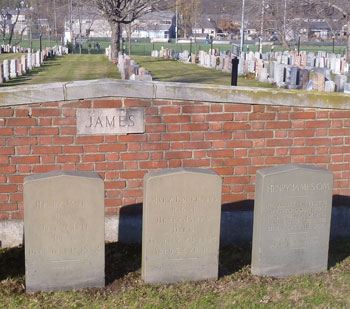 December 14
A fine morning for our long walk up Commonwealth Avenue to the Common. This must be one of the grandest intact nineteenth-century boulevards in a major American city – a good mile or two of handsome four- or five-storey brownstones on either side, all of them subtly different, with narrow roads on either side of the broad garden running down the middle of the Avenue. One could almost picture Olive Chancellor at her window.
I lunched with Christina Thompson, a former editor of Meanjin and the current editor of the Harvard Review. Christina was keen to try the Cafeteria on Newbury Street where she intends to host a part during the daunting-sounding MPA conference next March. I hadn't seen Christina since she left Australia in the late 1990s. She asked about our philanthropy program. I hadn't realised that the Harvard Review is only twenty years old. Christina is one of two staff members (both of them work part time). She wants to create an endowment to guarantee the magazine's survival. Like me, she enjoys the business of editing copy more than anything else. I have been thinking about appointing a poetry consultant, so I asked Christina about her experience in this regard. Nam Le, until recently, chose her fiction. They receive thousands of poems every year, despite the fact that they don't pay people. There are so few outlets now for creative writing. Like me Christina despairs about the future of arts commentary. She listed the major US newspapers that no longer carry book reviews.
My first visit to the Isabella Stewart Gardner Museum. The old house is a monument to one collector's vanity and megalomania – the odd fine picture interspersed with some weak ones and dreary mementoes of her insatiable collecting in Europe – whole choirs and pews in one of the dark, tiled rooms. The controversial Renzo Piano extension across the way is admittedly handsome, and we admired the bright restaurant and clever auditorium, but the new wing hasn't added much exhibition space, and the contrast with the original Venetian heap is jarring.
This evening we followed the horrendous news from Newtown in Connecticut, where twenty students aged ten or younger have been murdered – shot in their classrooms. It is one of the more grotesque massacres in American history. But will it revive thoughts of greater gun control? Obama, in his press conference, was cautious to the point of vagueness, something that Mayor Bloomberg promptly denounced.
December 15
Strange to visit Connecticut hours after the massacre in Newtown, just twenty miles from New Haven. Many of the ubiquitous flags were at half-mast as our Amtrak train followed the coast to New Haven, past all those dinky coves with their yachts and speedboats covered in hard white plastic condoms. No one was sailing. No one was playing golf. No one was even walking a dog.
On the way I began reading Coetzee's new novel, The Childhood of Jesus. It seems to mark a return to the limpid fiction of the 1970s and 1980s, before Australia and experimentation. The portrait of the boy, David, is affecting, and there are some beautiful images, such as when he winds himself in sheets drying on a line in order to savour the scent of cleanness. How closely Coetzee must have listened to the persistent, maddeningly logical questioning of children.
We came here a day earlier than planned because of all the publicity about the newly reopened and expanded Yale University Museum. The new extension nicely complements Louis Kahn's modernist building of 1953. This must be one of the finest small museums in America. The highlights are many: the famous Sienese collection, Lorenzetti's St Martin de Tours, Cima's Holy Family, Pollaiuolo's remarkable Hercules and Deianira, and Fragonard's Rest on the Flight; Van Gogh's Night Café, Sol LeWitt, two Rothkos, Duchamp and his Société Anonyme, Hopper's Rooms by the Sea, two magnificent Morandis, an exquisite seascape by Mondrian (the thing I would have most liked to slip into my suitcase), several Stuart Davises (who fascinates me more and more), a Warhol Electric Chair from 1964, and an early botched but fascinating Pollock from 1943 that so arrested Peter Schjeldahl in his paean to the museum in this week's New Yorker.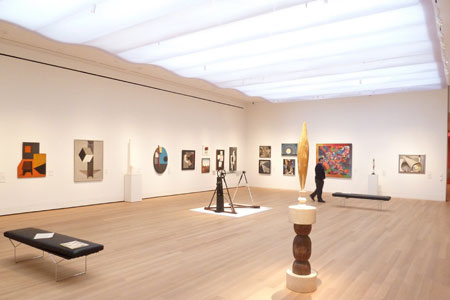 Angus Trumble arrived at six, just back from London. A friend of his in the Justice Department had told him that none of the victims in Newtown had fewer than three gunshot wounds; some had as many as eight. There are no wounded survivors – a mercy at one level, horrific at another, for it means that the murderer executed them and didn't just spray bullets around those two classrooms.
We dined at Zinc. Our friend Donna Curran (the restaurateur), taking everything in, moved briskly round the room, reminding me of Mietta O'Donnell. Angus was fading, so we finished at nine, but he led us on a quick drizzly tour of Yale, through the sleet. I hadn't realised that the Collegiate Gothic colleges are early twentieth-century creations.
December 17
New York again, for a couple of days, mainly to see the revival of Les Troyens at the Met. Deborah Voigt, our Cassandra, sounded thin-voiced; perhaps all those arduous Brünnhildes have sapped her. She acted well, though, and looked fine in her sleek costume. During Part One we enjoyed Zambello's taut, clear storytelling, which reminded me of her Ring in San Francisco in 2011. But the real glory of Berlioz's opera lies in the final three acts. Susan Graham (looking like a movie star, very tall, wearing slightly incongruous diamonds) was our Dido. The voice is very beautiful and accurate: not huge, but sufficiently carrying (we were in row J). This was one of the most exquisite performances I have ever heard in an opera house. The music in Act Four is almost unbearably beautiful: especially the septet and the orgasmic duet that ends it. Berlioz's opera – moody, unwieldy, overlong – contains some of the most soulful music I know and manages to transcend its dramatic limitations – including those lengthy ballets.
Our Aeneas (Marcello Giordani) stayed with Graham during the duet, but his singing in Act Five was excruciating and there were boos when he took his curtain. What fiendish music Berlioz wrote for the male voice. Soon after this performance Giordani sensibly withdrew from the production and announced that he was abandoning the role.
December 19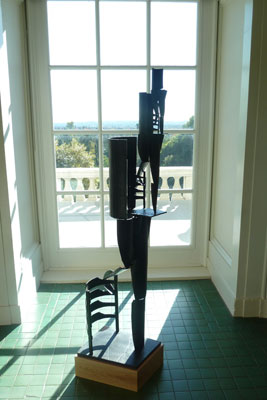 Gorgeous weather in LA, while the Midwest prepares for blizzards. We always stay at the fourteen-storey Los Angeles Athletic Club, which is situated Downtown in the seedy jewellery district. There are more faces in the restaurant this year, and our taciturn Latino waffle-making friend is kept busy at breakfast.
We hired our car at Enterprise on Pershing Square. The tall, lean, punning graduate behind the counter, possibly determined to transcend Enterprise as soon as possible, ended each sentence with 'I appreciate it'. Then we edged our way onto the 110 and reached Pasadena without incident. Excellent to visit Vroman's, on Colorado Boulevard, the best bookshop I have seen here.
It was a glorious day for a walk through the gardens of the Huntington Museum. Inside the Art Gallery we were surprised to find an exhibition by Ricky Swallow, the young Australian sculptor, and his wife, the painter Lesley Vance. This is the first time the Huntington has ever exhibited contemporary art.
We had the Gainsborough room to ourselves for fifteen minutes. Again I admired Reynolds's Mrs Siddons, while noting the poor condition of the painting (C. said Reynolds experimented with bitumen). This amazing room will never change, but elsewhere they have moved things around. The Rogier van der Weyden Virgin and Child (for me one of the greatest pictures by any artist) now has greater prominence.
Back to the Norton Simon in Pasadena, one of my favourite museums. The contrast with the sniffy Barnes was stark. Norton Simon even manages to rehabilitate Renoir; he bought some outstanding Renoirs, with none of those blousy, almost pornographic tastes of the Philadelphian plutocrat.
December 20
We decided to brave the freeway leading to Getty Museum, drawn by the newly opened show The Dawn of the Renaissance: Painting and Illumination, 1300–1350. It has several Giottos, including the wondrous Peruzzi Altarpiece. New to me was the luminous Pacino di Bonaguida, in many ways the star of this small, focused, edifying show. Next we admired Heemskerck's remarkable Ecce Homo, from Warsaw, which the Getty has just restored at vast expense – an exceptional mannerist work, reminiscent of Rosso Fiorentino's Deposition in Volterra.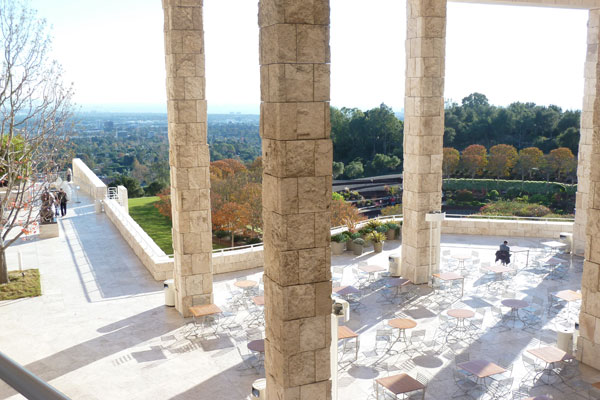 We lunched in the excellent restaurant, with its phenomenal view. The recent rain has resulted in the clearest skies I have ever seen in LA. I had never managed to see the Pacific from the Getty before.
Then we set off to Santa Monica to meet the food historian Anne Willan and her diplomat–bibliophile husband Mark Cherniavsky. Last October C. reviewed their new book, The Cookbook Library. When I sent Anne a copy she invited us to call next time we were in Santa Monica. They moved here five years ago after selling their famous cookery school La Varenne in Paris. Anne, born in Newcastle, has a slightly Americanised English accent. Mark, despite his name, sounds distinctly British. We found him in his library, among his covetable books and manuscripts, but he joined us in the kitchen for tea and financiers, a small cake in the shape of a gold ingot which a baker opposite the Bourse created for the eponymous financiers.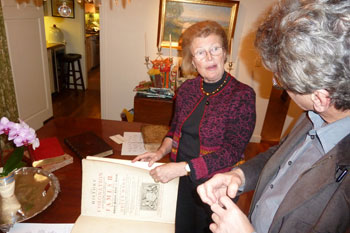 'I'm always writing something,' Anne told me when I asked. Her new book is a memoir titled One Soufflé at a Time. St Martin's will publish it in mid-2013. She and Mark now have doubts about the title, but we reassured them. They told us about their first travels in Australia, back in the 1970s, when Anne cooked with Elise Pascoe in Sydney. A protracted strike by air-traffic controllers led to an enforced three-week motoring holiday. When they first visited, the local food was stolidly British and uninspired ('Windsor soup and all that'). Anne has been impressed by the transformation and thinks it happened faster here than in the States. Like everyone, she remembers Berowra Waters.
We sat at the dining table (Houdon's Voltaire presiding above) and admired many gems from their library, some going back to the fifteenth century, the first things published on what we might call food culture. Most generously, they gave us two hours. I hope that next time she visits Anne will give a talk at ABR.
Back at the Club we headed to the third-floor bar, hoping it might be open after the day's filming (on our arrival we had been told they were filming Mad Men 6 upstairs). I crossed the lobby, evaded a cruising floor manager, and entered the bar. In the distance Don Draper and Roger Sterling, both in tuxedoes and smoking their heads off, were playing poker at a long table with a number of other men. I had wandered onto a brilliantly lit set. The characters went on brooding over their cards, so we didn't seem to upset anyone.
Downstairs, the staff directed us to a makeshift bar on the second floor. Just then Elisabeth Moss, the brilliant actor who plays Peggy Olson, came round the corner with an attendant and stepped into an elevator. Dressed in a long green silk gown, with a wrap, Peggy was heading upstairs to take part in a scene. We joined her. As we stepped out of the lift Peggy gave C. what can only be described as an award-winning smile.
December 21
I assumed the LAAC's new reference library was part of the Mad Men set, but it was still there this morning after the (mostly Latino) crew had dismantled the set. I borrowed Harold Nicolson's wartime Diary. From 3 February 1942 comes this anecdote about Queen Victoria. Nicolson had been lunching with an old aristo who reminisced about being in Florence in 1888 when they unveiled a plaque to honour the renovation of the Duomo:
He watched it from the crowd, and while he was waiting, a carriage drew up just in front of him. In it was Queen Victoria and her lady-in-waiting. He noticed that the Queen fumbled in her corsage and took out a locket which she held up to the Cathedral at the moment of unveiling. He was puzzled by this odd behaviour in a Protestant woman, and meeting the lady-in-waiting some days afterwards, he asked her what it meant. She said, 'Oh, it was a miniature of the Prince Consort. She always holds it up so that he can see something interesting or beautiful.'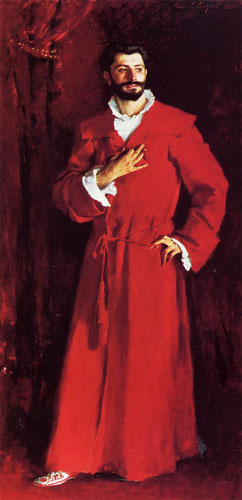 John Singer Sargent, Dr. Pozzi at Home (1881)Los Angeles really is a magnificent city for museums. It's a mystery to me why so few Australians bother with them. Today (our last here) we spent a few hours at LACMA, which is hosting a big show called Caravaggio and His Circle. Then we returned to exquisite Hammer Museum at UCLA. There are so many treasures in its three small rooms: Rembrandt's late Juno; a Pissarro Montmartre; Sargent's erotic portrait of the gynaecologist Dr Pozzi in a long red dressing gown; Fragonard's exquisite Education of Mary; the three Van Goghs, notably Hospital at Saint-Rémy, from 1889, when Van Gogh was treated there for mental illness; such a poignant creation, with it foregrounding of the wild trees in the garden rather than of the bleak hospital itself, where someone might have saved him, recognised what he was creating that year, but did not.
Opposite Frank Gehry's titanium inspiration, the Disney Center, is the Museum of Contemporary Art. You go there principally for the Rothko room, all eight of them, but downstairs was a brilliant show – Destroy the Picture: Painting the Void, 1949–1962, curated by Paul Schimmel, who was promptly removed by MOCA. To quote from the impressive catalogue, this exhibition 'focuses on destruction as a mode of production in international painting of the post-World War II period' and considers European, Japanese, and American artists 'who staged a literal assault on the picture plane'. Variously, they gouge it, slash it, burn it, knot it, encrust it, and smear it with bloody pelts. People like Burri, Fontana, Klein, and Rauschenberg are seen at their best. But I was unaware of artists like Otto Muehl and Kazuo Shiraga and Salvatore Scarpitta and Shozo Shimamoto.
What was it Thomas Gray said not long before his death? – 'For travel I must, or cease to exist.'