Advances
The Update - June 5, 2018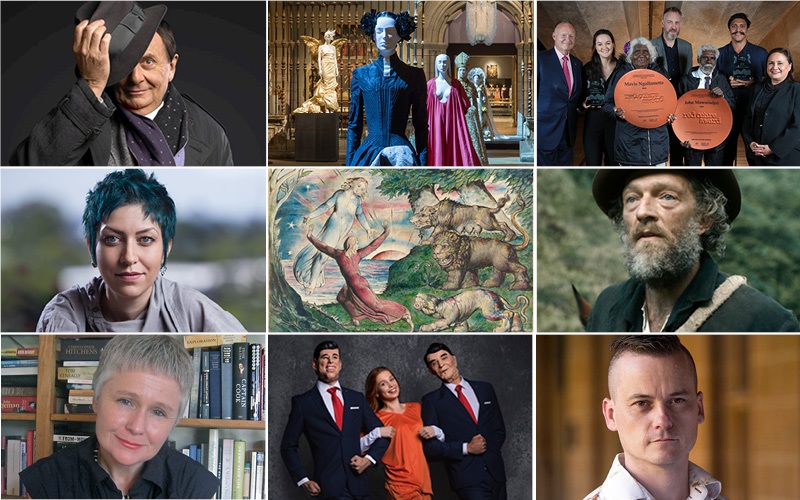 Recent ABR Arts reviews
Melbourne Rare Book Week
Over forty free events and exhibitions will take place from 29 June to 8 July as part of the 2018 Melbourne Rare Book Week. This year marks the centenary of Mary Shelley's Frankenstein, and fittingly there is emphasis on the Gothic in this year's program, which includes 'Dark Imaginings', an exhibition curated by Jen Hill at the University of Melbourne exploring the Gothic from the mid-eighteenth to the nineteenth century, and talks and readings with titles such as 'Vampires and Victorian eroticism', 'Ghastly Gothic Reads', and 'Dark Tales'. Other highlights of the program include a lecture at the National Gallery of Victoria on the life and works of William Blake by San Francisco-based antiquarian bookseller John Windle and 'Sappho of Lebsos and representations of women's sexuality in Special Collections', a talk at Monash University exploring historical recordings of sexuality, as represented in fictive works.
Australian artist Bill Henson will also launch his new book Kindertotenlieder at Douglas Stewart Fine Books. Henson began working on the book in 1976, inspired by German poet Friedrich Ruckert's poems written for 428 children killed by scarlet fever in 1833, and also Gustav Mahler's song cycle composed in response to the poems seventy years later. The festival will culminate in the Melbourne Rare Book Fair on Friday 6 to Sunday 8 July. To see the MRBW program and register for events, visit www.rarebookweek.com
Assassins at Black Swan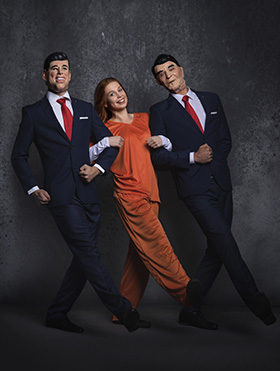 Black Swan State Theatre Company's production of Stephen Sondheim's 1990 musical Assassins, a revue-style portrayal of men and women who attempted to assassinate the President of the United States, will be performed at the Heath Ledger Theatre on 19 June. Ominously, Black Swan describe Assassins as 'a timely reminder that those in power ignore the marginalised in society at their peril'.
Sondheim's musical, and the book by John Weidman, was originally produced from a script by Charles Gilbert Jr., about a Vietnam veteran who becomes a presidential assassin. Sondheim and Wiedman expanded the idea to include a multitude of assassins across different time periods and presidencies. Weidman, on conceiving Assassins, said in an interview with the New York Times in 1991: 'What's provocative and upsetting and disturbing is the lives [the assassins] led up to that point and what those lives reveal. So in a sense the appalling and horrifying acts with which they ended their journeys were like tickets of admission into the show, rather than what the show was about.'
Assassins was first performed in Australia in 1995 at the Fairfax Studio, Melbourne. Black Swan's production is directed by Roger Hodgman and the cast includes Mackenzie Dunn, Brendan Hanson and Geoff Kelso.
Thanks to Black Swan State Theatre Company, two new or renewing subscribers to ABR will receive double passes to Assassins on Tuesday 19 June. For more information, see our Giveaways section below.
National Indigenous Arts Awards
The Australia Council for the Arts has announced the winners of its 2018 National Indigenous Arts Awards at an event at the Sydney Opera House on 27 May. The Red Ochre Award for outstanding lifetime achievement was shared by two artists: bark painter and sculptor John Mawurndjul (Arnhem Land, NT), and weaver and painter Mavis Ngallametta (Aukurun, QLD), both of whom, according to Australia Council Chair Rupert Myer AO, have 'helped to strengthen the visibility of Australia's diverse First Nations art' over their long, respected careers.
Left to right: Rupert Myer, Hettie Perkins, Mavis Ngallametta, Tony Grybowski, John Marwurndjul, Thomas E.S. Kelly, and Lee-Ann Tjunypa Buckskin
Bundjalung, Wiradjuri, and Ni-Vanuatu dance choreographer Thomas E.S. Kelly (NSW) won The Dreaming Award for an emerging artist aged eighteen to twenty-six years. Arrente and Kalkadoon curator, writer, advisor, and presenter Hettie Perkins (NSW) was the recipient of the Australian Council Fellowship for established artists, supporting creative activity and professional development for up to two years.
The event, held on 27 May each year, coincides with the anniversary of the 1992 Mabo ruling, which recognised the rights of First Nations people as the traditional owners of their land. To learn more about the Awards and the winners, visit the Australia Council website.
A PLATFORM for people with disabilities
Eastern Riverina Arts has received $580,000 from the National Disability Insurance Agency (NDIA) for a project aimed at providing improved accessibility for people with disabilities attending festivals in regional New South Wales. Eastern Riverina Arts will team up with Information and Disability Education and Awareness Services (IDEAS) to develop PLATFORM, an accessible and portable 'sensory space' adapted from a forty-foot shipping container, designed to offer festival experiences to people who otherwise may not attend due to their disabilities. Visit www.easternriverinaarts.org.au to learn more.
Nasim Khosravi receives a Bell Shakespeare creative placement
Brisbane-based Iranian artist Nasim Khosravi is the final recipient of Bell Shakespeare's 2018 philanthropy-funded creative placements. She has been named Assistant Director for Bell's production of Julius Caesar.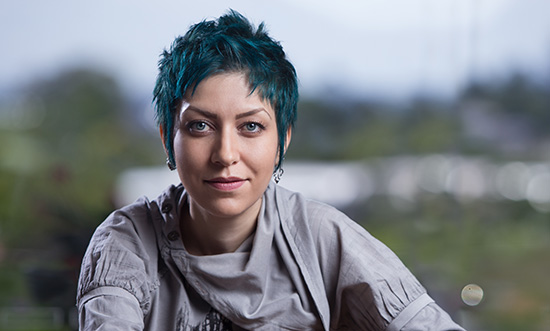 Nasim Khosravi
'Nasim has a history of creating radical work that challenges political orthodoxy … She will be a key creative voice in the room, contributing to all aspects of the production in rehearsal,' said Bell's Associate Director James Evans.
Nasim Khosravi founded the Iranian–Australian theatre company Baran, and recently finished an observership with Queensland Theatre. To learn more about the placement, visit Bell Shakespeare's website.
Ashley Hay appointed as Editor, Griffith Review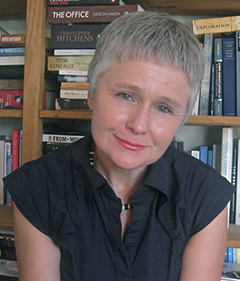 Ashley HayPast ABR Dahl Trust Fellow Ashley Hay has been appointed Editor of Griffith Review. 'It's my dream job … I welcome the opportunity to build on this traditions and ensure that the quarterly continues to thrive and adapt to changing circumstances and opportunities,' said Ashley Hay, who has also written several books, including The Railwayman's Wife (2013), and, her most recent novel, A Hundred Small Lessons (2017). Her ABR Dahl Trust Fellowship essay 'The Forest at the Edge of Time' was published in the October 2015 Environment issue of ABR. In 2016 she won the Bragg UNSW Press Prize for Science Writing. Founding Editor Julianne Schultz will become publisher of the journal. ABR offers a discounted dual subscription with Griffith Review.
A cool change in Perth
Cool Change Contemporary (CCC), a new artist-run initiative, will be opening soon in the historic Bon Marche Arcade building in Perth's CBD. The venue will host a monthly program of exhibitions complimented by regular workshops, performances, and screenings. CCC was founded by Jess Boyce, Emma Buswell, Grace Connors, Miranda Johnson, Melissa McGrath, Shoshana Rosenberg, and Matthew Siddall.
'The flexibility of the space to present work on a variety of scales will hopefully also encourage artists from around Australia and abroad to consider Perth as a viable option for presenting their work … we're seeking to develop a community rather than simply a gallery,' said Jess Boyce in an interview with ArtsHub.
CCC is currently calling for studio tenants, as well as proposals from artists, curators, producers, and collectives across art forms to facilitate exhibitions, events, and other activities commencing from August 2018 to February 2019. More information can be found at www.coolchange.net.au
2019 NLA Creative Arts Fellowship
Applications for National Library of Australia's Creative Arts Fellowships are now open. Two fellowships will be offered in 2019 for artists and writers to develop new work inspired by NLA's collection, which comprises of over ten million items. The fellowships are open to established or emerging artists working in any art form or writing genre. Recipients will each receive $10,000 towards travel and accommodation or project expenses as well as special access to NLA's collections and the expertise of its library staff. Applications close 1 July 2018. For more information, visit the NLA website.
SANE Australia and The Dax Centre
The Victorian National mental health charity SANE Australia has merged with The Dax Centre, a non-profit learning centre promoting mental health through art, thanks to a $1.19 million investment from the Victorian Government. The merger will provide The Dax Centre with new opportunities to grow its programs and to ensure the ongoing care of more than 16,000 works in The Cunningham Dax Collection, donated by artists, poets, and groups experiencing trauma.
'Poetry … gave me hope, purpose, and meaning at a time when my life was at a crossroad … The Cunningham Dax Collection has opened up a wider forum for my work to be read alongside the work of others who have told their stories in creative and artistically engaging ways,' said SANE Ambassador Sandy Jeffs. Visit www.sane.org and www.daxcentre.org for more information.
Satan Repentant by Michael Aiken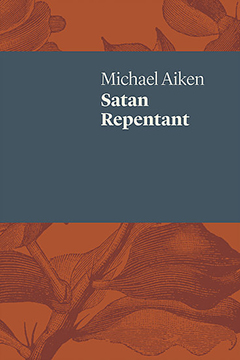 Author James Bradley will launch Michael Aiken's verse novel Satan Repentant at an event on Saturday 16 June from 4 pm – 5.30 pm at Sydney's Better Read Than Dead bookstore. A reading from Michael Aiken will be followed by informal drinks.
Satan Repentant was written as part of Australian Book Review's inaugural Laureate's Fellowship under the mentorship of David Malouf. The novel is described as 'a violent epic leaping from the cosmological to the infinitesimal, a modern day drama of revenge, resentment, and remorse, telling a new myth of what would happen if Satan tried to apologise and atone for all his crimes.' To register, visit Better Read Than Dead's Events page.
Our Mob 2018
Expressions of interest are now open for Aboriginal artists to present their works for Our Mob, an exhibition celebrating Aboriginal art making across South Australia. Our Mob is open to all Aboriginal and Torres Strait Islander artists living in South Australia. Entries close 5 pm Friday 6 July 2018, and the exhibition will open on 31 August.
For more information, visit: https://www.adelaidefestivalcentre.com.au/whats-on/exhibitions/our-mob-2018/
Elizabeth Jolley Short Story Prize 2018
The winner of Australian Book Review's Elizabeth Jolley Short Story Prize for 2018 will be announced at a ceremony at fortyfivedownstairs on Monday 20 August 2018. Readings from each of the shortlisted stories will precede the announcement.
The Jolley Prize ceremony is a free event and all are welcome, but please register you interest to attend via This email address is being protected from spambots. You need JavaScript enabled to view it.. More details will follow in coming weeks. Sign up to our free monthly eNews newsletter or follow us on Facebook or Twitter to get all the latest news about our prizes.
Giveaways
Assassins (Black Swan State Theatre Company)
Thanks to Black Swan State Theatre Company, two new or renewing subscribers to ABR will receive double passes to Assassins at 7.30 pm on Tuesday 19 June at the Heath Ledger Theatre in Perth.
Tea with the Dames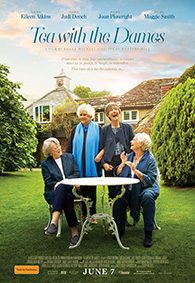 Thanks to Transmission Films, five new or renewing subscribers will win a double pass to Tea with the Dames, a documentary featuring Judi Dench, Maggie Smith, Eileen Atkins, and Joan Plowright. In cinemas June 7.
To be eligible for these giveaways, you must be a current or new paid subscriber to the print edition of ABR or to ABR Online. To be in the running please email Grace Chang at This email address is being protected from spambots. You need JavaScript enabled to view it. with your full name and contact details. Preference is given to subscribers who have not received a giveaway in recent months.