Paul Gauguin's storied journey to Tahiti represents one of the great exotic odysseys in modern art. In 1891, in a fit of frustration with the superficiality of the Parisian art world and a city that was 'rotten, filthy and disgusting', as Gauguin's titular character puts it, Gauguin left his young family and journeyed to the proverbial South Seas in search of the raw poetry of wilderness, a more authentic mode of living and a Rousseauian idea of 'savagery'. This is, of course, a highly cinematic idea that has been duly depicted in several films, all of them relatively low in budget and mostly unspectacular in quality.
The most respectable is arguably Wolf At The Door (1986), in which the Post-Impressionist is played by Donald Sutherland, whose son Keifer also took up the role in Paradise Found (2003). Anthony Quinn played Gauguin with admirable brio in the Van Gogh biopic Lust For Life (1950). This latest interpretation of the artist's travails, from director Edouard Deluc, firmly buys into the romance of Gauguin's adventures. Yet despite technical aplomb and dazzling cinematography, Gauguin is limited by a narrative that seems unable to choose which aspect of the artist's life to focus on and dialogue that barely goes beyond exposition and offers little in the way of convincing linguistic distinction between characters. It also plays somewhat too loosely with the reality of Gauguin's biography.
The film begins with Gauguin (the always enigmatic Vincent Cassel) despondently traipsing the grey streets of Paris. Unable to sell his paintings, he forces his large family to live in a squalid apartment, rails to his friends about the injustices of his perceived failures, and dreams of moving to Polynesia, where he believes he 'won't need money'. With startling abruptness, the film then switches to this South Pacific idyll – nothing is shown of the journey itself, let alone any farewells to his wife and children – where an emaciated Gauguin is living in a primitive hut. A diabetic, he suffers a serious heart attack, a reminder of his mortality that prompts him to set out by horseback into the untamed Tahitian interior to see a major landmark. On the way, he comes across a tribe that offers him a wife, Tehura (Tuheï Adams), whom he accepts. The development of their relationship, and Gauguin's ongoing efforts to eke out a living, make up the rest of this desultory film.
Gauguin's strengths are, it should be said, very strong. Several long, silent scenes show the artist painting alone, the camera work offering intimate close-ups of brush strokes, wiry grey beard, sketchbooks being flicked through, and food being masticated. These are visceral, engrossing passages. The film is also sumptuous visually, the shallow-focus filming technique bringing stunning vibrancy, and a certain solidity, to the undulating Tahitian landscapes and glistening seascapes.
Where Gauguin falls down is in its failure to draw the viewer into an emotional investment in any of its anti-hero's many struggles, due to its cursory treatment of each of them; it covers too many bases too lightly, instead of narrowing its focus to one or two areas of his life – arguably an essential exercise in distillation for a successful biopic. Gauguin's marriage(s), his art, his health, his poverty, and his quest for purity and wildness are all given equally insufficient screen time and dramatic depth, the film switching between these issues with little flow or coherence.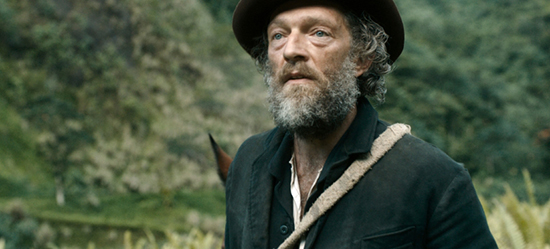 Vincent Cassel in Gauguin: Voyage de Tahiti (StudioCanal)
Perhaps most disappointing is the lack of any indication of how Tahiti changed his approach to art, his aesthetics, his morality. The paintings he created here – such as Te Rerioa (Daydreaming) and Manao Tupapau (Spirit of the Dead Watching) – are widely regarded as among the finest of his career, and it is unfortunate that these questions are not deemed worthy of exploring. As Ed Harris's Pollock (2000) shows, struggles regarding artistic process and creative experimentation can be rich sources of drama in themselves. Greater emphasis on the undoubted beauty of Gauguin's Tahiti paintings may have brought a lightness or small quota of joy to a film about a morose, occasionally petulant man.
Cassel does a decent job conveying Gauguin's ego and sullenness, mainly through his highly expressive face. The script, however, does him no favours, with Deluc, who also co-wrote the screenplay, failing to create characters with complex motivations or psychologies. Gauguin himself is a confused, self-involved misanthrope and little more.
Furthermore, in its one-dimensional portrayal of Tahitians, the film enters the murky waters of a potentially reductive view of the native community. They populate this film with their docility and physical beauty – Tehura and her other love interest Jotépha (Pua-Taï Hikutini) lead the way here – but are given few layers or opportunities to develop. It is also telling that Gauguin's most authentic relationship and most heartfelt conversation is with his white, French doctor, Henri (Malik Zidi). Under the spectre of colonialism, all this might seem troubling, yet the fact is that all of the film's characters are poorly formed in this way, not just the Tahitians. There is also the additional point that the film may only be reflecting how Gauguin himself saw the islanders in this slightly patronising – though still adoring – way.
Gauguin was partly inspired by Noa Noa, a travelogue of sorts that the artist published in 1901. In this text, Gauguin revealed that his chosen Tahitian wife, Tehura, was just thirteen years of age – something that has understandably put a fairly severe dent in his legacy and turned many away from his work. In Deluc's film, Tehura is a woman of childbearing age. It would surely have been impossible for her to be shown as her real age in Gauguin. One has sympathy for the screenwriters striving to adapt a true story they clearly find compelling with such a disturbing detail hanging over the project. However, depicting Tehura as much older makes light of the reality of Gauguin's sordid sexual proclivities and misrepresents his time in Tahiti. If the cost of romanticising Gauguin is making such dubious revisions regarding his more reprehensible tendencies, then it is surely too high.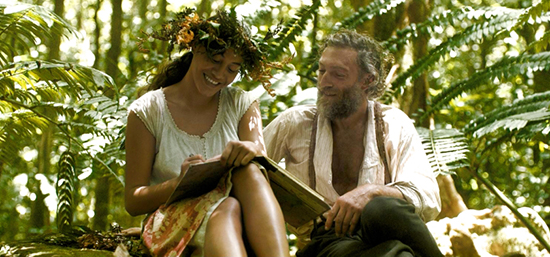 Tuheï Adams and Vincent Cassel in Gauguin: Voyage de Tahiti (StudioCanal)
Despite this, Gauguin lived a fascinating and in some ways brave life. In a small way, and largely thanks to Cassel's brooding performance, Gauguin taps into this; there may be some appeal for Gauguin devotees. Otherwise, the flaws accumulate over the ninety-seven minutes, leaving a film that sells both the viewer, and Paul Gauguin himself, a little short.
Gauguin (Studio Canal), 97 minutes, directed by Edouard Deluc. In cinemas from 31 May 2018.
ABR Arts is generously supported by The Ian Potter Foundation and the ABR Patrons.