'I invented a character called Barry Humphries,' the program promised. Beyond his characters, he said, the real man had always lurked behind a mask in various interviews. 'Tonight you'll see me.'
And there he was, in mauve jacket and polka dot tie, his features sharp, the voice crisper than ever ... but in fact he couldn't do it. Humphries is too interwoven with his characters: they form a baroque circle of projections of himself. (As he once remarked, Sir Les Paterson is the part of him that kept drinking.) No wonder he revels in being on stage. 'Alone at last!' he cries.
Humphries needs that psychic space, not least because his relationship with his mother still seems not quite resolved. Her often disapproving remarks form the spine of the show. Feeling he's been a little too hard on her, he now emphasises her stylishness, her little benefactions. His less complex father is relegated with an epitaph: 'He was a great man.' But while Humphries insists that Edna is not based on Louisa Humphries (and perhaps she wasn't, in her simpler Moonee Ponds days), that is what she became. The 'hats and glads' his mother spoke of were writ large, the act grounded in a child's naughty imitation.
So what do we learn, now that Humphries stands before his audience unmediated by his characters? Nothing about his early Dada experiments and the deep nihilism that impelled them, gratuitous acts that questioned not social conventions so much as social assumptions. He simply says he was always a provocateur. He does tell us about his early acting with the Melbourne Theatre Company, and how he soon found he was much better at making up lines than remembering them – and in comedy best of all. 'You must realise', the director told him, 'you are naturally ridiculous'. There's practically nothing about his private life – just a passing reference to a kid, and a wife, when he's had four of each. And not much beyond the 1990s, and his conquest of America.
The truth is Humphries has a zest for the past. With his sensitive ear he takes particular offence at neologisms and crap-speak, since they double as repellent intrusions of the contemporary. It is not surprising that his favourite character should be Sandy Stone, the decent little man of static, classic suburbia. And this evening, fixed ideas reappear. There are swipes at Sydney (which in real life he likes), a reference to the Japanese during the war, and inevitably a number to the Nazis. Almost the last thing he says in the show – a made-up story, surely – is how an ex-Nazi told him that the Führer would have loved him.
At most Humphries reciprocates a loathing fascination. Generally, his politics have been implicitly right-of-centre: there are none here to speak of. An image of Les Paterson mutates first into Bob Hawke, and then into a procession of politicians, culminating improbably in Malcolm Turnbull. John Howard is not among them. Indeed, unlike Rudd, who within a week was dubbed as looking like your local dentist, Humphries never commented on him. If he had, he would have been compelled to call him Sandy Stone on speed.
As the show moves on, Humphries draws on his two autobiographies more and more. But how flatly certain episodes read on the page, compared with the real-life exposition by a master of pace and timing, drawing on a vast repertoire of voices and accents. It is like the difference between a musical performance and the printed score. There are also numerous clips of his characters, including Barry McKenzie. The best is a relatively recent one. Dame Edna was giving a gala performance in England, and Charles and Camilla were in the royal box. Suddenly in burst Edna, and sat down next to them. Then a man appeared, said something to her, and she dumped them. Only Dame Edna could get away with that …
Humphries has always pushed at the boundaries, bitten the hand that fed him, ultimately questioned the arbitrariness of everything. A schoolboy victim of bullying – which brutally ignores all that, and reduces everything to physical force – he has difficulty in relinquishing unpleasant memories. Repeatedly we have been told of a persecuting primary school teacher, and of another bully who, in the afterlife of university, he saw one day calmly sitting under a tree reading a book. Humphries decided to get him. Returning to the scene with a can of white powder, he unloaded it upon the man – only to realise, as he moved away, that his victim was an innocent stranger! No matter, says Humphries. He had found a scapegoat, and expiation was achieved.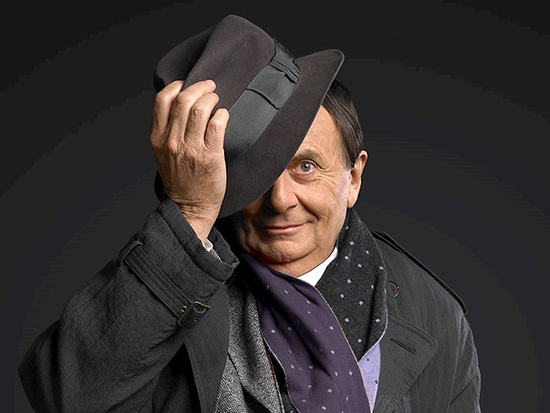 Barry Humphries
Humphries has always been conscious of his celebrity, and evening the score has been one of its entitlements. But he also talks about it revealingly: in a way you become un-personed. 'People will speak about you, quite loudly, as if you're a thing, an object,' he says. And they will say extraordinary things, such as – after a few preliminaries – 'My wife can't stand you!' The opposite approach can be almost as bad. In Sydney one day a youth, dismounting from his motorbike, yelled across the street: 'Baz!!!! You're a fuckin' icon!'
It all felt like a valedictory performance – though Humphries may harbour hopes of more. The dreaded audience participation came down pretty much to one person; the gladdies were notable for their scarcity. But the audience, overwhelmingly consisting of greyheads, was totally with him. It was their lives he had punctuated – even punctured – with his performances, particularly here in Melbourne. 'The forgiveness of laughter,' as Humphries put it at one point. In the week La Mama burnt down, it is worth recalling that it was Humphries who, with his daisy chains of clichés, first made theatre of the Australian idiom – and found an audience for it. This the new playwrights would build upon. For the rest of us, he was court jester to a generation.
Barry Humphries: The Man Behind the Mask was performed at Hamer Hall Melbourne from 23 to 26 May, as part of a national tour throughout May and June. Performance attended: 23 May.
ABR Arts is generously supported by The Ian Potter Foundation and the ABR Patrons.