Advances
The Update - May 22, 2018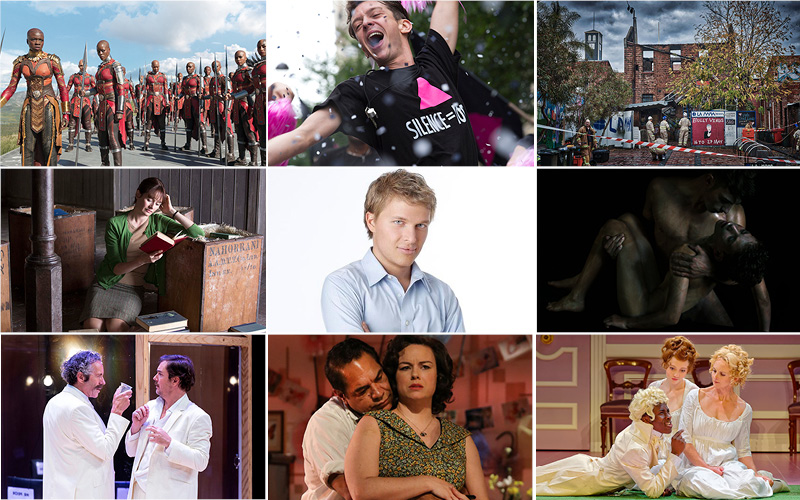 Recent ABR Arts reviews
MPavilion at Monash
Monash University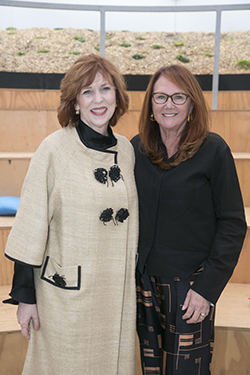 Professor Margaret Gardner AO and Naomi MilgromPresident and Vice-Chancellor Margaret Gardner AO opened the new MPavilion at the University's Clayton campus on 8 May. MPavilion, designed by architects Rem Koolhaas and David Gianotten, is the fourth in a series of six undercover outdoor pavilions commissioned by the Naomi Milgrom Foundation. It will be used as a space for 'student; staff, and community organisations to host a variety of events and performances, talks, and lectures along with high quality art installations'.
'MPavilion is an exciting and unique addition to the diverse performance, teaching, and learning spaces available at Monash … [it] embodies the frontiers of contemporary design and resonates perfectly with the modernist architecture of our Clayton campus,' said Professor Gardner.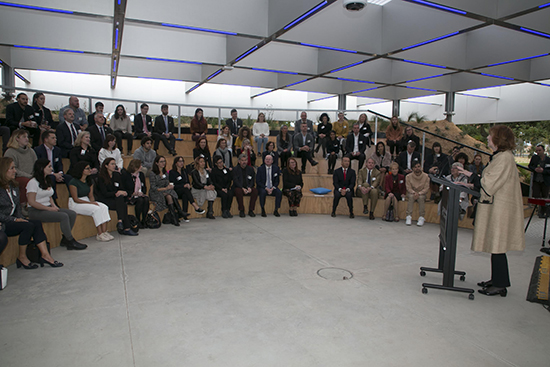 Professor Margaret Gardner launches MPavilion at Monash University, Clayton
The opening featured performances from the singer-songwriter Lior and the Monash Popular Voice Gospel Choir. To learn more about MPavilion, visit: http://mpavilion.org/
La Mama fire
La Mama, Melbourne's iconic theatre, has been seriously damaged in a fire. The blaze, started by an electrical fault, occurred on 19 May.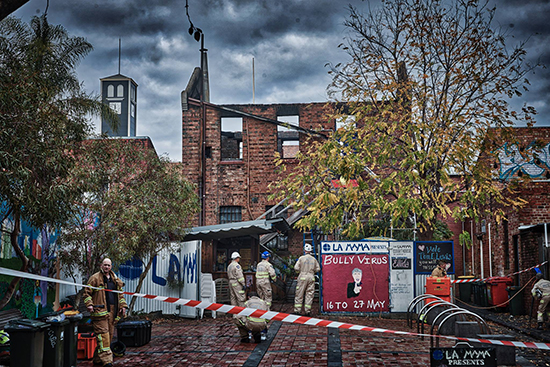 La Mama Theatre after the fire (photograph by Rick Evertsz)
'While there is considerable damage, this has become a restoration project. We will retain as much of the historic structure of the building as possible … we loved our building on Faraday Street, but La Mama is more than a building, and despite our devastation her spirit is strong. Together with our artists, staff and community we will move with strength into the next fifty years and beyond,' said La Mama Artistic Director and CEO Liz Jones and Company Manager and Creative Producer Caitlin Dullard in a joint statement.
All productions in La Mama's Autumn season will go ahead at different venues. For more information, visit La Mama's website or Twitter page.
Jessica Pratt makes her OA début
In an Australian operatic calendar featuring several of the world's leading sopranos, Jessica Pratt will make her début with Opera Australia in John Doyle's production of Lucia di Lammermoor. Pratt has sung the role – perhaps Donizetti's greatest heroine – around the world to much acclaim. With Melba and Sutherland she is one of three Australians to sing Lucia at La Scala, Milan. Melburnians heard her in the role in 2016.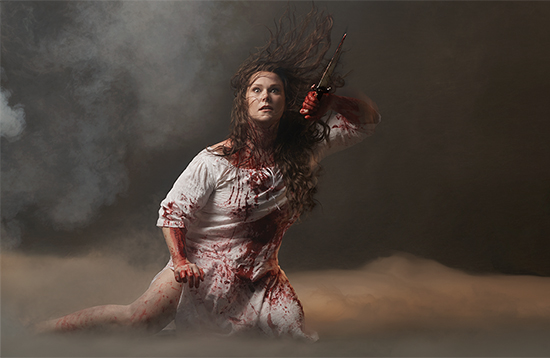 Jessica Pratt will sing the title role in Opera Australia's Lucia di Lammermoor
The Sydney season is a long one: nine performances in all (June 28 to July 27). Ms Pratt is joined by the American tenor Michael Fabiano, who was first heard here in 2015 opposite Nicole Car in David McVicar's superb Faust. A few weeks ago, ABR Arts heard Fabiano sing the role of Edgardo opposite Pretty Yende's affecting Lucia at the Metropolitan Opera. Peter Rose, reviewing this performance, wrote: 'Michael Fabiano has sung here often and is clearly a house favourite. Fabiano was in ringing voice from the start. With his passionate, Method-like acting and flamboyant high notes, he almost stole the show during the wedding scene and the long scene in the cemetery which closes the opera, to some Lucias' chagrin.
Together, Jessica Pratt and Michael Fabiano should lift the roof off the Sydney Opera House in the great Act One love duet and amid the general tumult that follows Lucia's baleful wedding. It promises to be the operatic pairing of the year.
Thanks to our friends at Opera Australia, a lucky new or renewing subscriber will receive a double pass to the opening night (June 28). See our giveaways section below for more details.
Bill Henson at Tolarno Galleries
The Tolarno Galleries exhibition of new photographic works by Bill Henson closes soon and should not be missed. As described by Gabriella Coslovich in the Sydney Morning Herald (24 May), the collection is 'typically Henson: glistening young nudes, brooding landscapes, erupting storm clouds, ancient ruins, medieval architecture, all rendered in the tense chiaroscuro that Henson has borrowed from Caravaggio, darkness lanced by concentrated points of light, accentuating a cloud or a clavicle.' This exhibition closes on 2 June 2018. For more information, visit the Tolarno Galleries website.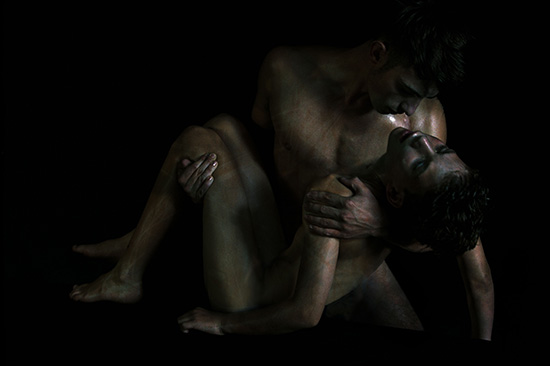 Bill Henson, Untitled, 2016 /17
Anne-Sophie Mutter returns to Sydney
Anne-Sophie Mutter continues her association with the Sydney Symphony Orchestra with three concerts in June (14th, 15th, and 16th). The great German violinist will perform Tchaikovsky's Violin Concerto, preceded by Kalinnikov's First Symphony, conducted by David Robertson. ABR Arts will review the first of these concerts. Not surprisingly, tickets to all three concerts are selling fast, so be quick.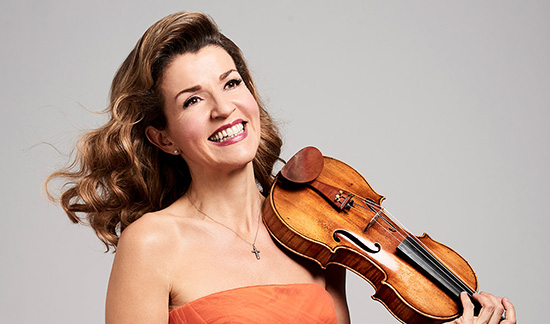 Anne-Sophie Mutter
Later in June (23rd), Anne-Sophie Mutter will make her Melbourne début with the MSO, once again performing the Tchaikovsky. The MSO concert, conducted by Andrew Davis, with Nielsen's rarely played Third Symphony.
Bradman on tour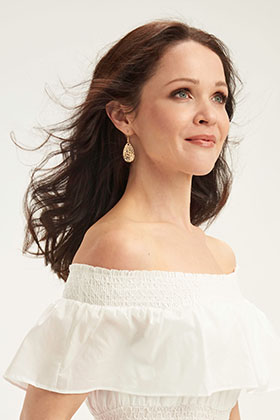 Greta BradmanGreta Bradman continues her Victorian tour with the Melbourne Chamber Orchestra, directed by William Hennessy. The tour coincides with the release of the Adelaide-based soprano's second album, Home. There are three remaining concerts: Traralgon on 24 May, Warragul on the 25th, Sale on the 26th. The theme of this concert is emphatically French. It opens with Keith Crellin's arrangement of Ernest Chausson's Poème, which is followed by Claude Debussy's Ariettes oubliées, six settings of poems by Verlaine, for soprano. After new arrangements of works by Gabriel Fauré and Debussy, the concert concludes with a remarkable new work by Australian composer Calvin Bowman: a setting of Rimbaud's poem Ophélie.
ABR Arts attended the third of these performances (Melbourne Recital Centre, 20 May). William Hennessy led Chausson's Poème with considerable feeling and elegance, but some of the other arrangements reminded us why the composers composed the work for piano only. Greta Bradman, whose unusual soprano and formidable vocal range is well suited to MRC's renowned acoustic, brought her usual artistry and subtlety to Ariettes oubliées – with notable pianissimo and messa di voce – but some of the high notes were almost too expansive for this small theatre. Ophélie was something else: a mesmeric performance, crowned by a remarkable and long-held high note on the closing word, 'lys'. It is to be hoped that Ms Bradman will record this superlative aria soon.
Anna Carey at LACMA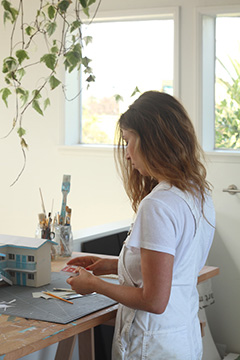 Anna Carey in her studioThe Los Angeles County Museum of Art (LACMA) – one of ABR Arts's favourite destinations in LA, that gallery-filled conurbation – has acquired two works by Queensland College of Art doctoral candidate Anna Carey. The pieces, '517 North Vine Street, Hollywood … then' and '517 North Vine Street, Hollywood … now', are from a series of works by Carey featuring miniature models of 'Stardust' motels from different parts of the world. 'This is a remarkable achievement for an emerging artist … Anna's work will hang alongside some of the world's most iconic artists,' said Queensland College of Art Director Professor Derrick Cherrie.
To learn more, visit the Griffith University website. Guests will visit LACMA during the 2019 ABR cultural tour of the United States.
Hayes Theatre Co Artist Led Initiative
Philanthropic support will enable Potts Point's Hayes Theatre Co to present two productions in 2019 as part of its Artist Led Initiative. Hayes is seeking submissions from all types of artists – directors, choreographers, musical directors, lighting, set, or costume designers – for musical theatre productions.
'Supporting Australian creatives, both those emerging and those established, has been one of our proudest achievements over the last four and a half years,' said Lisa Campbell, Chair of Hayes Theatre Co.
To learn more about the Artist Led Initiative, visit: https://hayestheatre.com.au/
Ronan Farrow at MWF
Ronan Farrow – journalist, lawyer, author – will be a fascinating guest and major drawcard at this year's Melbourne Writers' Festival. Farrow will discuss the topic of 'Power, Abuse and Facing Facts' in an event chaired by journalist Tracey Spicer at Melbourne's Athanaeum Theatre on Thursday, 30 August.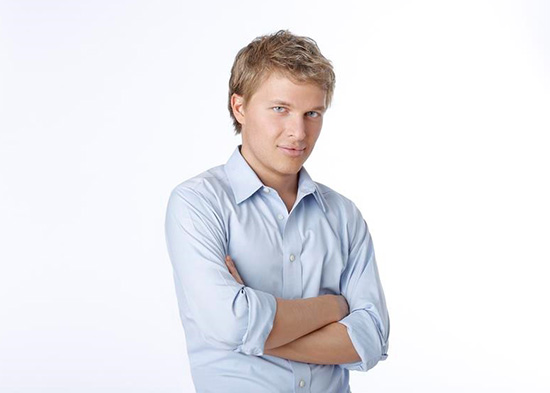 Ronan Farrow
Farrow, the son of filmmaker Woody Allen and actress Mia Farrow (and grandson of the Australian film director John Farrow), has been a central figure in uncovering cases of sexual misconduct among men in positions of power, particularly in Hollywood. His reporting in the New Yorker on Harvey Weinstein's 'systematic, predatory' behaviour was instrumental in the wider #MeToo movement in 2017. (The New Yorker subsequently won the 2018 Pulitzer Prize for public service for this reporting.) Farrow's new book is titled War on Peace: The end of diplomacy and the decline of American Influence (Norton).
For more information about the 2018 Melbourne Writers' Festival visit: https://mwf.com.au/
John Simkin Medal 2018
The Australian and New Zealand Society of Indexers (ANZSI) seeks nominations from publishers, booksellers, editors, librarians, and indexers for the John Simkin Medal – an award recognising an outstanding index to a book or periodical complied in Australia or New Zealand. Judges are looking for an index of 'substantial size, complex subject matter, and the language, form, and structure should demonstrate expertise in serving the text and reader'. To learn more about the John Simkin Medal, visit the ANZSI website.
The Memory Tearoom at Boyd
Yumi Umiumare and Gregory Lorenzutti – Australian Book Review's studio neighbours at the Boyd Community Hub, Southbank – are currently presenting 'Memory Tearoom', an immersive art installation about 'the intersections between rituals, memory, and photography'. The artists will invite Boyd colleagues from diverse cultural backgrounds to partake in a ritual tea ceremony and tell a past story of their lives.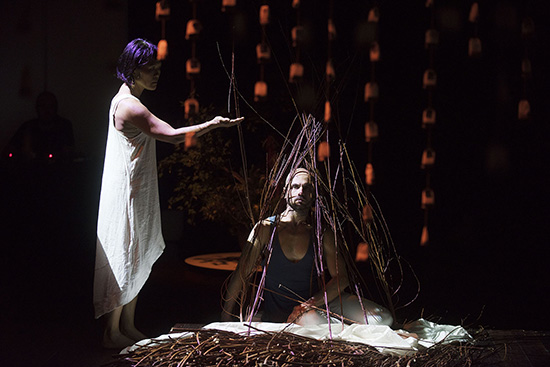 Memory Tearoom
According to Yumi Umiamare's website: 'The idea is to engage with public audience in a collective space starting from individual memories and stories towards a collective body in connection with the building, the city and its inhabitants. Photographs can capture "slices of memory" and key aspects of our collective memories in our fast changing community. They will collect the transformative moments in each participant's life including their own migration stories to Australia,'
The City of Melbourne Arts Grants and Creative Spaces programs support this project.
ACMI Mordant Family VR Commission
The second recipient of the $80,000 Mordant Family VR (Virtual Reality) Commission is visual artist Joan Ross. She was selected from a field that included shortlisted artists such as Chris Caines and Alex Davies, Unknown Fields, Phillip George, Baden Pailthorpe, and Khaled Sabsabi.
Joan Ross's work encompasses video animation, print, sculpture, and installation, and investigates themes of 'globalisation and colonisation, with a particular focus on reconfiguring the colonial Australian landscape and drawing attention to the complex and ongoing issues surrounding first contact'. Her proposed work for the Commission is titled Did you ask the river?, a video game played through the perspective of an eighteenth-century colonial woman navigating through a 3D version of Ross's colonial landscape works. Did you ask the river? will première at ACMI.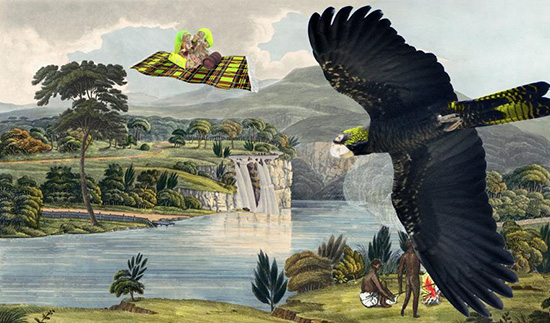 Joan Ross, BBQ this Sunday (flight paths), 2011
The inaugural Commission recipient, Dr Christian Thompson, will première his work, Bayi Gardiya, at ACMI later this year.
The Mordant Family VR Commission is worth $240,000 over three years. Entries for the 2019 commission will open towards the end of 2018.
Edwin Tanner at TarraWarra
The TarraWarra Museum of Art is exhibiting the first survey of works by Edwin Tanner (1920–80) since the 1990 retrospective at the Monash University Gallery. More than sixty paintings and drawings in the collection encompass different facets and periods of Tanner's oeuvre from the 1950s to the 1980s. Photos, sketches, engineering documentation, as well as poetry written by Tanner will also be shown. (Tanner was a close friend of Gwen Harwood; their frequent correspondence is represented in her Selected Letters.)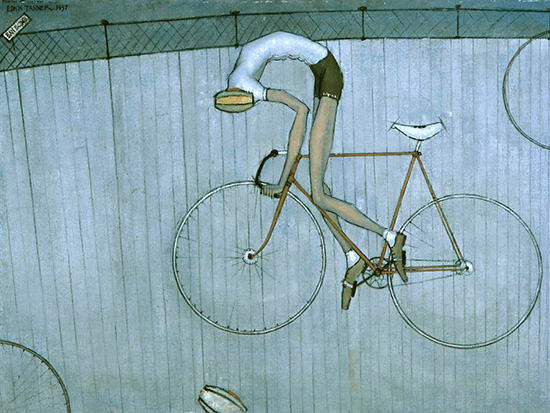 Edwin Tanner, Track Man, 1957 (© The Estate of Edwin Tanner, courtesy Charles Nodrum Gallery, Melbourne)
Tanner, dubbed 'the sole member of the class "mathematical expressionist"', drew inspiration from engineering, mathematics, aeronautics, as well as the arts. Margaret Plant in 1970 described his works as 'a prophetic satire in the age of cybernetic serendipity'.
Edwin Tanner: Mathematical Expressionist continues at the TarraWarra Museum of Art until 15 July 2018.
Giveaways
Lucia di Lammermoor (Opera Australia)
Thanks to Opera Australia, a new or renewing subscriber to ABR will receive a double pass to the opening night of Lucia di Lammermoor at 7.30 pm on Thursday 28 June 2018 at the Joan Sutherland Theatre, Sydney Opera House.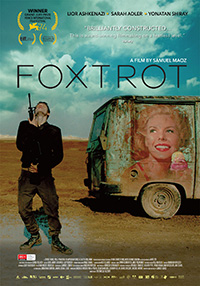 Foxtrot (Sharmill Films)
This month, thanks to Sharmill Films five new or renewing subscribers will win a double pass to Foxtrot, directed by Samuel Maoz and winner of the Grand Jury Prize at the Venice International Film Festival, in cinemas June 21.