How curious that British playwright Mike Bartlett's dark comedy inspired by American whistle-blower Edward Snowden's escape to Russia after leaking thousands of top-secret NSA documents should open with a joke brazenly filched from The Importance of Being Earnest. The larceny, of course, is unconcealed; one assumes that Bartlett is just letting us know the sort of show we're in for.
Yes, Wild is pitched as a trivial comedy for serious people. But does it achieve even that much? There are thriller elements and a few stuttering attempts to say something meaningful about the issue of mass surveillance and state power, but overall this is a lightweight piece of work with a poorly carpentered plot, wafer-thin characterisation, and great stack of gags, all with a faintly bitter savour.
This is not quite the Edward Snowden story, but it is close enough. We open with a young man (Nicholas Denton) bunkered down in a shoe-box hotel room in Moscow. There's a woman from Wikileaks (Anna Lise Phillips) who calls herself – tada! – Miss Prism. She is meant to be keeping him safe and helping to plan his next move, but she seems a little drunk or mad or something more sinister.
From the beginning you sense that the young man has fallen in with the wrong crowd. It's not long before the woman is dropping dark hints about possible accidents and the need to be vigilant. Miss Prism pointedly observes that whistle-blowers often crack under the pressure of intense public scrutiny and kill themselves. Where are the Snowdens of yesteryear? David Kelly is namechecked and it sounds like a threat.
The woman leaves and a man (Toby Schmitz) appears in her place, but the refrain is the same. Both man and woman want the Snowden character to join their organisation. Like Saint Anthony in the desert, the young man resists their increasingly devilish temptations as best he can, clinging to his independence.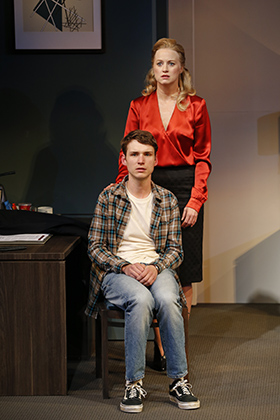 Nicholas Denton and Anna Lise Phillips in Melbourne Theatre Company's Wild (photograph by Jeff Busby)The play, which was first produced by Hampstead Theatre in 2016 and already feels a bit dated, indulges in a peculiarly British send-up of the American myth of liberty and justice for all. In one key scene, the woman bursts in on the young man while he is doing some midnight sit-ups. She tosses him a novelty cowboy hat, the gift of a prostitute in the bar downstairs, and he spends the next ten minutes sprawling like a Wild West stripogram. Billy the Kid, eat your heart out.
In fairness to Bartlett, there is the potential for more complexity in the part of the Snowden character, but Nicholas Denton lacks polish and nuance. Anna Lise Phillips's performance as the woman is stuck on one note as she reels on her heels and bobs and staggers around the stage, making too much of something easy. Toby Schmitz is interesting and occasionally thrills with his creepy grimaces when the devil peeks out from behind the mask.
Director Dean Bryant is tidy but struggles to make the space come to life. Sometimes the vaguely amateurish quality of this Melbourne Theatre Company production feels deliberately orchestrated, as if to create a Truman Show effect where nothing is real and no one can be trusted; but behind the shoddiness there is only more shoddiness – it goes all the way down.
The alternation between seriocomic patter and Pinter-lite menace is occasionally punctuated by long silences as the young man, apparently overwhelmed by the enormity of his situation, retreats to the irreducible privacy of the mind. These silences are the most moving – most melancholy and lingeringly soulful – feature of Bryant's production. It is only when the talking stops, when the whole play seems momentarily suspended, that we get any real insight into the absurdity of Snowden's situation; and it is in such moments that the Snowden-like character is most sympathetic.
Was Snowden's sacrifice in vain? That is the question at the heart of Bartlett's play. His two advocati diabolorum insist that most Americans aren't at all bothered by the revelation that their government is spying on them. They don't want to be wild and free; they want to be secure and pampered. Yes, a few intellectuals continue to debate concepts like transparency, accountability, and the consent of the governed; but most people just want reliable wi-fi and movies on demand.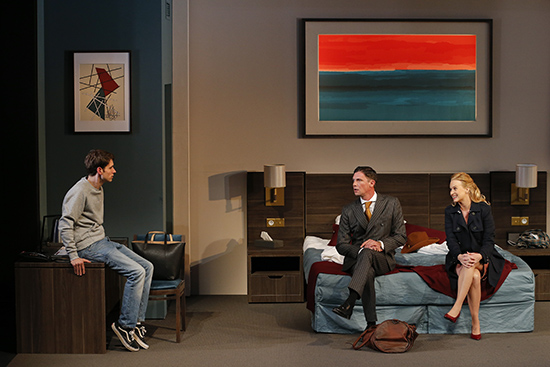 Nicholas Denton, Toby Schmitz, and Anna Lise Phillips in Melbourne Theatre Company's Wild (photograph by Jeff Busby)
And so, in its final moments, Wild reverses its terms and becomes a critique of the masses rather than a commentary on whistle-blowers. That is, it transforms into serious comedy about trivial people – one that accuses all of us. Still, it's not an accusation with much bite, and the play ultimately comes off as a super-sceptical and rather nihilistic farce. This in itself is typical of public debate in a post-Snowden world. Of course, cynicism and disillusionment flourish where political freedom is guaranteed by ubiquitous surveillance. And so Wild resembles in its bleak triviality the thing it seeks to criticise.
Wild (Melbourne Theatre Company) is written by Mike Bartlett and directed by Dean Bryant. The season continues in the Sumner, Southbank Theatre until 9 June 2018. Performance attended: 10 May.
ABR Arts is generously supported by The Ian Potter Foundation and the ABR Patrons.