ABR Arts's long day's journey into operatic night continued with three familiar productions, one of them new to the Metropolitan Opera.
Jules Massenet's fifteenth opera (April 24, ★★★★) is largely unknown to modern audiences, but its neglect is a mystery, for this version of Charles Perrault's 1697 fairy tale (based on a libretto by Henri Caïn) contains much enchanting music and several delicious roles for the female voice. Premièred in 1899, it ended a decade that had produced Werther (1892), Manon (1894), and Thaïs (1894). The score, one of Massenet's most original, contains distinct hints of Wagner, Offenbach, Strauss, and Debussy.
According to the Met's program, this is a new production; but we all know the Met can be cavalier about what's happening elsewhere. Operagoers with the patience of Edward Casaubon will have eventually gleaned that this is in fact a revival of Laurent Pelly's production, which premièred at the Santa Fe Opera Festival in 2006 and moved to Covent Garden in 2011. (The latter season was captured on DVD.)
The tightly boxed and mobile set (Barbara de Limburg) is wallpapered with Perrault's famous text. Laurent Pelly, who grew up reading Cendrillon, designed the brilliant costumes. The hilarious red dresses in the ballroom scene derive from the red leather cover of the original book. M. Pelly, it is reported, asked his singers to act as if from a book design. Cinderella, for instance, skips across the stage with cute, clipped steps.
The two principals have returned for a third run – Joyce DiDonato as Lucette (or Cendrillon) and Alice Coote as Prince Charming. DiDonato, the company's leading mezzo, has done much singing since 2006 and the voice has lost some of its ring in the upper register. Coote was exceptional as the despairing then impassioned Prince. Their Act Two duet ('Reste au foyer, petit grillon') was superb. Kathleen Kim was a sensational Fairy; the note she held at the end of Act One was unforgettable (was it a high F?). Stephanie Blythe was so preposterously grand as Madame de la Haltière it's a wonder she hadn't been invited to Donald Trump's ('that person in Washington' as they say here) State Dinner for the Macrons in Washington.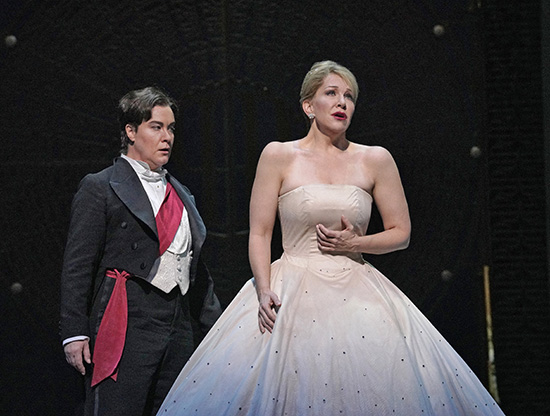 Alice Coote as Prince Charming and Joyce DiDonato in the title role of Massenet's Cendrillon (photograph by Ken Howard, Metropolitan Opera)
Mary Zimmerman's production of Lucia di Lammermoor (★★★★★) opened the Met's 2007–08 season, with Natalie Dessay as Donizetti's homicidal heroine. Diane Damrau and Anna Netrebko have assumed the role in subsequent revivals. Now it is the turn of South African soprano Pretty Yende, a recent Adina at the Met.
Donizetti's 1835 opera is of course based on Sir Walter Scott's novel The Bride of Lammermoor (1819). The director reminds us, in her program note, that the ghosts in Scott's novel – which was based on a true story from the seventeenth century – appear to other characters in the novel, not just Lucy. Zimmerman restores them to the stage, first during Lucia's Act One Fountain Scene, then, to powerful effect, at the conclusion of the opera, when Edgardo kills himself after Lucia's crazed demise.
Zimmerman presents a wholly sympathetic and tragic heroine, one who is cruelly used throughout but also alert to this subjugation, and alternately desolate and furious. This is no so stock Lucia di Lammermoor, with slapstick-like overreactions. Zimmerman humanises what can be a two-dimensional opera. The wedding guests, during Lucia's Mad Scene, seek to comfort the demented bride. Usually, they recoil from the gore and the lunacy; here they surround and console Lucia.
Pretty Yende in the title role of Lucia di Lammermoor (photograph by Jonathan Tichler, Metropolitan Opera)Listening to Lucia, it's hard to efface memories of Maria Callas in Berlin in 1954 (now brilliantly enhanced in the remastered set), or Joan Sutherland's countless recorded and staged impersonations. Vocally, Pretty Yende cannot compete with those colossal and definitive Lucias. With the confidence of a natural actor, she attempts something quite different – vulnerable, girlish, naïve, even coquettish by the fountain – and she is mesmerising. Gradually the steel and indignation emerge as she resists her vicious brother, and especially when she rushes ahead of her groom to the elevated chamber on their wedding night, as if she can't wait for the slaughter to be over.
The famous Mad Scene, radically hushed, was brilliantly played and sung. Mere bel canto showmanship was eclipsed by artistry and pathos, suspending time. The coup of the night came when Friedrich Heinrich Kern (unbelievably virtuosic) accompanied Lucia on the glass harmonica – an infinitely more eerie and suspenseful effect than the wonted flute. Those five or ten minutes will live in the memory, and the E flat with which Yende ended the aria (before the cabaletta) was perfect.
Michael Fabiano, the American tenor, has sung here often and is clearly a house favourite. (We heard him in 2015 as Faust opposite Nicole Car's Marguerite in David McVicar's brilliant production.) Fabiano was in ringing voice from the start. With his passionate, Method-like acting and flamboyant high notes, he almost stole the show during the wedding scene and the long scene in the cemetery which closes the opera, to some Lucias' chagrin.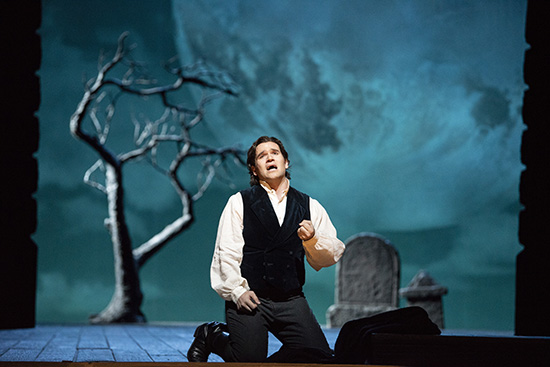 Michael Fabiano in Lucia di Lammermoor photograph by Jonathan Tichler Metropolitan Opera
Quinn Kelsey was a virile Enrico, Lucia's mercenary brother. In 2017 we heard Kelsey as Athanaël in the MSO's concert version of Thaïs.
Alexander Vinogradov – the Russian baritone heard to such fine effect as Walter in Luisa Miller four days earlier – did not disappoint as Raimondo. His singing in Act Three, when Raimondo announces Lucy's madness and Arturo's murder was outstanding; and here the Met's glorious chorus was at its most commanding. Roberto Abbado conducted superbly.
It was a full house on April 26, many of them Russians, here to laud their most celebrated singer (★★★1/2). This was only Anna Netrebko's second Tosca (the first was on Saturday). The Russian soprano had arrived from London after an acclaimed run as Lady Macbeth, a role she has sung in this house to brilliant effect.
Histrionically, Netrebko is still coming to terms with this testing role, and hers is not the biggest voice to undertake it, but she sang better and better all night, and 'Vissi d'arte' rightly drew a huge ovation.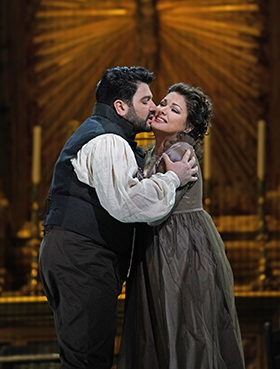 Yusif Eyvazov as Cavaradossi and Anna Netrebko in the title role of Tosca (photograph by Ken Howard, Metropolitan Opera)Opposite Netrebko was her husband Yusif Eyvazov, who had replaced Marcelo Alvarez as Cavaradossi. (Will Eyvazov become the diva's preferred tenor?) He sang passionately and accurately throughout: of his two big arias, 'E lucevan le stelle' was the most exciting.
Michael Volle – physically imposing and dramatically menacing – was a suitably loathsome Scarpia, but rather more pathetic and ardent than we are accustomed to from this villain. With his powerful, steady baritone, Volle should be a magnificent Wotan next April when the Met revives Robert Lepage's gargantuan Ring cycle.
Bertrand de Billy is having a busy time at the Met: this was his third opera in a week. He drew fine playing from the orchestra (especially the cellos and clarinet), but the tempi grew slower and slower (perhaps to accommodate Netrebko), and by the long duet in Act Three there was a distinct want of dramatic excitement.
David McVicar's production was first seen on New Year's Eve; it replaced Luc Bondy's 2009 production (a short life for a Met Tosca). There is nothing here to offend the Met's conservative audience. A century of Toscas hover over this production. The conventional sets, faithful to Puccini's conception, drew familiar applause throughout.
Of the six operas ABR Arts heard at the Met in little more than a week, Lucia di Lammermoor was probably the highlight, with the Massenet rarity a close second. On 21 April, it must be recorded, across the courtyard, in the David Geffen Hall, the New York Philharmonic, before a capacity and unusually patient audience, gave a magnificent account of Bruckner's epic Ninth Symphony. Christoph Eschenbach – an incisive Brucknerian – demonstrated time and time again the subtleties and sonorities of this incomparable work. Before the interval, Till Fellner – an Austrian pianist making his début with the orchestra – played Mozart's E-flat major concerto (K.482) as if it were new minted: a most elegant and searching pianist.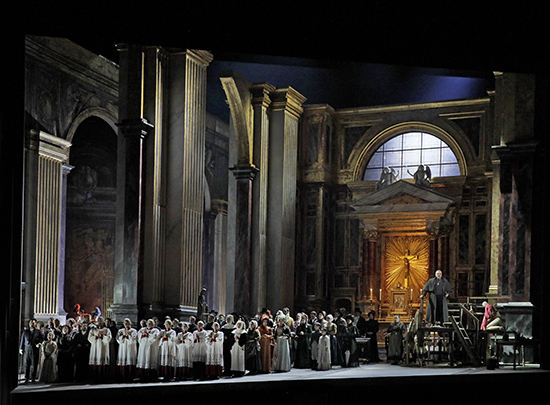 Act I of Tosca (photograph by Ken Howard, Metropolitan Opera)
Cendrillon, composed by Jules Massenet, continues at the Metropolitan Opera, New York, until 11 May 2018. Performance attended: 24 April

Lucia di Lammermoor, composed by Gaetano Donizetti, continues at the Metropolitan Opera, New York, until 10 May 2018. Performance attended: 25 April

Tosca, composed by Giacomo Puccini, continues at the Metropolitan Opera, New York, until 10 May 2018. Performance attended: 26 April
ABR Arts is generously supported by The Ian Potter Foundation and the ABR Patrons.