The opening of Peter Carey's satirical novel Bliss (1981), where the body of Harry Joy lies dead on the lawn while his spirit hovers above, is one of the most memorable in modern Australian literature. Harry's laconic out-of-body narration hovers like a spare and airy jazz riff until a defibrillator jolts him back into the land of the living, and a newly recognised living hell. It's not an easy scene to stage, and in Tom Wright's adaptation at Melbourne's Malthouse Theatre, it's been dismembered.
Instead of lying there and letting others do the talking, Harry Joy, in his famous grubby white suit, enters the bare stage and tells us the story of how his father met his mother, 'the vision splendid', during a flood of biblical proportions. In the novel, this comes later in Part One, partly to establish that Joy is a vivid storyteller. But in the play's opening scene, another actor steps forward to tell us what we see in the novel; that Harry is about to die, on a green lawn beneath a banana palm, with a cigarette burning between his fingers. Instead of a green lawn, or the bare floor of the stage, Harry enters a small glass greenhouse and expires there.
It is not the most promising of openings but the play improves, thanks to pacey direction by Matthew Lutton and an ensemble cast that crackles with talent and energy. Especially enjoyable is Marco Chiappi's performance as Harry's colleague, Alex Duval, who assumes Joy's identity, in an exaggeratedly languid performance, later in the play. Toby Truslove plays Harry Joy more as a mild-mannered, troubled everyman than as a charismatic Good Bloke, an archetype that Carey uses to sum up the male-dominated, parochial and mediocre society of 1980s Australia. But then, the Good Bloke, with his self-satisfied bonhomie and unexamined sense of entitlement, is what Harry Joy, after his short death, has ceased to be. He is now the Questioning Bloke, the Angst-ridden Bloke, the Bloke with a Social Conscience, who realises that some of the products his successful advertising agency sells cause cancer.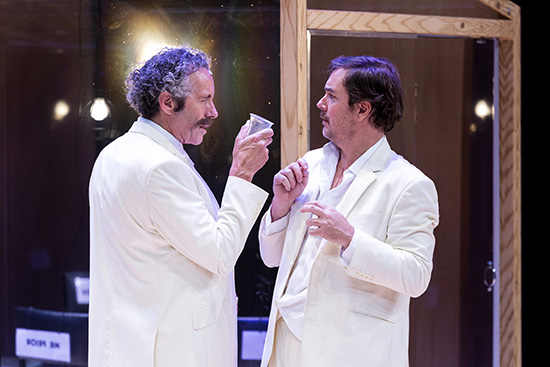 Marco Chiappi and Toby Truslove in Malthouse Theatre's Bliss (photograph by Pia Johnson)
Meanwhile, his wife, Bettina, played ferociously by Amber McMahon, longs to replace her husband at the agency to produce ads of wit and brilliance. She is sick of the way the world revolves around average men like Harry (the set revolves too, not always to any real purpose) and longs to reach her ultimate goal, a job in New York. Australia's love–hate relationship with America is at the heart of Carey's novel (his first). We love its wealth and success, the shiny goods and fast foods, the aura of power and confidence. We hate its brashness, its arrogance, its ignorance about everywhere that isn't America, its lack of irony.
The American good life is tangible, material, you can buy it, you can be sold it. And the ad men do the selling. Back in the 1980s, the advertising world was a blokey place, especially in Australia, and this country's advertisements were often local versions of American ones. Many things that were being sold were ruinous to your health or wrecked the planet, but no one cared, as long as they made you feel good. Carey was a highly successful ad man, so he knew that, and he knew that the Australian-American dream was also a nightmare.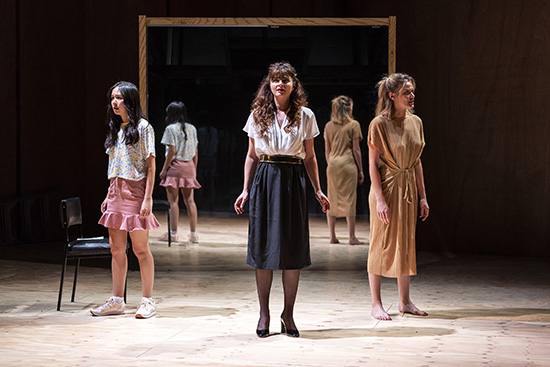 Charlotte Nicdao, Amber McMahon, and Anna Samson in Malthouse Theatre's Bliss (photograph by Pia Johnson)
And Harry Joy's nightmare, his hell, surrounds him on all sides. His wife 'whose niceness cracked and broke on the third martini' is being unfaithful to him with his fleshy American junior partner, Joel (played with smarmy charm by Mark Coles Smith). His son David is peddling drugs, his fifteen year-old daughter Lucy is a Communist (this really dates the book, and play), they're dabbling in commercially-driven incest (she wants drugs, he insists she earns them on her knees) and everyone thinks Harry's cracking up and needs to be committed to an asylum.
Into this maelstrom, while Harry pads around in a suite at the Hilton, avoiding the men in white coats, steps Honey Barbara, a hippy whore and beekeeper. She knows about the healthy life, the true path, but can Harry find his way there, through her? Honey Barbara, played by Anna Samson, is the warm heart of the play; she lives in a commune and only prostitutes herself for two months of the year, in order to pay for the commune's needs 'a water tank. A stove … half a horse'. (Carey lived for several years in a commune called Starlight, north of Brisbane, writing part time and selling himself one week a month writing advertising copy in Sydney).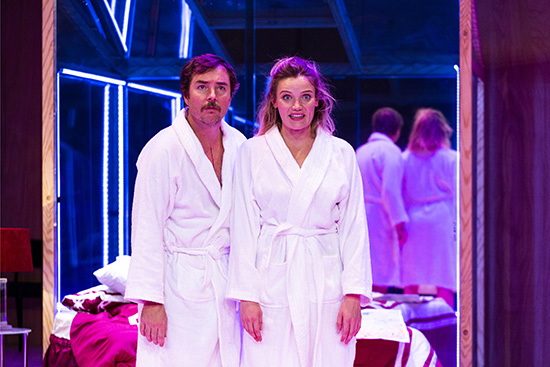 Toby Truslove and Anna Samson in Malthouse Theatre's Bliss (photograph by Pia Johnson)
At three hours long, Bliss is a stretch, especially as so much of it is narrated rather than acted. There is also a meta text that amuses at times, jars at others; Bettina throws a cup that doesn't break. 'Clearly a prop,' says Harry, commenting into his dictaphone. Later on, an inmate in the mental asylum appears with the same dictaphone. 'Where did you get that?' demands Harry. 'The props table,' he answers. The spare set, lighting, and sound scape are also insufficient to lift the words truly into the world of theatre. Only in the final scene, up in the rain forest with Honey Barbara and her communards, do we get a sense of the possibilities the set has to offer. Maybe hell is a wasteland of bright lights and glass walls.
Bliss (Malthouse Theatre) will be performed at the Merlyn Theatre, Melbourne, until 2 June 2018, and at Belvoir St Theatre, Sydney, from 9 June 9 to 15 July. Performance attended: 9 May.
ABR Arts is generously supported by The Ian Potter Foundation and the ABR Patrons.