The short-lived but bold experiment that has been the State Theatre Company of South Australia's actors' ensemble comes to an end with its fourth production, Kate Hamill's adaptation of Jane Austen's Sense and Sensibility. More on the play later, but what of the experiment? Acting ensembles have a chequered history in this country, and have not lately been in fashion. STCSA hasn't had one since 1985, during Keith Gallasch's brief, turbulent artistic directorship. The Sydney Theatre Company's fraught Actors Company was among the last attempted by a mainstage Australian theatre company, producing – among a handful of relative failures – some of the defining productions of the mid-2000s, including Benedict Andrews's still-talked-about War of the Roses. That ensemble was intended to improve the actors' craft, to differentiate the company from its interstate counterparts, and, presumably above all, to lift the standard of the work for the benefit of audiences. Though much has been made of the financial security the STCSA ensemble has afforded its six mostly young and emerging actors, no doubt the company's artistic director Geordie Brookman had in mind something similar. If, however, the project was also intended as a rebuke to the idea that the time of the actors' ensemble has come and gone, it can only be said to have backfired.
Brookman has directed each of the ensemble's productions, and I have written elsewhere of their lack of directorial and dramaturgical rigour, while privately questioning the wisdom of the company's employing a sole director to bring to the stage within eighteen months four demanding works: a new adaptation of Ibsen's A Doll's House, Macbeth, a commission by Patricia Cornelius for the Adelaide Festival, and, finally, Sense and Sensibility. While the last, not sharing its predecessors' fatal inconsonances between text and staging, is by no means the least of the ensemble's work, it nevertheless completes Brookman's failure to make the artistic case for the ensemble.
It must have seemed a sure bet when it was programmed. American playwright–actress Kate Hamill's acclaimed script, a jocose but faithful adaptation of Austen's first novel, has toured widely in the United States since its first short run in repertory in 2014. In both closely adhering to the book's plot and themes and ramping up its sly, social-observational humour, it seems designed to please everybody – casual theatregoer and dedicated Janeite alike. The play economises Austen's text without contemporising it, appealing to modern sensibilities not by way of making a burlesque of its old timeyness, but, on the contrary, by subtly drawing out its lasting resonances while compressing the 'little bit (two inches wide) of ivory' on which Austen famously worked. As this accessible adaptation makes clear, Austen was interested in gossip as a force that both drives and divides society, and it takes little imagination to see how pertinent this idea remains in the age of breakfast television, women's magazines, and social media.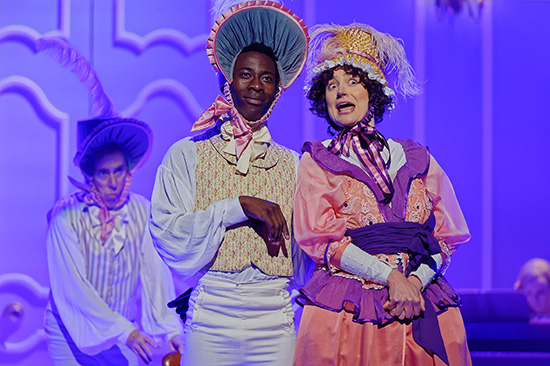 Rashidi Edward, Lizzy Falkland, and Geoff Revell (background) in State Theatre Company of South Australia's Sense and Sensibility (photograph by Chris Herzfeld)
Hamill's play has attracted high-energy, minimally staged productions with a DIY aesthetic in the past, of the kind the Reduced Shakespeare Company is known for. But Brookman has an incongruous proscenium arch to work with and the staging is scaled up accordingly. The upshot, I think, is prettiness at the expense of the kind of endearing, intimacy-making roughness the play calls out for. Designer Ailsa Paterson's set, warmly lit by Geoff Cobham, is an outsized Regency drawing room, bedecked with period furniture – shunted on and off with comical force by the cast – and lurid ombré walls. Artificial turf is rolled out for the out-of-doors scenes, while changes of location are further signalled by Brechtian placards, some of which are conveyed by tricycle. The costumes, also by Paterson, are faithful to the period but with outlandish touches such as the exaggerated, plumed hats that echo the chandelier-like cascade of feathers that overhangs the stage. Stuart Day's arrangements of mostly 1980s pop songs, picked out by the cast on ukulele and pianoforte, underscore key moments.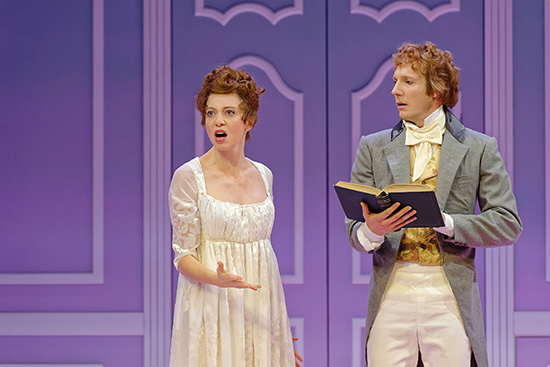 Miranda Daughtry and Nathan O'Keefe in State Theatre Company of South Australia's Sense and Sensibility (photograph by Chris Herzfeld)
While it is not at all obvious that the ensemble has gelled, the cast – augmented by Lizzy Falkland, Caroline Mignone, and Geoff Revell, and anchored by fine performances by Anna Steen as the earnest Elinor Dashwood and Nathan O'Keefe as the kindly Edward Ferrars – is generally impressive, most of the nine actors playing multiple roles (including, in O'Keefe's case, his character's brother, Robert, in wonderfully grotesque fashion). Campier are Falkland's Fanny Dashwood and Mrs Jennings, and Revell's Sir John Middleton (he frocks up, too, in a brief but entertaining turn as the haughty Mrs Ferrars). Miranda Daughtry's Marianne Dashwood (originally played by Kate Hamill), the main target of the eavesdroppers who shadow the play's protagonists, incessantly Chinese-whispering snatches of overheard conversation, is a suitably strong-willed creation, while the third of the Dashwood girls, the fickle Margaret, is played with childlike verve by Rachel Burke. Dale March and Rashidi Edward leave less certain impressions as John Dashwood/Colonel Brandon and John Willoughby respectively, the latter not always comprehensible despite a striking stage presence as Marianne's caddish, compromised suitor.
Rumours, sooner or later, always run out of puff, overtaken by fact or simply the passage of time. So it is with this production. While Hamill's adaptation achieves a sound balance between the farcical and tragic effects of hearsay that Austen's novel illuminates, the play, clocking in at two hours and forty minutes with one interval, is longer than it needs to be. The second act, particularly, drags, not helped here by repetitive visual gags – Monty Pythonesque coconuts emulating horses hooves, carriages summoned with swirled parasols, teacups that appear unmovably glued to their trays – that, while amusing at first, outstay their welcome. I tired, too, at the sight of actors having to scramble upstage and squeeze in behind the pianoforte every time a song was to be played – why not simply use a musician?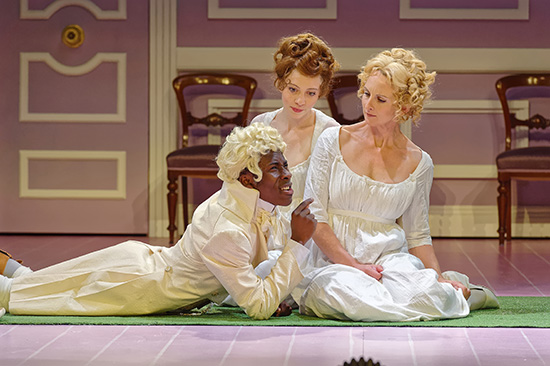 Rashidi Edward, Miranda Daughtry, and Anna Steen in State Theatre Company of South Australia's Sense and Sensibility (photograph by Chris Herzfeld)
Despite Hamill's flawed script, it all leaves one wondering what a different director might have made of this material – Imara Savage, say, or Sarah Giles, whose masterful Popular Mechanicals, another classicist comedy, was seen at STCSA in 2015. Much like the ensemble itself, it's a good story but one that founders in its telling.
Sense and Sensibility (State Theatre Company of South Australia) is showing at the Dunstan Playhouse until 26 May 2018. Performance attended: 8 May
ABR Arts is generously supported by The Ian Potter Foundation and the ABR Patrons.