Advances
The Update - May 8, 2018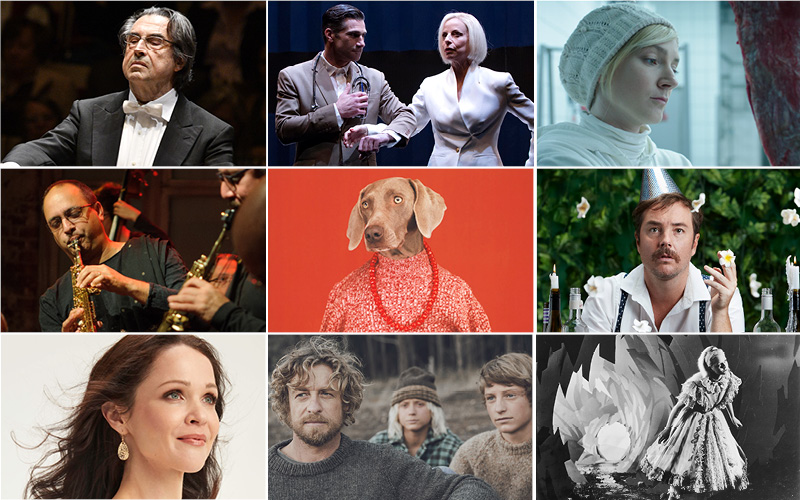 Recent ABR Arts reviews
Bliss at the Malthouse
Melbourne's Malthouse Theatre will host Tom Wright's theatrical adaptation of Peter Carey's 1981 novel Bliss (4 May – 2 June 2018). Advertising executive Harry Joy (played by Toby Truslove) has a heart attack on his suburban front lawn, and, for the space of nine minutes, dies. On his resuscitation, he awakens to a perverse vision of Australia and concludes it must be Hell. To escape, Harry sets himself on an uncertain course: living a moral life.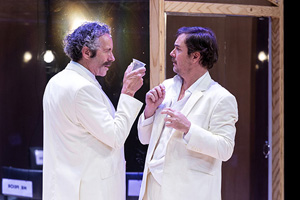 Peter Carey was awarded the Miles Franklin Prize for Bliss. A screen adaptation followed in 1985, and an opera by Brett Dean in 2010. Matthew Lutton will direct the Malthouse adaptation, with a cast that includes Marco Chiappi, Will McDonald, Amber McMahon, Charlotte Nicdao, Susan Prior, Anna Samson, and Mark Coles Smith.
Thanks to the Malthouse Theatre, we have two double passes for new or renewing ABR subscribers for the 3 pm matinee on Saturday 12 May. For more information, see our giveaways section below.
Greta Bradman and the MCO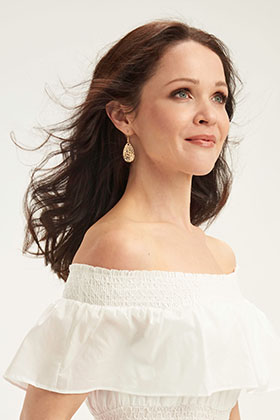 Greta BradmanCelebrated soprano Greta Bradman will perform with the Melbourne Chamber Orchestra from May 17 to 26 – a six-concert tour taking in Melbourne (twice), Sale, Traralgon, Warragul, and Yackandandah. This unusually agile and expressive soprano will perform works by Debussy and Australian composer Calvin Bowman. The tour coincides with the release of Greta Bradman's second album, Home.
Thanks to our friends at the MCO, we have two double passes for new or renewing ABR subscribers for the Melbourne concert on Sunday, 20 May. For more information, see our giveaways section below.
Leonard Bernstein at 100
The Sydney Symphony Orchestra will join arts organisations around the world in celebrating the centenary of conductor, pianist, and composer Leonard Bernstein. Conductor John Wilson, soprano Lorina Gore, and musical actors Kim Criswell and Julian Ovenden will perform hits from West Side Story, On the Town, and Candide in three concerts with the SSO on 10–12 May.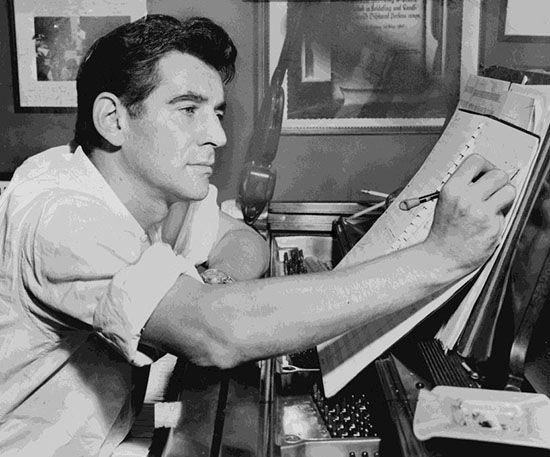 Leonard Bernstein
The celebrations (#BernsteinAt100 on Twitter) officially began on 25 August 2017, the composer's ninety-ninth birthday, and continue through his 100th year until 25 August 2019. For more information, visit the SSO website
NGV's Spring/Summer Program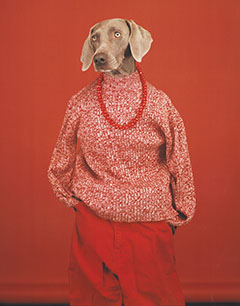 William Wegman, Casual, 2002 (Collection of the artist)The National Gallery of Victoria has unveiled their Spring/Summer program for 2018–19. Highlights include major exhibitions of works by M.C. Escher and Japanese design studio nendo; photographers Polly Borland and William Wegman; video and visual artists Hito Stereyl and Julian Opie; and an exhibition of over 270 Indian miniature paintings from the seventeenth to the nineteenth centuries. The NGV will also present the triennial Rigg Design Prize for 2018, awarded to an Australian designer displaying creative achievements in contemporary design practice. This year's Prize will celebrate the field of interior design and decoration.
For more information, visit the National Gallery of Victoria website.
2018 ABIA Awards
Winners of the 2018 Australian Book Industry Awards (ABIA) were announced at an event on 3 May at the Sydney International Convention Centre. Jessica Tonwsend took out three awards for her début Nevermoor: The trials of Morrigan Crow (Lothian/Hachette): Book of the Year, the Matt Richell Award for New Writer of the Year, and Book of the Year for Younger Readers. Biography of the Year was awarded to Jimmy Barnes for Working Class Man (HarperCollins) and General Non-Fiction Book of the Year was won by Sarah Krasnostein for The Trauma Cleaner (Text Publishing). In the Business Awards category, Marketing Manager at Text Publishing Shalini Kunahlan was awarded Rising Star of the Year and 'the world's best bookstore' Readings once again won Independent Retailer of the Year.
The awards are judged by over 250 publishing industry figures. For a full list of winners, visit the ABIA website.
SSO: Eighty years of regional touring
Sydney Symphony Orchestra will celebrate eighty years of regional touring by holding performances in Nowra, Wollongong, and Mittagong. More than fifty SSO musicians, including Shikara Ringdahl, the first vocal soloist to join the SSO on a regional tour, will perform compositions from Bedřich Smetana, Edward Elgar, and Beethoven.
'Many young people in our regional areas may have never heard a live orchestra. To be introduced to the real thing by Australia's finest musicians is a very special experience,' said SSO Director of Learning and Engagement, Linda Lorenza.
SSO's first regional tour in 1938 visited Wollongong, Katoomba, Orange and Bathurst to celebrate the 150th anniversary of New South Wales. Visit the SSO website for more information on the upcoming concerts.
Melbourne Prize for Literature 2018
Expressions of interest are now open for the Melbourne Prize for Literature. The Prize, worth a total of $100,000, is open to residents of Victoria who have been published in any literary genre. Entry guidelines will be released in late May. Visit www.melbourneprize.org to register your interest the Prize. Entry can also be by nomination.
Next Wave Festival
ABR Arts was fortunate enough to attend the highly sought after Seer (3–8 May), as part of this year's Next Wave Festival (3–20 May) in Melbourne. Produced by arts collective House of Vnholy, Seer is an immersive forty-five minute piece performed for just one person at a time throughout spaces in the Darebin Arts Centre, Preston. Seer employs haunting vocal and sound compositions and gothic imagery to explore themes such as 'religion, death, and transcendence' – a surrealist, adult fun house of sorts for connoisseurs of David Lynch, Stanley Kubrik, and Francisco Goya.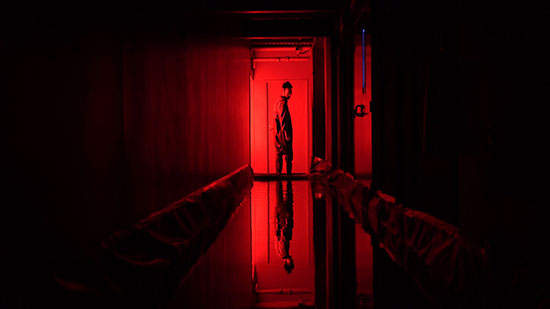 Seer
Other upcoming highlights of the festival include Crunch Time (3–12 May), a 'democratic dinner party' where guests use interactive tools to vote for ingredients used in a five-course meal; Daydreamer Wolf (3–20 May), where poet Elyas Alavi discusses the trials of the Hazara refugee community through painting, poetry, video, and live performance; Estrogenesis (8–13 May), an interrogation of contemporary transgender realities by Embittered Swish; and SANOFKA the love vibration (12 May) a spoken-word event by DJ Sista Zai Zanda, featuring Roberta Rich, Selina Thompson, and Black Birds. Visit the Next Wave Festival website for a full program of remaining events.
Queensland Premier's Drama Award
Hannah Belanszky, David Megarrity, and Anna Yen are vying for the Queensland Premier's Drama Award for 2018–19. The three Queensland artists have been selected from a field of nearly 100 artists.
'One work is a timely search for identity; another a fresh insight into Brisbane's history, fusing circus, Cantonese Opera, and politics; and the third, a sensory experience for families that captures a young person's experience of mortality,' said Queensland Theatre Artistic Director Sam Strong.
The winner will be announced in July this year and receive a mainstage production of their play in Queensland Theatre's 2019 season.
National Theatre's new Artistic Director
San Francisco Ballet Principal Dancer Damian Smith has been appointed as the new Artistic Director for National Theatre Melbourne's Ballet School. Over his twenty-five year career, he has also been in the original cast for choreographers such as Christopher Wheeldon, Wayne McGregor, and Alexi Ratmansky, and has also danced with the New York City Ballet, Boston Ballet, and Ballet Du Nord.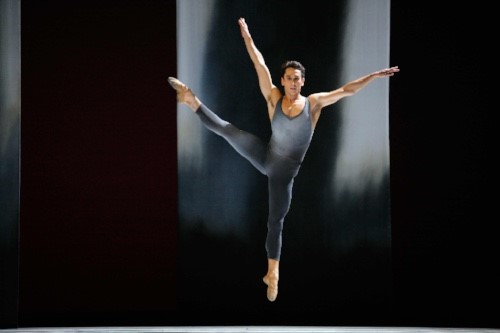 Damian Smith
'As an Indigenous man I hope that my personal story can inspire others to believe that our dreams are achievable give the right opportunities … I would like to provide more opportunities for pathways into the dance industry both nationally and internationally,' said Damian Smith, who will be undertaking an audition tour to Sydney, Newcastle and Brisbane in July and August to search for new, upcoming dancers.
Giveaways
Greta Bradman and the ACO
Thanks to the Melbourne Chamber Orchestra, two new or renewing subscribers to ABR will receive double passes to French Arias sung by Greta Bradman, with the Melbourne Chamber Orchestra, at 2 pm on Sunday 20 May 2018 at the Melbourne Recital Centre.
Bliss
Thanks to Malthouse Theatre, two new or renewing subscribers to ABR will receive two double passes to Bliss, directed by Matthew Lutton, and based on the 1981 novel by Peter Carey of the same name, at 3pm on Saturday 12 May 2018 at the Merlyn Theatre, Melbourne
On Body and Soul
Thanks to Daricheh Cinema, ten new or renewing subscribers will have the chance to win a double pass to On Body and Soul, directed by Ildikó Enyedi (in cinemas 10 May).
To be eligible for these giveaways, you must be a current or new paid subscriber to the print edition of ABR or to ABR Online. To be in the running please email Grace Chang at This email address is being protected from spambots. You need JavaScript enabled to view it. with your full name and contact details. Preference is given to subscribers who have not received a giveaway in recent months.