'When you're young, you believe everything,' Jonas Kaufmann muses in Thomas Voigt's biographical study, In Conversation with Jonas Kaufmann (Weidenfeld & Nicolson, 2017). The German tenor, a frequent Ferrando at the start of his career, went on: 'And now imagine: two couples who live next door to each other go off on holiday together and share everything. And at some stage the point comes when each of them wonders what it would be like to swap partners. Curiosity and fun turn to seriousness, leading in turn to conflict. No one wants to return to the original arrangement.'
Original arrangements are especially vulnerable in Mozart's antepenultimate opera, Così fan tutte, his last of three with librettist Lorenzo Da Ponte.
Of all Mozart's operas, posterity has had most difficulty with Così fan tutte. As David Cairns remarks, 'No great Mozart opera is quickly mastered, however dazzling the first moment of discovery; but none takes so much knowing as Così.' It was not performed at the Metropolitan Opera until 1922, one hundred and thirty-two years after its première in Vienna on 26 January 1790. Così contains some of Mozart's most affecting music, yet it is a work that many operamanes privately dread, notwithstanding its formal perfection and its unflagging inventiveness. Never as popular as Don Giovanni (1787) or Le nozze di Figaro (1786), it has been reviled for its immorality and cynicism. In a pious moment, Cyril Connolly once told Charles Porter that it was the one Mozart opera he couldn't stand, because it condoned the corruption of innocence. For Edward J. Dent it was the 'apotheosis of insincerity'.
Da Ponte's misogyny, for 2018 audiences, is stark. The sexual politics are highly ambiguous, as with so many great operas. Germaine Greer, writing some years ago, noted: 'A current of violence and unpredictability begins to wrinkle the sunlit surface almost as soon as the conductor raises his baton.'
Mozart wrote the opera during the winter of 1789–90. He was living in Vienna, having succeeded Gluck as the Imperial and Royal Court Composer. It was a time of cosmic creativity, but not an easy one for Wolfgang and Constanze. They had financial worries and were forced to move outside the city walls. A fifth child died during that winter. Mozart's concert performances were no longer fashionable, and he resorted to writing begging letters to friends in the Freemasons.
When Emperor Joseph II, inspired by a revival of Il Nozze di Figaro at the Burgtheater, commissioned a new opera from Mozart, Da Ponte created a wholly original work, possibly based on a real event in Vienna. At the première, the two principal female roles were sung be sisters from Ferrara, one of whom, Adriana Ferrarese del Bene (Fiordiligi), was Da Ponte's mistress. Mozart, as we know, has earlier fallen in love with Aloysia Weber before marrying her sister Constanze.
The opera, subtitled La scuola degli amanti – The School for Lovers – was an immediate success, but the first season was abruptly ended by the death of the emperor.
Like Figaro and Don Giovanni, Da Ponte's cynical tale (set in Naples) takes place over twenty-four hours. The libretto ('Molièresque in its fun and Ibsenic in its insight', in Bernard Shaw's words) contains profuse literary allusions; Ariosto, Boccaccio, Beaumarchais, and Ovid's Cephalus and Procris.
Don Alfonso – played here as more of a spiv than an ancient philosopher (a spiv in a fetching red-sequined suit, it must be said) – quickly beguiles our two officers, Ferrando and Guglielmo, into seducing each other's lover. Smirking throughout, Don Alfonso has a day to prove that 'all women are like that': fickle and trickable. The two men disappear in naval uniform, only to reappear not as Albanians, as in the libretto, but as a couple of swaggering Neapolitan Americans in denims and leather jackets. This ruse can be hard to pull off, but here the disguises and swift transmogrifications are well done and don't induce the usual incredulity. With their slicked-back hair, Ferrando and Guglielmo swagger and strut along the boardwalk.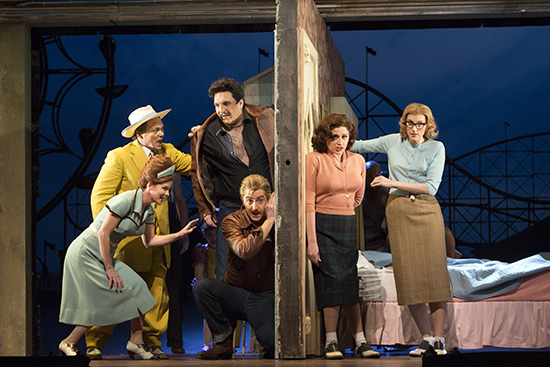 Kelli O'Hara, Christopher Maltman, Adam Plachetka, Ben Bliss, Serena Malfi, and Amanda Majeski in Così fan tutte (photograph by Marty Sohl, Metropolitan Opera)
Parody, already prominent in the first two Mozart–Da Ponte operas, is relentless here. Even during the great trio ('Soave sia il vento') in Act One, when the women farewell their lovers and Don Alfonso echoes their suffering, we know that he is completely disingenuous and self-interested. This is the paradox of Così fan tutte: to music that is incomparably consoling, deception is unleashed.
Phelim McDermott directs the new production of Così at the Metropolitan Opera. Set on Coney Island in the 1950s and full of local references, it proved popular with the near-capacity audience. During the Overture we meet a large cast of supernumeraries on the board walk – characters recruited from Coney Island sideshows: a beared lady, two sword-swallowers, a fire eater, two dwarves, a contortionist, etc. They reappear throughout the opera, winning much applause with their brio and Luna Park displays. The comedy is rarely subtle, the characters nearly always two-dimensional.
Yet Così does not have to be played as burlesque. One thinks of the handsome Enlightenment version by Swedish director Göran Järvefelt and German designer Carl Friedrich Oberle from 1990, one of Opera Australia's finest production from that period, with a cast including Yvonne Kenny, Jeffrey Black, and David Hobson as Ferrando.
Nor was there much romping in the last production of Così that ABR Arts heard at the Met, back in 1996: an elegant period version with Renée Fleming and Susan Graham, suavely and statelily conducted by James Levine, now exiled from the Met.
David Robertson, chief conductor of the Sydney Symphony Orchestra, ever attentive to his young singers, led a sprightly performance of Mozart's endlessly inventive and melodious score, with its new prominence for bassoon, violas, and trumpets.
The cast was uniformly good. Adam Plachetka (Guglielmo) reminded us why he was a fine Leporello here in 2016. The elegance of Ben Bliss's singing – notably in Ferrando's plaintive aria 'Un aura amorosa' – contrasted with his broad comedy as he romanced Fiordiligi, and with his instant Italianate outrage when he realises that Guglielmo has seduced Dorabella.
Dorabella – originally written for a soprano – has long been sung by mezzos: Serena Malfi (also heard in the 2016 Don Giovanni, as Zerlina) was powerful and expressive throughout.
Amanda Majeski – taller than Malfi and not as natural an actor – grew in the role of Fiordiligi. Adriana Ferrarese del Bene, who created the role in 1790, must have been a formidable singer. Fiordiligi's first-act aria, 'Come scoglio', is hugely demanding. Majeski coped well with the coloratura, though she wasn't helped by the busy direction and the Feydeau-like nonsense with doors. Fiordiligi's Act Two aria, 'Per pietà', demands similar flexibility and downward extension. Majeski, performing this long aria in a balloon, was magnificent: it was the musical highlight of the evening, and Maestro Robertson rightly led the applause.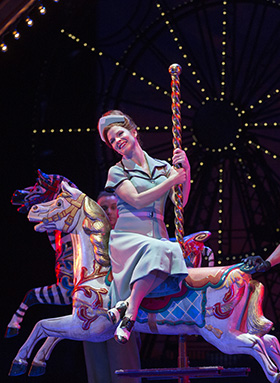 Kelli O'Hara as Despina in Così fan tutte (photograph by Marty Sohl, Metropolitan Opera)Kelli O'Hara, the Broadway musical star, was Despina, the maid at the Coney Island Skyline Motel. It's easy to forget what a big role Despina is. O'Hara sang well and dominated all her scenes with her considerable comic gifts.
Best of all was Christopher Maltman as Don Alfonso; he sang with authority and flexibility.
'Bella vita militar', which signals the beginning of the ruse, is sometimes skipped to eliminate the need for a chorus, but no such economies are needed at the Met, and the chorus proceeded spiritedly and ironically.
After all the serial horseplay and frivolity, order was eventually restored. Temperamentally, Mozart is more interested in reconciliation than in disquiet. (Don Giovanni ends with a rousing sextet, not with the libertine's destruction.)
David Cairns has suggested that 'Così fan tutte is nearer in spirit to Jane Austen than to Da Ponte … 'There are more things in Così fan tutte than are dreamt of in Da Ponte's philosophy.' We sense that the wrong couples – the illicit ones – are more natural, more sympathetic, than the right ones, the respectable ones. Surely Fiordiligi is drawn to Ferrando from the outset. How much is really resolved at the end of the opera? Is it possible for Jonas Kaufmann's holidaying couples to put their lives back together in the old ways after such betrayals and bliss? Will they stay with their fiancés after the curtain-calls? Will their original arrangements hold? As Konrad Küster suggests, 'the finales of both operas [Don Giovanni and Così] present us with a heap of broken pieces'.
Bernard Shaw, as always, should have the final – or near-final – word: 'The chance of hearing this unlucky classic is not to be missed lightly,' he wrote in 1890, whipping his weekly newspaper readers into shape.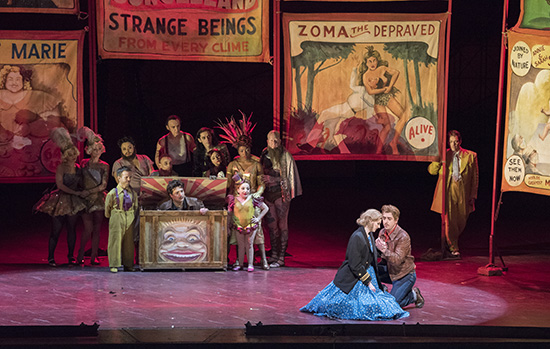 A scene from Così fan tutte with Adam Plachetka (in trunk), Amanda Majeski, Ben Bliss, and Christopher Maltman (photograph by Jonathan Tichler, Metropolitan Opera)
But how can such a sublime work be deemed 'unlucky'? As with all artistic works, it may come down to timing and may depend on the listener's appetite for comic seriousness. 'Perhaps,' to quote Konrad Küster, 'the difficulty with Così is that, almost as soon as Mozart died, posterity lost the sense of the tragedy inherent in the work – a tragedy often revealed in the poetico-musical structures'.
Tragedy is jovially checked in Phelim McDermott's busy, bright, unambiguous romp, which will undoubtedly entertain audiences for years to come.
Two days later (21 April) brought the final performance of the current season of Verdi's Luisa Miller. Verdi's 1849 opera was a relatively late addition to the Metropolitan Opera's repertoire: the première was in 1929, with Tullio Serafin conducting. Despite a cast that included Rosa Ponselle, Giacomo Lauri-Volpi, and Giuseppe De Luca, the opera was not revived until 1968. Since then it has often been staged here, with singers like Luciano Pavarotti, Katia Ricciarelli, Carlo Bergonzi, José Carreras, and Plácido Domingo assuming the principal roles. The current production, directed by Elijah Moshinsky was first seen during the 2001–02 season.
Little wonder that Piotr Beczala has just been named the International Opera Singer of the Year. The Polish tenor was sensational as Rodolfo, thrilling in the upper register and supremely elegant in 'Quando le sere al placido' – a Carlo Bergonzi for our times. Sonya Yoncheva, as Luisa Miller, was opulent in the middle and lower registers, with an assured trill, but her early high notes felt effortful. Yoncheva sang and acted feelingly in Act Three, and she was superb at the end when Luisa (another blameless heroine) is casually poisoned by her clueless, outraged lover. Memories of Nicole Car's impersonation of the role in Opera Australia's 2016 production were not, however, effaced.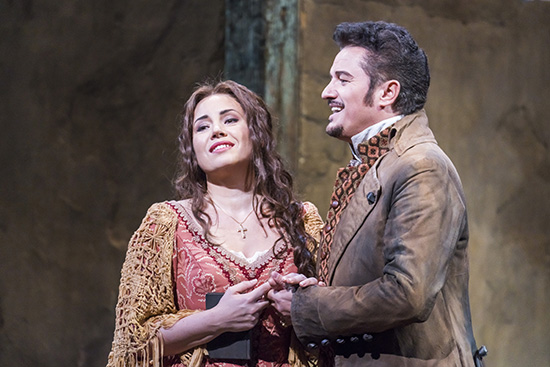 Sonya Yoncheva as Luisa and Piotr Beczała as Rodolfo in Luisa Miller (photograph by Chris Lee, Metropolitan Opera)
Plácido Domingo, a frequent Rodolfo in the past, now sings the role of Miller, Luisa's stricken father. If New York audiences go on giving Domingo ovations like this one, the Spaniard, now approaching eighty, will never retire. (This year marks his fiftieth year with the company; he has sung here more than 650 times; indeed, not one to put up his feet, he conducted Roméo et Juliette two nights later.) Though hardly baritonal, Domingo was in surprisingly steady and ringing voice throughout. The low notes are sketchy, but his Act Three duet with Yoncheva was stirring. Alexander Vinogradov, a true Verdi baritone, was a magnificent Count. Vinogradov is also singing Raimondo in the current revival of Lucia di Lammermoor. His Act Two duet with Lucia (Pretty Yende) on Wednesday evening should be a highlight.
Bertrand de Billy conducted meticulously; this was a powerful account of Verdi's fourteenth opera, a transitional work that marked the end of his galley years.
Così fan tutte, composed by Wolfgang Amadeus Mozart, was performed at the Metropolitan Opera, New York, from 15 March – 19 April 2018. Performance attended: 19 April
Luisa MillerLuisa Miller, composed by Giuseppe Verdi, was performed at the Metropolitan Opera, New York, from 29 March – 21 April 2018 – Performance attended: 21 April
ABR Arts is generously supported by The Ian Potter Foundation and the ABR Patrons.