In the introduction to her seminal memoir of life as a transgender person, Conundrum (1974), the author Jan Morris makes it clear that she is not concerned with merely narrating the facts of her condition. 'What was important' to relate 'was the liberty of us all to live as we wished to live, to love however we wanted to love, and to know ourselves, however peculiar, disconcerting or unclassifiable, at one with the gods and angels.'
In a decidedly earthier and more Australian style, this is exactly what the remarkable combination of Catherine McGregor and Priscilla Jackman have sought to achieve in Still Point Turning. However the world has moved on since Morris wrote those words, and although we are all, in our own ways, undoubtedly peculiar, and the feisty McGregor can definitely be disconcerting, McGregor and Jackman show us that the area of gender studies has no longer made the transgender community unclassifiable.
McGregor's story is by now well known to the Australian public. Born in 1956 in the then extremely conservative town of Toowoomba, Catherine, then Malcolm, struggled with feelings of gender displacement from an early age in an era when little to nothing was known of the condition. Determined to crush what he felt were unacceptably feminine yearnings, he fell into a pattern of over-achievement in what were then considered strictly masculine pursuits. He played first grade cricket in Toowoomba and, as did Jan Morris, joined the army. These high achieving periods were followed by breakdowns and retreats into alcoholism, drug abuse, and depression. This sequence followed McGregor through careers in the law, politics, and journalism. He managed to kick the drug and alcohol habits, but the depression and anguish remained. It says much for his ability, strength, and tenacity that he was able, in the midst of acute emotional distress, to remain not merely functional but successful in these occupations. Catherine relates the moment when Malcolm received the Member of the Military Division of the Order of Australia. What should have been a peak moment was instead a nightmare of panic. Finally, Malcolm had his gender dysphoria confirmed, began hormone therapy, and came out. The play both relates this story and shows us what life is actually like for a transitioning person.
Still Point Turning is based on interviews which Jackman recorded with McGregor, and is told almost entirely in McGregor's words. As both director and writer, Jackman has been able to edit and shape what could have been a static, didactic lecture into a riveting piece of theatre. Occasionally, there are moments when the theatrical adage 'show don't tell' might have been applied and stories told might have been more powerful as scenes acted. Perhaps the most moving moment in the play is a dialogue between the transitioning Catherine and a Qantas employee. Catherine, due to fly to Sydney, is worried that security will question the name on the boarding pass. The Qantas employee's response is a miracle of compassionate understanding. A miracle, that is, to those of us who fly the national airline. Alan Joyce take note. The gaiety in the scene set in that long-gone bastion of camp exuberance, The Unicorn Hotel, seems a little forced. But these are quibbles in a production which flows effortlessly across decades and through cities.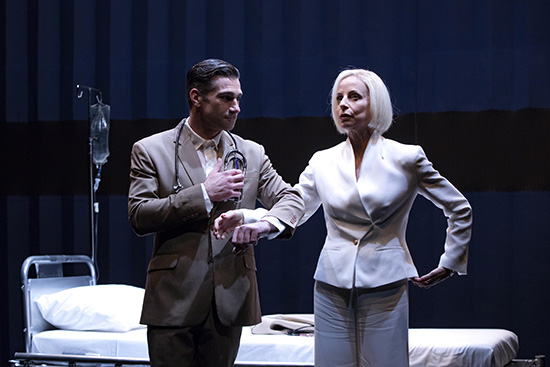 Ashley Lyons and Heather Mitchell in Sydney Theatre Company's production of Still Point Turning: The Catherine McGregor story (photograph by Philip Erbacher)
Jackman is ably assisted by Michael Scott-Mitchell's simple and effective design. Much is made of a hospital-style curtain, and the windowed wall behind which the public gather to express their opinions makes a sinister effect. The public's malicious and positive responses are picked up in Steve Francis's effective sound design. Nick Schlieper's lighting is exemplary as always.
Although everything revolves around Catherine, the rest of the excellent cast have moments to shine. As cricket legend Rahul Dravid, Nicholas Brown is a still, calm, and imposing presence. Georgina Symes's Ayala reacts to her friend and fellow transgender soldier with warm and slightly ironic support. Ashley Lyons is powerfully moving as the increasingly desperate Malcolm.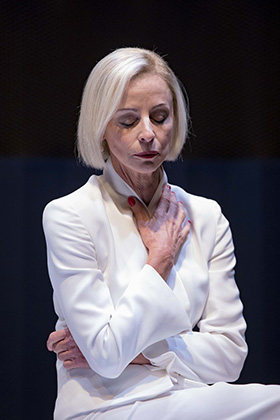 Heather Mitchell in Sydney Theatre Company's production of Still Point Turning: The Catherine McGregor story (photograph by Philip Erbacher)But the play stands or falls with the actor playing Catherine, and in Heather Mitchell's hands Still Point Turning doesn't merely stand, it soars. Prowling the stage with scarcely contained nervous energy and ad libbing freely with the audience, Mitchell is in complete command even when the character she is playing is anything but. Funny, acerbic, and vulnerable, she presents us with a complex, flawed, valiant, obstreperous heroine. She is especially moving when relating to two of McGregor's great heroes, Sydney's famous drag legend Carlotta and cricket's aforementioned luminary, Rahul Dravid. Mitchell has shone recently in STC's Cloud Nine and Top Girls, but this performance has to be a highlight of her distinguished career.
At the play's conclusion, as Mitchell coaxed an obviously deeply moved McGregor on to the stage, the opening night audience rose to its feet to acknowledge a brave, indomitable trans woman and the actress who played her with such vigour, understanding, and compassion.
Still Point Turning (Sydney Theatre Company) continues at the Wharf 1 Theatre until 26 May 2018. Performance attended April 26.
ABR Arts is generously supported by The Ian Potter Foundation and the ABR Patrons.