On Body and Soul opens to a stag and doe wandering in a snowy forest to the slow, meditative sound of wind chimes and cowbells. The stag sniffs the doe cautiously and then tenderly rests his head on her back for a few seconds before she canters away, leaving the stag looking forlorn. Edited in a way that anthropomorphises the animals' interactions, this is a beautifully composed scene reminiscent of later David Attenborough documentaries. Before the viewer can roll their eyes at the prospect of sitting through a saccharine arthouse film bogged down with heavy-handed visual metaphors, On Body and Soul neatly subverts those expectations by weaving these scenes into its bizarre and compelling premise.
Mária (Alexandra Borbély) arrives at an industrial beef slaughterhouse on the outskirts of Budapest to begin work as the new quality inspector and immediately piques the interest of the facility's much older CFO, Endre (Géza Morcsányi). She appears to be on the autism spectrum and alienates her co-workers with her shyness and eccentric behavior. Sensing a kindred damaged spirit, Endre is drawn to Mária, though initially he receives no greater regard than the meat she inspects. When a jar of powder, used to induce mating in the livestock (and humans), goes missing from a medicine cabinet, a psychologist is tasked to conduct interviews with each of the staff as part of a police investigation to unmask the sex-crazed culprit. When Endre and Mária are separately psychometrically assessed, it is discovered that they share the exact same dream each night, of a stag and a doe in a snowy forest and interacting as a loving couple. Endre and Mária hesitantly accept the intimacy experienced in this dream, but as the superficially mismatched pair draws closer they struggle to overcome deep-seated psychological issues.
In conceiving On Body and Soul, writer and director Ildikó Enyedi's aim was 'to show an overwhelming, passionate love story in the least passionate and overwhelming way'. With her first feature film in eighteen years, the Hungarian auteur has done so by crafting a thoughtful, quirky, poetic character study of two broken people, laced with dark humour throughout.
Alexandra Borbély's extraordinary performance as Mária (for which she won Best Actress at the European Film Awards last year) is a masterclass in subtlety and restraint, and the highlight of the film. Despite her deadpan characterisation, Borbély is somehow able to convey the full spectrum of Mária's joy, fear, and palpable despair with the slightest shift of her jaw, the rapid rise and fall of her chest, and through her fittingly large, doe-like eyes. Much of the film's oddball humour derives from Mária's emotional (re)awakening and her fish-out-of-water interactions with the outside world. Darkly funny moments sit alongside the Amélie-like twee of Mária arranging her food in symmetrical patterns or using toys or salt and pepper shakers to rehearse conversations with Endre. Mária looms over and stares at lovers canoodling in the park, listens to death metal music with a blank expression on her face, and watches hardcore pornography with the same deliberation as one might watch, say, On Body and Soul itself. Even the bloody, emotional climax is neatly undercut with the blackest of humour – to not do so would risk plunging the film into outright mawkishness.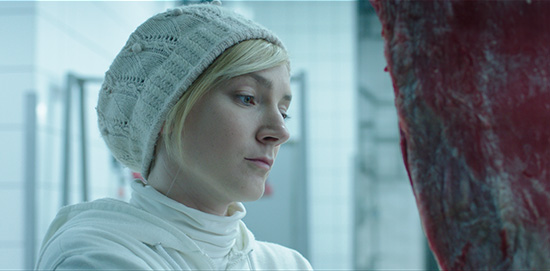 Alexandra Borbély as Maria in a still from On Body and Soul
Although there is a trend of older male characters carrying out relationships with much younger female love interests in Hollywood films – see any Tom Cruise action flick of the last decade – and not vice versa, the physical disparity between On Body and Soul's Endre and Mária serves to emphasise the transcendent nature of their connection rather than to stoke the unfailing ego of its male lead. Endre – unkempt, with a crippled arm – is at least twice Mária's age; after work each night he retreats to his dingy flat to watch television in a beer-induced slump. Géza Morcsányi delivers a nuanced performance as Endre, a role most suited to a non-actor who can convey all the subtleties of a defeated older man simply with his grizzled looks, and by delivering his lines of dialogue with minimal fuss. Remarkably, this is Morcsányi's acting début; prior to this film he was best known in Hungary as the long-time director of the country's largest publishing house.
Much of On Body and Soul's narrative is communicated through its poetic cinematography and sound. Enyedi masterfully employs a warm gold and aquamarine colour palette, as well as shade and sunlight, to convey Endre and Mária's varying emotional states. Ádám Balázs's exquisite short composition of wind chimes and cowbells emerges mostly during the deer sequences and a touching indie folk ballad is used near the film's denouement to devastating effect. The slaughterhouse in which On Body and Soul is set is a real and operational one, filled with amiable blue-collar workers and administrative staff going about their grisly and mundane business. Inevitably, some viewers will find the graphic sequence of a bull being 'processed' disturbing, but such scenes of slaughter are never gratuitous and provide effective thematic links between the human and ungulate characters: the dream deer represent birth and the idealised, instinctual selves; the humans represent life, the material and decaying; and the livestock, acceptance and death. Endre and Mária flit between all three states of existence during their turbulent affair.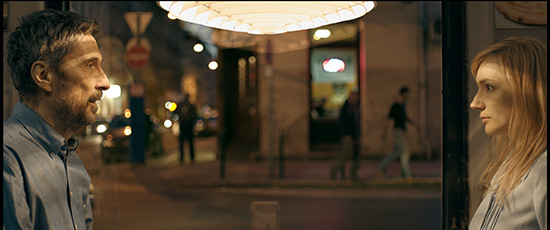 Géza Morcsányi and Alexandra Borbély in a still from On Body and Soul
On Body and Soul is difficult to categorise. Perhaps this dissonance comes about as a result of certain paradigms in most dramas about workplace romances. In this film there are no invitations to drinks or dinner, no earnest flirtations, no slow burn. Instead, our leads are dutifully drawn together from the very start; for Endre and Mária, to ignore such cosmic circumstance would be too heart-wrenching to countenance. In Karl Ove Knausgaard's musings on the permeability between dreams and real life in the Paris Review he writes, 'when we wake up, after the first seconds of confusion when our inner life doesn't match the outer one, as if two irreconcilable dimensions are being forced together into one, something isn't right, until the brain solves it … and the world falls into place and makes sense again.' Endre and Mária's compulsion to love each other, despite their misgivings and flaws, may simply be attempts to make each other's fractured worlds fall into place again. Ildikó Enyedi's On Body and Soul is therefore, not just a romantic drama but also a masterful, deeply resonant treatise on the terror of taking emotional leaps across the permeable membrane between dreams and reality.
On Body and Soul, 116 minutes, is written and directed by Ildikó Enyedi, and distributed in Australia by Daricheh Cinema. In selected cinemas 10 May 2018.
ABR Arts is generously supported by The Ian Potter Foundation and the ABR Patrons.