The Calling is the fourth in a series of five large-scale concerts, each featuring a different ensemble, being performed at fortyfivedownstairs by multi-instrumentalist and composer Adam Simmons throughout 2017–18. The overarching title of the series, 'The Usefulness of Art', is inspired by a quote from sculptor Auguste Rodin: 'I call useful all that gives happiness.' In an age when the funding of the arts is always an open question, Simmons's project is a rallying cry for the importance of art in our lives.
The Calling, which received its world première on opening night, is a seventy-minute composition comprising four major sections, bridged by five briefer connecting passages. It is clearly a deeply personal work for Simmons, exploring his Sri Lankan heritage through his mother's ancestry. Having travelled there for the first time in 2016, he spoke, during a brief introduction, of having been overwhelmed by the sights and sounds of the culture, the landscape, food, rhythms and people.
The piece began with a lengthy introduction by Afro Lankan Drumming system, a duo made up of Ray Pereira and Kanchana Karunaratna, performing on a variety of traditional African and Sri Lankan percussion instruments. It took the form of an extended conversation, by way of call and response, as the two percussionists laid down complex rhythmic patterns, diverging and merging at will. The duo was then joined by prominent jazz drummers Niko Schauble and Hugh Harvey, who both entered the stage area striking gongs and cymbals, before taking seats at their drum kit and adding their own voices to the growing percussive chorus. Next came a line of figures, emerging from darkness, made up of three saxophonists and three brass players, who circled the stage before taking their seats, all the while wailing in unison and building the music to a frenetic, chaotic free-for-all.
The final instruments added to the performance, completing the fifteen-piece ensemble, comprised two double basses, two vibraphones, and space drums. These instruments considerably expanded the tonal palette of the ensemble, providing a rich array of colours that seemed to float above the music's percussive bedrock. During the performance, an art video was projected onto the wall behind the musicians, which variously featured shots of travel and landscape through Sri Lanka; a series of images showing intertwined hands; and collages formed from the vibrant colours of local foods. The train motif – much of the landscape was shot from a moving train – was picked up in the bridging passages of music, with bass and percussion mimicking the rhythmic tchjk tchjk tchjk of train wheels.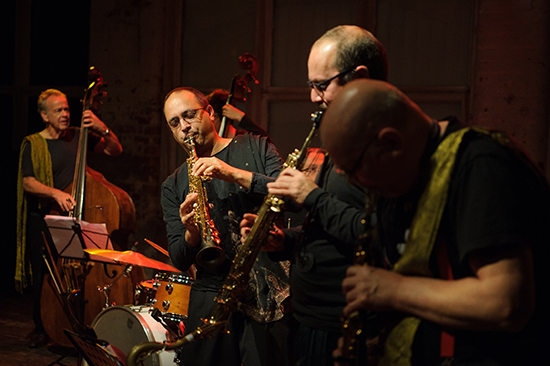 Adam Simmons Creative Music Ensemble and Afro Lankan Drumming System perform The Calling (photograph by Sarah Walker)
As the piece progressed, its forward frantic momentum gave way to a beautiful serenity, with increasing emphasis placed on the gentle percussive vibraphone work of Nat Grant and Carmen Chan. As the theatre darkened, dancer Vikram Iyengar entered the stage area and moved silently through the performers, elegantly stretching his arms, turning his body. At the same time, Grant and Chan slowly turned circles, while bassists Howard Cairns and Miranda Hill gently spun their instruments. The choreographed dance culminated with Iyengar embracing Adam Simmons from behind, the two figures bending back and forth, while Simmons, in near darkness, poured forth a sputtering solo on soprano saxophone that approximated a human cry, redolent with emotion. It was an astounding moment, visually and musically, and one not likely to be forgotten.
The composition's final section, or epilogue, entitled 'Ice cream, tuk-tuks and cricket' provided an upbeat ending, a mix of street and carnival rhythms that leant a joyousness to the event. It imparted a feeling that musicians and audience alike had reached the end of a long and emotional journey. At one level, The Calling is framed as Simmons's response to his own journey to his mother's homeland, but it also challenges the audience to consider their own identity and connections. In a world rife with displacement, it questions where we truly belong, and argues for art as an integral means of bringing us together.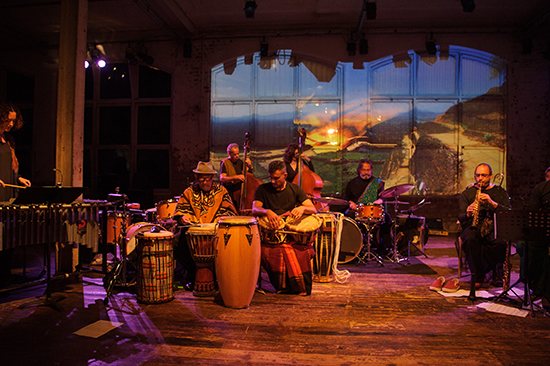 Adam Simmons Creative Music Ensemble and Afro Lankan Drumming System perform The Calling (photograph by Sarah Walker)
As with previous concerts in the series, Adam Simmons demonstrated jazz's capacity to continually extend its horizons, drawing sustenance from an array of musical influences: world, classical, experimental. In looking for a parallel – and while acknowledging that the music is of an entirely different order – I was reminded of Duke Ellington's masterpiece The Far East Suite, composed with Billy Strayhorn and inspired by their travels on tour through Mumbai, Calcutta, Colombo, Lahore, Tehran, Isfahan, and other locales in the early 1960s. Like Ellington, Simmons has chosen to recast his stories and journeys as an extended musical suite. On this occasion, the melding of the Afrolankan Drumming System with the Adam Simmons Creative Music Ensemble was an astounding success. The performance, heightened by strong visual and theatrical elements, again evidenced Simmons's far-reaching ambition for the 'Usefulness of Art' program.
The final program in the series The Kites of Tianjin will be performed in July 2018.
The Calling was performed by Afro Lankan Drumming System and the Adam Simmons Creative Music Ensemble at fortyfivedownstairs from 3–6 May 2018.
ABR Arts is generously supported by The Ian Potter Foundation and the ABR Patrons.