Music
An A-Z of Alfred Brendel by Michael Shmith (Alfred Brendel: The Complete Philips Recordings) ★★★★★
Why an A-Z of Brendel? Well, this is what the man himself has to say in the preface to his slim volume, A Pianist's A-Z: A piano lover's reader (2013): 'This book distils what, at my advanced age, I feel able to say about music, musicians, and matters of my pianistic profession ... Comprehensiveness is not an issue – my literary sympathies tend towards the fragment and the aphorism.'
Brendel's pithy survey – from Accent to Zvonomir: 'Legendary medieval king of the Croats. His connection to music, and to this alphabet, is, at best, peripheral' – occupies just 117 pages; but his reflections are masterly. Were Brendel a composer, his writings would be Schubertian: but, in this case, moments musicaux, not a sonata.
When I received this chunky box-load of 114 CDs, representing Brendel's complete recordings for Philips, for which he recorded for forty years, my immediate thought was how best to review it. The track listings alone occupy around half of the 200-page book that accompanies the set. Many of the performances are like old friends to me, while hearing others made me wish I had met them long ago. There is much to treasure, but how to do it justice?
Well, taking Brendel's own fragmentary-aphoristic approach, I thought why not contain this review in twenty-six sections? That would be a few short of, say, the thirty-three Diabelli Variations, let alone 32 Short Films About Glenn Gould, but should allow for a decent and reasonable survey of Brendel's artistry, intellect, writings, associated interests, and irresistible quirkiness. Here, then, is my homage of convenience, my idiosyncratic A-Z of AB.
A
Audiences. Good. 'Nothing could have made me happier than the awareness that I did not owe my reputation to a giant publicity drum but to the appeal of my playing'. Bad. 'Over the years I can remember concerts with screaming babies (Japan), a barking dog (New York), a mewing cat (Istanbul), someone falling down in a faint, a maniac clapping in the most impossible places and a power cut plunging us all into darkness. ('In Chicago itself I once had to stop during a recital ... and tell the audience: "I can hear you, but you can't hear me".') The sad thing, with Brendel long retired, is that his audiences can't hear him. At least live.
B
Beethoven. Magnificently represented in this set: included are two cycles of the sonatas (recorded between 1970 and 1977, and 1992 and 1996); three sets of the Diabelli Variations (see D); three of the piano concertos (with Simon Rattle and the Vienna Philharmonic, James Levine and the Chicago Symphony, and Bernard Haitink and the London Philharmonic); the works for cello and piano (with his son, Adrian Brendel, recorded in the early 2000s). How fascinating and rewarding to be able to compare the different ages of AB, and to rejoice in his endless quest as to how to approach the sonatas. In 1966, Brendel wrote, 'The study of a composer's works appears to me a more profitable pursuit than any pilgrimage to tombs and shrines, or, for that matter, the perusal of a large quantity of critical writing about him.'
B minor: The key signature of Franz Liszt's great sonata, which Brendel describes as 'the most original, powerful and intelligent sonata composed after Beethoven and Schubert ... a work of absolute music'. As it proves in Brendel's hands. He recorded the sonata twice, ten years apart, and the later, 1991 version, is indeed absolute in every sense – as indeed are his other Liszt recordings. If Liszt is, as Brendel describes him, the 'Romantic sovereign of the piano', then Brendel is his Lord Chamberlain.
C
Coughing. A particular bête noir. Brendel: 'Have you noticed that in a fine hall the perception of music is good almost anywhere – as long as you don't sit right next to the brass? The same applies to coughing, sneezing, clearing one's throat, rustling, clicking the tongue, or babbling ... PS – during funny pieces, laughing is permitted.'
D
Diabelli, Variations, by Beethoven. Recorded three times for Philips by Brendel, who has also written at length about a work he says is essentially humorous, composed 'in rosy mood'. Indeed, it's worth listening to, say, Brendel's later version (live performance, 2001) and bear in mind his own series of titles for each variation, devised, he says, for amusement as well as practical purposes. Thus they incorporate snowflakes, wave patterns, 'swivelling and stamping', 'giggling and neighing', 'tamed goblin', 'juggler', and 'industrious nutcracker'.
E
Emotion. Always better to keep it in check, for Brendel is a far shrewder and considered artist. Not for him the choreographed flashiness of Lang Lang, or even the studious introversion of Maurizio Pollini. All pianists are different, but what makes Brendel so distinctive is his constant use of what he calls 'emotional quality control', or keeping the balance between intellect and emotion.
F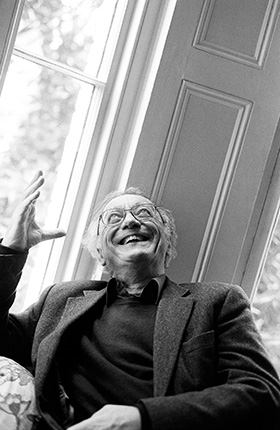 Alfred Brendel (Flickr)Friends. Brendel and his wife, Irene, who have lived in London for almost forty-five years, have a wide and varied circle of friends who reflect their own kaleidoscopic cultural existences. One of Brendel's most valued associations was with the late philosopher, the Russian-born Isaiah Berlin. Michael Ignatieff's biography says of Brendel and Berlin's friendship: '... they agreed much more than they disagreed – for example, sharing exactly the same trio of fixed dislikes: 'noise, cigarette smoke and fanatics'. Both had a strong sense of the absurd and could be seen ... laughing together at some private joke, Brendel's eyes alight with demonic glee, Isaiah shaking his shoulders and laughing soundlessly.'
G
Gielen, Michael. Conductor, and long-time advocate of Arnold Schoenberg's Piano Concerto, which, along with Alban Berg's Sonata No. 1, is one of Brendel's rare forays into the twentieth-century repertoire. Gielen conducted Brendel's first and third recordings (1957 and 1993) of the Schoenberg. The Philips set contains the third and second recording (1971), conducted by Rafael Kubelik. The 1993 Gielen recording, writes Brendel, was made 'with the same orchestra and conductor in the same strange studio thirty-six years after my first attempt [this] felt like an act of re-generation – as though I am contributing some community and progress to a world which, relapsing into nationalism, fascism and madness, appears to have lost interest in both.'
H
Haydn. Humour. Indisputably, each belongs with the other, especially with Haydn's incomparable sonatas, of which Brendel was a champion. 'To introduce humour into absolute music was one of Haydn's greatest achievements,' writes Brendel, quoting an expert's view that Haydn was able 'to lure the listener into the highest degree of the comical by frivolous twists and turns of the seemingly serious'. To judge for yourself – and perhaps smile accordingly – listen through Brendel's masterly, and amusing, recordings of the major sonatas. They are played not with a belly laugh in mind, but more a raising of an eyebrow.
I
Intelligence. Or, as one interviewer wrote, upon observing Brendel's well-stocked bookshelves, they reflected 'his formidably well-stocked mind – poetry, literature, philosophy and countless art catalogues'. Brendel could easily have been an artist (a talent he relinquished early on), and he is a prolific writer, on music and other subjects, with various publications to prove it. As for being an intellectual, he told the same interviewer: 'I don't feel guilty about being "intellectual" if that means thinking about the structure and character and humour in a piece of music. But I'm not talking about dry analysis, which is relatively easy if you know how. I do the opposite. I familiarise myself with a piece and wait for it to tell me what it's about, and what makes it a masterpiece. That's what fascinates.'
J
Jeunehomme. The name ascribed to Mozart's Piano Concerto No. 9 in E flat major, K271, but an alleged corruption of the name of the work's dedicatee, French-born pianist Louise Jenamy, whom the twenty-one-year-old Mozart met in Vienna. This work is described by Brendel as 'that wonder of the world' and was performed by him at his final public concert in Vienna in December 2008 (Vienna Philharmonic, conducted by Charles Mackerras). '... from this point on,' writes Brendel of the concerto, 'the Mozart player must shoulder a burden of perfection that goes beyond his powers'. This and two earlier recordings (Mackerras again, and Marriner) are in the set.
K
Klee, Paul. A letter from the then twenty-five-year-old artist and, indeed, violinist to his wife, quoted by Brendel: '[Mozart seemed] psychologically not too rich in contrast, especially in moods of darkness and beyond melancholy.'
L
Longevity. It is worth a reminder that Brendel's recording career did not start with Philips. In fact, his first commercial recording was made in Vienna in 1951, when the twenty-year-old pianist recorded Prokofiev's Piano Concerto No. 5 with the Volksoper Orchestra. He was then signed for Vox/Turnabout, recording, among other things, a cycle of Beethoven piano music. Brendel recalls the Vox producer, a double-bass player, 'followed the bass line with avid concentration'. Philips didn't come along until the late 1960s. The close relationship between label and pianist was no doubt greatly helped by Brendel's six keys to longevity (paraphrased): 1. Turned up to sessions on time and prepared; 2. Respect the schedule – two days recording-time for LPs; longer for extended-time CDs; 3. Make notes during playback for possible (though never too many) edits; 4. Try not to cancel concerts or recording dates; 5. Technical evolution calls for new recordings; 6. Never 'stall' as a musician or pianist – 'My recordings are not carbon copies of past achievements'.
Live recordings. While maintaining fealty to the studio-recording system, Brendel is a vigorous defender of doing it live. Indeed, many of his officially sanctioned favourite recordings in this set were made live. Among them Beethoven's Diabelli Variations (2001) and the Piano Concerto No. 4 (Rattle and Vienna Philharmonic, 1997), Brahms'S Piano Concerto No.1 (Colin Davis, Bavarian Radio Orchestra, 1985), and Schubert's Piano Sonatas Nos.14 and 15 (Salzburg 1984). As Brendel has written, sometimes live performances of 'the biggest and most dangerous works' can provide evidence of greater mastery: 'Compared with the evened-out results of the studio, it may show greater dedication and that unexpected success that differs from a premeditated result as a poem differs from a timetable.'
M
Mozart. And make no mistake, Brendel is a major Mozart performer. Not just of the concertos (from the 1970s, complete, with Neville Marriner and the Academy of St Martin-in-the-Fields, and, from the late 1990s and early 2000s and, alas, incomplete, with Charles Mackerras and the Scottish Chamber Orchestra), but the sonatas and some smaller pieces, and two marvellous recordings of the concert aria, Ch'io mi scordi di te? , with Marriner and the Academy and sopranos Jessye Norman (1978) and Sylvia McNair (1996). Throughout, Brendel sticks to his own rule: 'Mozart is made neither of porcelain, nor of marble, nor of sugar. The cute Mozart, the perfumed Mozart, the permanently ecstatic Mozart, the 'touch-me-not' Mozart, the sentimentally bloated Mozart must all be avoided.'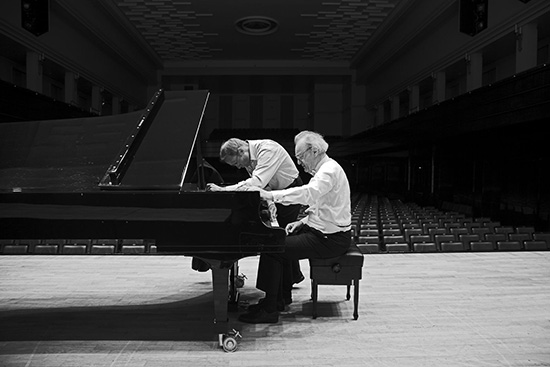 Alfred Brendel in rehearsal (photograph by Jan Leonardo Woellert, Flickr)
N
Nationality. 'I am still Austrian by nationality and passport,' Brendel says. 'I am not rooted. I am very happy not to need any sort of soil.'
O
Omissions. Every performer has blind spots or, to put it more diplomatically, works that failed to enter his repertoire. Her repertoire, too: choice is an equal-opportunity employer. But the pianist is spoilt for choice. As Brendel writes, 'The piano literature, even if we only consider its finest works, is too extensive to be mastered by one single player'. Even so, Brendel's recorded legacy has some surprising omissions: very little J.S. Bach (although his final performance, in Vienna in 2008, ended with Busoni's arrangement of Nun komm, der Heiden Heiland, BWV 659, which he recorded thrice); scant Brahms, save for the concertos and the four Ballades, Op.10; fragmentary Mendelssohn and Chopin – a 1968 recording of the Andante spianato and grande polonaise brilliante makes one wonder how beautifully he would have played, say, the Nocturnes; and no Tchaikovsky or Scriabin (although a 1985 recording of Mussorgsky's Pictures at an Exhibition receives a Brendel tick of approval).
P
Poetry. Not represented in this set, alas, but there's always the excuse for a spoken-word follow-up. 'Poetry has in a way changed my life,' Brendel said a few years ago. 'There may have been an inner need that I did not recognise, which is doing something which is completely my own. When I play pieces of music, I play works that other people have composed. I try to do justice to their compositions. And when I write essays, I want to relate something on a certain subject or a certain theme. I know what I want to write about.' [...] 'The poems tell me what to write ... Sometimes they are finished quickly, sometimes it takes 15 versions, sometimes I throw them away.' His collections include One Finger Too Many, Cursing Bagels, and Playing the Human Game – an omnibus edition of some 600 pages, including Brendel's German originals and Richard Stokes' translations.
Q
Querflügel. Let's leave this one to AB: 'A rare keyboard instrument, to be played diagonally, built in 1824 by Broadwood ('Traverse Piano) for the exclusive use of Prince Karl von Lobkowitz, who sported one longer and one shorter arm. The only surviving specimen, kept in the basement of Vienna's Palais Lobkowitz, bears an indecipherable dedication by Beethoven.'
R
Recordings. A process Brendel originally thought differed from live performance, and that what counted was the recording, not the risk. This view changed over the years, and Brendel found himself playing in the studio as he would in the concert hall. 'Many more concerts, I think should be recorded and issued on disc, with all their imperfections and coughing and so on. As far as piano recordings are concerned, the over-refinement of our tools nowadays seems sometimes to be a disadvantage.'
S
Schubert. It was Brendel as much as any virtuoso of the mid-twentieth century who was responsible for restoring the piano music of Franz Schubert to the repertoire. Brendel's first survey of Schubert's sonatas from 1822–28 remains for me one of the glories of the gramophone, and revisiting it long after the pianist first recorded them for Philips (1971–82), the sense of discovery and wonder has only intensified. At the time, Brendel had cause to write of the scandalous neglect of this music, saying that 'even today, some older musicians continue to show a surprising amount of ignorance, doubt and contempt where Schubert sonatas are concerned'. By the time Brendel recorded the sonatas again, in the mid-1980s, many other pianists had joined the Schubert support team. But, to me, Brendel remains his supreme and most intelligent interpreter, particularly in the last sonatas.
T
Trill. Of the many that occur over the course of these 114 CDs, the darkest and most mysterious is in bar eight of the opening movement of Schubert's B flat major sonata D960, which gently rumbles into silence, 'as if into infinity'. Brendel recorded the trill, along with the rest of the sonata, four times for Philips.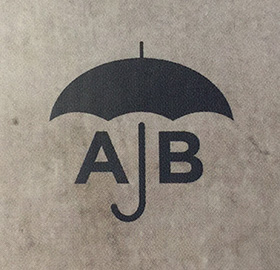 U
Umbrella. The leitmotif of the Complete Philips Recordings set. The substantial box (Brendel's Cube?) features a delightful picture of AB under an umbrella. A colophon version of the brolly, flanked by Brendel's initials, is used in the track listings to denote some of his favourite recordings. Is the umbrella a reflection of Brendel's sheltered personality, or perhaps a subconscious homage to Gene Kelly in Singin' in the Rain?

V
Vocal. Not all pianists make fine accompanists, but Brendel is one of the greatest of them all. Witness the peerless recordings of Schubert and Schumann cycles, including Winterreise and Schwanengesang; Liederkreis and Dichterliebe (with such master singers as Dietrich Fischer-Dieskau, Matthias Goerne, and Eberhart Wächter). These are true musical and intellectual partnerships. This was not the case with Hermann Prey, who, Brendel recalls, would hiss at him between songs, 'You are too loud!' Fischer-Dieskau, on the other hand, told Brendel, 'You can give more.'
W
Writing. Which Brendel does seemingly as effortlessly and persuasively as he plays. His books of musical essays deserve to be read by anyone who loves music: not just the piano and its repertoire, but to whatever subject Brendel turns his agile mind.
X
X factor. Or the quality you can't describe that makes someone special. Brendel on himself: 'Looking back, I have some trouble understanding when I could have done it all: playing, writing, looking, living, loving [...] Although I loved playing, I was never driven, and went on stage of my own free will. At the conclusion of my concert career I didn't shed a tear. How does it all add up? Life, on the whole, has remained rather mysterious.'
Y
Yuck! Defined by Brendel as 'a natural reaction to memory lapses, blurred notes, and fainting fits'. Could also apply to Brendel's opinion of the concert grand he played at a recital in Ballarat ('one of the chilliest places in Australia'), when he told the audience he wished he'd taken an axe to it. He approved, however, of a prime example of naïve architecture: 'a cottage whose facade, garden and fence are decorated with fragments of teapots'.
Z
Zubiaurre y Unionbarrenechea. Spanish composer (1837–1914), whose works have assuredly never been performed by Alfred Brendel. As he himself would put it, only of peripheral value, but an essential addition to AB's collection of bizarre names.
Alfred Brendel: The Complete Philips Recordings (114 CDs, 0289 478 8827 7) was released by Decca Classics in January 2016.
Arts Update is generously supported by The Ian Potter Foundation.