There was a real buzz in the foyer of Her Majesty's last night before the Victorian Opera's latest offering. At last Melbourne was seeing John Adams's masterly opera Nixon in China, first performed in Houston twenty-six years ago and later seen in Adelaide, during the 1992 Festival.
Alice Goodman wrote the libretto: an inspired distillation of Richard Nixon's momentous six-day visit to China in 1972, which blends historical events (including Air Force One's arrival in Beijing and Chairman Mao's quip on meeting the president: 'I like to deal with rightists'); a remarkable ballet sequence choreographed by Madam Mao, with Dr Kissinger as the villain; and a series of bedroom scenes in which the two First Couples – suspicious, vulnerable, contemplative – brood on past and present disappointments.Apart from the libretto, the chief glory here is Adams's massive and highly rhythmic score – wonderfully driven during the brilliant chorus that opens the opera; then most inventive and resonant, with hints of Wagner, Strauss, and Puccini; and a variety of styles and obligatos in the final act, which is much more introspective than the two that precede it.
The orchestra, conducted by Fabian Russell, was in excellent form, unflagging in the lengthy ostinato scenes and highly responsive throughout. This sounded like a labour of love for the musicians in particular.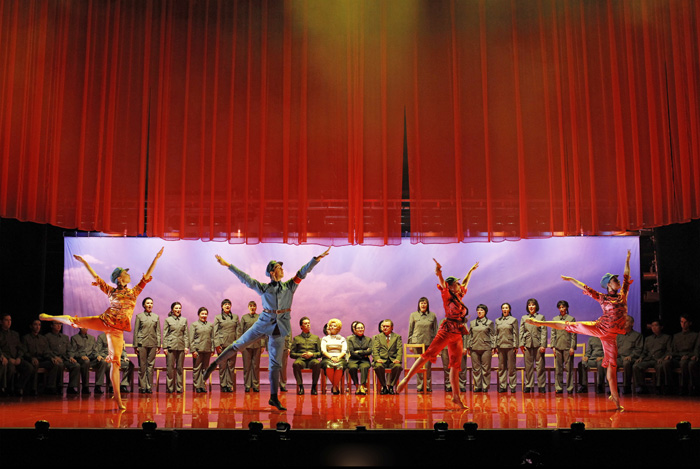 Nixon in China (Photography by Jeff Busby)
The cast – not always helped by apparent amplification near the footlights – was impressive. (Only Andrew Collis as Dr Kissinger seemed a little lugubrious.) These are large roles, none more so than Nixon, capably and energetically sung by Barry Ryan. Ryan may not look like Tricky Dicky, but he resembles Anthony Hopkins as Nixon in the film of the same name – and that is a kind of verisimilitude. Tiffany Speight – as Pat Nixon (that patron saint of the long-suffering) – has little to do in Act One (apart from staying taut and pained), but much of Act Two belongs to her, and after the hilarious succession of visits to model farms and glass factories Speight was commanding in the extended aria 'I don't daydream and don't look back'.
Then it was Madam Mao's turn – the egregious Chiang Ch'ing (who would go on to hang herself in prison years after Mao's death in 1976). Seoul-born Eva Jinhee Kong, an Opera Australia regular, was completely untroubled by the fiendish coloratura music at the end of Act Two. She acted brilliantly, slumping on her chair, looking bored, and taunting the protagonists – even the conductor. She thoroughly deserved her long and excited ovation.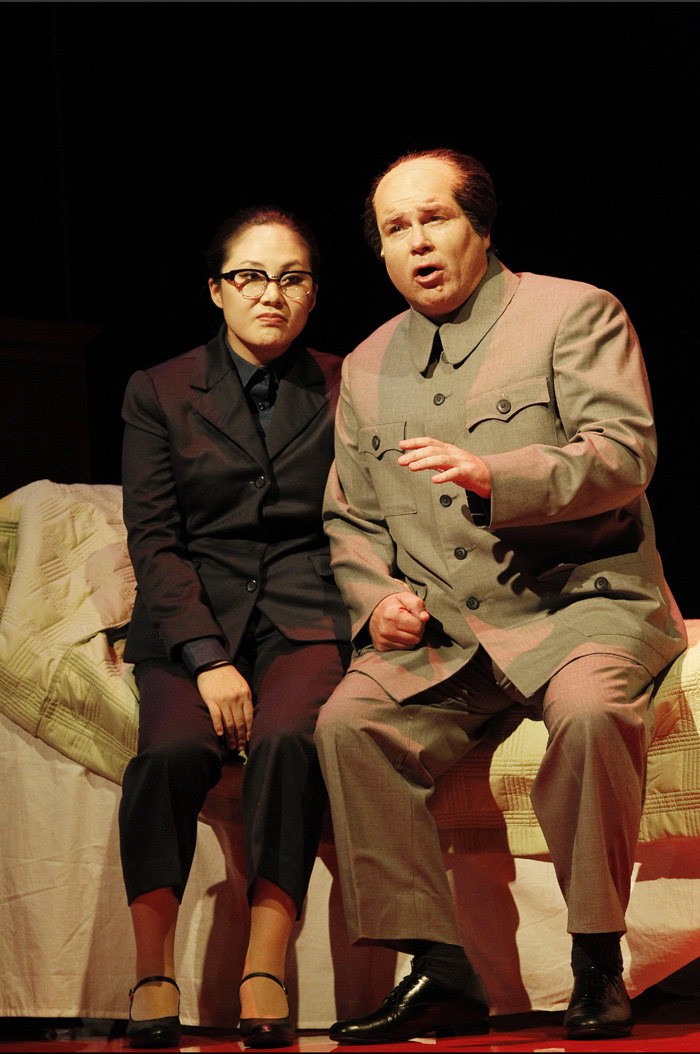 Nixon in China (Photograph by Jeff Busby)
Bradley Daley, in another stratospheric role, was equally good as Mao and conveyed the ease with which the physically ailing revolutionary leader hypnotised the American visitor. The rest of the large cast – including Christopher Tonkin as the embattled Chou En-Lai and Mao's three secretaries (Sally-Anne Russell, Dimity Shepherd, and Emily Bauer-Jones) – were outstanding.
Legendary innovator Peter Sellars conceived this opera with John Adams. Local veteran Roger Hodgman directs the Melbourne production, which is lucid, elegant and highly attuned to this most inventive of modern political operas.
The Victorian Opera production of Nixon in China runs until 23 May, at Her Majesty's, Melbourne. Performance attended on 16 May.