For the uninitiated, a maquette is an architectural miniature of a monument or building. Small, made from cardboard or wood, and often able to be flat-packed, travellers have long collected them as souvenirs of adventures to faraway places. Robyn Archer, doyenne of Australian cabaret, has amassed more than most during her forty or so years of global touring (almost always for work rather than pleasure). Around two hundred of them – diligently assembled by a small army of volunteers, and ranging in size from the matchbox-like to a couple of feet tall – feature in the appositely named Picaresque, an episodic travelogue with the lovably roguish Archer at its Don Quixote.
To enter the space, the audience must pass through the first part of the installation, designed by Wendy Todd. Comprising two walls covered in travel ephemera Archer never threw away – luggage tags, hotel slippers, do-not-disturb signs, laundry bags, boarding passes, eye masks, and more – it's a vivid, if almost overwhelming, illustration of a life lived in transience.
---

---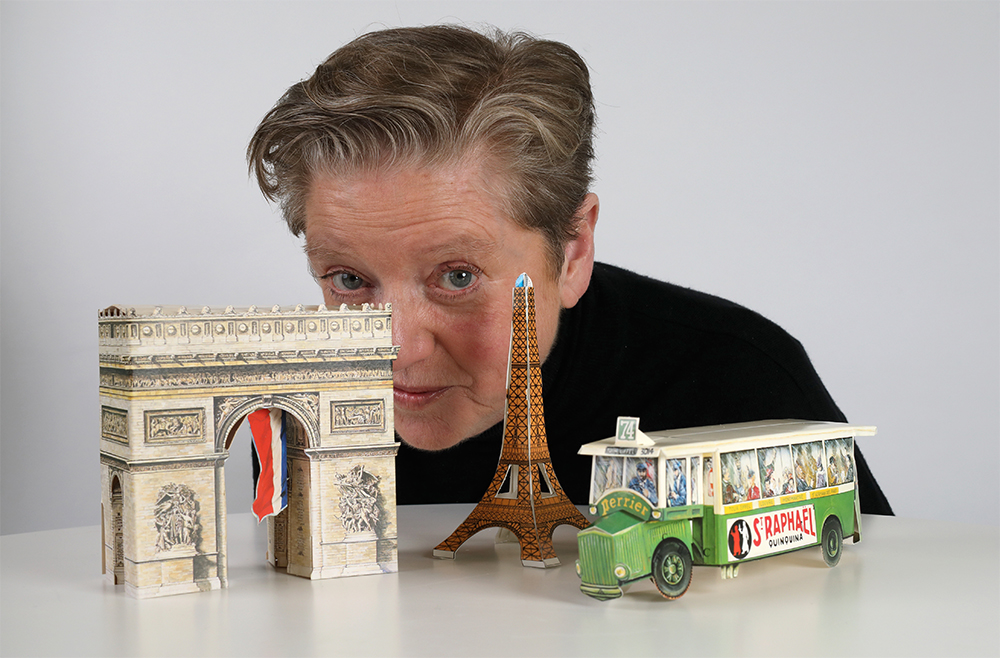 Robyn Archer, star of Picaresque (photograph by Tony Lewis)
Inside the Adelaide Festival Centre's Banquet Room, the maquettes take centre stage, arranged across dozens of upturned suitcases on stilts. Geoff Cobham's slick LED lighting design, augmented by rows of fairy lights, illuminate Archer's Lilliputian cities (the metropolises of Western Europe and North America figure heavily in Archer's reminiscences, Africa not at all, and Asia by way of a single city, albeit Archer's 'favourite in the world', Kyoto).
Archer may have misplaced her Parthenon and Taj Mahal, but the scale of her collection remains dazzling, and all the more so when we learn she was twenty-nine before leaving Australia for the first time – for a gig at London's Royal National Theatre, a career-making foray remembered here with suitably 'how's your father'-ish renditions of music hall standards 'Burlington Bertie' and 'Underneath the Arches'.
Unexpectedly, the show opens not with a Weimar Cabaret or Great American Songbook standard of the kind Archer is famous for but an original: Mama's Road Song, a rollicking slice of Americana about life on the road from her 1993 album Ancient Wonders. Promenading among the maquettes, Archer thrashes an acoustic guitar while her long-time collaborator George Butrumlis – Sancho Panza to her Don Quixote – pumps the accordion. From there, interspersed with charming reminiscences of her travels and the occasional history lesson, Archer's song selection only grows more eclectic.
A sumptuous rendition of the James Bond theme 'You Only Live Twice' – originally sung by Nancy Sinatra – brings together, in an echo of the film's locations, maquettes from both Russia (St Basil's Cathedral) and Japan (a Buddhist temple). A whirlwind medley of standards, show tunes, and popular songs accompanies Archer's recollections of an American roadtrip, while maquettes of the Chrysler and Empire State Buildings (the latter complete with a clambering King Kong) prompt a snatch of the Depression-era song 'Brother, Can You Spare a Dime?'
A miniature Sydney Opera House triggers nods to Archer's Australian roots, namely tributes to Mary Schneider, the Queensland-born yodeller who performed in Archer's 1998 Adelaide Festival, and Caroline Carleton, the South Australian poet whose 'Song of Australia' was once proposed as an alternative national anthem. Dean Martin's Italian Love Songs, frequent accompaniment to Archer's long Australian roadtrips, and 'Bella Ciao', the Italian anti-fascist folk song still popular among buskers on the Paris metro, attest to Archer's fascination with Italy. Greece, a country whose capital Archer has never visited, receives its dues via a strangely moving folk song about a young man suffering from consumption, sung in Greek by Butrumlis to his own bouzouki accompaniment.
And yes, Brecht gets a look in too: 'Mack the Knife', its first verse sung in German, the still relevant 'Song of the Moldau' ('all the boundless ambitions of those now in power will soon have been spent'), and 'Bilbao Song' ('Brecht never got anywhere near Bilbao,' Archer jokes, the Spanish city represented here by a maquette of the Frank Gehry-designed Guggenheim Museum).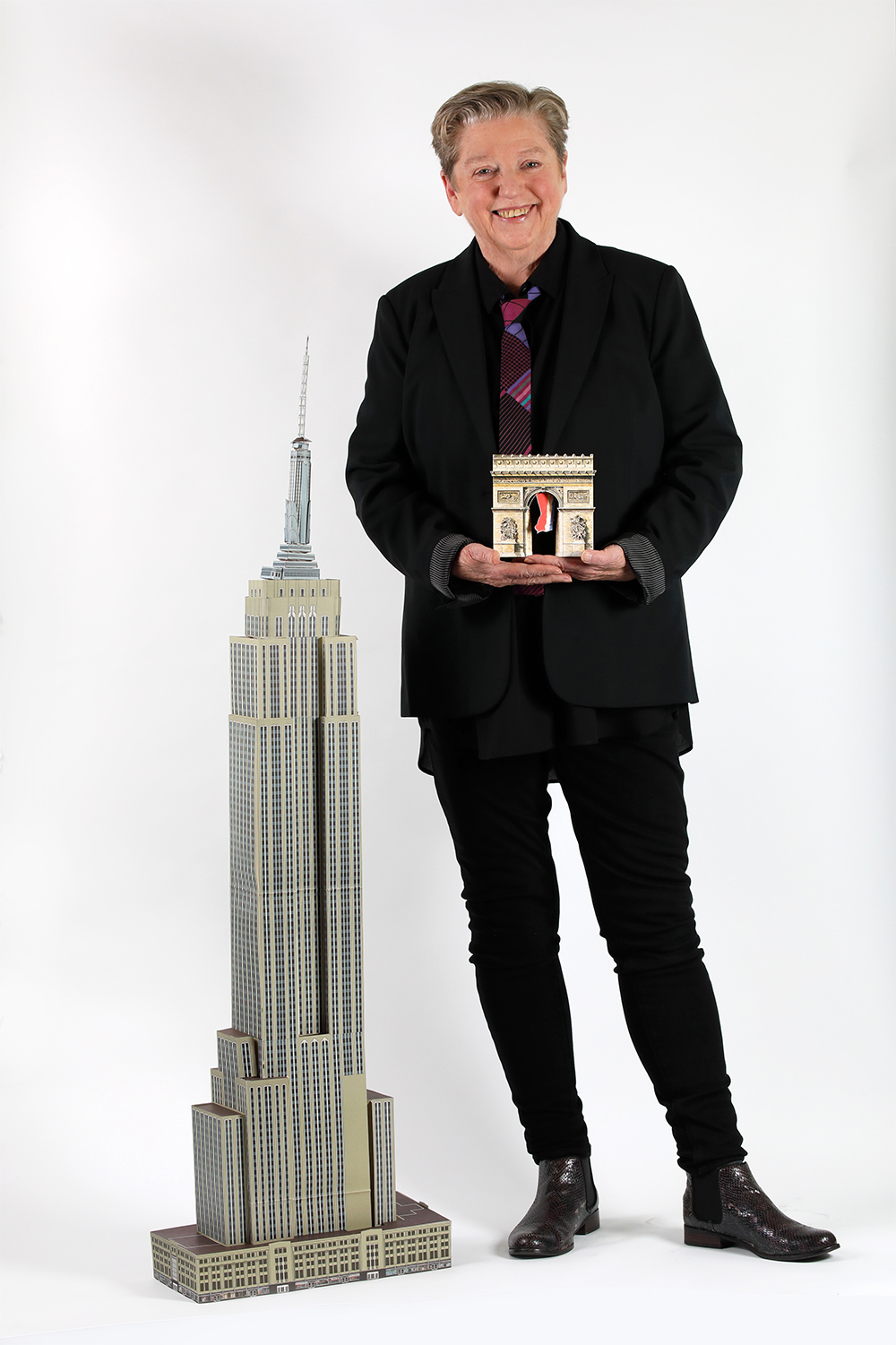 Robyn Archer, star of Picaresque (photograph by Tony Lewis)
Archer has a keen interest in architecture, and the show functions as much as anything as a tribute to some of that field's great practitioners, among them Walter Burley Griffin – over whose grave in Lucknow Archer sprinkled water from the lake named after him during the Centenary of Canberra celebrations in 2012 – and Margarete Schütte-Lihotzky, the Austrian architect and anti-Nazi activist who, Archer reminds us, was the subject of her 2008 play Architektin.
And yet, despite the impeccably performed songs, there is something missing at the heart of Picaresque. While personal, it never feels exactly intimate. Somehow all of it – Archer's reminiscences, the maquettes – feels at arm's length from us, each one inventoried rather than fleshed out with meaning. Without a compelling narrative through-line to follow, I found myself searching for resonance elsewhere, for a sense perhaps of the emotional costs and rewards of Archer's peregrinations.
Was she ever spurned by a lover in one of these cities? What did they reveal to her about the world, about herself? We learn that Archer lives by the beach when in Australia, but what does it mean to her to be home or to miss it? We never really find out. While Archer has, presumably, always been free to come and go from the cities she's visited, I found it surprising that the work never engages with the ideas of displacement or exile, central to the lives of many of her heroes (and indeed to her upcoming collaboration with the Adelaide Symphony Orchestra, The Fortunes of Exile).
Questionable, too, is the way the maquettes only ever feel like a backdrop, however prettily displayed, to what for the most part resembles a typical Archer cabaret show. Easily achieved in this day and age, I wondered why cameras and projections were not used to enlarge the details of the maquettes and do justice to their craftsmanship. As it is, it's a work that seems to have been rushed in its conception, a feeling reinforced by Archer's admission that, just two days after Picaresque's season finishes at the Adelaide Festival, she'll be back in Paris buying up more maquettes from her favourite architectural bookshop. It's difficult not to be impressed by the scale of the enterprise, or to be carried along by Archer's passion for a hobby that feels defiantly ill suited to a post-materialist age, but it is not quite enough.
---
Picaresque is being performed by Robyn Archer at the Adelaide Festival from 8–17 March 2019. Performance attended: March 9.