Music
A Winter's Journey
An overwhelming version of Schubert's great song cycle
Forty-four years ago, Andrew Porter, that peerless and prolific music reviewer of The New Yorker magazine, cast a prophecy:
I trust I am wrong, but sometimes it seems to me that when Elisabeth Schwarzkopf, Elisabeth Söderström, Peter Pears and Dietrich Fischer-Dieskau retire, lieder singing will become a lost art. There is no one in the younger generation who commands as they do the understanding and the technique that bring German songs to life.
Fortunately, for the German Lied, particularly Franz Schubert, and for post-Millennium performers and audiences, Porter was proved wrong. Those four exemplary singers he rightly singles out (and, before them, the likes of Gerhard Hüsch, Elisabeth Schumann, and Elena Gerhardt), now all long gone, as is Porter himself. Their artistic lineage is cherished and honoured by a generation of fine artists whose technical prowess, inextricable from an innate understanding of music and texts, imbues their performances with beauty of sound and underlying wisdom. Among them (but never exclusively) are Christian Gerhaher, Matthias Goerne, Ian Bostridge, and Joyce DiDonato.
Add to this list – immediately, if he is not already included – the English tenor Allan Clayton, whose performance of Winterreise at Elisabeth Murdoch Hall, in a semi-staged version (of which more later), was an impeccable account that places him immediately as a first-rate Schubertian. Clayton's startlingly diverse repertoire ranges from Handel, Rameau, and Mozart to Stravinsky, Elgar, Weill, and Britten, through to such contemporary composers as Mark-Anthony Turnage, George Benjamin, and the title role in Brett Dean's opera, Hamlet, most recently at the Metropolitan Opera, New York.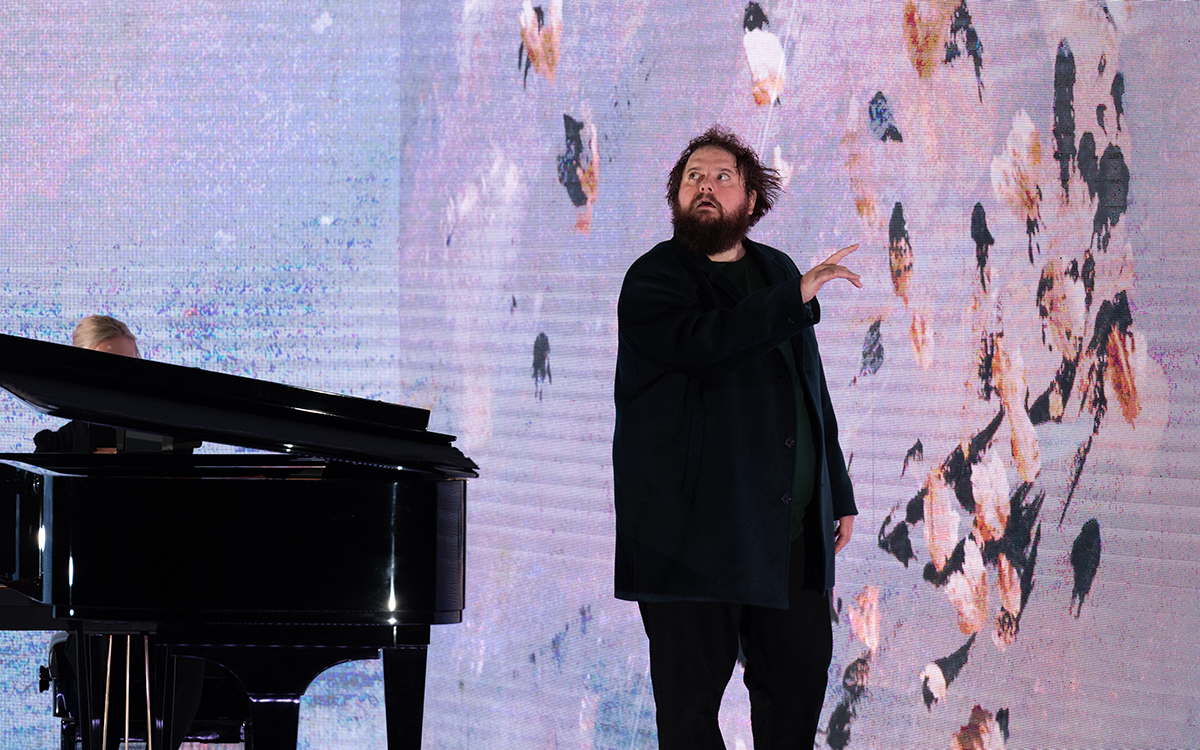 Allan Clayton and Kate Golla in A Winter's Journey (image credit: Bradbury Photography)
What made Clayton's Winterreise performance so compelling and rewarding was that it represented a direct parallel with the narrator's own experience of trudging aimlessly across the tundra of his mind, heart, and soul. How superbly and subtly did Clayton essay the initial sense of fearlessness at the outset of his journey, and how gradually, inexorably, agonisingly, his descent into insanity – or, in the words of Dietrich Fischer-Dieskau, 'the overwhelming shock of each new manifestation of despair'.
(Here, it's worth mentioning that Fischer-Dieskau, no doubt rhetorically, questioned if one should perform Winterreise in public at all: 'Should one offer such an intimate diary of a human soul to an audience whose interests are so varied?' Even Schubert himself described his work as 'a cycle of frightening songs … they have taken more out of me than was ever the case with other songs'.)
Clayton's performance – strong, yearning, and lyrical – unerringly maintained the delicate balance between musical dignity and the narrator's increasing dislocation from normal life as he bids farewell to his love, shuts the garden gate, and ventures into the darkness. Likewise, Clayton's skilled and attentive pianist, Kate Golla, was there every step of the journey to underline Schubert's evocative settings of Wilhelm Müller's twenty-four desolate verses.
It was not hard to understand why Winterreise remains one of the most daunting and rewarding works in all Western music. It is also durable, existing, as it does, in various manifestations, including animated-film and ballet versions, and a 'composed adaptation' by Hans Zender. Quite often, women have boldly and successfully ventured into Winterreise's terrain. I think of Elena Gerhart's commanding extracts, recorded in the late 1920s, as well as the late, great Christa Ludwig, who performed and recorded the cycle in the late 1980s. Then, more recently, there is Joyce DiDonato's vivid Carnegie Hall performance, with Yannick Nézet-Séguin an exemplary accompanist.
Now add another version.
Musica Viva's staging was the antithesis of the conventional stand-and-deliver recital, with the singer standing in the curve of the piano, allowing the words and music to emerge with minimal gestures. This was a far more active affair, in which one didn't have to resort to the mind's eye.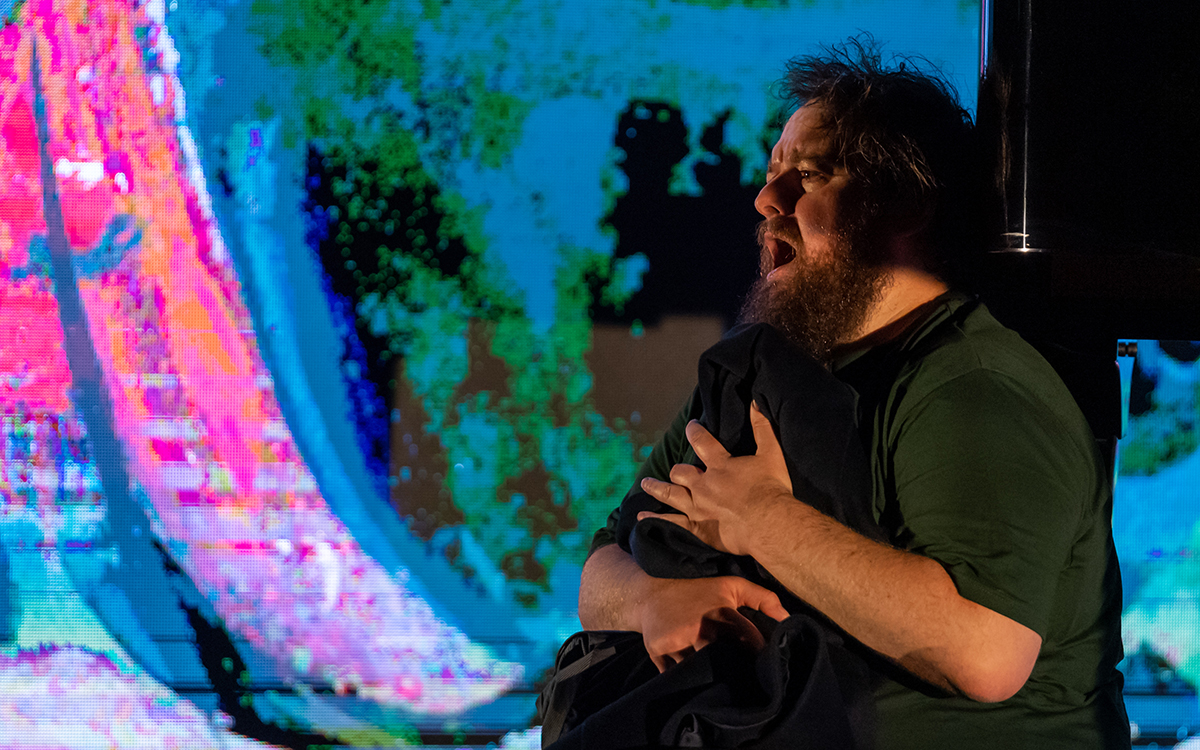 Allan Clayton in A Winter's Journey (image credit: Bradbury Photography)
Clayton, a considerable dramatic performer, wandered, walked, crawled, reclined (even under the piano) and, at times, made himself part of the scenery, projected on two screens behind him. Thus, did Clayton's energies enhance the physical aspects of what we hear in the music, as well as making one aware of other characters in Clayton's repertoire. I thought especially of Britten, another composer dear to Clayton's heart, and particularly Peter Grimes, another outsider on his own journey into despair and doom. (In March 2022, Clayton added Grimes to his repertoire, at Covent Garden; in coming months he will repeat the role at the Metropolitan Opera and the Paris Opera.)
At the heart of this moving and intriguing production – by director Lindy Hume, videographer Dave Bergman, and designer Matthew Marshall – is an interesting geographical twist: the relocation of Schubert and Müller's wintry landscapes from nineteenth-century Mitteleuropa to the Great Southern Land of the mid-twentieth century. Exit Caspar David Friedrich; enter Fred Williams.
This is not such an abrupt cultural climate change as one might expect. Much of Australia's topography is just as harsh and as unforgiving, if somewhat warmer. Indeed, the aridity of some of William's paintings admirably echoes rather than imitates the spirit of winter. Was I alone in believing that Williams' striations gouged in a hillside could be ski tracks in the snow? Or that gum trees could be transformed into silver birches?
In the end, and for all the right reasons, this performance was overwhelming. Not just for its bold direction, which presents a masterpiece in a new and justifiable light, but for Clayton's illustrious and incomparable contribution. He brought Schubert vividly, movingly, tellingly to life.
---
Winter's Journey (Musica Viva) continues at the Elisabeth Murdoch Hall, Melbourne Recital Centre on 19 July, the Adelaide Town Hall on 21 July; at the City Recital Hall, Sydney on 23 and 25 July; and at Llewellyn Hall, ANU School of Music, on 27 July.