Advances
News from the Editor's Desk
Readers' survey
We tend not to burden our readers with surveys. There are quite enough of them in this solicitous world without our adding to the clamour. But it is time for us to take some soundings: to ask you (readers of all sorts, subscribers or not, lapsed readers or devotees) what you like (or don't) about the magazine, and how you think we can improve it.
Unlike previous surveys, this is an online one. To complete the survey (which will take about five minutes) please click here.
For those who would prefer to complete a hard copy, there is a PDF available here which you can print off and return to us. You can also call us: (03) 9699 8822.
The survey will close on 1 February and will inform the magazine's future directions. Many thanks for assisting us, if you choose to do so.
Readers' Choice Award
Rebekah Clarkson – author of 'The Five Truths of Manhood' – was the clear favourite in the Readers' Choice Award that complemented this year's Jolley Prize. David Malouf, you will recall, named Michelle Michau-Crawford's 'Leaving Elvis' as the overall winner in late October. Both stories appeared in our October issue, with Kim Mahood's 'The Accident'.
Thanks to everyone who voted. At the start of our Gerald Murnane–Andy Griffiths event at the Southbank Library (Boyd) on 14 November, the hugely popular children's author named the three voters who won our special prizes. Amanda Murray (Victoria) won a library of fifty Text Classics, and Marshall Willan (Western Australia) and Amanda O'Callaghan (Queensland) each received a three-year subscription to ABR.
We will repeat the Readers' Choice Award in 2014.
The event on 14 November – which we co-presented with Melbourne Library Services, our first joint event in the public library at Boyd – was such a romp that we will be presenting similar ones in 2014. Keep an eye on our website for more details.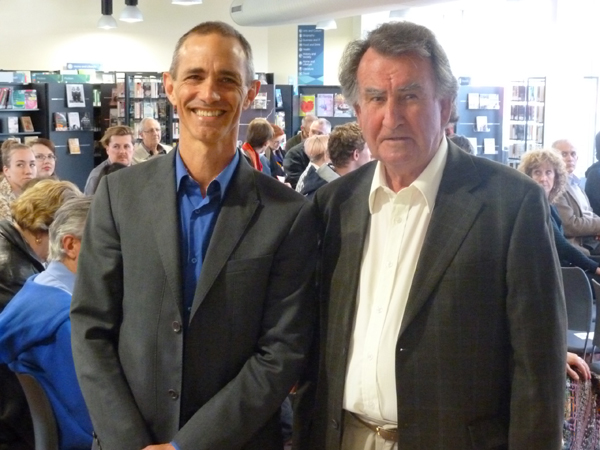 Andy Griffiths and Gerald Murnane at Boyd, November 2013
Jolley Prize
The ABR Elizabeth Jolley Short Story Prize goes from strength to strength, and because of the generosity of Mr Ian Dickson (our first Olympian Patron!) we will present it again in 2014. Total prize money will be $8000, making it one of the most lucrative short fiction prizes in the country (the winner receives $5000). It is certainly the most visible.
Short story writers will have until 1 May to enter the 2014 Jolley Prize. The judges on this occasion will be Patrick Allington, Cassandra Atherton, and Amy Baillieu. The overall winner will be announced at a major event during the 2014 Melbourne Writers' Festival.
For the first time, the Jolley Prize will be open to short story writers anywhere in the world (stories must be in English). Authors can enter the Jolley Prize online, saving them small fortunes in postage and couriers, and assisting us enormously in terms of administration.

Good luck!
Prizes galore
The Calibre Prize for an Outstanding Essay and the Peter Porter Poetry Prize have now officially closed. We know what our judges will be doing over summer!
The Calibre Prize winner will be named at a ceremony in March or April. As for the Porter Prize, the shortlisted poems will, as usual, appear in our March issue, followed by a ceremony later that month.
New Fellowship
ABR has broadened its repertoire considerably in recent years. Among our new programs the ABR Writers' Fellowships have been especially popular.
The next of our Fellowships is devoted to the visual arts. We are looking for a profile of a major artist or a discursive article on any aspect of the visual arts. The chosen Fellow will produce a long article for publication in our 2014 Art issue. Those interested have until 1 February to apply for this ABR Ian Potter Foundation Fellowship. We always encourage prospective applicants to consult the Editor first. Ring Peter Rose on (03) 9699 8822 or send him an email: This email address is being protected from spambots. You need JavaScript enabled to view it..
Astrid Lindgren Award
Six Australians have been nominated for the 2014 Astrid Lindgren Memorial Award, the world's major prize for children's and young adult literature. They are authors Ursula Dubosarsky, Mem Fox, Morris Gleitzman, and Melina Marchetta – and illustrators Sonia Kretschmar and Marc Martin. The large field befits a huge literature: there are 238 nominees in all.
Remembering Hazel Rowley
Hazel Rowley – celebrated biographer of Christina Stead, Richard Wright, Sartre and Beauvoir, and the Roosevelts – is much missed by her Australian friends and admirers. She died in New York City in March 2011, aged fifty-nine, after a brief illness. Since Hazel Rowley's death, her family and friends have created the annual Hazel Rowley Literary Fellowship. Worth $10,000, it is presented annually. Funded by the Hazel Rowley Literary Fund, the Fellowship is open to Australian biographers who are working on a cultural or social history project that aligns with Rowley's research interests. The Fellowship may be used to develop a new proposal or to advance an existing project.
Now we learn that a new prize has been created for first-time US and Canadian biographers to commemorate the life and work of Hazel Rowley. The BIO Rowley Prize is administered by Biographers International Organisation (BIO), of which Dr Rowley was a founding member. The organisers have described Rowley as 'a passionate advocate for the art and craft of biography and a writer of exacting standards, as well as a helpmate to fellow biographers'.
The Prize is open to citizens or permanent residents of the United States and Canada who are working on a biography that has not been commissioned, contracted, or self-published, and who have never published a biography, history, or work of narrative nonfiction. The winning author will receive US$2000, agent support, and publicity.
Entries for the first BIO Rowley Prize close on 31 December. The winner will be announced at the BIO conference in Boston on 17 May. See www.biographersinternational.org for details.
Four summer giveaways
This month lucky ABR readers will have the opportunity to win tickets to one of four new films when they subscribe or renew their subscription. We have twenty double passes to Philomena, starring Judi Dench and Steve Coogan, based on the novella by Martin Sixsmith (thanks to Hopscotch Films) and twenty double passes to The Railway Man, starring Colin Firth and Nicole Kidman, based on the war memoir by Eric Lomax (Transmission Films). We also have fifteen double passes to French comedy The Gilded Cage (Palace Films), and another ten to On My Way starring Catherine Deneuve (Umbrella Entertainment). Break out the popcorn and subscribe now for your chance to win a ticket!
Farewell to 2013
As we finalise our summer issue, we want to thank all the critics and writers who have contributed to the magazine – and all the Patrons, partners, advertisers and supporters who have made it such a ringingly successful year. Everyone at ABR is committed to improving and diversifying the magazine. Readers and writers will see major new features and programs in 2014.
Meanwhile, the office will remain open over Christmas and the New Year, so don't forget – when renewing your subscription (or subscribing for the first time) – to take up our gift subscription offer. For every twelve months you subscribe you can give a friend or colleague a six-month print or online subscription.
Until February, when we'll be back, all good wishes to our friends and readers.