Chris Arnold
you opt for form over colour
makeup smudged lenses
pale bare planes by the lakes;
a cygnet ellipsis in black
parenthetical necks;
white sky reflected in high water.
we sit where I have stayed
and watched an oak open and close –
green again – the bench
suspended on ampersands.
Chris Arnold
...
excerpt from Ligature
he drops his shoulders
lets out his breath
finds himself benched
between green wood slats and
a black plastic platter of sushi,
disposable sticks in his hand.
ache on his right eye like a river stone
thinking like five hands
at the piano. city stratified in front
his eye's diameter

excerpt from Ligature
her office kept cold
she shivers exhales
but never the satisfaction
of seeing her breath
a red-black plaid blanket wraps
her legs pattern
reminiscent of red dust picnics –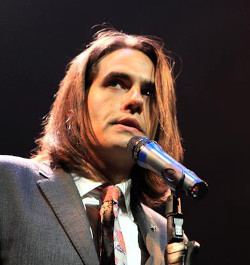 Chris Arnold lives in Perth and used to work as a software engineer. He was published in Westerly's first writers' development program, and now works as the journal's web editor. In 2017, Chris commenced a cr ...