Opera
Hansel and Gretel
Melbourne Symphony Orchestra
This charming, persuasive, and glowing concert performance of Hansel and Gretel, part of Andrew Davis's final Melbourne Symphony Orchestra season before he steps down as chief conductor, more than proved (if proof is required) what an outstanding opera conductor he is. Maybe, in future seasons, when Davis returns as the orchestra's conductor laureate, there will be more: perhaps Berg's Lulu, another of the maestro's favourite operas, which the MSO would perform magnificently.
Meanwhile, though, there was magnificence galore in the Hansel performance. Davis's love of the work shone through in almost every bar. From the opening horn melody to the refulgent choral conclusion, this gently sustained performance never lost focus and, just as important, never strayed into sentimentality. Engelbert Humperdinck may well have called Hansel a Märchenspiel, or fairytale work, but, as we know from our Brothers Grimm, this is not synonymous with saccharine. There is light, to be sure, but it is never far away from the inner darkness.
The orchestra played as well as I have ever heard them: their hearts were clearly beating as one. The balance, particularly between the strings and woodwind, but also between individual instruments exposed in various solo passages (for example, concertmaster Dale Barltrop, principal viola, Christopher Moore, and principal cello, David Berlin), was remarkably assured. One could say that it was a luxury to have the MSO play this music, but when the music itself is so beauteous and resonant, the luxury works both ways.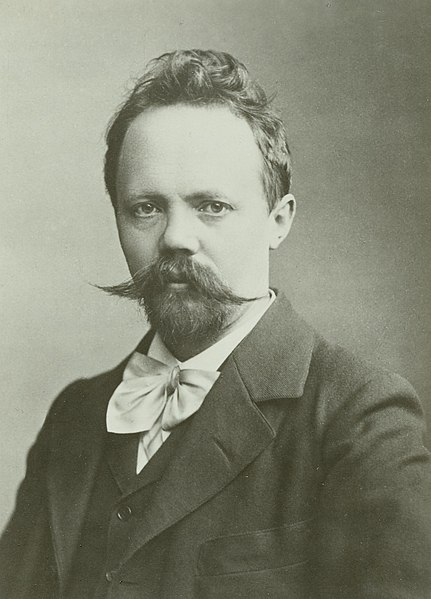 Engelbert Humperdinck (photograph by Julius C. Schaarwächter/Wikimedia Commons)
It is sad that Humperdinck, who would write eight other operas, never quite achieved the same popularity as his first. Hansel and Gretel's world première, in Weimar on 23 December 1893, was conducted by Richard Strauss, no less, who called it a masterpiece. Within a year, the opera had been performed in seventy-two theatres, including Hamburg, conducted by Gustav Mahler. This success, although mostly due to the brilliance of the piece itself, was also borne out of a sort of nationalistic backlash against the Italian school of verismo opera of the day. Indeed, the score is itself more reflective of Wagner (Humperdinck's mentor), Mendelssohn, and Weber than, say, Verdi or Donizetti or Spontini.
Even so, Hansel and Gretel remains unmistakably idiosyncratic, especially in the extraordinary interludes and postludes, such as the bacchanalian Witch's Ride, the Dream Pantomime with its fourteen (unseen) angels, and the jaunty, macabre Gingerbread Waltz. Thus does Humperdinck transform the simple but far darker Grimm original into something utterly individual and just as dramatic.
I wish the same could be said for the folksy, often glutinous, libretto, by Humperdinck's sister, Adelheid Wette. Although Frau Wette should take credit for inspiring her sibling to compose the piece, her words only occasionally reach the same heights as the music; the uncredited English surtitles (also in couplets whose rhymes you can spot a stanza away) were just as nugatory.
Hansel and Gretel, however, has never lost its sense of spontaneity and charm – and at Thursday night's performance, these qualities were to the fore. The title roles were sung effectively and dramatically by mezzo-soprano Elizabeth DeShong and soprano Laura Wilde, whose voices blended effortlessly in the famous evening prayer that ends Act II. Bass James Clayton and mezzo Elizabeth Campbell were ideally suited as Father and Mother; and Stacey Alleaume brought lustre to her doubling as Sandman and Dew Fairy. Tenor Topi Lehtipuu, under-voiced and over-expressive as the Witch (a role normally assigned to a mezzo), was the only weak link. The National Boys Choir of Australia and the Australian Girls Choir – words which took almost the same time to type as it did for them to sing – were the perfect icing on the gingerbread.
There was no 'production' to speak of. Just appropriate entrances and exits, and a passing glance at fairyland for some of the costumes: Gretel in a reference to the dirndl; Hansel in a sort of post-modern garb, presumably from a charity shop in nearby Ilsenstein Forest – the same premises from which the Witch obviously acquired her amalgam of punk and spangle, topped with a curly white wig and sunglasses. Just as haphazardly, some of the singers had music stands (Hansel, Gretel, the Witch), while others performed from memory.
But these are mere quibbles against what was a bold and noble performance that emphasised the bounteous relationship between Andrew Davis and the Melbourne Symphony. I only wish there had been more people in the audience. Hansel and Gretel can't be all that frightening, can it?
---
Hansel and Gretel was performed by the Melbourne Symphony Orchestra at Hamer Hall, Arts Centre Melbourne on 28 November 2019. There is a second performance on November 30.