'If you think you know what this collection will be like, you're wrong,' Carmen Maria Machado (author of the brilliant Her Body and Other Parties, 2017) states on the back cover of Kristen Roupenian's provocatively titled début, You Know You Want This. It is an unusual description of a short story collection from an emerging author, but Roupenian is not your average débutante. She is the author of 'Cat Person', the short story that launched a thousand hot takes after the New Yorker published it in December 2017.
Published during the rise of the #MeToo movement, 'Cat Person' – a finely written, conversation-starter of a story – relates the prelude to, and aftermath of, a bad date between twenty-year-old Margo and thirty-four-year-old Robert in confronting, nuanced detail. 'Cat Person' captured the public imagination to an extraordinary degree. Roupenian, then an MFA student at the University of Michigan, became the author of the 'first short story to go viral'. A subsequent bidding war by publishers resulted in a seven-figure book deal.
The supernova-like impact of 'Cat Person' cleared the way not only for this subversive collection to appear in print but for it to do so in a beautiful matte hardback edition with shiny holographic foil lettering. Inevitably, this early success will also bring with it a degree of scrutiny and pressure not usually faced by début collections.
---

---
You Know You Want This consists of twelve 'horror' stories, including 'Cat Person', which seems even creepier now when read alongside the others. This is a punchy, furious collection that bristles with violence and a sense of menace. The stories mostly focus on the subtleties and dangers of human interactions and the blurred boundaries between fear and love, disgust and attraction, power and vulnerability, reality and horror. Characters variously inflict pain or have it inflicted upon them, generally with no real consequences for the perpetrators who are sometimes even rewarded for their actions. Roupenian is also keenly interested in the stories people tell themselves about their lives: for example, the ways in which they can build the 'elaborate scaffolding' of a potential relationship on foundations as shaky as text messages from someone they barely know; or the unsettlingly different perceptions two people can have of a single shared experience.
The stories range in subject and style from the quotidian horrors of bad sex and unrequited love to an Angela Carter-esque gothic fairy tale about a princess unsuccessfully trying to choose a husband, only to fall for the mysterious black-caped figure that appears at her door ('The Mirror, The Bucket and the Old Thigh Bone'), and the brutal, disturbing story of what happens when a woman discovers a book of spells at her local library and decides to cast one ('Scarred').
In You Know You Want This,the commonplace and the grotesque collide in surprising and confronting ways, such as when a macabre revenge is enacted at an eleven-year-old's birthday party with the help of a 'good-luck candle' ('Sardines'). Sometimes the horrors are more mundane, as in the chilling 'Look At Your Game, Girl', when a man with 'flat' blue eyes and yellow toenails offers a cassette tape of Manson Family music to a twelve-year-old girl at a skatepark.
The imagery in Roupenian's stories is often enthusiastically repellent and will not be to all tastes. In the longest story in the collection, 'The Good Guy', Ted, the eponymous 'good guy', is in a car at the end of a first date with a girl who 'plunged her tongue into his mouth and wriggled it around'. During the encounter Ted reflects to himself, 'So this was kissing … Frankly, it was hard to ever imagine being turned on by this activity. Two boneless slabs of flesh, flopping around, like a pair of slugs mating in the cavern of your mouth.'
Still, bad kisses are the least of it. 'The Good Guy' opens with the startling assertion that by thirty-five the only way Ted can maintain an erection during sex is to 'pretend that his dick was a knife, and the woman he was fucking was stabbing herself with it'. In 'The Death Wish', a woman arrives at the narrator's dingy motel room for a hook-up and outlines what she is looking for from the encounter: '"I want you to punch me in the face as hard as you can. After you've punched me, when I've fallen down, I want you to kick me in the stomach. And then we can have sex."'
There are brief flashes of warmth and love in the collection (such as when a scared girl watches over her sleeping family in 'Look At Your Game, Girl'), and there is some much-needed humour in the strong concluding story about a woman who finally works out how to indulge in her desire to bite people without having to worry about the consequences ('The Biter'). Wolf-whistles being replaced by 'meows' in the story of an American Peace Corps volunteer attempting to teach unruly Kenyan schoolgirls are also a nice touch ('The Night Runner').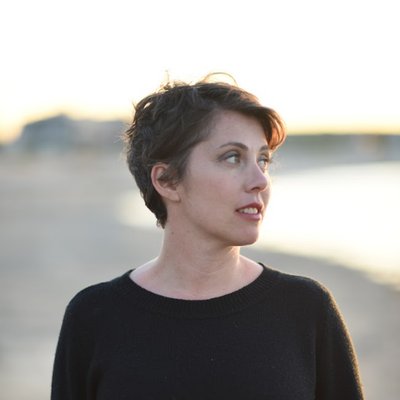 Kristen RoupenianYou Know You Want This is a tense, inventive, and flawed collection from a promising writer. The gruelling darkness of the stories is leavened by lighter moments scattered amid the horror. Jessica's observation in 'Look At Your Game, Girl' – that she can only spend 'short, thrilling bursts' of time with the 'mean friends' she finds 'the most fascinating but also the nastiest' before she starts to feel 'exhausted and sore' – feels apposite.
It comes as no surprise to learn that the stories are being adapted into an HBO series.