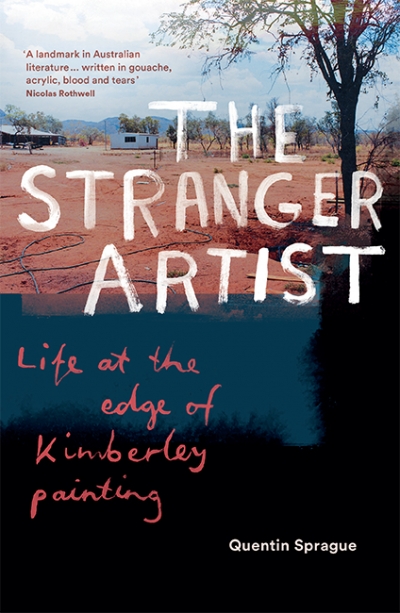 The Stranger Artist: Life at the edge of Kimberley painting
by Quentin Sprague
Hardie Grant Books, $32.99 pb, 304 pp
Art
The Stranger Artist: Life at the edge of Kimberley painting
by Quentin Sprague
The Stranger Artist is a finely structured and beautifully written account of gallerist Tony Oliver's immersion into the world of the Kimberley art movement at the end of the twentieth century; the close relationships he developed over the following years with painters such as Paddy Bedford, Freddie Timms, and Rusty Peters; and the creation of Jirrawun Arts as a collective to both promote and protect the artists and their work. How these artists, under Oliver's practical guidance, came to assume the mantle of the legendary Rover Thomas and took Kimberley art to the world provides a compelling narrative: from fascination to enthralment to disillusion. Dreams are born, bear fruit, and die. Like many a fine work of art, The Stranger Artist attracts with a brilliant surface while fascinating with its deeper layers. Behind the thrill and wisdom of the painting – so new and old, so luminous and dark – lurk the tragedies of history and dysfunctional politics. This book – how could it be otherwise? – is peopled with spectacular characters, art, and landscapes. Appropriate to this remote corner of Australia, it is full of intense colour and eccentricity, while also permeated with great sadness.
---
To continue reading,
subscribe
to
ABR
for as little as $10.Already a subscriber?
Sign in
to continue reading. If you need assistance, feel free to
contact us
.