Advances
News from the Editor's Desk
We give you ABR Online!
By now readers will have heard the whispers about our new website, the unveiling of which is imminent. Our electronic home will be much easier to use and more pleasant to read. We want to make the experience of browsing through ABR Online as close as possible to flipping through the magazine in a bookshop or library. Tablet and smartphone users will also notice that articles now integrate smoothly with their device and use less data.
The website is so important for exposing this country's literature and writing world-wide which is why we are now offering ABR Online to all of our current print subscribers free of charge. To sign up and join the literary discussion all you have to do is subscribe here or call us on (03) 9699 8822. It's a simple process – don't miss out.
Intensive work on the new website is continuing. We expect to go live in the middle of March. Please be patient as this transition takes place, and email us with any problems, feedback, or suggestions.
Ruth Starke on Don Dunstan
We are delighted to be able to publish Ruth Starke's detailed and probing article on Don Dunstan, the legendary South Australian premier. Dunstan, widely regarded as one of Australia's outstanding reforming political leaders, continues to fascinate and intrigue. Flinders University – where Ruth Starke has taught for several years – is the repository of the Dunstan collection, and Dr Starke is one of the first people to explore it in earnest. Her article (one of the longest ever published in ABR) is based on extensive research, new interviews with senior associates of Dunstan (including Mike Rann, another former premier), and a nuanced understanding of this mercurial leader, who transformed, and unsettled, South Australia over two decades.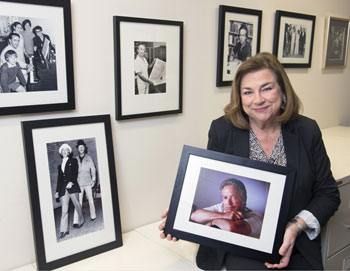 Ruth Starke in the Dunstan Collection, Flinders University library
Ruth Starke, who is preparing an edition of Dunstan's letters, researched and wrote 'Media Don' in her capacity as the fifth ABR Patrons' Fellow. The Fellowships, of which we have now offered eight, are intended to reward fine writers, to broaden the magazine, and offer our readers searching articles on significant literary, cultural, or political issues and personalities. We look forward to publishing many more articles of this scope and ambition in coming years.
Dunstan devotees won't want to miss the March 'Friday at the Library' at Flinders University on 15 March, when Ruth Starke will be in conversation with Kerryn Goldsworthy, who herself wrote so absorbingly about Dunstan in her book Adelaide (2011). See the advertisement on page 37for more details.
Enter the Jolley Prize
Exponents of short fiction have until 31 May to enter the ABR Elizabeth Jolley Short Story Prize. The three prizes are worth a total of $8000, including $5000 for the overall winner. Past winner Maria Takolander will judge the Jolley with noted author–academic Tony Birch and writer Terri-ann White, who is also Director of UWA Publishing. The three shortlisted stories will be published later this year, and the winner will be announced at a Sydney event in September or October.
Entry forms are available online or from ABR: (03) 9699 8822. To encourage subscribers to enter the Jolley Prize, we have reduced the entry fee for them to $10. Multiple entries are welcome. A separate entry form (one accompanies this issue) is needed for each story, but please note that you can send us a single cheque.
ABR warmly acknowledges the continuing support of Mr Ian Dickson.
Porter Prize
Of the nearly 800 entries submitted in this year's Peter Porter Poetry Prize, the judges – Bronwyn Lea and David McCooey (ABR's Poetry Editor) – have shortlisted five poems. We hope you enjoy reading them. Dan Disney's extraordinary poem 'Procedures in Aesthetics', readers will not be surprised to learn, took ABR to new heights and angles.
This year, instead of simply naming the winner in the April issue, we will celebrate our five poets and the Porter Prize that facilitates hundreds of new poems each year at a special ceremony on Wednesday, 27 March at Boyd. Jane Porter (the poet's daughter) will announce the winner, who will receive $4000. This event starts at 6 p.m. Reservations are essential: (03) 9699 8822 or This email address is being protected from spambots. You need JavaScript enabled to view it..
Giveaways galore
This month, courtesy of Allen & Unwin, ten prompt new subscribers will each receive a copy of The 2013 Voiceless Anthology, which Alex O'Brien reviews for us in this issue.
Thanks to Universal Pictures, twenty-five renewing subscribers will win a double pass to see the new movie adaptation of Charles Dickens's Great Expectations, which opens in Australia on 7 March.