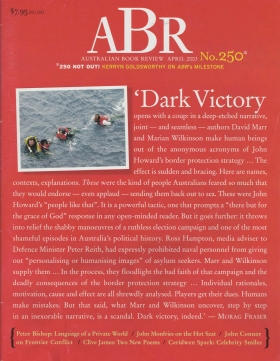 April 2003, no. 250
Kerryn Goldsworthy
This is issue no. 250, and the twenty-fifth consecutive year, of Australian Book Review. Issue No. 1 appeared in 1978, edited by John McLaren and published by the National Book Council. Since then the journal has survived and thrived, through changes of editor (though not very often) and of editorial policy (though not very much); through changes of appearance, ownership, sponsorship and affiliation.
Morag Fraser
Dark Victory opens with a coup: in a deep-etched narrative, joint – and seamless – authors David Marr and Marian Wilkinson make human beings out of the anonymous acronyms of John Howard's border protection strategy. Explicitly rejecting the gulag language of numbers, of SUNCs in SIEVs ...
Peter Steele
W.H. Auden, following Samuel Butler, thought that 'the true test of imagination is the ability to name a cat', and plenty of people, poets, and others have believed this: to recast a dictum of Christ's, if you can't be trusted with the cats, why should we trust you with the tigers?