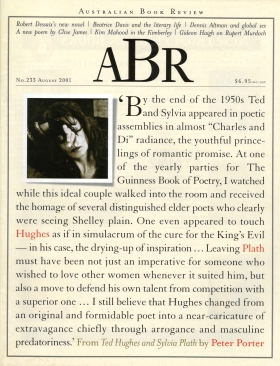 August 2001, no. 233
Peter Rose
In September 2018, NewSouth published a new edition of A Certain Style.
On a chilly evening in 1980, a stylish woman in her early seventies, wheezing slightly from a lifetime's cigarettes, climbed a staircase just beneath the Harbour Bridge ...
Peter Porter
I should make it clear at the start of these discursive memories that I knew Ted Hughes only slightly and Sylvia Plath hardly at all. But I lived in fairly close proximity to their ascent to fame in the 1950s and 1960s and knew much more closely some of the personalities intimately involved in the crisis in the lives of these two remarkable poets ...