In September 2018, NewSouth published a new edition of A Certain Style.
On a chilly evening in 1980, a stylish woman in her early seventies, wheezing slightly from a lifetime's cigarettes, climbed a staircase just beneath the Harbour Bridge, entered a room full of book editors – young women mostly, university-educated, making their way in a newly feminised industry – and proceeded, in her crisp, extemporising way, to lay down the law. She had been invited to talk about the role of the editor, but first came the caveat: '[A]lthough I can see that this audience consists mostly of women, I shall throughout refer to the editor as he.' And so she did, despite the mental hisses of some in the audience – and despite years spent contending with the smugness, neglect and condescension of men in the publishing industry. Did she remember a very different lecture half a century earlier when, as an Arts student at the University of Sydney, she had watched Sir Mungo MacCallum start his lectures with the word 'Gentlemen', glaring at the few women in the auditorium.
Thus, beguilingly, Jacqueline Kent's biography begins. The woman's name was, of course, Beatrice Davis. After this personal prologue, the book proceeds in chronological fashion. It is a traditional biography. One suspects that 'Beatrice' (not to be addressed as 'Bea', as one of her authors discovered) would have approved of the style, if not of the act of publication itself. Kent discovered this a little later when Beatrice chastised her for publishing a history of radio. 'You are an editor,' the doyenne reminded Kent. 'Editors do not write books.' Indeed, she appears to have taken something of an interest in Kent's life. Condoling with Kent, in 1987, soon after the death of her husband, Kenneth Cook, Davis said: '[I]t's really difficult when you have to bury them, isn't it?'
Sexual politics is one of the themes that enriches A Certain Style. Davis's, as we know, was a pivotal career and a glamorous life, but success, opportunity, advancement never came easily. They had to be earned, the disproportionate successes of less seasoned male colleagues politely tolerated. When Davis joined Angus & Robertson, men occupied all the senior positions. Even after thirty years with the company, she was overlooked for senior positions and promotion to the board.
Older men dominated her life, beginning with her adored father. His sudden death from typhoid, when Beatrice was thirteen, was a huge loss. Jacqueline Kent wears her psychology lightly, but she infers that this premature grief confirmed Beatrice's stoicism. Kylie Tennant, who knew Beatrice well, described her as 'a long-distance woman … with a heart that nothing can break' – quite an asset for an editor. She always preferred the company of older men. Her husband, Frederick Bridges, was twenty years her senior. After their marriage, she kept him a secret at A&R, for in those days married women were not supposed to go on working. Bridges seems to have been a fitting and endearing partner for this spirited young woman – until tubercular mood swings got the better of him. Not for nothing, perhaps, did he cruelly burn the postcards that Beatrice's late father had sent her during the Great War.
After Bridges's early death, Beatrice had a series of liaisons with older men. 'When I think of Beatrice in the 1950s,' Elizabeth Riddell reminisced, 'I always visualise her on the arm of a well-preserved older gentleman.' William Morris Hughes, whom Beatrice published, used to totter up the stairs at A&R's legendary headquarters at 89 Castlereagh Street, Sydney, bellowing, 'Where is she? Where's the woman I'd leave home for?'
Rumours of libertinism pursued Beatrice throughout her life. As her influence grew, people began to speculate about the young widow's private life. Petite, stylish, religiously well-groomed, and very flirtatious, she was rumoured to have been George Ferguson's mistress for years. Men fell in love with her, even Hal Porter – after a fashion – in one of the sicklier passages in the book. Beatrice admired Porter's writing, and cultivated him for A&R. Fancying himself to be in love, Porter courted her in some of his more cloying prose: 'You have become the very veins of my bodies … All my work from now on is for you.' Kent, typically ironic and observant, notices that Porter's handwriting became more 'spikily italic, almost Elizabethan' with each letter – as if he wanted them preserved for posterity. Behind Beatrice's back, he was less predictable, more poisonous. Despite promises, he gave a novel to Faber & Faber, while spreading rumours about Beatrice's bisexuality. Again, Kent is characteristically insightful: 'Rumours about Beatrice's sex life … reveal more about those telling the stories than they do about her.' But Porter was not entirely blind. He told his own biographer, Mary Lord, that Beatrice was interested in 'the devil in the basement'. Behind the genteel demeanour, the discreet manner, the helmet of hair, lay contradictions and a hedonistic disposition.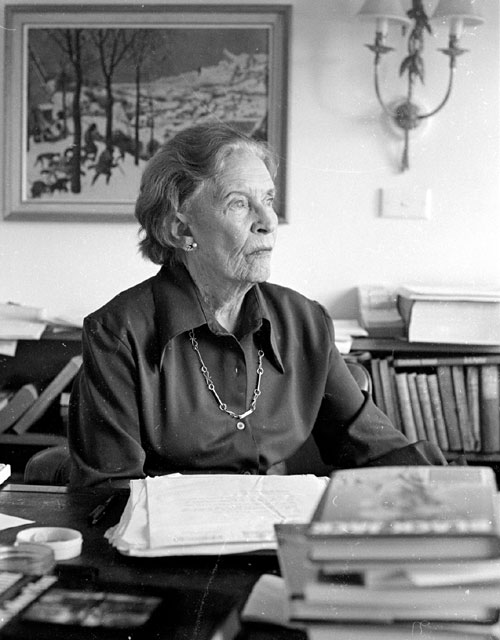 Beatrice Davis (National Library of Australia)Much of Beatrice's will and flair went into publishing. For more than three decades, she sat in her poky upstairs office and edited book after book. Although she published all kinds, her tastes were unashamedly literary. A legendary and democratic colleague and mentor, she trained generations of book editors. ('What would Beatrice say?' became a kind of mantra in editorial circles.) 'Darling,' she told one of them, 'if you make a mistake in print, it will haunt you for the rest of your life.' Her authors were celebrated, and various. They included Miles Franklin, Eve Langley, Xavier Herbert, Patricia Wrightson, Kenneth Mackenzie and Thea Astley.
When, in 1973, after thirty-four years with A&R, she fell out of favour with Gordon Barton and Richard Walsh, eighty of her authors contributed to a Festschrift. Thea Astley wrote: 'Beatrice Davis has taught me more about writing than anyone else. But she has, indirectly, and simply by being Beatrice, taught me as much about living. She is a truly great woman.' Douglas Stewart, with whom Beatrice had launched A&R's Coast to Coast anthology series, was succinct: 'As much as anyone else, and more than most, Beatrice Davis kept Australian literature alive for more than a quarter of a century.'
Davis's career did not end in 1973. She went to work at Thomas Nelson, befriending a new generation of authors. She edited Tim Winton and Paul Radley, including his notorious Jack Rivers and Me. (Here Kent strains a little to establish Davis's prescience about the book's true authorship.) She befriended and influenced younger publishers, including Bob Sessions and Patrick Gallagher. She hosted famous parties, never missed Writers' Week and, having agreed to act as literary executor, remained one of the Miles Franklin Award judges for more than thirty years. In itself, this seems remarkable – possibly hubristic – but not as extraordinary as Davis's belief in the rightness of her fulfilling this role despite the fact that she had also edited countless entries, and several winners, including Thea Astley's three early successes. Her own sense of duty – and dispensation – were unshakeable. She felt she owed it to Franklin, and that was that.
Marketing was never her genius. She had joined A&R at a time when editors took as long as they liked with manuscripts, books were only released when it suited the editors, and the printers at Halstead were often asked to recommend print-runs. Ruth Park never heard Beatrice mention readers, only reviewers. Several future bestsellers got away, notoriously John O'Grady's They're a Weird Mob, which sold its first print-run (14,000 copies) in a fortnight and 70,000 copies by 1979. Her preference for literary fiction had 'once more blinded her to market realities'. Eventually, Beatrice's indifference to the popular counted against her as an editor when a new breed of marketers and financiers took over the presses with their bitter acumen and statistical blinkers.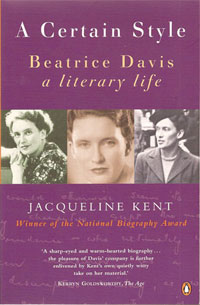 The original cover of A Certain Style.Nevertheless, one of the book's main revelations is the durability of the Australian market and the successes enjoyed by A&R in those formative decades. Ion Idriess wrote fifty books over thirty years and each one, on average, sold 35,000 copies. One topped 300,000 copies. Come in Spinner sold 24,000 copies in its first year. A&R's mailing list numbered 200,000 when the population was about seven million.
Paramount for Beatrice was the intense, creative, disinterested work with authors and their manuscripts. Putatively the 'helper', she could be insistent and diabolically charming. 'I think we'll have a tiny piece of comma here,' she would note in her meticulous red handwriting, of which Miles Franklin remarked that it could have been played on the piano. Sometimes, naughtily, she didn't show changes to authors until it was too late. She remained a stickler for correct grammar and punctuation, the Fowler Fixation, as Kenneth Tynan dubbed it. She was incisive about sloppy writing, however famous or irascible the author, and her attention to detail was impressive. She once told Xavier Herbert: 'You've hypnotised yourself with words here – long-winded and mannered … No omelette maker would leave the job to glance at a newspaper.'
The details in this book are exquisite and a rich resource. The frequently outrageous Herbert so detested semicolons he sawed the key off his typewriter, condemning himself to what G.R. Robertson, the founder of A&R, described as 'blockage of the colon'. We meet Sid McCure, who joined A&R in 1892 and retired in 1954, the sort of longevity – and loyalty to staff – that would be almost inconceivable today. And there is a poignant cameo of Ernestine Hill at the end of her troubled life, endlessly retyping chapters without making changes – still desperate to write.
Finally, in 1981, Beatrice retired. Honours were heaped on her, including an emeritus fellowship from the Literature Board (still the only fellowship ever given to a book editor) and, from the National Book Council, the apt, perverse title of Bookman of the Year. Jacqueline Kent is not always uncritical of her subject but, at the end of this worthy addition to the literature on publishing in this country, she permits herself a warm tribute with which it is difficult to disagree:
At a time when Australia was a small country that still took almost perverse pride in its anti-intellectualism, she affirmed the importance of our writers in every aspect of her working life. Australian literature will always be in her debt.