Art
Frederick McCubbin – Whisperings in wattle boughs
A major exhibition at the Geelong Gallery
Geelong Gallery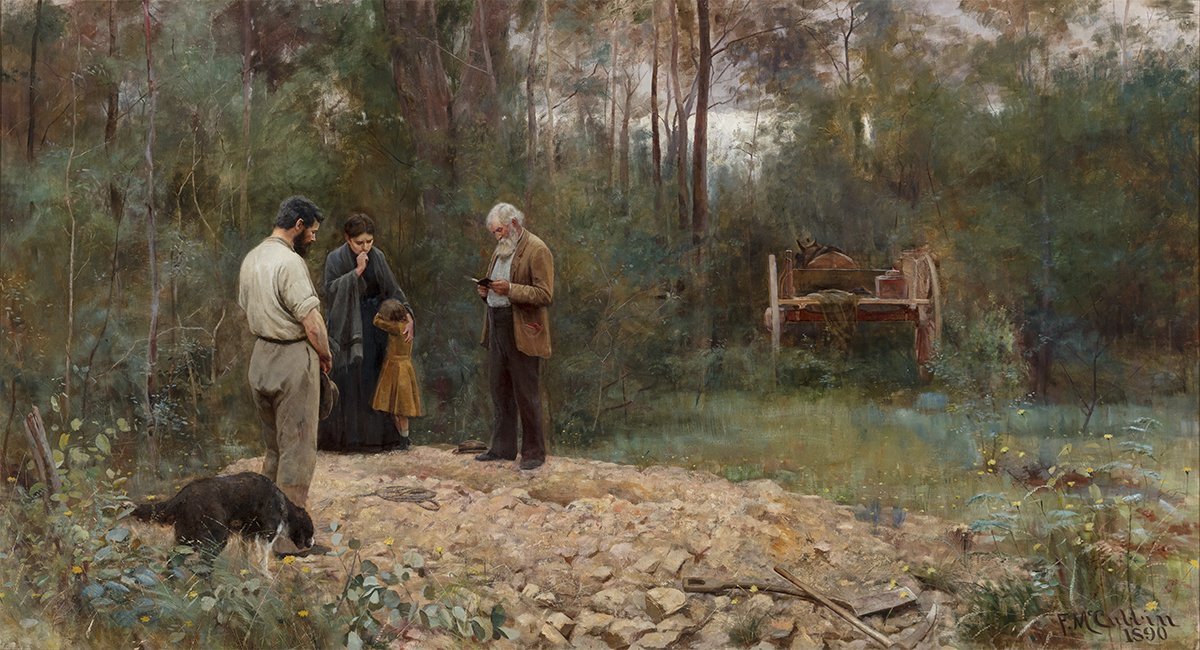 Frederick McCubbin (1855–1917), otherwise known as 'The Proff', was only a sometime plein-airiste at the Box Hill artists' camp. He never made it out to Eaglemont and Heidelberg, as curator and historian Anne Gray has shown, debunking mythic accretions of place around the venerated so-called Heidelberg School.[1] Boxhill/Lilydale, laid down in 1882, was McCubbin's trainline of choice. He was also a studio artist given to creating a tightly controlled narrative mise en scène. As Andrew McKenzie has revealed, McCubbin built a faux grave in his backyard at his home in Rathmines Street, Hawthorn, dragooning his wife, Annie, to play the female mourner for A Bush Burial (1890).[2] The bearded elder was possibly John Dunne, a picaresque character whom McCubbin purportedly accosted on a city street. Artist friend Louis Abrahams played the young male mourner. The young girl is not identified. Nor the sorrowful dog.
One hundred and thirty years on, I muse that if the grave in A Bush Burial were to be exhumed in an act of postcolonial time travel, one might think to find restrictive ideas of nationhood buried therein, not just a fellow down on his luck, a family retainer who had lost life, health, and hope of fortune in 'taking up' land. Alas, as Leigh Astbury, Ann Galbally, and David Hansen have variously shown, sentimental attachments to history and masculinist settler rural mythologies underpinned the formation of a nationalist art after the turn of the century. These tropes endure in neo-colonial agendas and discourses. So much else gets buried: the reconciliatory Uluru Statement from the Heart proposing only simple inclusion of First Nations voices in the constitution; stories and paintings of and by women; dispossession and massacre histories; deaths in custody; environment; the list goes on. Our moribund political class flinches from complex colonial history and flagging colonisation's deleterious impacts, teaching new settler generations to do same. What loss. If I peer into that national mass grave, I am afraid of seeing myself. Perhaps, then, the trope of burial retains cultural relevance, though (over)emphasising doom-laden settler sighs of mourning is a proleptic dead end.
Letting strange ghosts fly up and out of iconic paintings and into the present requires careful, imaginative reframing by artists and curators to help audiences question how notions of iconicity are constructed and for whom. How far are gallery institutions holding iconic works of art prepared to push a postcolonial cultural envelope? Looking at McCubbin's beautifully painted, sentimental 'national pictures' from 130 years ago, it's not hard to imagine these narratives re-angled with a view to ushering in what haunts us. Dynamic shifts in curation towards more critical postcolonial approaches are thankfully on the ascent and, for my tastes, Geelong Gallery's new two-part exhibition is on the money.
A Bush Burial is grand colonial theatre, a centrepiece of the new exhibition, Frederick McCubbin – Whisperings in wattle boughs (Geelong Gallery until 28 November). The exhibition title derives from McCubbin's slightly saccharine painting of the same name (1886), the title itself the painter's riff on a poem by colonial poet, debtor and horse-whipping rogue Adam Lindsay Gordon from around 1867. Art historian Leigh Astbury, cited in the catalogue, avers: 'McCubbin and his contemporaries were typical of their time in believing that literature might help them experience nature more directly and more profoundly.'
While the exhibition title might suggest a conventional hagiography of a key member of the Fab Four (Roberts, McCubbin, Streeton, Conder) and potential re-idealisation of McCubbin's nostalgia-laden rural subjects, this show carefully historicises McCubbin's contexts, though at first glance historical nuance tends to be catalogue-driven rather than immediately evident in the linear, career-best displays of McCubbin's achievements.
Senior Curator Lisa Sullivan takes great pains to show that McCubbin's 'national' paintings are not the only construction of colonial pasts on offer. The McCubbin exhibition is adjacent to a pendant exhibition, Exhume the Grave. The latter comprises work by Robert Hague, Jill Orr, Annie Zahalka, Christian Thompson, Juan Davila and others who, as I've suggested elsewhere, variously add 'significant feminist and postcolonial freight to twentieth century hagiographies of landscape privileging masculine enchantments with rural labour and sentimentalised scenes of settler struggle' (ABR, review of She-Oak and Sunlight: Australian Impressionism, May 2021). The pendant show forms a vibrant intellectual and pictorial counterpoint to Whisperings that enables McCubbin's iconic imagery to be admired yet also speedily reread and recast. Witness Anne Zahalka's brilliant photomontage The Immigrants (1983), a direct parody of McCubbin's 1904 epic The Pioneer. Here, images of the artist's post-World War II refugee family counter McCubbin's Anglo-Celtic settler types. In the background, a seen-better-days smash repair shop – its walls as blue as the sky and taking the place of the cottage no longer glimpsed – suggest colonial road-rage epiphanies, legacies of the smash-and-grab of colonial experience. Zahalka shows migrant women as part of our national story, down on their luck or otherwise. In the burial panel, a less hieratic, less reverential female mourner stares up and out, as if pondering what her future might hold. It is no less moving for that. Robert Hague's exquisite, artfully broken and mended porcelain plate Blue Claude (after McCubbin) (2020) riffs on McCubbin's gloomy gold prospector in Down on His Luck (1889), replacing the bush setting with an arcadian mythological ruin from Claude Lorrain. The colonial view with its nod to the old world is broken, imperfect. The prospector, a sad colonial humpty, sits among the ruins of his dreams. Bidjara and Scottish man Christian Thompson parodies McCubbin's The Pioneer in a C-type print from his 2009 series Lost together. In Dead as a Doornail, he transposes the Australian bush to a Scottish setting. With searing wit, Thompson shows the swagman–prospector as a young Bidjara man 'exploring the new frontier of Europe'. Thus place and identity are interrogated in a perspectival reverse of north–south colonial 'progress' narratives.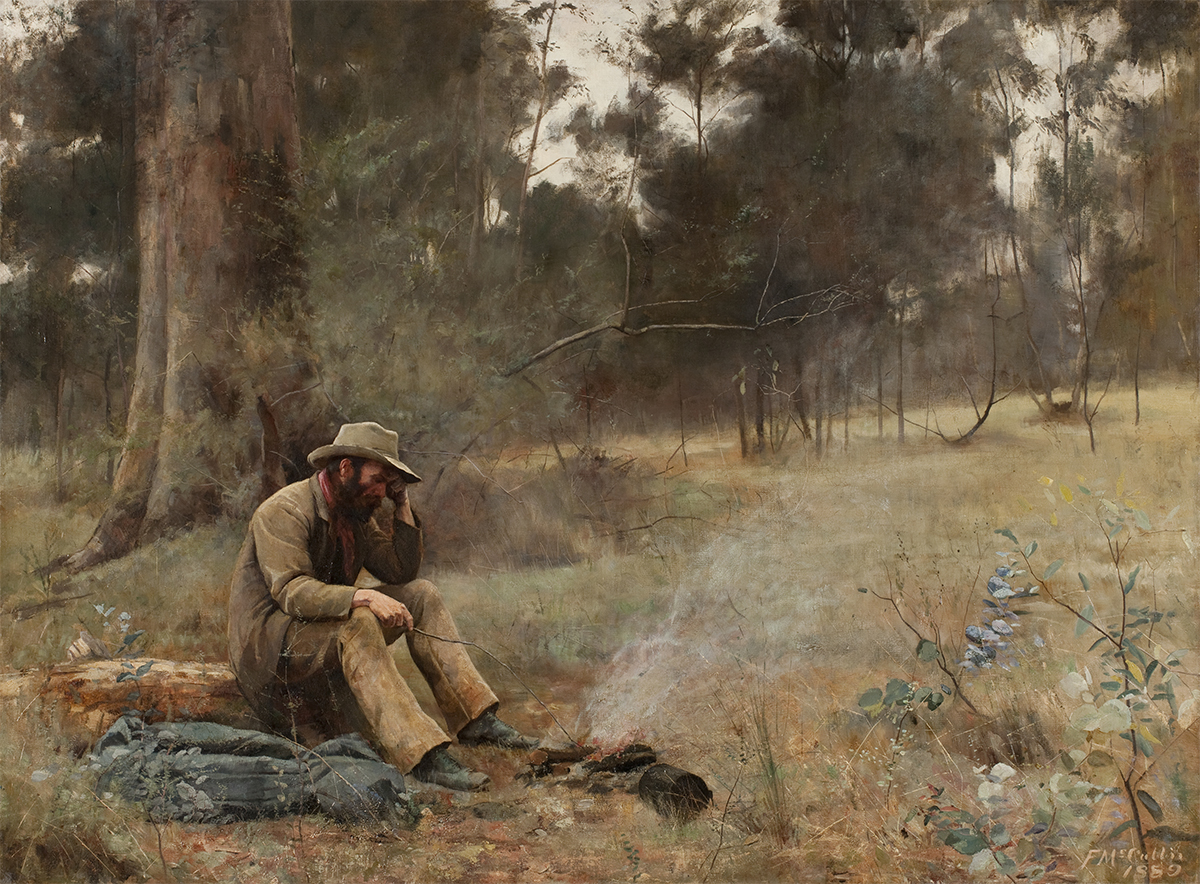 Frederick McCubbin, Down on his luck, 1889, oil on canvas, Art Gallery of Western Australia, Perth State Art Collection, purchased 1896
The excellent catalogue gathers nineteenth- and twentieth-century sources to historicise McCubbin's contexts. 'The work is sincere, full of genuine feeling and thoroughly national,' an unnamed reviewer wrote in Table Talk in April 1889.
We learn how consciously artists of the time strove, in Anne Gray's words, to 'establish the validity of nationalist subjects, and to treat them with a seriousness and on the scale of history paintings'.[3] But Sullivan points out how much our ideas of nationhood have evolved, how Australian culture, at least, has come to understand 'the negative impacts of colonialism, and the cultural primacy of First Nations People', 'the wide social diversity of immigrant experience', and the elision of complex roles for women as depicted in these iconic historical narratives.
Whisperings nonetheless offers a rare opportunity to sight McCubbin's master narrative works – A Bush Burial, Down on his Luck, On the Wallaby Track (1896), and The Pioneer – alongside compelling smaller works and late genre views. David Hansen has noted that McCubbin, Roberts, and Streeton aimed to represent 'typical Australian light and landscape' and 'typical Australians' as the 'bushmen of rural mythology'. [4] It's worth remembering that in the boom-and-bust years of Melbourne in the 1880s and 1890s, McCubbin was already looking back, creating and constructing elegiac works that hinted at the erosion of rural life through industrialisation and modernisation. Trains were steaming away from the city well before A Bush Burial was painted (did artists hear the locomotive whistles from the Boxhill artists' camp?); streetlights altered the urban landscape irrevocably in 1894; moves towards suffragism for women and First Nations peoples were underway.
While the display is predominantly a celebration of McCubbin's skill and sensitivity as a builder of a particular kind of historical nationalist narrative, smaller works such as At the Falling of the Year and Lost, both of 1886, fascinate. Lost, poor, ailing child are tropes of nineteenth-century literature and narrative painting (see also Jules Bastien-Lepage's Pauvre Fauvette, 1881). In colonial settings, such representations often draw on discourses of cultural nationalism that emphasise settle generational continuity.To build drama, McCubbin has distanced and diminished the child's weepy figure. Truckloads of sentiment still apply (an actual lost child, Clara Crosbie, was found and put on public display in Bourke Street, with photos of her posed in front of a bush diorama widely circulated – the Sky News media strategy of the day, perhaps). But the figure is smaller than a small sapling. The bush and its dangers are foregrounded, vying for equal place as the painting's subject. You don't just see the bush; you hear and smell it.
Unlike Conder, Streeton, and his good friend Roberts, McCubbin didn't make it to Europe until late in his life and career. He studiously, if vicariously, absorbed the work of French naturalist Bastien-Lepage, Courbet's academic gravitas, and Millet's monumental heroic peasant types. These influences leaven McCubbin's compositional approach, as Gray has shown.[5] Courbet is not digested as substantively or as subtly as in Roberts' paintings. If Bastien-Lepage's influential doe-eyed figures are predominantly responsible for 'bringing together' the fine pastry of McCubbin's figure groupings, no one is saying so. (Could that be because the former artist is French with a distinguished provenance?) But to say one detects a heritable strain of working-class kitsch running across time and national settings, and that, sometimes, to close an eye and see McCubbin's monumental figures removed – this is to see something else, to revel in a sublime cult of nature that the artist's glorious telescoped views of the bush afford. For some, that may be heretic – there's much attachment to McCubbin's storytelling. But what a magisterial painter of the blue-green-ochre'd bush he was.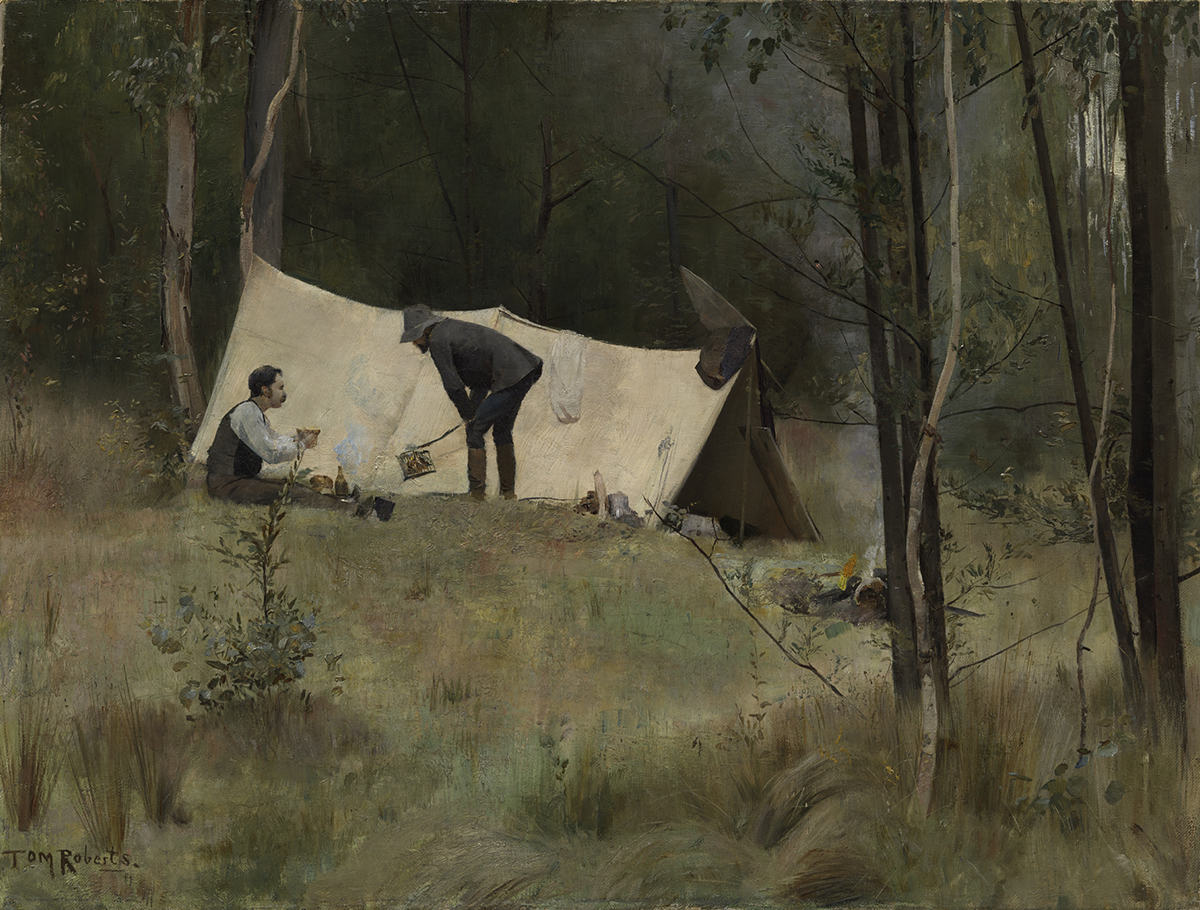 Tom Roberts, The artists' camp, 1886, National Gallery of Victoria, Melbourne Felton Bequest, 1943. (photograph via the National Gallery of Victoria, Melbourne)
McCubbin's late idylls are palette-knifed, abstracted landscapes where the bush takes a gentle, less threatening hold, as in Child in the Bush (1913), a painting that includes an image of the artist's daughter Kathleen. These late-breaking, seemingly sudden shifts in style, scale, and subject matter are compelling. There were exciting reasons for these changes. In 1901, McCubbin, Annie, and their family moved away from the suburbs to 'Fontainebleau' in Mount Macedon. McCubbin now had opportunities for an intensive immersion in nature. While The Pioneer (1904) and other subjects of human labour such as Bush Sawyers (1910) were also completed at Macedon, and may have provided bread and butter for the family, a late trip to Europe in 1907 saw McCubbin digest the lessons of Monet and Turner. These artists' influences are dramatically apparent in bush nocturnes such as Violet and Gold (1912), Afterglow (1912), and A Forest Glade (1913) – smaller canvases suffused with impressionistic light and colour. Sometimes mythological or aesthetic subjects (nymphs or fairies) are glimpsed, but these are subsumed into an overall impression of light and dissolving colour that is pure exaltation.
McCubbin also painted similarly diffuse, abstracted city landscapes replete with trams and tram tracks (see Princes Bridge, 1910 and the three versions of Collins Street Melbourne, c.1915, one of which is held by Geelong Gallery), but none is included in this exhibition, perhaps for reasons of space. Including one or two of these works may have nuanced understanding of the broad scope of the painter's subject matters, complicating perceptions of McCubbin as solely a painter of bush themes. In any case, there is a differently epic, even transcendent sensibility to the artist's late works with their focus on light, paint, and atmosphere.
McCubbin passed away in 1917. He left a body of beautifully painted, populist works that spoke for nascent nationhood. This intelligently curated two-part exhibition brings new focus to the political, artistic, and cultural contexts from which these paintings emerged, while also foregrounding the radically different conceptual and formal arc of the artist's late career. Of equal importance is the focus on contemporary artists 'who exhume the grave', raiding the McCubbin archive to create visual provocations for our time.
---
Frederick McCubbin – Whisperings in wattle boughs is being exhibited at the Geelong Gallery until 13 February 2022.
This article is supported by the Copyright Agency's Cultural Fund.
References
[1] Anne Gray, 'Friends and Rivals: A Quartet in Variations', in She-Oak and Sunlight: Australian Impressionism, National Gallery of Victoria and Thames & Hudson, Melbourne, 2021, pp. 2–87; p. 4.
[2] Andrew McKenzie, Frederick McCubbin 1855–1917: 'The Proff' and his Art, Mannagum Press, Lilydale, Vic, 1990, p. 54.
[3] Anne Gray, Tom Roberts, National Gallery of Australia, Canberra, 2015, p. 40.
[4] David Hansen, 'National Naturalism' in Lane, Terence, Australian Impressionism, NGV, 2007, p. 281.
[5] Gray, 'Friends and Rivals: A Quartet with Variations'.