Art
Francesca Sasnaitis takes a tour of 'Melbourne Now'
'There's no time like NOW!' proclaim the signs.
Inspired by the fond reminiscences of slow tram rides of several Melbourne personalities, whose brief anecdotes are interspersed between the pages of the sumptuous Melbourne Now catalogue (Melbourne Now Limited Edition, National Gallery of Victoria, $100 hb, 280 pp, 9780724103768), I am travelling into the exhibition by tram. Through the rectangle of the window I watch the ziggurat of the Shrine of Remembrance and the green slopes of the Domain slide by. Max Delany, senior curator of contemporary art, admits in his essay 'Metro-cosmo-polis: Melbourne now' that, despite its scope and hundreds of participants, this exhibition can be neither completely inclusive nor exhaustive. Words like 'mammoth', 'significant', 'grandiose', 'grandiloquent', 'pretentious', 'ostentatious', 'impressive', and 'inspired' rattle around my brain in time to the tram's stop-and-grind, and anticipate my reactions to the vast undertaking of Melbourne Now. I have high expectations – I hope to see the culture of my city with a tourist's fresh gaze.
NGV International has become the site of play. Giggling friends smash ping pong balls across drawings of the artist Laith McGregor's face (Ping pong paradise, 2011). School children flock and squawk like the birds they have been invited to stick onto Juan Ford's sky blue walls (You, me and the flock, 2013). Adults and children sit at low tables stringing together wooden beads, tubes and laminated shapes in Meredith Turnbull's colourful workshop installation (Co-Workers, hanging sculpture, 2013). In her pink One stop knock-off shop (2013), Anastasia Klose sells T-shirts printed with irreverent slogans like 'Marcel Dachump', 'Andy Warshole', and 'Claude Monéy'; and coffee mugs – 'Quiet Desperation' says one, reflecting how I am beginning to feel. I suspect that many visitors are more titillated by the opportunity to make noise or to return to long-neglected childhood creativity, in this usually hallowed space, than by aesthetic juxtapositions or critiques of contemporary society.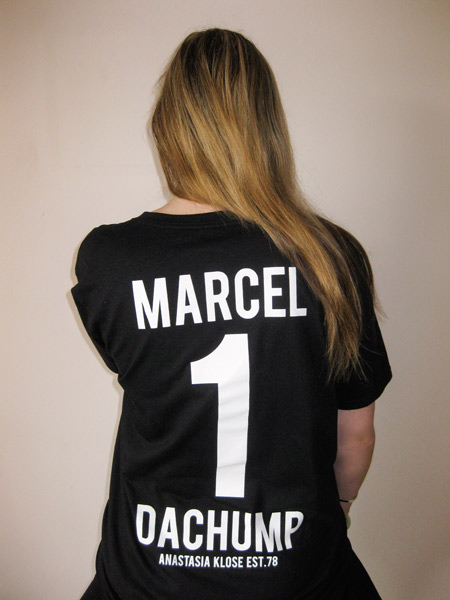 One stop knock-off shop - Marcel Dachump 2013. Anastasia Klose, born Australia 1978. Collection of the artist. Photo: Vanessa David. © Anastasia Klose, courtesy Tolarno Galleries, Melbourne
Tom Nicholson's Comparative monument (Palestine) (2012), stands out as an island of quiet dignity: nine stacks of square posters in a neat line across the gallery floor. Each is printed with an isolated image of a war memorial commemorating Australian participation in the Palestinian campaign of World War I. The texts in English and Arabic explain the genesis of this project: finding and photographing the monuments in and around Melbourne; visiting Bir Sab'a, which was cleared of its Palestinian population in 1948; and finally imagining the relocation of the Australian monuments to Bir Sab'a, where side by side, their inscriptions reading 'Palestine', they would disrupt traffic along a major thoroughfare. A guard runs up and assures me that I am welcome to take a copy of each poster and hang them in my home or in some other unspecified location, where they would complete Nicholson's project by ensuring a different sort of enshrinement.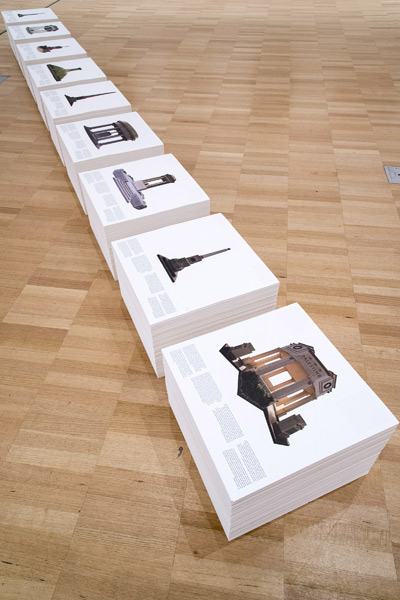 Comparative monument (Palestine), 2012. Tom Nicholson, born Australia 1973. Colour offset lithographs, 550.0 x 50.0 x 30.0 cm (installation) 50.0 x 50.0 cm (each poster). Collection of the artist.
The more contemplative arts are easily overlooked: cases of jewellery; delicate sculptural forms, like Prue Venables's porcelain tea strainers (2013); and works which require closer inspection, like Elizabeth Gower's 150 rotations (2013), domestic jetsam – Vegemite jar labels, Lipton's tea-bag tags – transformed into snowflake shapes swirling across a wall. Paintings by established artists like Rick Amor, Juan Davila, Gareth Sansom, and Jan Senbergs barely rate a second glance in the cacophony of sights, sounds, commerce – signs with a shopping trolley logo encourage 'Buy up NOW' – and invitations to participate.
Visitors to Melbourne Now, iPhones aloft, snap photographs as if holding works of art in the palm of their hands makes them more significant, or validates the experience, or, more disturbingly, reduces the artwork to the flat, glossy reproduction-sized pictures they are used to apprehending. In any case, many spectators seem so distracted by their eagerness to 'consume' the exhibition that they pay scant attention to the meaning (or lack thereof) of the artwork.
In his recent lecture 'Where is Painting?' at Monash University Art Design & Architecture (MADA), visiting scholar and critic David Joselit spoke of painting's unlimited 'flow of experience'. I must admit to a jaded opinion of most street art, but I would recommend Hosier Lane (ALLYOURWALLS, 2013) to Joselit. Apart from the usual clichés of graffiti art – slick tags, bug-eyed and fanged monsters – walls are covered in vigorous gestural compositions; calligraphic script; a painting of the iconic Frida Kahlo dressed as the Holy Virgin in blue; Leonardo da Vinci quoted in white stencilled letters on a black wall: 'A PAINTER SHOULD BEGIN EVERY CANVAS WITH A WASH OF BLACK BECAUSE ALL THINGS IN NATURE ARE DARK EXCEPT WHERE EXPOSED BY THE LIGHT.' Brilliant observation to make in a laneway! Here anonymous artists explore contemporary issues with wit, intelligence, an appreciation of art history, and a fully developed craft.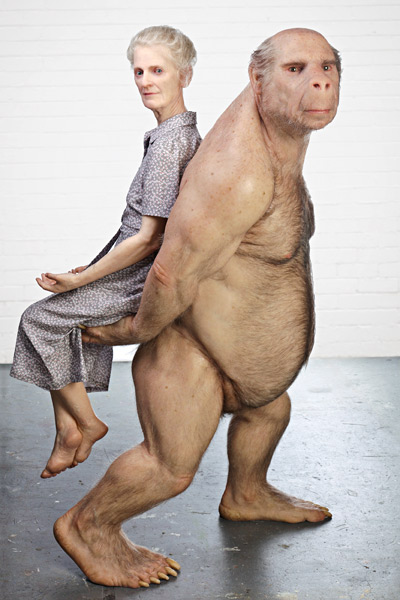 The carrier 2012. Patricia Piccinini, born Sierra Leone 1965, lived in Italy 1968–72, arrived Australia 1972. Silicone, fibreglass, human and animal hair, clothing, 170.0 x 115.0 x 75.0 cm. Collection of Corbett Lyon and Yueji Lyon, Lyon Housemuseum, Melbourne, proposed gift © Patricia Piccinini, courtesy Tolarno Galleries, Melbourne. Photo: Peter Hennessey. Supported by Corbett and Yueji Lyon.
At NGV Australia, the atmosphere is somewhat less frenetic than on St Kilda Road, though the task of absorbing all that is on offer is equally daunting. In order to avoid sensory overload, I suggest visits be contained to 'floors' or self-curated mini-exhibitions of fashion, ceramics, performance, video, or whatever takes your fancy, like the samplings of architectural practice, design, drawing or experimental sound ready-assembled by guest curators. Regardless, 'the journey should be long because the details are complex', as Nikos Papastergiadis says in his essay 'As Melbourne in the World', and will lead to both unexpected engagements and inevitable culs-de-sac.
When I walk through the clinging Gothic curtain into Julia deVille's house of taxidermy (Degustation, 2013), I mistake the somewhat alien-looking baby in the pram to my left for one of the exhibits. Understandable, given that I have come directly from staring into the eyes of Patricia Piccinini's homely mutant (The carrier, 2012) and Stelarc's self-mutilated arm – he has been growing an ear using stem-cell technology (Ear on arm, 2006). DeVille's stuffed and jewel-encrusted animals, served up in a faux-Victorian dining room, are far more confronting: a piglet, a lamb, a calf, several kittens, ducklings perhaps – at this point I feel my gorge rise and stop looking too closely. I have seen death and have no fear of the dead, but this kind of glorification strikes me as somehow unseemly.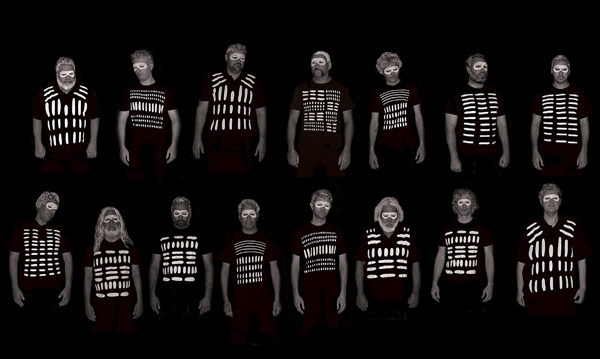 Men in mourning 2012–13, from Ritual and ceremony 2012–13. Maree Clarke, Mutti Mutti/Wamba Wamba/Yorta Yorta/Boonwurrung born 1961. Gelatin silver photograph, 123.0 x 200.0 cm (each). Sound recordist: Anna Liebzeit. Collection of the artist, © Maree Clarke, courtesy Vivien Anderson Gallery, Melbourne.
As I approach Maree Clarke's installation of photo-portraits (Ritual and ceremony, 2012–13), the forty-five men and thirty-eight women give an uncanny impression of movement. They are dressed in black costumes, ritual marks painted in white across the chests of the men. Both men and women have white masks and their hair is grey, as if covered with ash. The white shimmers and the patterns of lines dance against the black background. These figures enact the ongoing mourning of the Aboriginal tribes of Victoria. In video interviews they tell angry, heartrending and deeply shaming stories of loss, grief, and survival; they speak volumes more about memory and preservation than deVille's silver plattered offerings. Such dissonances and conjunctions between cultures are among Melbourne Now's most intense and satisfying experiences.
Melbourne Now is like a snapshot or a time capsule, the capturing of a single moment in a city's arts practice; the gathering together under one (metaphorical) roof of all the work we might otherwise never have the opportunity to see. It also reminds me of shopping malls, iPod shuffle, and 'best of' selections, none of which I am particularly fond of, though the form does suit many people. I have been amused, bemused, impressed, moved, and occasionally left indifferent by this extraordinary, ambitious exhibition. But I have also seen too many 'usual suspects' and too many diverse practices vying for attention. The big question is, do I really want to experience art in this way? The answer is no. I would prefer a more modest undertaking, a theme slightly less flamboyant than the parameters of an entire city.
Melbourne Now is showing at NGV International and NGV Australia until 23 March 2014.
Melbourne Now Exhibition Guide, National Gallery of Victoria, $9.95 pb, 384 pp, 9780724103775.
Melbourne Now e-book, National Gallery of Victoria, free e-book for iPad and Android, 9780724103782.