Music
An Evening with Gun-Brit Barkmin
West Australian Symphony Orchestra
Those of us lucky enough to attend WASO's concert performance of Tristan und Isolde with principal conductor Asher Fisch at the Perth Concert Hall in August 2018 were blown away by German soprano Gun-Brit Barkmin's musically and dramatically riveting Isolde. She returned last week for this year's Opera Gala Concert in two performances with the orchestra (once more conducted by Fish) in a program featuring a potpourri of operatic and orchestral excerpts and songs, tracing a somewhat arbitrary (if not unmotivated) line from Beethoven via Wagner to Mahler and Richard Strauss.
Despite a program note detailing the influence of Beethoven on Wagner, and the latter on Mahler and Strauss, the selection seemed motivated more by the elective affinities between conductor and soprano: in particular, Fisch's interest in German Romantic and post-Romantic music, and Barkmin's specialisation in complex late-romantic, early-modernist, and contemporary roles, from Wagner and Strauss to Berg, Janáček, Shostakovich, Britten, Birtwistle, and Aribert Reimann.
In this context, opening with Beethoven's Fidelio Overture followed by Leonora's Act I aria Abscheulicher! Wo eilst du hin? seemed like something of a concession to WASO subscribers, though Barkmin made a commanding Leonora/Fidelio (looking appropriately androgynous in black trousers and Louise Brooks bob) and had no difficulty navigating Beethoven's somewhat jerky musical, dramatic, and emotional gear shifts from furious recitative ('Monster, where are you rushing to?') to hymn-like adagio ('Come, Hope, let not the last star of the weary fade!'), to the final galloping allegro con brio ('I follow an inner call, I will not falter!'). One had the feeling that this was perhaps more Maestro Fisch's choice than Barkmin's natural repertoire; and that, given her ferocious vocal and dramatic energy, if she were actually cast as Leonora, she would probably relieve Rocco of the keys, liberate Florestan, and lock Pizarro up in his cell without even bothering to disguise herself as a man.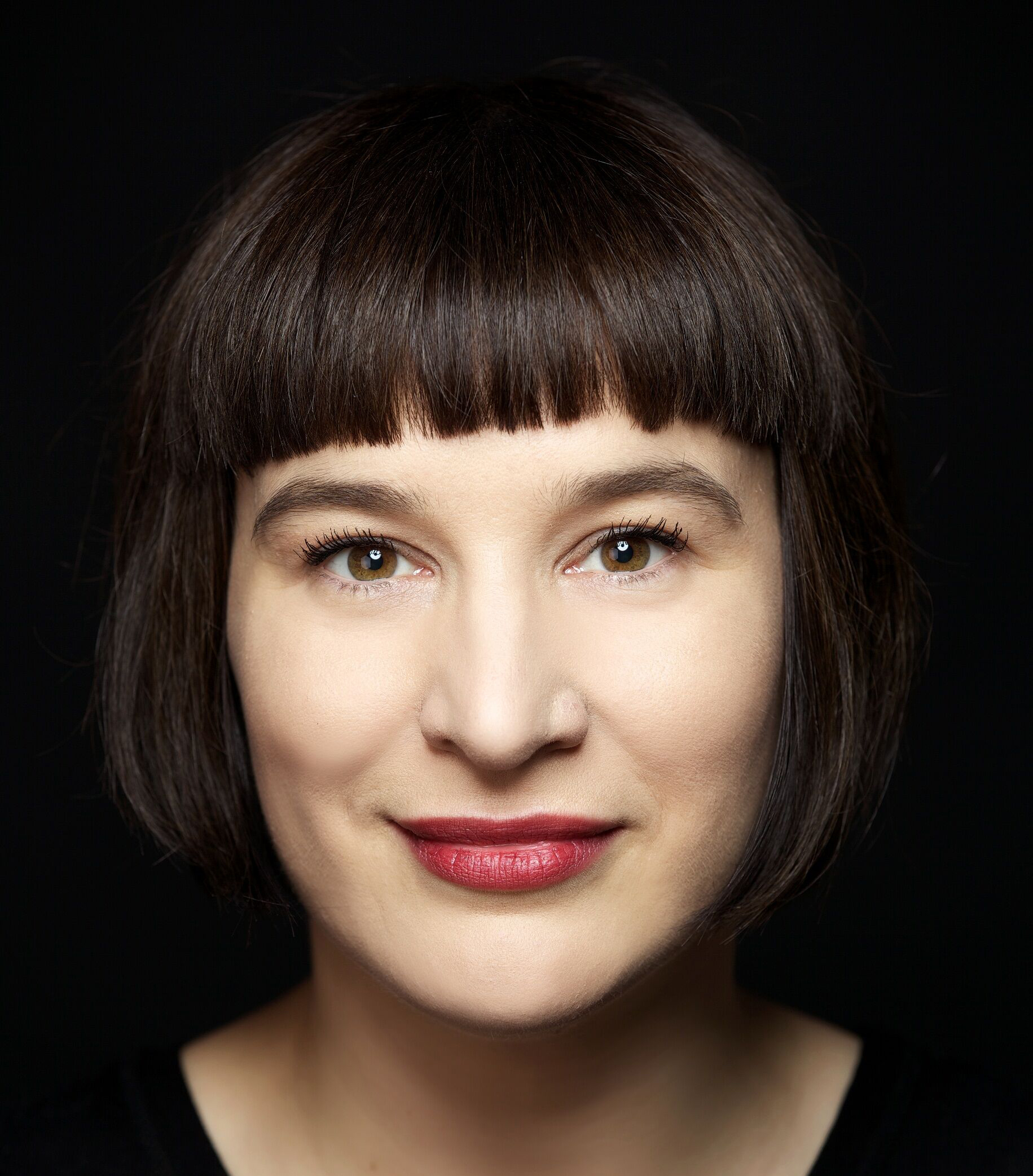 Gun-Brit Barkmin (photograph via West Australian Symphony Orchestra)
The next item on the menu, Mahler's Blumine, seemed like an orchestral filler (perhaps to cover Barkmin's first costume change). A charming but insubstantial and understandably excised movement from the composer's First Symphony, it is barely recognisable even as early Mahler, let alone showing any trace of Beethoven or Wagner (if anything owing more to Mendelssohn), and had no discernible connection with any of the other works on the program.
When Barkmin reappeared in white for Strauss's sublime Four Last Songs, things really got underway. Her clear, penetrating, at time even flinty voice and interpretation were worlds away from iconic recordings of these works by warmer, more wistful or soulful singers like Elisabeth Schwarzkopf or Jessye Norman. Barkmin's approach was simpler and more direct, and allowed the complexities of text and score to speak for themselves and to layer the songs with all the shades and subtleties that Strauss's orchestration evokes from Hesse's and Eichendorff's glorious poems of landscape, the seasons, and mortality. I found myself unexpectedly caught by the throat several times, with Barkmin's unsentimental approach given firm but understated support from Fisch and the orchestra, notably by the horn section in September, concert master Laurence Jackson's sensitive solo violin in Beim Schlafengehen, and, especially, the haunting reprise of the theme from Strauss's early tone poem Death and Transfiguration at the end of the final song, Im Abendrot, after the words 'Is this perhaps death?' followed by the gentle trilling of piccolos echoing the distant sound of soaring larks.
After interval, Fisch and the orchestra kicked off with the music for the Entrance of the Guests that opens Act II of Tannhäuser, after which Barkmin reappeared to deliver Elizabeth's Greeting to the Hall, Dich, teure Halle, from the same opera. Once again, orchestra and soprano acquitted themselves splendidly. However, I was unconvinced by the programming choice. This early transitional work of Wagner's remains musically if not dramatically bound by the conventions of French Romantic opera, and the composer remained notoriously dissatisfied with it. Apart from the Venusberg music (which was composed after Tristan for the revised Paris score), it has little in common with the composer's more chromatic and fluid mature style (which influenced Mahler and Strauss); and the role of Elizabeth suffers from a rather two-dimensional purity and submissiveness in contrast with later and more complex Wagner heroines and anti-heroines like Isolde, Brünnhilde, and Kundry (all of which seem musically and dramatically more suited to a singer like Barkmin).
The best saved until last, the concert ended with a rousing rendition of the Dance of the Seven Veils from Strauss's first great post-Wagnerian opera, Salome, after which Barkmin made her final entrance in a black dress and her hands bedecked with jewelled rings to deliver a thrilling account of Salome's closing monologue to the severed head of John the Baptist ('Ah, you did not want me to kiss your mouth, Jochanaan!').
Salome was the first opera I saw onstage that bowled me over: a production at the Vienna State Opera in 1981 with the great American singer–actress Karan Armstrong vocally, physically, and dramatically convincing in the title role; Teresa Stratas in the Götz Friedrich film version is similarly the real deal, though she never attempted it onstage. Strauss said that, ideally, Salome should be a sixteen-year-old with the voice of an Isolde, which is certainly a tall order, as she is onstage for almost the entire one hundred and five minutes of the opera and has to sing over a massive orchestra for much of that time, as well as dancing a wild striptease before delivering her hugely demanding final monologue.
Stuart Skelton, Asher Fisch, and Gun-Brit Barkmin in Tristan und Isolde in 2018 (West Australian Symphony Orchestra)
As with her concert performance as Isolde in 2018 (now captured on CD, with Stuart Skelton as Tristan), Barkmin summoned tremendous and concentrated vocal, dramatic, and emotional energy to inhabit and express all the adolescent yearning, morbid fascination, and horror required for this complex role, supported by thrillingly visceral playing from the orchestra under Fisch, who once again demonstrated his profound understanding of this twisted early Expressionist score (which owes so much to Tristan, and the final Scene of which was described by critic and Strauss biographer Michael Kennedy as a 'perverted Liebestod'). An indelible image was evoked for me when the soprano slowly raised her glittering hands as if cradling the Baptist's severed head to kiss it, before raising them further to cup and caress her own face (recalling the famous 1932 photograph of Marlene Dietrich in Shanghai Express) and murmuring, 'Ah! I kissed your mouth, Jochanaan! There was a bitter taste on your lips.'
The pinnacles of this concert were the Four Last Songs and Salome. Indeed, I couldn't help wishing for an all-Strauss evening, perhaps featuring one or two more orchestral songs or operatic excerpts, or interspersed with one of the tone poems (WASO is playing Death and Transfiguration and Don Juan in another program later this season, and Maestro Fisch has already displayed his mastery of other works by Strauss in previous years). Alternatively, a more convincing line of influence could have been drawn to Strauss from a work like Wagner's Wesendonk Lieder, perhaps including some of Mahler's great orchestral song settings along the way; or such a line could be extended to Berg's Altenberg Lieder or even Schönberg's Erwartung – any and all of which would suit a singer like Barkmin to perfection. One can only hope that such a program – or another concert performance of an entire opera featuring this unique soprano in one of her signature roles, like Salome, Lady Macbeth of Mtensk, or The Macropolous Case – awaits us in future.
---
An Evening with Gun-Brit Barkmin was presented by the West Australian Symphony Orchestra on 23 and 25 August 2019. Performance attended: 25 August.