Nietzsche was in no doubt: Wagner owed his success to his innate sensuality. The philosopher – most influential of the Wagnerites – began to have reservations about his hero in the mid-1870s, around the time of the first Bayreuth Festival (1876), though he never changed his mind about Wagner's pre-eminence ('Other musicians don't count compared to Wagner'). It was Wagner's decadence and sexual pathology that disillusioned Nietzsche. In 1888, not long before he went mad, Nietzsche wrote: 'Is Wagner a human being at all? Isn't he rather a sickness. He makes sick whatever he touches – he has made music sick.'
Nietzsche was also outraged by Wagner's meddling in his own affairs. Wagner had written to Nietzsche's doctor, Otto Eiser, attributing his devotee's worsening headaches to onanism and, implicitly, homosexuality. Eiser, foolish enough to show Wagner's letter to Nietzsche, was in no doubt that this occasioned the famous falling out between the two men. Nietzsche, most indignant, began alluding to Wagner's silken fetishes, of which he had direct experience. Once he asked a former student of his where he could find a good silk shop in Basel so that he could buy silk underpants for Wagner. 'One you've chosen a God, you've got to adorn him,' he told the student.
Nietzsche, increasingly disaffected, spoke of putting on gloves when he picked up the score of Tristan und Isolde. '[To guard] against Wagnerian music I consider it imperative to exercise every caution.'
Caution, despite these entreaties, was thrown to the wind at the Perth Concert Hall last Thursday when the West Australian Symphony Orchestra celebrated its ninetieth birthday with a gala concert performance of Tristan und Isolde. A large, attentive, and, it must be said, ungloved audience clearly relished the concert, which stretched over five hours, with two longish intervals. (A second performance, broadcast live on ABC FM, followed on the Sunday afternoon. An ABC Classic recording of these performances will appear in 2019.)
Concert performances of operatic masterpieces – especially one as static and meditative as this one – have merits. ABR Arts recalls a concert back in 1982, when Charles Mackerras led the team that was intended to provide the Australian Opera's (unfinished) Ring cycle: Rita Hunter, Alberto Remedios, Margreta Elkins, and Bruce Martin. In 2016 there was a sensational TSO concert in Hobart, with Nina Stemme and Stuart Skelton performing long excerpts from the opera just weeks after their appearances at the Met in Mariusz Treliński's new production.
Asher Fisch (Principal Conductor and Artistic Adviser of WASO) is an accomplished Wagnerian. We first heard him in this country fourteen years ago, when he conducted the second Ring cycle in Adelaide. On the eve of the Perth concert, in the same space, Fisch spoke of his reverence for the score and illustrated some of the mercurial leitmotifs at the piano (especially the Love Glance motif), before engaging two of the principals in genial, informative conversation. It was a generous introduction to a profoundly complex work.
Orchestrally, this was an exceptional concert: right from the Prelude with its Tristan chord, which Berlioz described as 'a kind of chromatic moan … whose cruel effect is reinforced by long suspensions which appear in place of proper harmonic resolutions'. Fisch took the Prelude somewhat faster than usual, welcomely so. Robert Gibson, in his program notes, reminds us that the instrumental forces required for Tristan are not immense, unlike the Ring. Wagner, abandoning Siegfried to write Tristan in two years (1857–59), was after a different and sparer opera, one he could stage promptly to reverse his financial woes.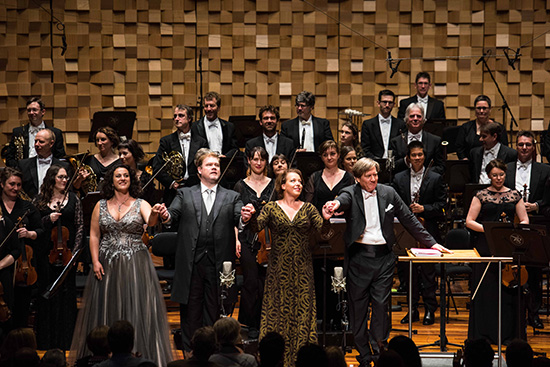 Monika Bohinec, Stuart Skelton, Nina Stemme, and conductor Marko Letonja in Tristan und Isolde in Hobart, 2016 (photograph by Alastair Bett, Tasmanian Symphony Orchestra)
All night the playing was of a high and concentrated order, with fine work from the strings and the brass – and sensitive work from the solo cor anglais (Leanne Glover) at the start of Act Three, one of the glories of this score. Wagner sounds superb in the Perth Concert Hall.
The opera, premièred in Munich in 1865, was audacious then, as it is now: a theatre of erotics, notably in the great Act Two love duet. In his book Wagner and the Erotic Impulse (Harvard, 2010), Laurence Dreyfus writes: 'it was Wagner who opened the flood gates representing sexual desire within music.' Vernon Lee, writing in 1911, was perhaps the first person to note that 'the music imitates what no words have ever imitated … the languors and orgasms within the human being.' Lee, though not a Wagner devotee, went on: 'The music … becomes the most masterly and unmistakable translation of a series of emotional crises'.
The exceptional cast was adept at conveying these protracted 'emotional crises'. 'Time and again in Tristan,' as Michael Tanner has remarked, 'one wonders whether things can go any further, and they do.' From the outset, this was an evening of memorable singing. The opera begins with the Young Sailor's unaccompanied farewell song to his Irish maid. This was beautifully sung (offstage) by Paul O'Neill, though something seemed to go awry in the repeat, as if there was a glitch backstage.
Brangäne was sung by the Russian veteran Ekaterina Gubanova, who has tackled the role a hundred times, often with Daniel Barenboim. ABR Arts heard her last in the Treliński production. Here she seemed surer and more commanding. Gubanova employed her rich vibrato to good effect during the Act Two love duet, when Brangäne (high above in the balcony) warns the lovers that night will soon be over, in some of the greatest music ever written. Gubanova was at her opulent best in the long scene with Isolde that opens Act Two. There was nothing restrained or concert-like about this tense exchange: it was as dramatic as any staged opera.
Like Gubanova, Boaz Daniel, who sang Kurwenal, is a seasoned Wagnerian – almost too seasoned in ways. There was a certain complacency in Daniel's practised swagger in Act One: he was over-loud and two-dimensional. But Daniel was fine and more engaged in Act Three (Kurwenal has only one line in the middle act).
Ain Anger – regal-looking and noble-voiced – has sung Fafner and Hunding in Ring cycles at Bayreuth and Vienna, and this experience showed as King Marke – outrage and hurt at Tristan's betrayal when the lovers are surprised in Act Two; then grief and forgiveness in Act Three when he exhorts Tristan ('Mein Held, mein Tristan!') to waken – his 'faithful, faithfullest friend'.
Stuart Skelton – fresh from his 'year of Tristans' in 2016 – is indubitably in his pomp, and we have reason to be grateful that we are hearing so much of him in Australia, though no longer, regrettably, with the national company. The voice is better than ever – absolutely sure across his wide range, capable of the sweetest pianissimo singing, gleaming and resonant in the upper register. Skelton's affinity with Asher Fisch and WASO is apparent; they perform together in his new and justly lauded recital album, Shinging Knight (ABC), which includes Wagner's Wesendonck Lieder, with its two miniature studies for Tristan und Isolde.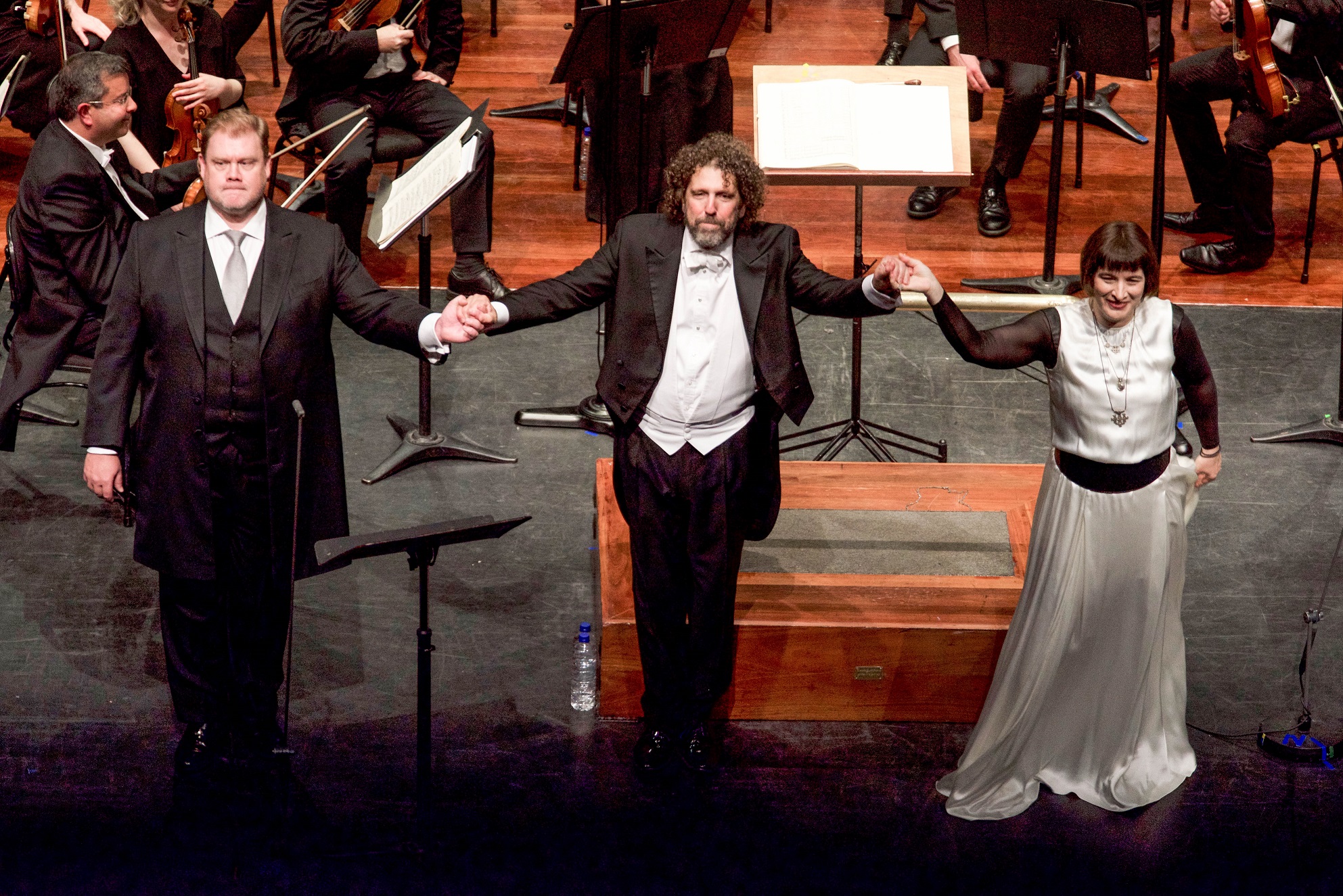 Stuart Skelton, Asher Fisch, and Gun-Brit Barkmin in Tristan und Isolde (West Australian Symphony Orchestra)
Skelton was superb and unflagging all night, but it was his singing in Act III – when Tristan, emerging from his coma, anguished and increasingly deranged, mourns his parents and longs for Isolde – that will live longest in the memory. This was fearless, impassioned singing of the highest order.
In a way, despite Skelton's heroics, the evening belonged to Gun-Brit Barkmin, who had effectively rescued the gala, stepping in with two weeks' notice when Eva-Maria Westbroek withdrew from the concerts. (Westbroek, we understand, will proceed with her MSO/Walküre concert on August 25.) Barkmin is a renowned Salome, but it is two years since she last sang Isolde. (Unlike, Skelton and Gubanova, she used a score; Skelton reverted to his for the rigours of Act Three.) Fisch was attentive all night, and their rapport was pivotal. Barkmin is a true singing actor – ever in character, magnetic and possessed. Hard it was to take one's eyes off this 'queen of silence', isolated, metaphysical, endlessly solipsistic. Barkmin acted with her nostrils, her bangs, her consonants – even her rings were in character. Her crisp diction is delicious, as when she challenged Tristan to drink to reconciliation – 'Nun lass uns Sühne trinken!' Barkmin was funny too at times, especially in the repeated ironies and sarcasms of the first act.
Barkmin's is not a huge voice. The Liebestod, after the full-throated peaks of the Curse in Act One and the Love Duet in the next, poses an immense challenge for any soprano. Barkmin, hypnotically still, eschewing histrionics, merely lifting her arms, rose to the challenge magnificently: this was a wave-like prayer of great intensity. Barkmin rode the massed orchestra in this most irresolute and equivocal of resolutions. Little wonder that she was visibly affected at the conclusion. Gasping for air and embracing Skelton, she knew what she had done.
The audience knew, too, what it had heard. Each act was followed by an awed silence from the audience – especially the third. Then there was a loud and universal standing ovation, richly deserved after this unforgettable account of Wagner's masterpiece.
Perhaps Bruno Walter should have the last word. He first heard Tristan und Isolde when he was fourteen, and the effect was almost religious:
So I sat there in the uppermost gallery of the Berlin Opera House, and from the first entry of the cellos my heart contracted as in a spasm … Never before had my soul been deluged with such floods of sound and passion, never before had my heart been consumed by such suffering and yearning, by such holy bliss, never before had such heavenly transfiguration transported me away from reality.

---
Tristan und Isolde was performed twice in Concert at the Perth Concert Hall: 16 and 19 August 2018. Performance attended: August 16.
ABR Arts is generously supported by The Ian Potter Foundation and the ABR Patrons.
---