Hugo von Hofmannsthal and Richard Strauss consciously set out to emulate Mozart in Der Rosenkavalier, and succeeded, creating not only the last great Romantic opera but the most perfect Viennese confection, and Strauss's most-loved opera.
It was an immediate hit from its Dresden première on 26 January 1911. Dresden gave fifty performances within a year, all sold out, and special trains were run from Berlin. Other German companies were equally confident: the opera opened in Nuremberg the day after Dresden, Munich a few days after that, then Hamburg (with a new young soprano, Lotte Lehmann, as understudy to Sophie. Lehmann followed a not unusual route via Sophie and Octavian to become among the greatest of Marschallins). Cigarettes and champagne were named Rosenkavalier.
Strauss biographer Michael Kennedy notes that Straus was 'always alert and responsive to the mood of the day, holding a mirror to contemporary life. In Salome, he reflected the fin de siècle fashion for decadence and art nouveau in the manner of Oscar Wilde and Aubrey Beardsley; in Elektra there are Freudian overtones, even if they are accidental; and in Der Rosenkavalier he wrote the opera par excellence which enshrines pre-1914 Europe, its opulence and gaiety, the sense of time running out, the cynicism, the beauty, the abundance of melody and the refusal to face reality'.
Bittersweet, it is both funny and poignant, as well as extremely demanding to stage, requiring a virtuoso orchestra, an assured and sensitive conductor, a refined director, and a large cast of singers. In particular, it needs three brilliant women whose voices can blend and balance for the Marschallin, her seventeen-year-old lover Octavian (a trouser role), and the delicate, innocent Sophie, who will supplant her. It is a comedy but also profoundly serious, and the director must work to achieve this balance.
Unfortunately, Melbourne Opera had few of those requisites, other than really fine singers in Daniel Sumegi as Baron Ochs and Lee Abrahmsen as the Marschallin. And even their characterisations were flawed.
It is easy to over-egg the characters, making the Marschallin a tragic figure or Ochs too vulgar a buffoon. The Marschallin is only in her mid-thirties, and must be played, as Spike Hughes put it, 'with Viennese grace and lightness, half weeping, half smiling'. Ochs may be bucolic and over-confident, but he is sophisticated enough to survive in the Marschallin's salon without being evicted by her servants after five minutes.
It was probably irresistible for director Tama Matheson to cast Ochs as Donald Trump, and Daniel Sumegi carried it off brilliantly, but at the cost of coarsening the character, while the conceptual problem is that Trump is beyond parody. Sumegi, though he sometimes harshened his tone, is simply a superb bass – and not a bad comedian. As for the Marschallin, the smile was doused by melancholy, but Abrahmsen again showed that she is a wonderful singer with ravishing high notes, ample power, and great emotional conviction.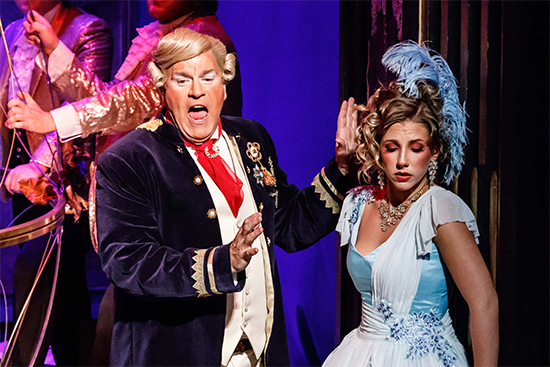 Daniel Sumegi as Baron Ochs and Anna Voshege as Sophie in Melbourne Opera's production of Der Rosenkavalier.
Conductor David Kram drew considerable verve from the orchestra, but it fell far short of the required precision, delicacy, and ethereal lightness. When Karl Bohm conducted Rosenkavalier at Dresden, he demanded nineteen orchestral rehearsals, and a senior player told him it was not one too many. However many rehearsals the Melbourne Opera Orchestra had, it was far too few.
Kram struggled to balance his forces, both between orchestra and singers and within the orchestra – mostly it was too loud, stretching the already formidable demands on the singers. That, along with the struggles to stay in tune, meant the score seldom displayed its magic. It was especially costly in the two key scenes, the presentation of the Rose, and the Act Three trio, described by Judi Dench as one of the most perfect stage moments ever conceived. It is so important to float the notes effortlessly. Get these scenes right and much else can be forgiven, but this production did not.
The other two principals, Danielle Calder as Octavian and Anna Voshege as Sophie, were valiant but were too stretched, despite some lovely moments by each. Simon Meadows as Faninal was perhaps the pick of the rest of the large cast, while Henry Choo made the most of his cameo as the Italian singer.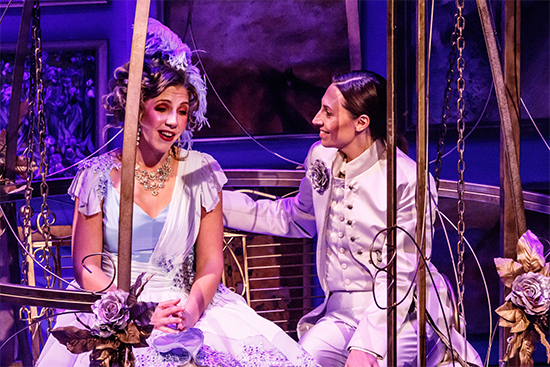 Anna Voshege as Sophie and Danielle Calder as Count Octavian in Melbourne Opera's production of Der Rosenkavalier.
Director Matheson had some fine ideas – especially in the marvellous Act One riot when everyone invades the Marschallin's bedroom – and one remarkable failure, a premature ejaculation in the introduction. With the curtain up during the introduction, Octavian is just entering the room when the ecstatic horns announce his orgasm, then begins his love-making as the orchestra subsides into post-coital languor.
Christina Logan-Bell's sets were effective and imaginative, especially Faninal's palace in Act Two, with some famous paintings on the wall. Lucy Wilkins's costumes were divided between the 1740s Vienna in which the opera is set (especially the servants) and the immediate pre-war period of its composition, and they worked well.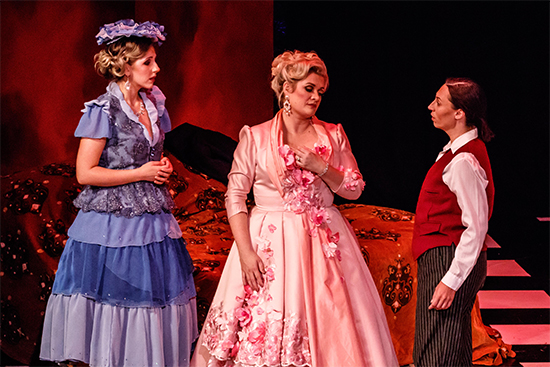 Anna Voshege as Sophie, Lee Abrahmsen as Marschallin, and Danielle Calder as Count Octavian in Melbourne Opera's production of Der Rosenkavalier.
The production was sung in English, but subtitles would still have been welcome, especially given the challenge to the singers (and therefore to the audience) by the orchestral volume. And the translation certainly lacked the genius of Hofmannsthal's German original, including twenty-first-century colloquial injunctions by Ochs to 'piss off' and the profane exclamation, 'Jesus Christ!'
In several recent productions, I have feared Melbourne Opera has aimed too high, including its recent Tannhäuser and Tristan und Isolde, only for the company magnificently to allay those concerns. This time, alas, this ambitious and high-achieving company's reach has indeed exceeded its grasp. It simply was not equipped for an opera of this sophistication and complexity, one of the most demanding in the repertoire. Yet even with this handicap, Strauss's genius shines through.
Der Rosenkavalier is being performed by Melbourne Opera at the Athenaeum Theatre August 9, 11, 15, and 17. Performance attended: August 9.
ABR Arts is generously supported by The Ian Potter Foundation and the ABR Patrons.